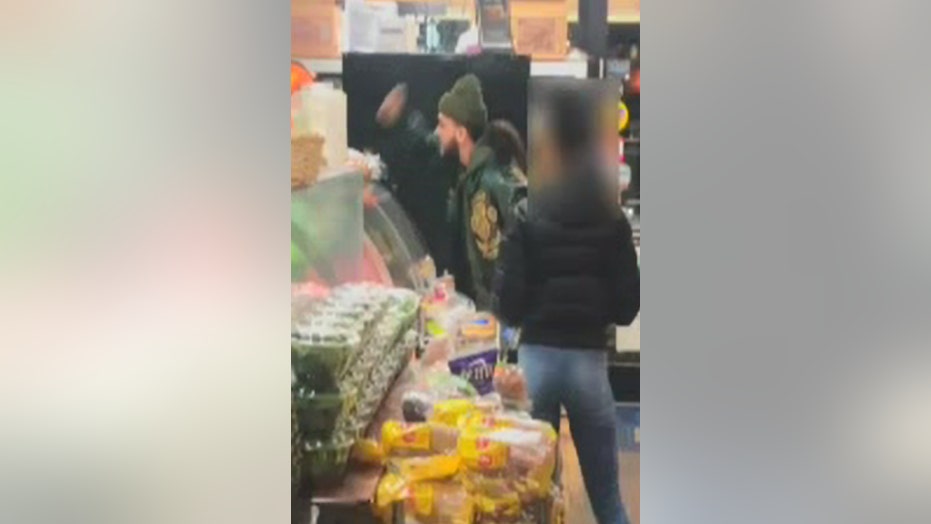 Angry deli customer attacks employee over bagel sandwich
Watch: Angry deli customer attacks employee over bagel sandwich.
No man has ever wanted a bagel sandwich — and an odd one, at that — more than this irate deli customer, who was filmed verbally and physically attacking a worker at a shop in Brooklyn last month.
The man, who has not been arrested, was filmed screaming at the deli worker in the early hours of the morning on Nov. 25, demanding that the employee begin making his breakfast sandwich "right f—ing now."
"Make my cinnamon toasted raisin bagel with bacon, egg and cheese!" the man screamed at the deli worker, according to footage released by police. "Right now! Right f—ing now!"
KATE MIDDLETON SHARES WILLIAM'S 'NIGHTMARE' EATING HABIT
The unidentified suspect was also filmed pounding his fists on a display case and throwing merchandise at the worker while continuing to berate him for "f—ing up."
"You f—ing up, boy! You really f—ed up," the man added, refusing to listen to the 28-year-old worker behind the counter. "I don't wanna listen! Make my s— right now!"
According to police, the drama unfolded at 4:30 a.m., but the unidentified customer fled the scene shortly afterward.
The 28-year-old deli employee, identified as Sanjay Patel by The New York Post, was treated and released from a nearby hospital for bruising and swelling sustained during the attack, police confirmed.
Patel also told the Post that the man was drunk, and came into the shop at a busy time.
"It was scary," he told the outlet. "He said he was going to shoot me. He said he would kill me."
Police are now asking for the public's assistance in identifying the suspect, who is wanted for questioning in connection with the assault.
FOLLOW US ON FACEBOOK FOR MORE FOX LIFESTYLE NEWS
A couple of users on Twitter, meanwhile, were largely critical of the man's bagel order, with one saying he should be refused service for ordering it in the first place, and another saying he deserves to be arrested for that combo alone.
FOLLOW US ON FACEBOOK FOR MORE FOX LIFESTYLE NEWS
"idk what's worse, his attitude or the fact that ppl get cinnamon raisin bagels and put bacon egg n cheese on it," another wrote, alongside a barf-face emoji.
Source: Read Full Article