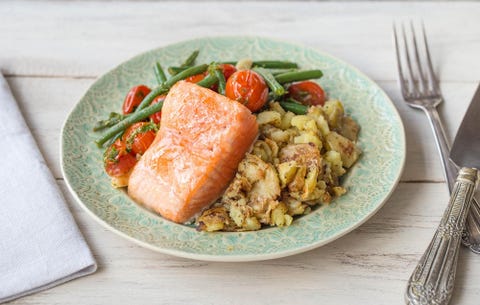 I get it, you're busy—and that doesn't always allow for planned out trips to the grocery store to buy healthy, nutritious foods, followed by hours in the kitchen actually making those foods.
But honestly, tons of people who have lost weight say they succeeded by cooking their own damn meals. Enter, meal-delivery services.
Meal kits get you in the habit of planning ahead and cooking your meals, a tried-and-true weight loss strategy, says Samantha Cassetty, R.D., a nutrition counselor and communications consultant.
But not all programs are created equal, especially those designed to help you drop pounds, so before you start getting meals delivered to your doorstep, you need to figure out which program is best for your goals.
1. Hello Fresh
View this post on Instagram
Our salmon cravings are at an all-time high! Be sure to cook this 20-min Salmon Limone with Couscous, Italian Herbs, and a Zucchini Ribbon Salad, on next week's menu. Order this via the link in our bio 😎
A post shared by HelloFresh US (@hellofresh) on
Known as the straightforward, easy-to-follow meal-delivery service, Hello Fresh is also pretty weight-loss conscious. "Their staff dietitian evaluates the meals before they are put on the menu to ensure they're both healthy and balanced," says Leah Kaufman, R.D., C.D.N.
Another plus: Each dish is low in sodium and oil and comes with a nutrition label that can be found on their website. Knowing that info can help you stay within the appropriate amount of calories per day to best keep up with your weight-loss goals. After all, slimming down usually comes down to calories in versus calories out.
2. Chef'd
View this post on Instagram
This twist on the classic Chicken Tacos explodes with sweet and savory flavors from the fresh California Prunes Salsa. 😋 Order your meal kit today, and you can experience these flavors on your next #TacoTuesday celebration! (Link in bio)
A post shared by Chef'd (@chefd) on
Big-name chefs (like Alex Guarnaschelli, for all you Chopped fans) and wellness experts joined forces to create recipes that are weight-loss friendly and amateur-proof for this meal-delivery service. Plus, the company also partnered with the American Diabetics Association and Atkins so subscribers can create health-specific meals, such as low-carb dishes that focus primarily on protein, Kaufman says. So yeah, you could say that Chef'd is pretty darn weight-loss friendly.
3. Purple Carrot
View this post on Instagram
Happy Thanksgiving from all of us at Purple Carrot! Your commitment to sharing delicious #plantbased meals that are good for you & good for the environment, leave us in awe Every. Single. Day. #happycooking #thankful 📸 : @bitesbymi @lifeofkare & @kylojenn
A post shared by Purple Carrot (@purplecarrotxo) on
Vegans (or just veggie lovers!), step right up. Purple Carrot, an entirely vegan meal-delivery service, creates healthy, plant-based recipes that are great for weight loss, particularly because their dishes are always packed with fiber from produce. And, pro-tip, all that fiber from veggies keeps you feeling fuller, longer.
Each meal comes with nutritional information (key to staying on track) and serves at least two people. And if you're cooking for one, that leaves you with a balanced lunch for the next day, says Sharon Palmer, R.D.N., author of Plant-Powered for Life.
4. Green Chef
View this post on Instagram
Savor the Mediterranean flavors: dill, feta, and olives 🤩 Dill-Roasted Mediterranean Chicken on this week's Keto Menu #KetoRecipes #KetoDiet #MediterraneanChicken
A post shared by Green Chef (@greenchef) on
This USDA-certified organic meal kit offers tons of options for a variety of different dietary needs and preferences: vegetarian, omnivore, carnivore, gluten-free, and paleo.
Many dishes come with pre-made sauces and dressings, which can be a serious timesaver. (But Kaufman suggests scanning the nutritional facts for the sugar content in your meals, as dressings are usually packed with this weight-loss saboteur. And if the sauce isn't vital, then cut it to save calories.)
As a whole, Kaufman gives this service her nutritionist stamp of approval for offering a variety of plans that "suit every person's dietary needs and restrictions," all while being relatively low in sodium, high in protein, and loaded with healthy, satiating fats, such as olive oil.
5. Veestro
View this post on Instagram
We want these SO-BA'd! Chilled on a hot day, these Noodles are👌🏼
A post shared by Veestro (@veestrofood) on
Unlike the other boxed meal services on this list, Veestro delivers prepared meals. But just because you don't have to DIY the chopping and sautéing, it doesn't mean these meals are bad for your weight-loss goals. They're actually a hell of a step up from the frozen dishes found in the freezer aisle, says Palmer. "They are plant-based meals that are moderate in calories and great for weight loss," she says.
Since they're packaged and ready for the micro, Veestro's dishes are essentially calorie-controlled, making it easier for you to monitor your intake and stay on point. Veestro meals are also pretty balanced, especially for veggie-centric cuisine (which can be heavy on the carbs), giving you the nutrients you need to stay fuller longer. Another perk? Veestro also offers three different meal delivery services focused exclusively on weight loss.
6. Sun Basket
View this post on Instagram
🌰Roasted hazelnuts add a rich, nutty complement to the earthy sweetness in this Chicken and Spaghetti with Kale and Caramelize Onions. . . . . . #fall #nothingisordinary #myfab5 #f52grams #dailyfoodfeed #lovefood #eatingfortheinsta #food #spoonfeed #huffposttaste #infatuation #buzzfeast #feedyoursoull #cheatmeal #tastingtable #forkyeah #heresmyfood #eater #eattheworld #foodandwine #foodblogfeed #foodandwine #still_life_gallery #buzzfeedfood
A post shared by Sun Basket (@sunbasket) on
With 10 different meal plan options—including gluten-free, vegan, and Mediterranean kits—there's something for everyone with Sun Basket. In addition to that diversity, Sun Basket also offers organic produce and responsibly-sourced meats and seafood (like antibiotic- and hormone-free meats and wild-caught fish).
Sun Basket also lets you mix-and-match meals within your plan with a "build-your-own-basket" option, which means less waste when you come across a meal you're not totally into.
7. Kettlebell Kitchen
View this post on Instagram
HOME FOR THE HOLIDAYS Our Roasted Chicken with Pumpkin Au Jus and Cranberries is back for the holidays giving you all the seasonal flavors you love.
A post shared by Kettlebell Kitchen (@kettlebellkitchen) on
If you're on the keto diet, you know cooking at home can be repetitive (how many variations of steak, butter, and avocados can you do?). Now, Kettlebell Kitchen has a keto-specific meal plan for keto dieters. Their Complete Keto meal plan offers dishes like Grilled Chicken with Mustard Greens and Bacon Ranch Dressing, and Huevos Rancheros with Coconut Cream, to help you keep track of your carbs and load up with fat that will help boost your body into ketosis. Bonus: They're all pre-cooked, so all you have to do is heat and eat.
Even if you're not on keto, Kettlebell Kitchen has 10 other meal plan options for you—including paleo, vegetarian, and Whole30—to help you meet whatever weight loss goal you're striving for.
Source: Read Full Article