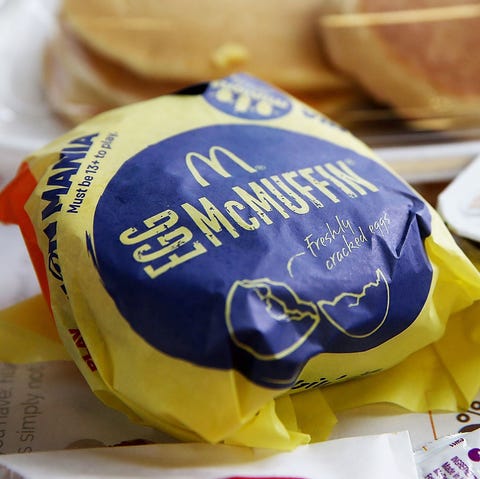 Last month, two separate surveys found that about one-third of all Americans are still eating fast food once a day and roughly the same number are trying to cut back on meat in their diets.
If you happen to find yourself in the overlap of that statistical Venn diagram, well, we have you covered.
These drive-thru orders are meat-free and dietician-approved.
Best Breakfast: Egg McMuffin
Even when you hold the Canadian bacon, this classic breakfast sandwich has a nice amount of protein (14 grams) and even a bit of fiber (2 grams) for a reasonable number of calories (280). Double up on your order and you have a decent day-starter.
Best Side Salad: Chick-fil-A Superfood Side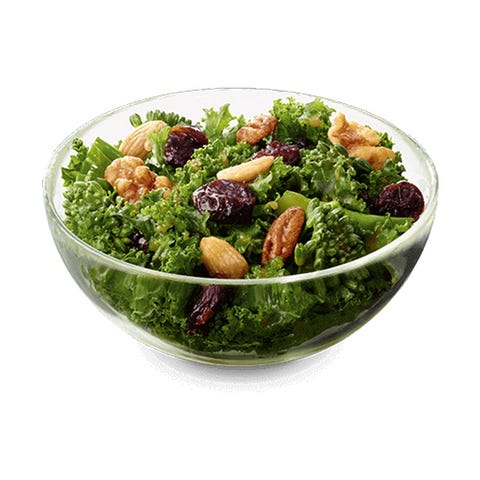 Chick-fil-A
Yes, even Chick-fil-A is now slinging "superfoods." This broccoli-kale-nut option contains 4 grams of protein and 3 grams of fiber for 140 calories. Order two here, too, and combine them for a salad of with heart-healthy fats, calcium, iron, and all the vitamin C you need in a day, says Amy Shapiro, RD, owner of Real Nutrition NYC.
Best Ameri-Mexican: Taco Bell Power Menu Bowl, Veggie
Black beans make this bowl filling with 14 grams of protein and a whopping 13 grams of fiber. (There's also guac for some heart-healthy monounsaturated fats.)
And leverage customizations to further improve the nutrition, says Leah Kaufman, RD, owner of Leah Kaufman Nutrition, LLC. Like hold the sour cream and avocado ranch sauce, halve the rice and double the lettuce. You'll cut empty calories and bump up your vegetable intake.
Best Sandwich: Subway Veggie Delite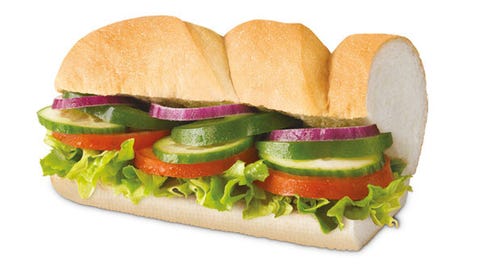 Subway
Order it on whole-wheat bread and you've already one-upped a salad, which usually lacks energizing whole grains, says Kaufman. Even a six-inch can be a surprisingly satisfying way to consume two of your five recommended servings of produce a day.
Best Side: Wendy's Baked Potato
One ingredient, seven grams each of protein and fiber, plus sodium-regulating potassium. Shapiro likes to order her spud topped with broccoli for some vegetable-on-vegetable action.
Best "Burger:" White Castle Veggie Sliders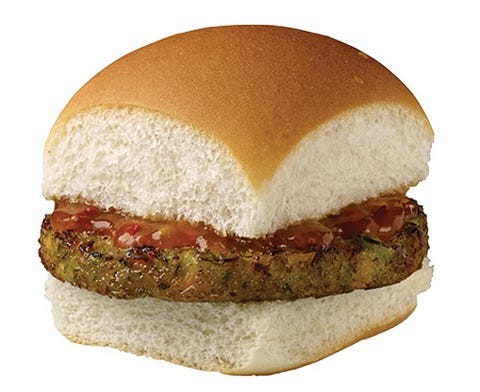 White Castle
These patties are Dr. Praegers brand. They're made with edamame, whole pieces of corn, and peas, says Shapiro. And one order of two burgers delivers 11 grams fiber and 7 grams protein for a mere 330 calories. Oh, and for you vegans out there, WC just started hawking the Impossible Slider—100-percent plant-based, 14 grams protein, and totally vegan as long as you skip the cheese.
Best Pre-Run Fuel: Starbucks Oatmeal
It's a bowl of steel-cut whole-grain oats. You can add your own toppings so you can keep added sugars in check. Tasty too.
Source: Read Full Article