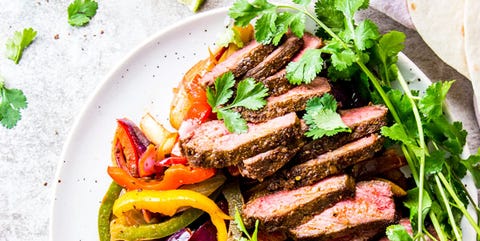 When you're trying to lose weight, a big, heavy dinner late at night won't help. And unfortunately, in today's culture, we often find ourselves getting home late at night, starving, and so we dig into whatever we have available. Or we might stop at a fast-food joint or restaurant just to get something quick and easy.
Eating out too often can impair our weight loss efforts, so it's better to make a meal from scratch at home. Look to these 25 healthy dinner ideas that are pretty easy to whip up or prepare in advance, so you can drop those last ten pounds or start your diet on a high note.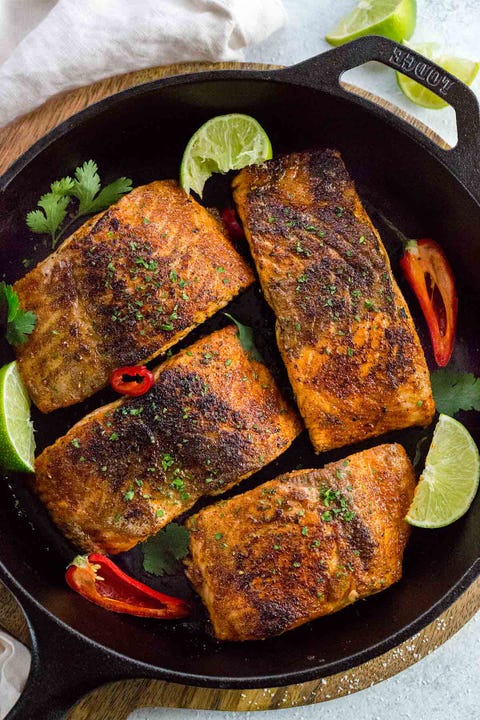 Jessica Gavin
Blackened Salmon
This salmon by Jessica Gavin is simple and flavorful and it has a wonderful dark, crispy crust that adds some texture on top. Blending savory, spicy, and sweet, it creates the perfect balance in each bite, and it's loaded with good fats from the fish to help you drop those pounds.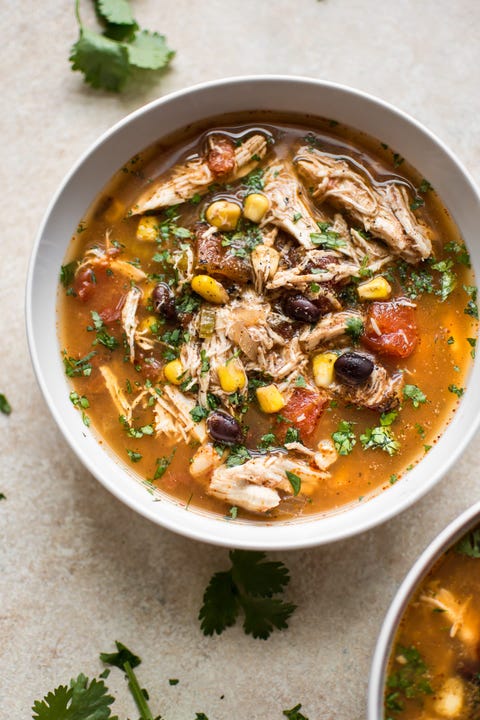 Salt & Lavender
Crockpot Chipotle Chicken Soup
Another by Salt & Lavender, this chicken soup is spicy and nutritious, making it the perfect wintertime soup for weight loss. A tip? Use dark meat and cook for a full 8 hours for more tenderness. The crockpot is so easy—you can set it in the morning and it'll be ready for dinnertime when you get home. Garnish with Greek yogurt or cilantro, if desired.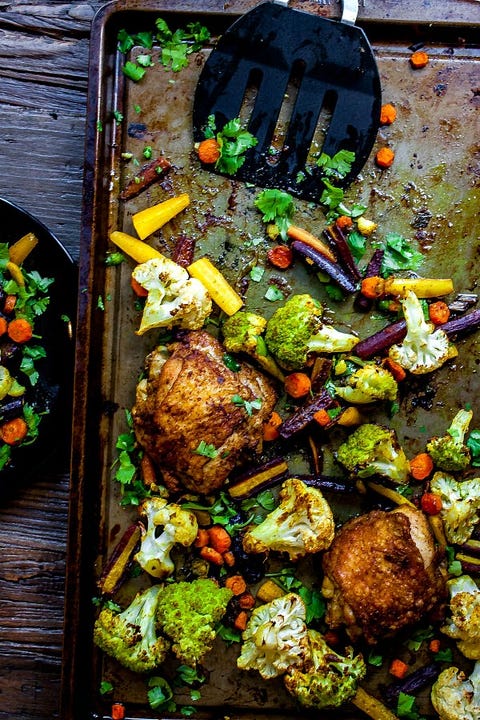 Home Made Interest
Sheet Pan Curried Chicken and Vegetables
This recipe by Home Made Interest is super easy to make and you'll save tons of time with clean up, as it only requires one pan. The crispy chicken thighs and curry flavors give you that indulgent feel, but the whole meal is under 400 calories. Plus, it'll be ready in 40 minutes and can work well as leftovers for the week.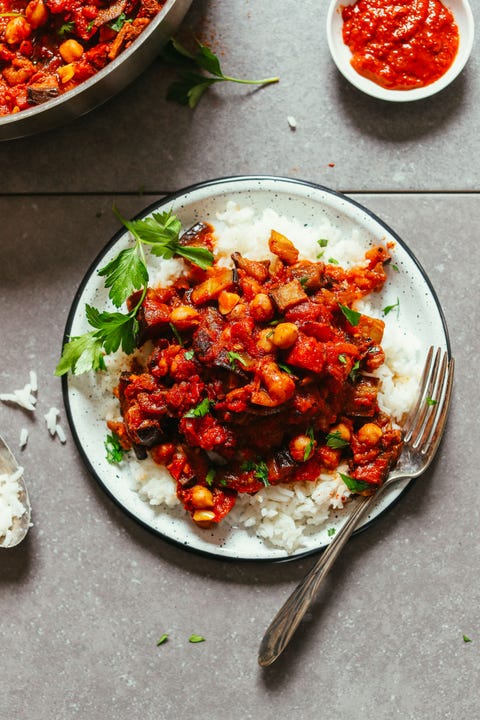 Minimalist Baker
Moroccan-Spiced Eggplant Stew
This protein-packed, meatless stew by Minimalist Baker is hearty and grounding—perfect for a chilly winter evening indoors. It has some great smoky, spiced flavors and it's gluten-free and vegan, making it an easy option for those with dietary restrictions. Use brown rice if you're looking for some added fiber in this healthy dish.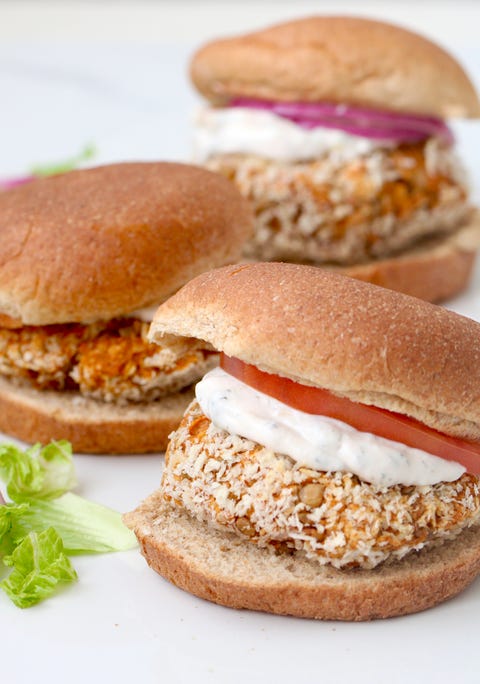 Shaw's Simple Swaps
BBQ Lentil Burgers with Ranch Dressing
These burgers by Shaw's Simple Swaps might be meatless but they're heavy in flavor. Each burger has only 120 calories and you can easily make a bunch at once to save for easy meals throughout the week. Lentils provide a ton of lean protein and fiber to keep you satiated and the panko breadcrumbs and BBQ sauce make the burger feel incredibly indulgent despite its clean profile.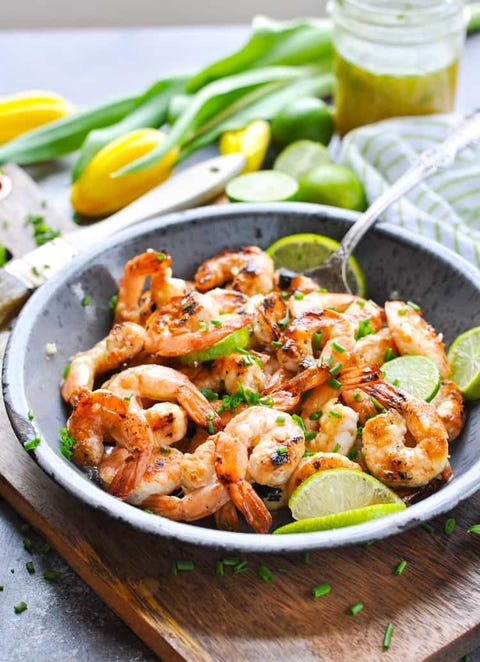 The Seasoned Mom
Grilled Honey Lime Shrimp
Shellfish is a great source of lean protein and healthy fats to fill you up and promote weight loss. It's also an easy weeknight meal to get together fast, and this grilled shrimp recipe by The Seasoned Mom, once marinated, takes only 10 minutes to cook. And have some fun with flavor—this blogger uses garlic, chives, honey, lime, and Dijon mustard.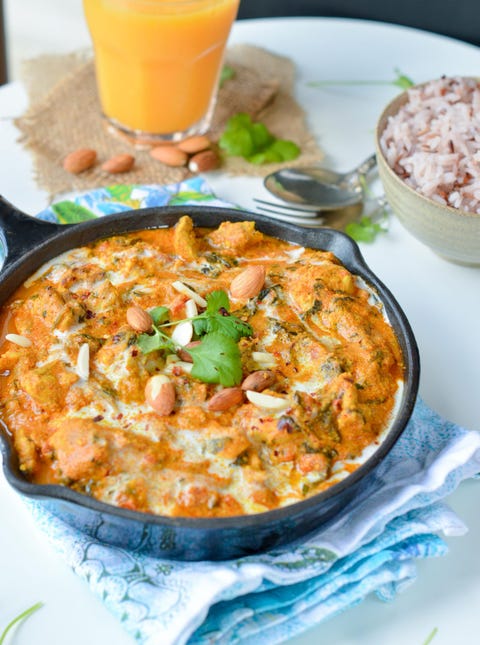 Sweet as Honey
Healthy Chicken Tikka Masala Greek Yogurt Marinade
This Indian curry dish by Sweet as Honey is total comfort food but in a remodeled, slimmed down recipe. It's low carb and has great anti-inflammatory spices, like turmeric, cumin, garlic and ginger, to promote weight loss. And the Greek yogurt marinades saves a ton of fat from traditional cream and adds some probiotics to improve gut health.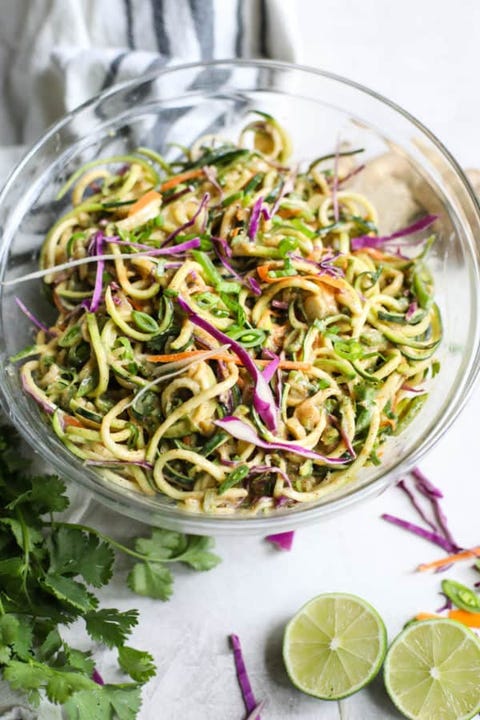 The Real Food Dieticians
Spicy Asian Zucchini Noodles
There's nothing as healthy as a bowl of zoodles for dinner, which are high in water content and are low in calories per volume. (So, you can eat a whole bunch.) Yet sometimes they get a bad reputation for being boring "diet" food. This salad by The Real Food Dietitians isn't bland at all though. With creamy almond butter sauce, grated ginger, garlic, and cayenne, it packs a ton of flavor.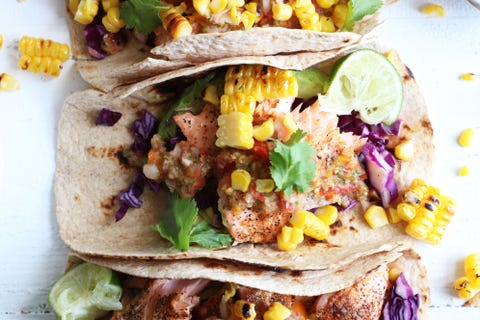 The Toasted Pine Nut
The Toasted Pine Nut
These salmon tacos by The Toasted Pine Nut are high in good, omega-3 fatty acids from the salmon, to lower inflammation, boost satiety, and promote weight loss. Plus, they use spices, like chili powder, garlic, jalapeno, and cumin to bring the heat as both a flavor enhancer and metabolism booster, so you burn more calories and fill up faster.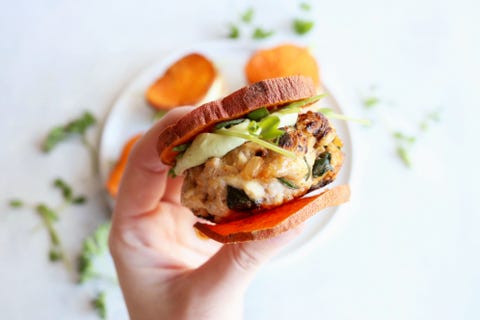 The Toasted Pine Nut
Caramelized Onion Spinach and Feta Turkey Burgers
These burgers by The Toasted Pine Nut have a healthy makeover thanks to swapping sweet potato in for the bun and saving some fat by using leaner turkey meat instead of beef. It takes only 30 minutes to cook and you can add whichever condiments you like to complement the feta and spices. What's more, they're gluten-free and low-carb, which is great for those with dietary restrictions.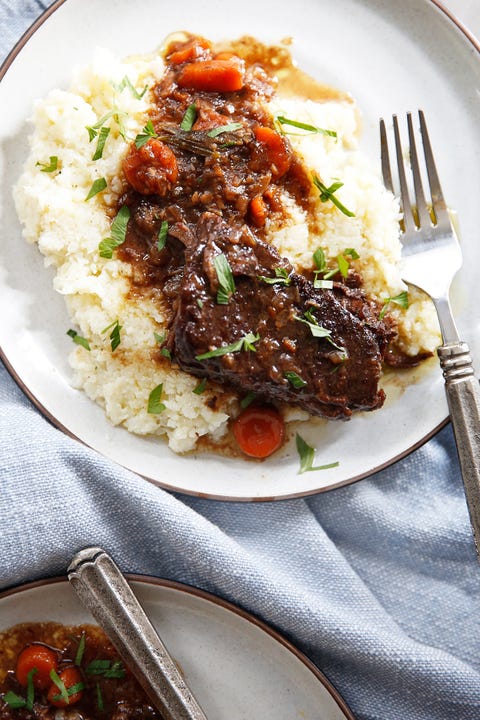 Lexi's Clean Kitchen
Instant Pot Beef Short Ribs
These beef short ribs by Lexi's Clean Kitchen swap mashed potatoes for cauliflower mash to make it lower in carbs and higher in fiber to promote weight loss. Short ribs offer a nice amount of protein to keep you full and the grass-fed butter or olive oil provide good-for-you fats. A tip? Boneless beef will decrease the cooking time.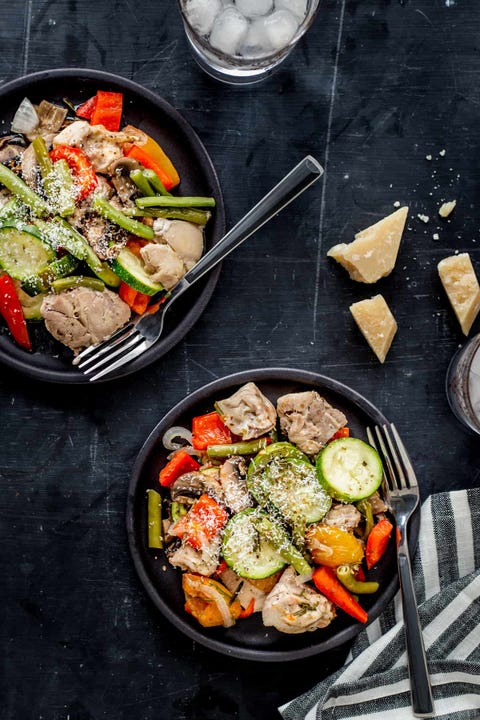 Hello Glow
Italian Chicken & Veggie Foil Packets
This chicken and veggie dish by Hello Glow is low in carbs (it's keto-approved) and high in antioxidant-rich veggies like mushrooms, bell peppers, tomatoes, onion, and zucchini. These veggies also have high water content, which is great for reducing bloating and making it easier to lose weight.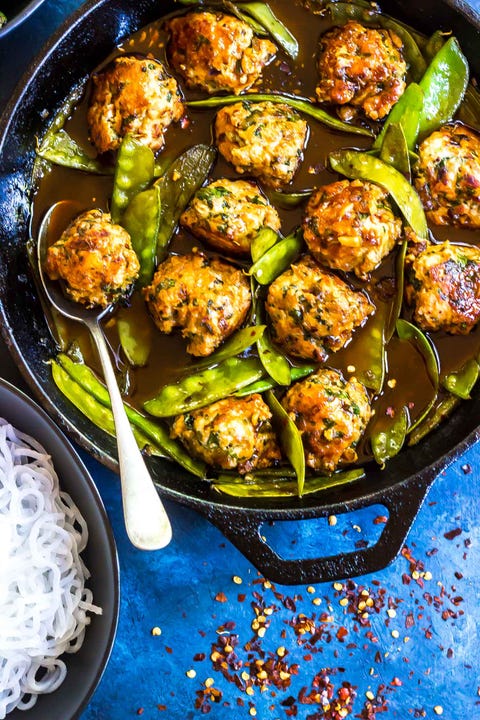 Cast Iron Keto
Keto Asian BBQ Meatball Noodle Bowl
This bowl of Shirataki noodles with snap peas and meatballs by Cast Iron Keto takes only 30 minutes to whip up and uses savory ingredients and spices like garlic, red pepper, sriracha, and tamari to give the dish a huge burst of flavor. Each serving is under 400 calories and has roughly 24 grams of protein to prevent mindless snacking later on.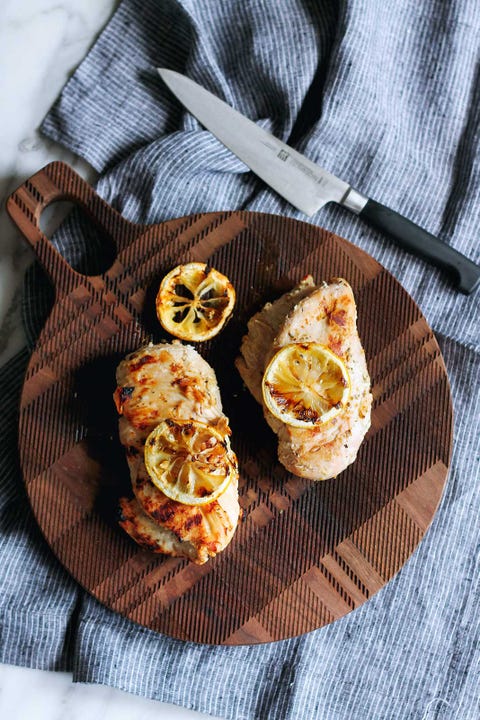 Ambitious Kitchen
5-Ingredient Lemon Yogurt Marinated Chicken Breasts
This chicken by Ambitious Kitchen makes dinner a snap during the week, as it requires only 5 ingredients and can be made in bulk for leftovers. Plain grilled chicken is a terrific health food, since it's lean protein and low in calories. And the Greek yogurt and olive oil have gut health and anti-inflammatory benefits, respectively, as well.
Ambitious Kitchen
Butternut Squash, Chickpea, and Lentil Moroccan Stew
This hearty stew by Ambitious Kitchen will not only warm you up on a chilly winter evening, but also it'll keep you full throughout the night, thanks to its high protein and fiber content. Fiber is particularly great for weight loss, as it slows digestion and helps limit mindless snacking. And the anti-inflammatory benefits from spices like turmeric, cumin, cayenne, and garlic will also speed the metabolism and promote weight loss.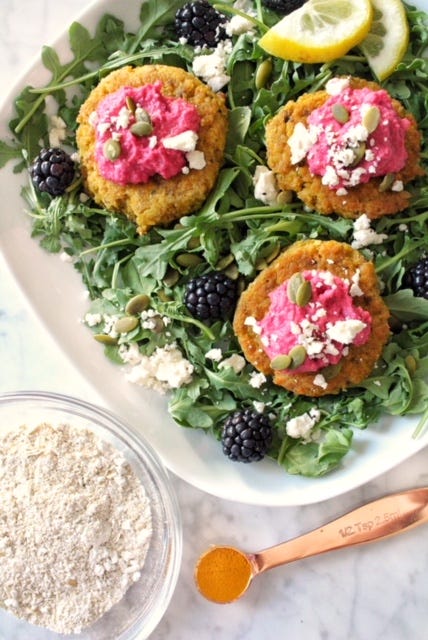 Once Upon a Pumpkin
Turmeric Salmon Oat Cakes
These salmon cakes by Once Upon a Pumpkin are high in protein and healthy omega-3 fats to lower inflammation and protect the heart, and they work well on top of a salad, dipped into hummus, thrown in a sandwich, or eaten as is. There's also turmeric and black pepper, which have been shown to have anti-inflammatory benefits and can boost the immune system and keep you well.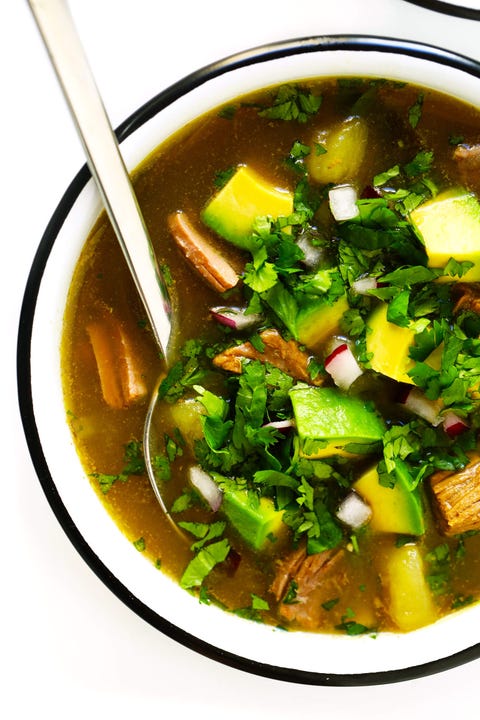 Gimme Some Oven
Salsa Verde Steak Soup
Soup is a great weight loss meal, and when you pair it with filling protein from steak, it'll be even more satiating until morning. This soup by Gimme Some Oven is packed with spicy flavors like poblano, garlic, and onion to fire the metabolism. (Though if you want it milder, add in extra stock or water to thin it out.)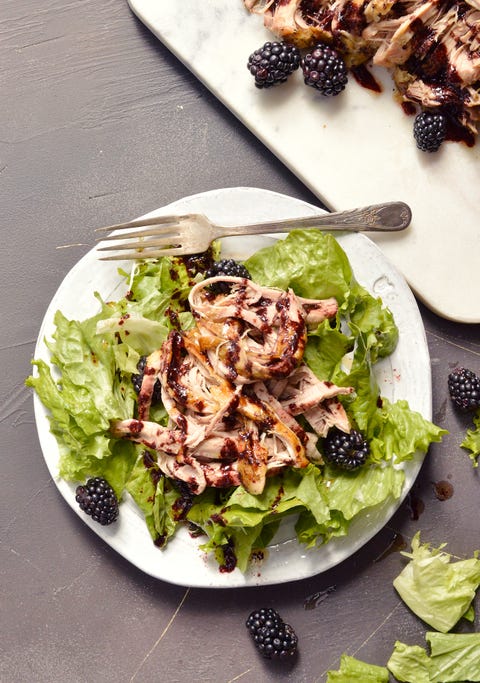 Wonky Wonderful
Slow Cooker Pork Tenderloin
This moistened, shredded pork recipe by Wonky Wonderful will literally fall apart in your mouth, and it has a delicious sweetness from a blackberry sauce to nicely balance out the meal. It's also Whole30 and paleo compliant, so it's great for those on restrictive diets looking to slash carbs and load up on healthier protein or fats. Stuff it into sandwiches, tacos, or eat plain over a bed of lettuce.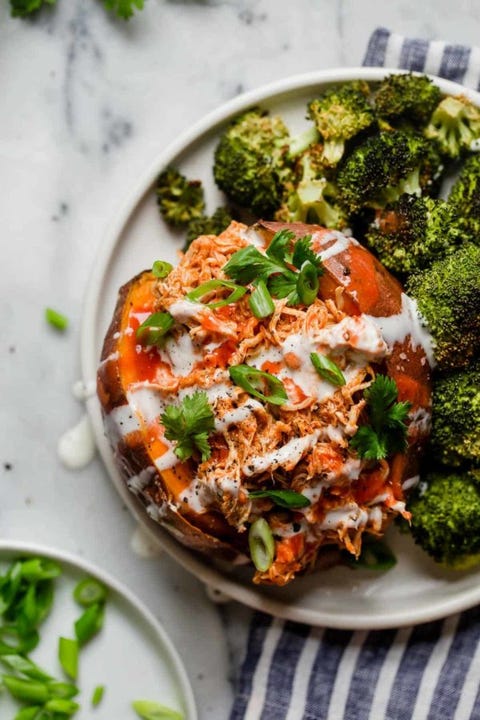 The Real Food Dieticians
Slow Cooker Buffalo Chicken
Another by The Real Food Dietitians, this buffalo chicken comes with a sweet potato for a good dose of fiber and antioxidants to promote weight loss and it's only 320 calories a serving. It's also Whole30 compliant, for those on a strict diet. Feel free to add some cayenne to bring the heat.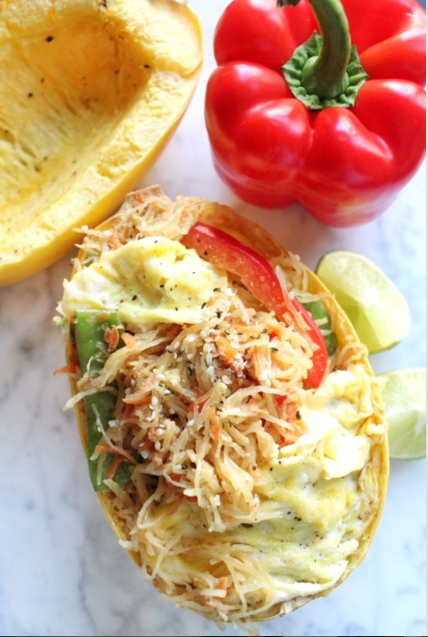 Once Upon a Pumpkin
Summer Squash Pad Thai
Another by Once Upon a Pumpkin, this summer squash pad thai boat tastes super indulgent but is actually low in carbs and packed with fiber and antioxidants, like beta carotene, to benefit the body. She uses almond butter for the pad thai sauce but you can use peanut if you prefer.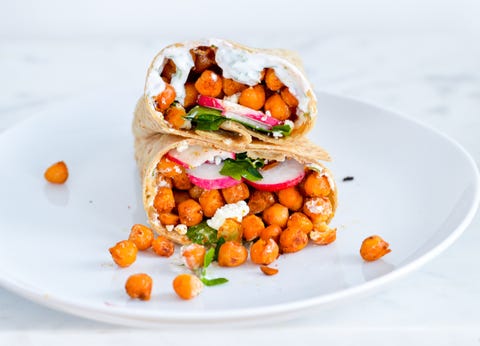 Nutrition a la Natalie
Spiced Chickpea Wrap
Sometimes a sandwich is perfect for dinner—especially when it contains a nice amount of protein to fill you up or after a tough workout when you need some extra carbs. This chickpea wrap by Nutrition a la Natalie is incredibly savory, thanks to salty feta, creamy yogurt sauce, and spiced chickpeas to provide a nice balance of flavor.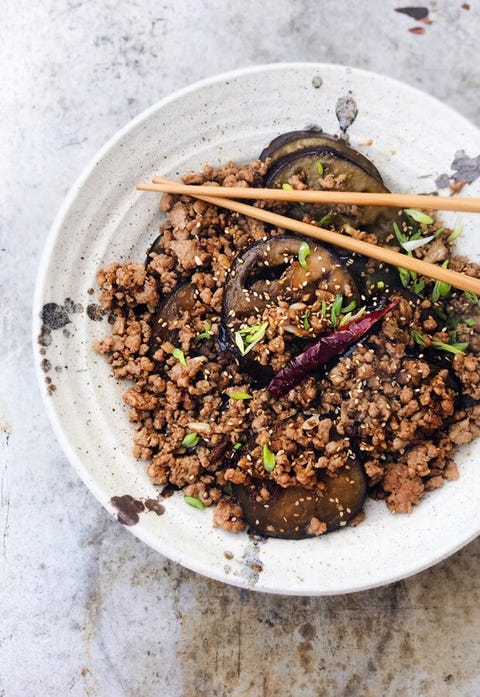 Ruled.me
Spicy Eggplant and Minced Pork
Ditch Chinese takeout and still satisfy your craving with this healthy, protein-dense and keto-friendly eggplant and pork recipe by Ruled.me. It uses wonderful spices and sauces like garlic, tamari, and red pepper flakes, and you'd be eating this meal with chopsticks, which will also help slow down your eating to promote weight loss.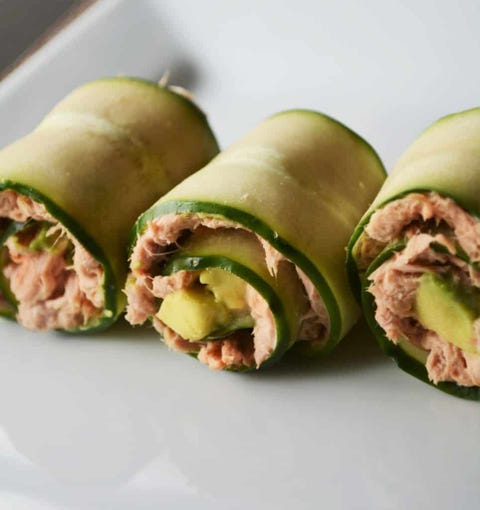 Hey Keto Mama
Spicy Tuna Rolls
Using cucumber instead of rice as the wrap makes these rolls by Hey Keto Mama a healthy, low carb dinner. Plus, there are tons of filling fats from the tuna and avocado to keep late-night munchies at bay. The mayo and sriracha add a punch of flavor, and it takes only five minutes to throw together.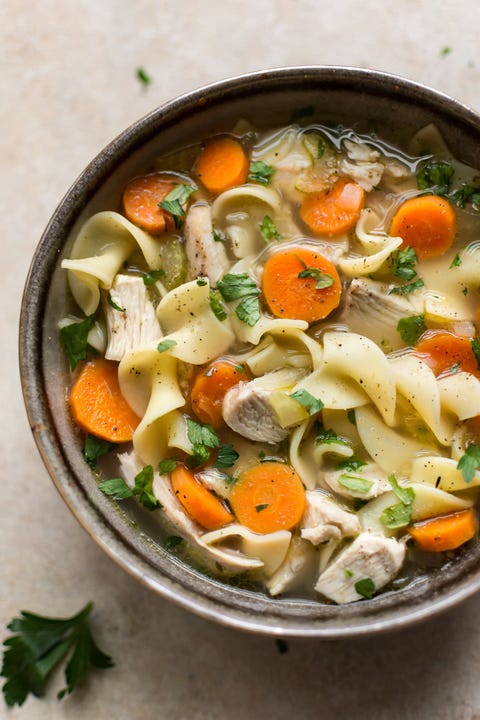 Salt & Lavender
Turkey Noodle Soup
There's something so simple and clean about this turkey noodle soup recipe by Salt & Lavender that's excellent for weight loss and reduce water retention. It's incredibly light and the chicken broth and veggies are super high in water content to get rid of bloating and keep the body hydrated. It's great a dinner to detox after a few extra drinks over the weekend.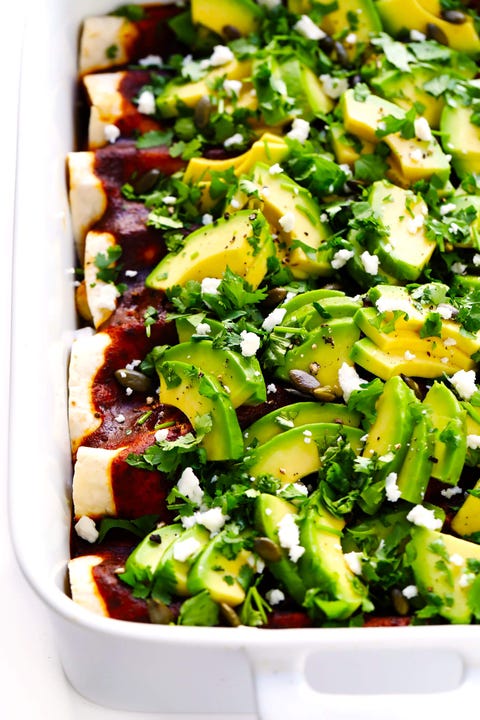 Gimme Some Oven
Roasted Cauliflower Enchiladas
Enchiladas get a bed reputation, but these healthy, cauliflower-based enchiladas from Gimme Some Oven are totally good for you (and awfully pretty, too). To make them vegan, get rid of the cheese and add nutritional yeast. To make them gluten-free, use gluten-free tortillas. And for some extra protein, add in meat, like chicken, shrimp, carnitas, or steak. There are tons of possibilities!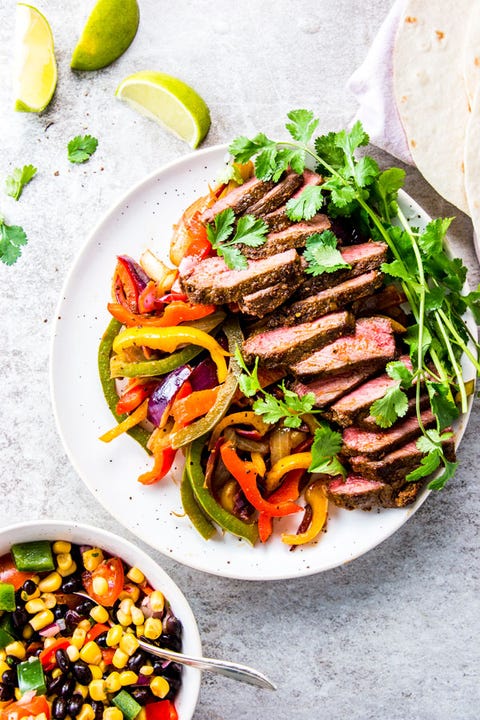 Savory Nothings
Steak Fajitas
These steak fajitas by Savory Nothings are simple but oh so delicious. This recipe calls for flank steak, and it's ready in only 30 minutes, making it a quick weeknight meal that's high in nutritional value. Stuff into tortillas along with avocado and some veggies, and you're all set. A pro tip—cook against the grain for a perfectly tender steak.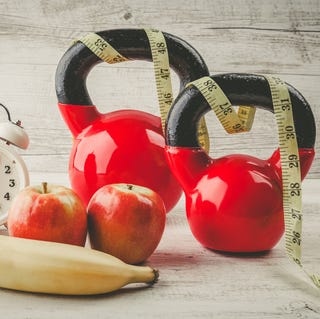 Source: Read Full Article