Just hear those savings jingling, cashier's cha-chinging, too. It's holiday season, and retailers are waiting for you — to spend all your dollars on Black Friday, that is. Up until recently, this was the one major shopping event I refused to participate in. I saw Jingle All The Way, friends. Those shopping scenes traumatized me. I always figured I'd much rather pay full price than get trampled on for a trendy gadget or pretty scarf, but times have changed, and the deals this year are so good, you guys. Take Old Navy's 2018 Black Friday athleisure sales, for example. If there's any clothing store that knows how to spread holiday cheer without breaking the bank, it's Old Navy, and even though some people might still consider Black Friday a kind of twisted sport, I'd go as far as to say that these discounts are worth taking advantage of after your Thanksgiving feast.
Old Navy's Black Friday sales for 2018 are pretty generous, to say the least. Not to mention, the pregame festivities kick off on Thursday, Nov. 15 and run through Tuesday, Nov. 20, meaning you have six whole days of pre-sale, in which you'll get a whopping 40 percent discount off your entire purchase both in-store and online. As if that's not dope enough, Old Navy's official Black Friday discount runs from Thanksgiving Eve on Wednesday, Nov. 21 through Friday, Nov. 23. During this time frame, you'll not only get 50 percent off your entire purchase, but select styles will also only cost you no more than five bucks a piece. That's a freakin' steal, friends. Are we worthy? I'm just not positive.
But wait, there's more. Old Navy card holders get even earlier access to these deals! From Thursday, Nov. 15 through Sunday, Nov. 18, members can enjoy 50 percent off their purchases in-store and online — so uh, BRB, signing myself up ASAP.
If you're not a card member, however, the perks don't stop at incredible discounts; Old Navy stores will also be extending their hours. According to a press release sent to Elite Daily over email, on Wednesday, Nov. 21, Old Navy stores will be open between 9 a.m. and 10 p.m. On Thanksgiving Day (Nov. 22), stores will open at 3 p.m. and stay open through the night. And finally, on the one and only Black Friday, Nov. 23, most Old Navy doors will remain open until 10 p.m., according to the press release. These times are subject to vary by store, though, so be sure to check your local retailers to make sure you know when you have the green light to shop for some of these awesome activewear pieces.
A Red Racerback Bra That's Festive And Fierce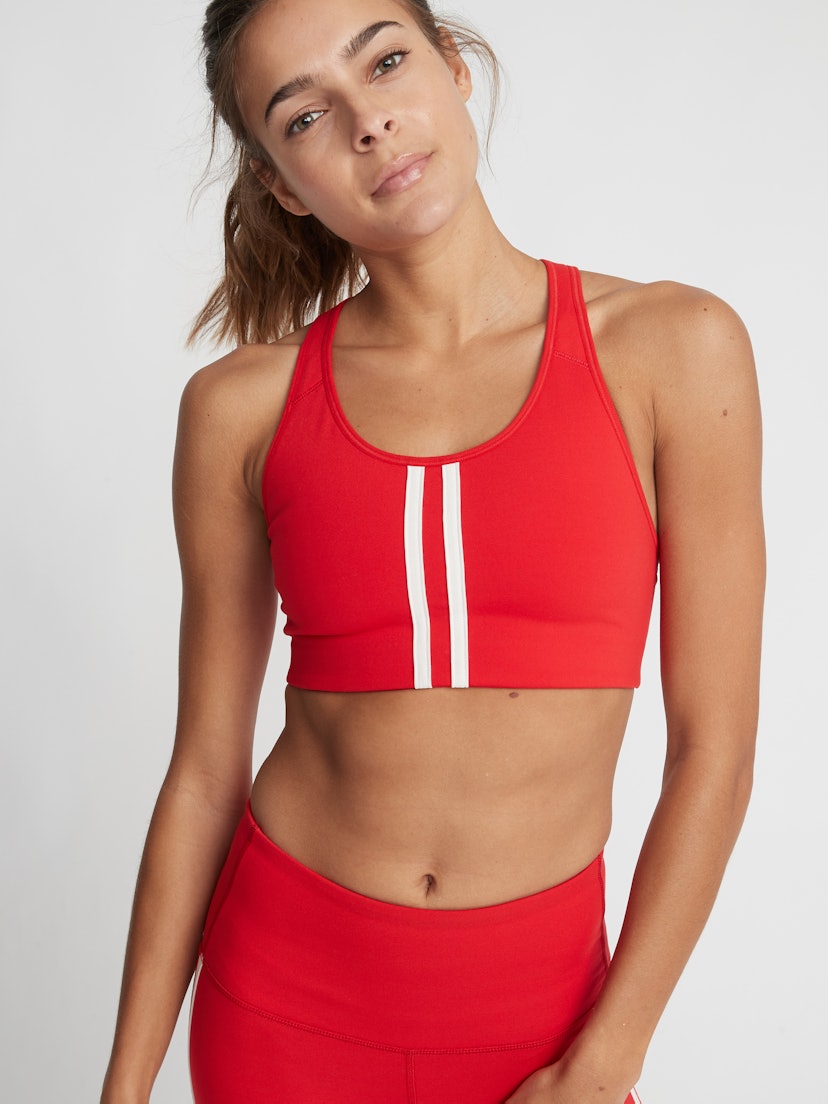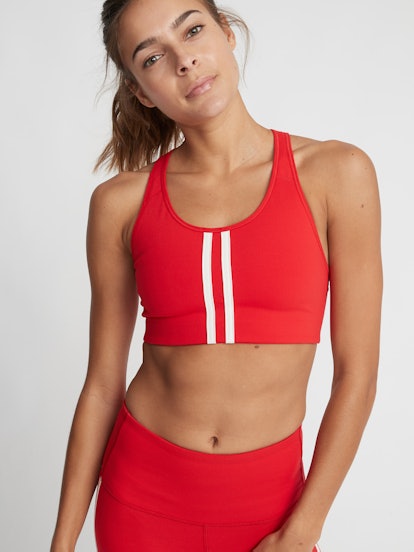 Old Navy Medium Support Racerback Sports Bra for Women
$19.99
Old Navy
The holiday season is full of family, friends, good food, and planning goals for the new year ahead. If one of your resolutions is to commit to a new fitness routine, why not treat yourself to a little self-motivation à la retail?
Not only is this racerback sports bra an Old Navy bestseller, it's also super festive, don't you think? Plus, what's more kickass than red athletic-wear? Nothing, that's what.
The Perfect Pair Of Leggings (With Pockets)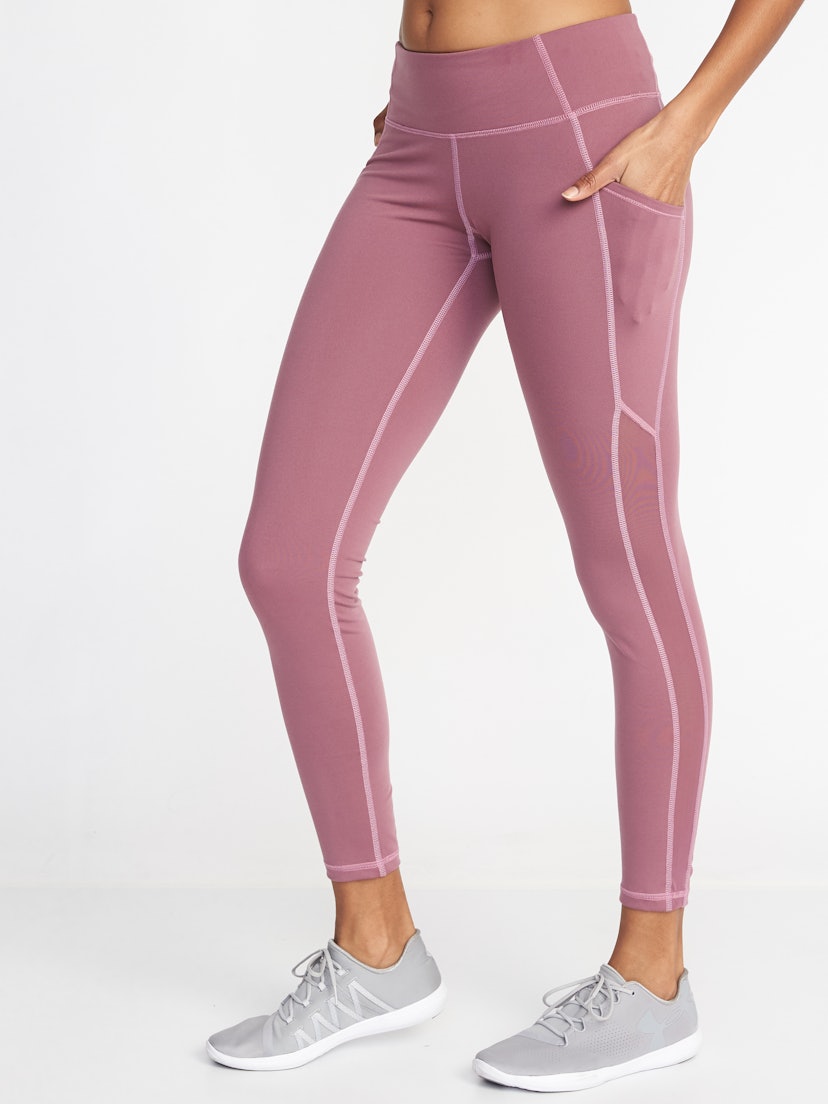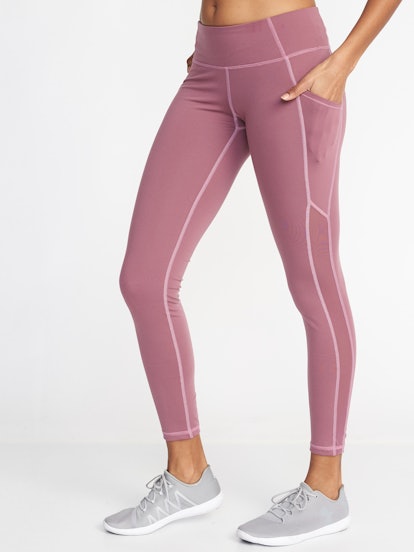 Old Navy Mid-Rise Mesh-Trim Compression Leggings for Women
$25
Old Navy
Leggings that are super comfortable and have pockets Sold!
This mauve pair looks chic at the gym, on the track, and they practically define athleisure when worn with a chunky knit to the grocery store or brunch.
A Comfy Hoodie To Get You To And From The Gym Without A Chill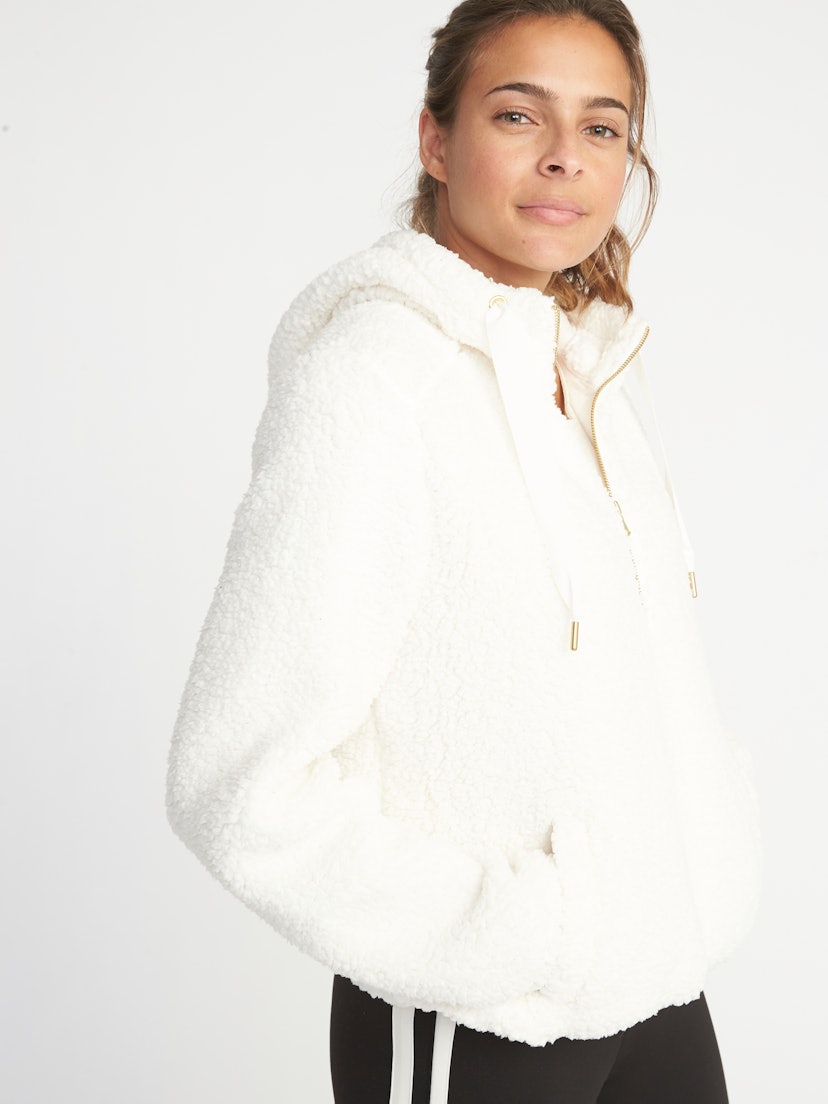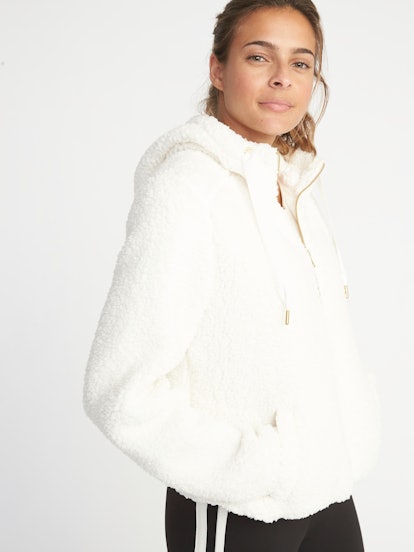 Old Navy Sherpa 1/2-Zip Popover Hoodie for Women
$42.99
Old Navy
Teddy bear coats seem to be everywhere this season, so it only makes sense that the trend would apply to athleisure, too. Perfect for getting you to and from the gym or studio in the frigid cold, this fluffy popover hoodie is a wintertime staple.
Long Sleeves For Chilly Days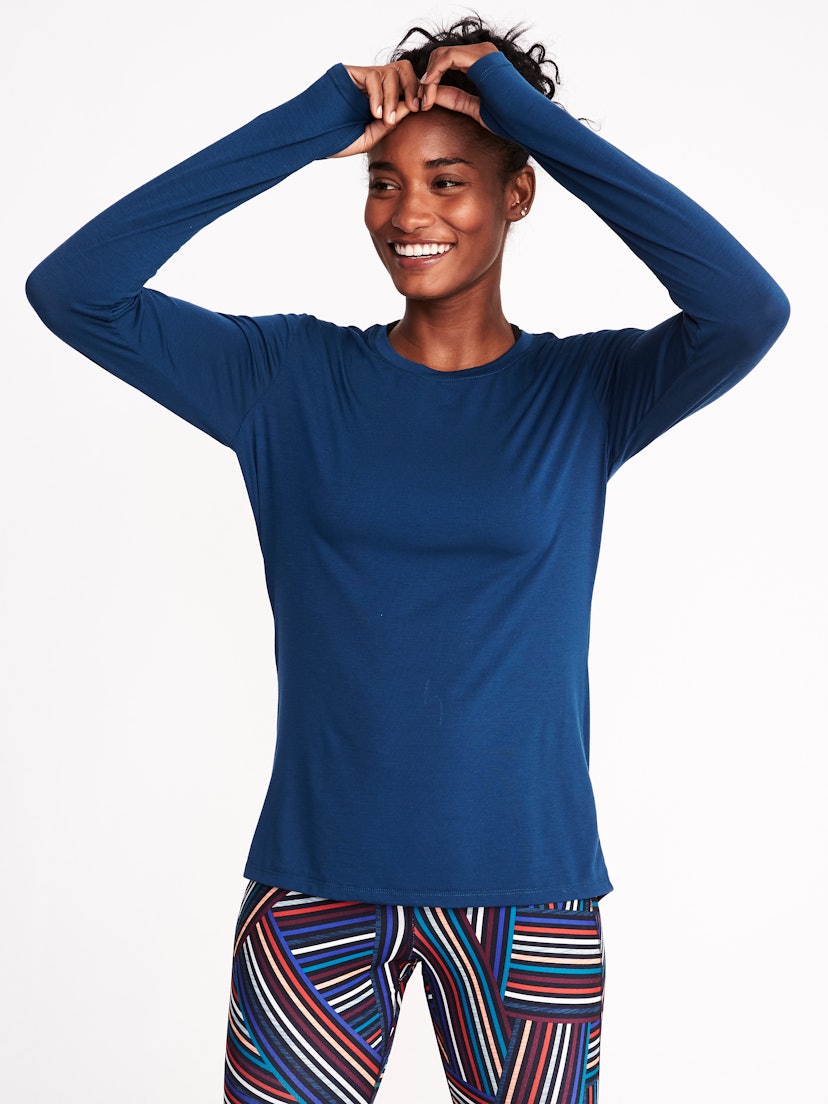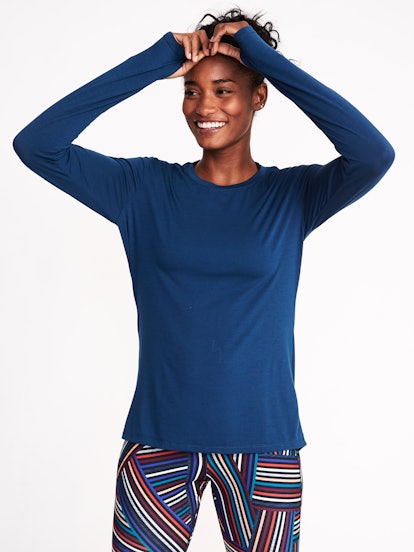 Old Navy Crew-Neck Performance Tee for Women
$14
Old Navy
Dressing for a workout in the winter can be so complicated. Sure, it's cold outside, but when you're flowing it out in a heated studio, or doing sprint intervals on a treadmill, your body temperature is bound to be creeping upward.
Layering is definitely the way to go, and this long-sleeved crew-neck is the perfect piece to strip down to because it's the perfect balance of lightweight and comfortable in chilly environments.
Laid-Back Hoodies To Work Hard Or Hardly Work In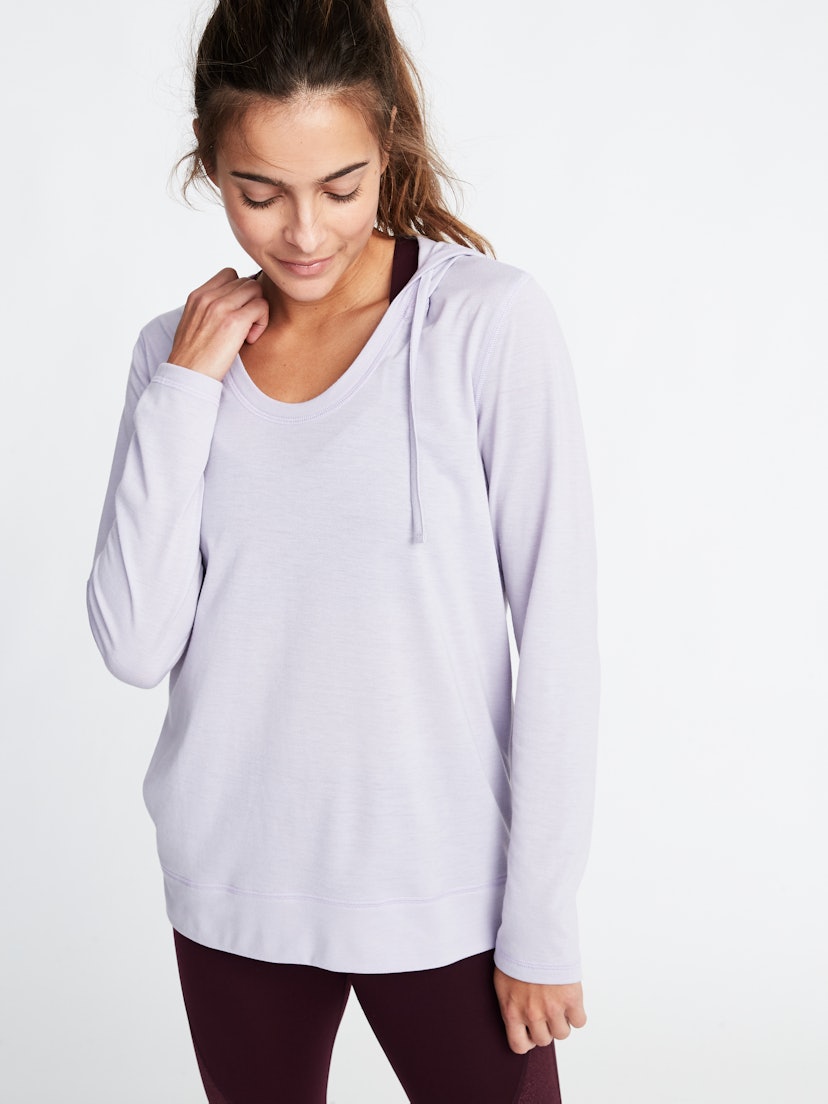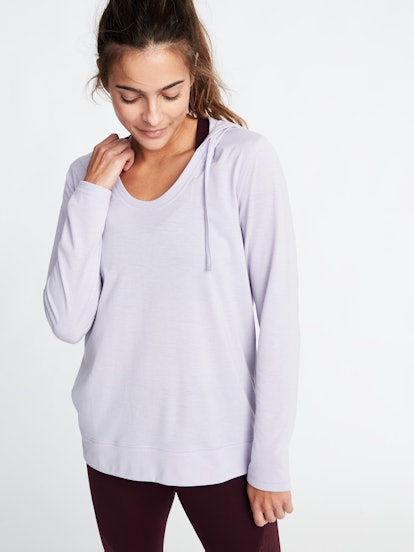 Old Navy Lightweight Performance Pullover Hoodie for Women
$14.97
Old Navy
Pullovers are a dream come true once winter rolls around. When the mere idea of exercising in a tank top is enough to make you shiver, this lightweight pullover hoodie will definitely come in clutch.
Source: Read Full Article