Can you believe that it's almost Halloween? Honestly, this year came and went as quick as that black cat running through the dark, and that's spooky in itself. You weren't expecting to pull out your oversized sweaters and flannels this weekend, and weren't prepared for the pumpkin patches and fall adventures with your boo. Now, you need a costume and to make some festive plans, too. (Somebody pinch me!) Believe it or not, #spookyszn is upon us, and you need to know how to throw a last-minute Halloween party.
Take a deep breath before you say, "Eek!" At first, hosting your friends at your apartment may seem a bit overwhelming, but throwing together a party can actually be a ton of fun. You get to roam down the aisles in the grocery store and pick out your favorite candies. And of course, there are the necessary decorations that bring your place to the next level. Do you think these ghosts are cute enough for your guests? Ugh, you need an expert opinion. Don't worry, because that's been covered!
Elite Daily spoke with Francis McGrath of Polite Provisions, who is a bartending expert and General Manager at the famous cocktail bar. He offered up his expertise on crafting and mixing with Jägermeister, and planning the most perfect Halloween party at the very last minute. Here's what you need to know.
What is the "Tragicomedy" cocktail, and how can you make it?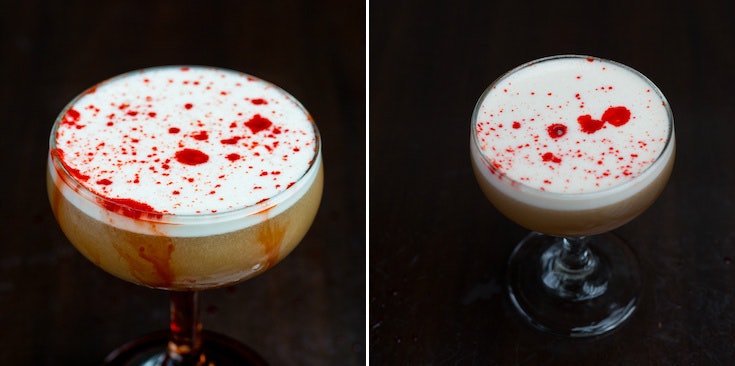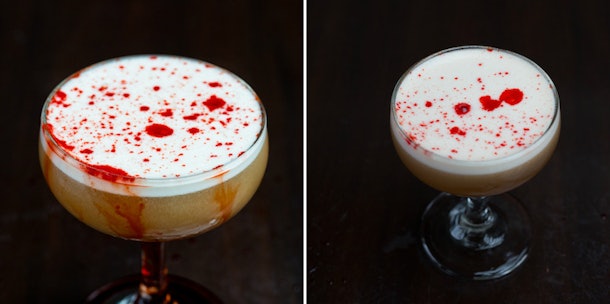 McGrath created one cocktail that's particularly good for your last-minute Halloween party: the Tragicomedy. This drink looks like it's been splattered with blood (But not actually. You know that it's just a red garnish, right?) and is ideal for all the ghosts and goblins in attendance, who are 21 or over. (Let's be honest: The dark side can be pretty intimidating. But, a cocktail like this sets the right #mood.)
As a bartender, creating original cocktails can allow you to think outside of the box and use your mixology knowledge to make a masterpiece. "I wanted to do a cocktail with Jägermeister that accented some fall flavors for Halloween," McGrath tells Elite Daily. "Jägermeister has so many different herbs, spices, roots, and botanicals."
Think about your favorite fall dishes, desserts, or even drinks. Cinnamon is typically a very strong flavor in each, as well as other earthy spices that keep us grounded during this time of the year. Jägermeister has that same effect, which makes it perfect for the holiday season.
McGrath continued to say that this liquor has a lot of depth in flavor and texture, and adds warmth to a drink. When used in the right proportions, it can mix well with a lot of other spirits and be considered versatile: "My favorite [go-to] Jägermeister cocktail is a classic daiquiri recipe, with a split base of Jägermeister and Jamaican rum."
So, how can you make the Tragicomedy at home? Simply combine .5 oz. Jägermeister, 1.5 oz. date-infused Demerara rum, .75 oz. Lime, .5 oz. Rothman and Winter apricot and .5 oz. Blood Orange Syrup in a tin with ice. Shake and double-strain the mixture into a glass and then apply the garnish, which is just red food coloring being splattered with the bristles of a brush. Just like that, every guest at your Halloween party this year will be feelin' festive.
What other Halloween-inspired cocktails should you serve at your party?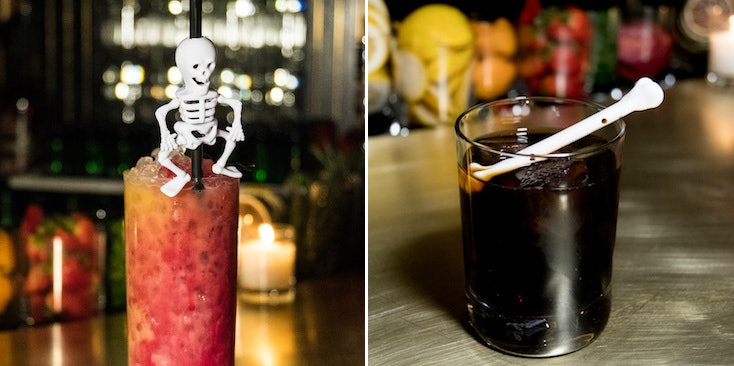 Themed parties are all about getting creative and using your imagination. Channel your favorite Halloween movies like Hocus Pocus, Halloweentown, or The Nightmare Before Christmas, and use those references to add something original to your event. Are you starting to get some ideas?
In case you're feeling a little stuck, here are a few other Halloween-inspired cocktails you can whip up before the moon comes over the horizon line. Created by Keith Larry of Employees Only NY, these drinks are sure to add just the right amount of fright to your friends' evenings.
First, is The Pennywise — a fruity drink made with Jägermeister, and served over crushed ice. To make this drink, simply mix 1.5 oz. Jägermeister, .75 oz. fresh lime juice, .75 oz. coconut cream, .5 oz. orgeat, and three dashes of Peychaud's Bitters. The clowns of your friend crew will truly appreciate this one.
Second up is the Black Magic cocktail — the perfect drink for when you need a kick of energy before the party begins, or if you're just the girl who's obsessed with all-things coffee. For this cocktail, just mix Jägermeister and cold brew coffee into a glass, and stir. Easy peasy, am I right?
According to a bartending expert, how do you create the ultimate Instagram-worthy cocktail?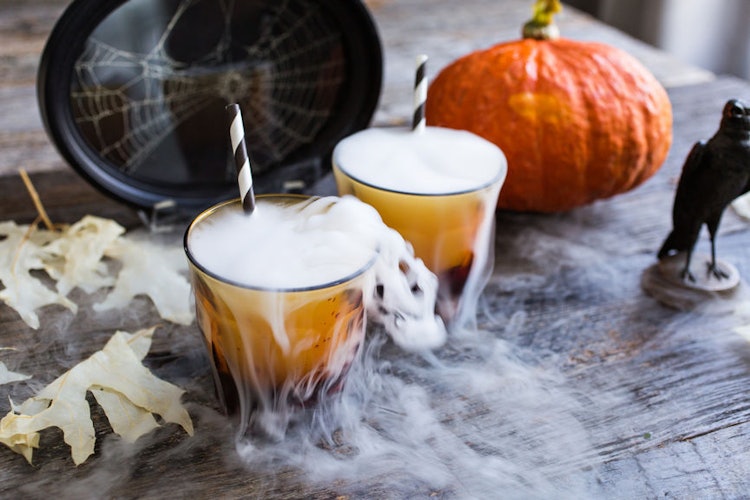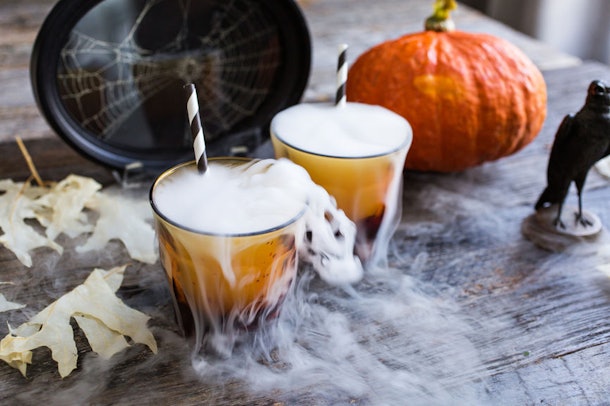 When it comes to creating drinks that are worthy for the 'Gram, McGrath says to have fun with it. Use interesting glassware that matches the mood of the party, or apply props and garnishes that create a spooky effect. Little details like that make all the difference, and make your concoctions ready for social media. (Not to mention, your bestie who's actually a vampire will appreciate digging her fangs into something sweet, and falling in love with a drink at first bite!)
"I like to use natural ingredients or things like bitters for color and accents," McGrath tells Elite Daily. He tends to stay away from drink decor like plastic eyeballs or spiders that hang off the glass. (Although, if it seems like the right fit, those props are absolutely something you can try.) OK, now — ready, set, drink, and post!
What else do you need for your last-minute Halloween party?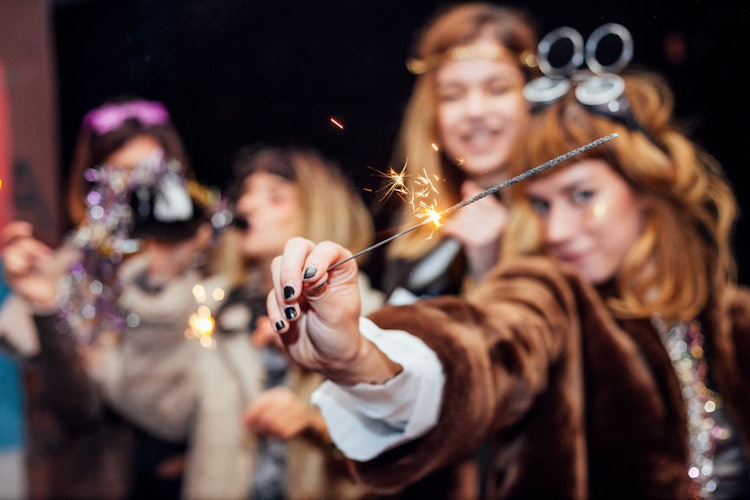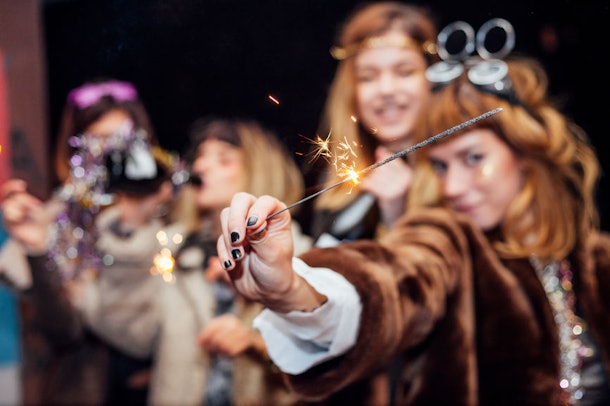 Aside from props, cute decorations, and Instagram-worthy cocktails — McGrath suggests that you add punch to your party preparation list. This gives your guests some options when it comes to eating, drinking, and being scary. And you might feel quite witchy brewing and stirring up something good in your own cauldron.
"Punch is always a great way to whip up some tasty recipes in a pinch for a party. Blow up one cocktail into a big batch, serve with a ladle and everyone is having a good time," McGrath says. Just like that, you're hosting a spook-tacular evening for your guests. It's tried and true!
McGrath's own recipe for a spiked cauldron punch includes fresh lime juice, cinnamon syrup, rum, Jägermeister, and sparkling wine. Stir it all together, and you're ready to dance until dawn with your best friends. For something that was thrown together at the last-minute, you are going to be content with how your party turns out. Now, has anyone seen the bowl of candy?
Source: Read Full Article