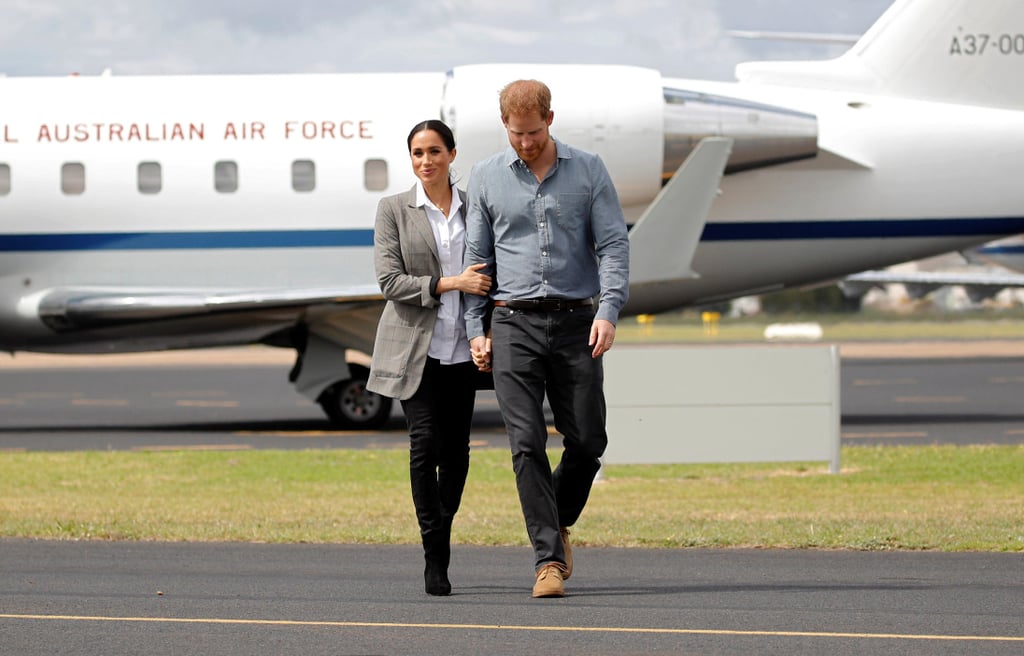 How Meghan Markle Found the $195 Jeans She's Worn 5 Times Since Announcing Her Pregnancy

The most important thing you should know about the jeans Meghan Markle's been wearing religiously — Outland Denim's Harriet High-Rise Skinny ($195) — is that they are made sustainably by women in Cambodian villages who depend on their careers as seamstresses to avoid poverty. Outland's founder James Bartle has made it the label's mission to set new standards for people who work in the garment industry by caring for its staff through wage and training, teaching them superior strategies for sewing premium denim.
We're sure Meghan is well-aware of Outland's story. And when we talked to a representative from the brand, the "Meghan Markle effect" was acknowledged immediately: "We are happy to report that in the two weeks since Meghan first wore the jeans on October 17 in Dubbo, our global sales online (through our suite of sites — .au, .com, .ca, .co.uk) have increased 2374 percent, while our global online traffic has increased over 3000 percent, excluding purchases made at our retailers." Wow.
But how did Meghan get her hands on the jeans in the first place? "A representative of [Outland Denim] was able to present a representative of Meghan's with a modest selection of our jeans, and the process went from there. We are just thankful that she loved the product and the story behind it enough to choose to wear them. We believe that she may have a few [additional] styles in her personal inventory, but it's quite clear the Harriet are her favorite, particularly in these early stages of her pregnancy," we were told by the brand, which is headquartered in Australia.
While Meghan is the first "celebrity of her caliber" to step out publicly in Outland, we doubt she'll be the last. She has now worn the Harriet exactly five times on her royal tour of Australia, styling the slim fit with everything from Stuart Weitzman booties to pumps and coats that make for memorable outfits. But the foundation for these looks starts with Outland. If you want to know more about Meghan's go-to pair and shop them for yourself, scroll to see her wearing them and find out what makes them so unique.
Source: Read Full Article