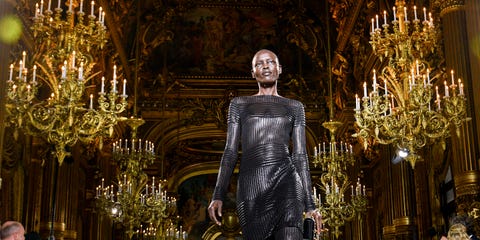 The Balmain Army is marching into couture. Olivier Rousteing announced plans for the French fashion house to return to the Couture Week calendar this morning at the WWD Retail & Apparel CEO Summit.
As WWD reports, Rousteing is "looking to bring back the Parisian DNA" to the Balmain brand with a foray back into the haute couture world. Marking the creative director's first stint as a couturier, Balmain plans to show at Paris Couture Week in January 2019. This will be the fashion house's first couture collection in 16 years. The last was shown in 2002 when Oscar de la Renta was creative director.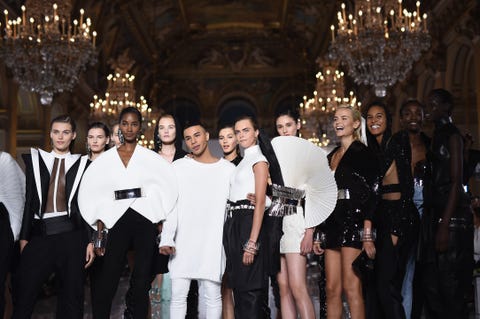 Along with couture, Rousteing added that he wanted Balmain to delve into accessories, fragrance, and cosmetics in the future as well. Since his appointment as creative director in 2011, Rousteing has ushered in a new era of Balmain—one complete with A-list celebrities, model squads, and brand collaborations.
Recently, the creative director has experimented with some more affordable partnerships for the fashion house. In 2015, Rousteing spearheaded a Balmain collaboration with H&M which sold out instantly, becoming one of the retailer's most-wanted designer collections. Last year, the brand also collaborated with Victoria's Secret on a capsule collection for the lingerie brand's annual runway show. The collection, which was available to shop online immediately after the show aired on TV, marked the first time Victoria's Secret teamed up with a luxury fashion brand.
While much of Rousteing's work has helped Balmain reach a younger audience and become more accessible, it will be interesting to see how he navigates the opposite end of the design spectrum.
Source: Read Full Article