On Nov. 3, 2018, Ariana Grande dropped "Thank U, Next," an incredibly emotional song that got us all in our feelings. Arianators who've been loyal to the pop star since day one have watched the Sweetener performer persevere through one heartbreak after another this past year, and have been blown away not only by the music she's produced in response to these hardships, but also by how she's seemingly handled each and every one of them with unwavering hope and grace. So when Ariana Grande tweeted about how therapy "saved" her, fans began to realize that, while Grande's surprise single addressed all the love she's lost, and reinforced that Ari feels good about the progress she's made so far, the pop star isn't doing this all on her own — which means, if you're struggling with your own mental health, you don't have to endure it alone, either.
On the surface, "Thank U, Next" might come off as a typical pop track that paints a picture of an independent woman declaring her hiatus from relationships. And hey, we've all loved and lost at some point or another; sometimes it's all too necessary to take a step back from these things and just do you. But the reality is, that's only a fraction of the message Grande was sending to her fans.
Listen closely to Ari's new song if you have the time. Really read the lyrics, and let her words sink in a little. Ariana Grande might literally be thanking her exes for teaching her some pretty important life lessons, like love, patience, and overcoming pain, but this song is so much more than a post-breakup anthem. "Thank U, Next" is a work of passion, words that have flowed straight from the "Breathin'" singer's heart and onto the page; it's a piece of art that speaks to healing, and how vital it is to give yourself love and seek the help you deserve.
And speaking of getting the help you deserve, in response to a fan on Twitter who'd jokingly asked for the name of Grande's therapist and whether they're accepting new clients, the 25-year-old performer took the opportunity to address the real value of therapy and the positive impact it's had on her own life.
"Therapy has saved my life so many times," Grande wrote, adding, "if you're afraid to ask for help, don't be."
These words of encouragement really seemed to resonate with Ari's fans on Twitter, as her tweet quickly yielded thousands of responses, many of which expressed gratitude for the singer's willingness to be so open and transparent, especially during what one can only assume is a difficult time for her.
Sometimes it's easy to forget that, behind all the fame, the glitz, and glamorous aesthetic, celebrities really are just as human as you and me. In the past year alone, Ariana Grande has experienced both trauma and tragic loss. She's carried a heavy weight on her shoulders, and no one, not even Ariana Grande herself, should have to endure that kind of pain alone. It's inspiring to see the "Dangerous Woman" singer acknowledge that she needs help in the healing process, and it's even more admirable that she continues to use her platform to encourage others to do the same.
Because the thing is, many people are dealing with similar mental health issues every single day. According to the Anxiety and Depression Association of America, anxiety disorders are the most common mental illnesses in the United States, and affect roughly 40 million adults ages 18 and older each year. Despite these statistics, and the fact that there are obviously so many people going through similar struggles, there's still a long road ahead before you and I can comfortably say, once and for all, that the stigma surrounding mental illness is no longer an issue.
However, there is definitely some hope to be found here: New research from the American Psychiatric Association reports that colleges are making a great effort to not only fight mental health stigma on campus, but to also make sure there are treatment options readily available for students who might be suffering, such as counseling services.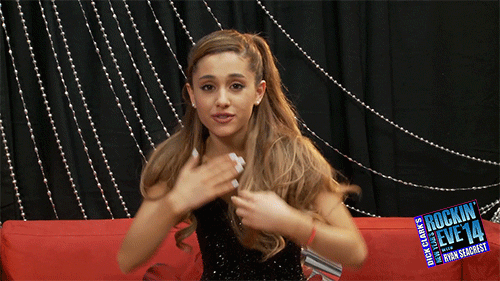 As someone who has personally been to therapy multiple times, I agree with Grande that talking to someone who can offer a completely non-biased, professional opinion on what you're going through can be extremely helpful. The thing is, therapy isn't just a conversation about what you're experiencing; a therapist can help you develop the skills and tools you need to better cope with stressful situations in the long run. Therapy is as much about healing as it is about learning your strengths, and growing from the development of new ones.
Finding the right therapist can take some trial and error, but if you aren't comfortable with the traditional setup of you sitting on an earth tone couch across from a doctor with a notebook in hand, don't sweat it. There are plenty of mental health resources available to you online, such as Talkspace, BetterHelp, and Doctor on Demand, that can match you with mental health professionals based on your needs, and offer treatment over the phone.
If you aren't comfortable talking to a doctor just yet, consider reaching out to loved ones who can offer emotional support. Sometimes all you really need to feel better is to know you aren't alone. And above all, as Ari would say, remember to just keep breathing.
Source: Read Full Article