Raise your hand if you always overpack. (I'm raising mine real high.) From too much makeup to yet another pair of shoes, I somehow always check a bag full of stuff I really don't need, even when my trip is only a week long. If you're anything like me, you're probably on the hunt for tips for fitting a week's worth of stuff into a carry-on.
I tend to be on the side of over-prepared rather than under, just in case one of the many potential scenarios in my head actually plays out: It could rain, I might want to wear those cute heels, or I could actually decide to work out on this trip. (I won't.) And because I'm always on the hunt for an Instagrammable moment, I make sure that every article of clothing I bring is picture-perfect — but this also means that I pack a ton of options, and almost always hit my 50-pound limit on my bag. (Oh, the struggles!)
Even though I joke about my lack of packing skills, as I've racked up a ton of miles traveling around the country (and the world) for work, I've come up with a few trips for fitting everything I might need for a week-long trip into a carry-on.
1

Your Choice Of Carry-On Luggage Is Key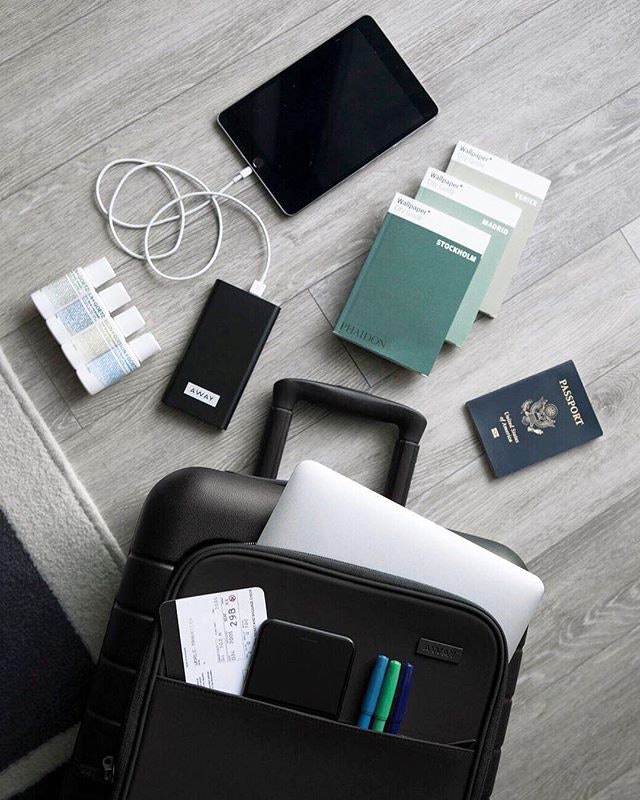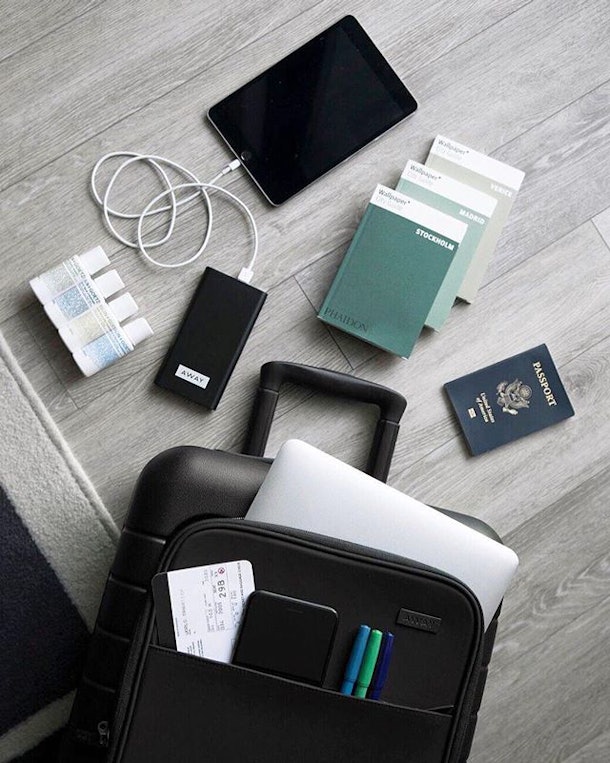 This one might sound a bit obvious, but what luggage you choose to bring with you makes a huge difference. As someone who has gone through at least five different carry-ons in the past five years, I can definitively say that there is none better than the Away Bigger Carry-On With Pocket (in my personal opinion).
Not only is it super sturdy and incredibly chic (get ready for some major travel photo envy), but it really does fit everything you might need. I was a little hesitant because of its lack of an expansion zipper, but I actually don't need it. All of my clothes fit on the right side of the luggage (and can be compressed with the straps provided), while my shoes, steamer, curling iron, and other bulky items nestle securely on the left side (which can close with a zipper).
Plus, the pocket in the front is big enough for my laptop, which allows for easy access when I'm going through security. The little pockets are great for paperwork and my passport.
2

Use A Duffel Bag As Your "Personal Item"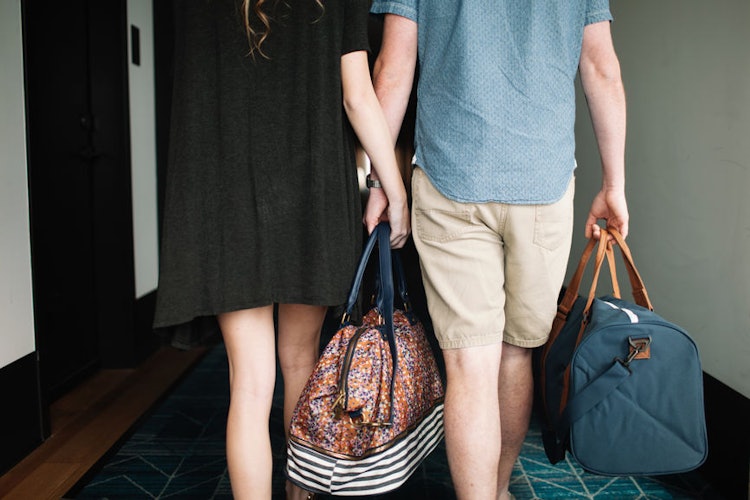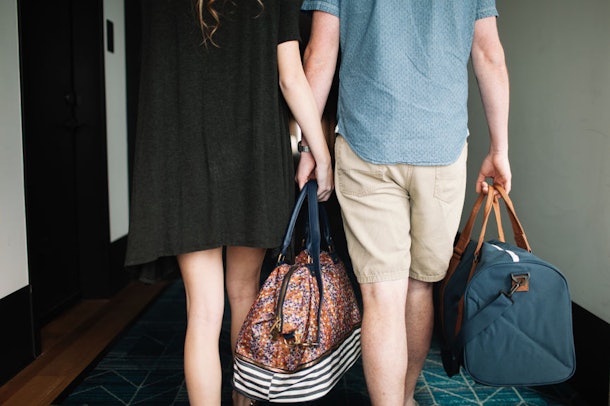 I used to travel with just a carry-on and a purse, and would panic when I couldn't fit all of my little things in my bag. That completely changed when I switched over to using a duffel bag as my personal item.
Duffels like the Away's Everywhere Bag or Herschel's Strand Duffel are perfect because they fit underneath the seat in front of you (with room to spare), and can easily carry any items that don't fit in your luggage. And if you're one of those people who absolutely needs a purse, you can comfortably stick one inside your duffel bag. Plus, while you're on your trip, you can use your duffel as a day bag if you're headed to the beach or on a little excursion.
3

Put All Of Your Toiletries In A Cosmetic Bag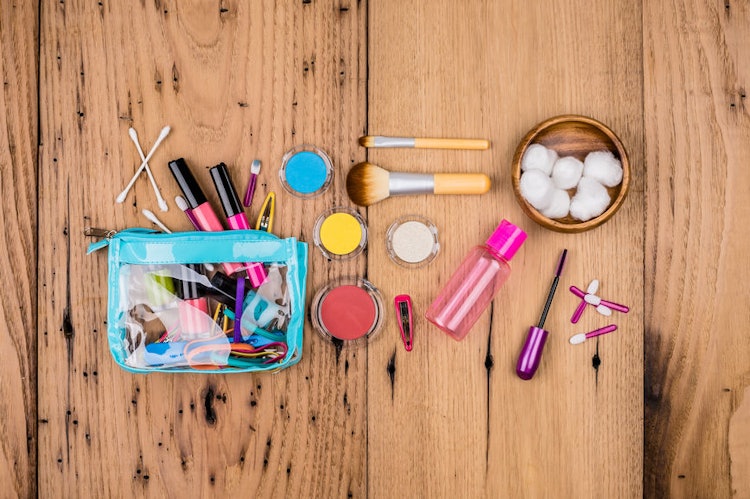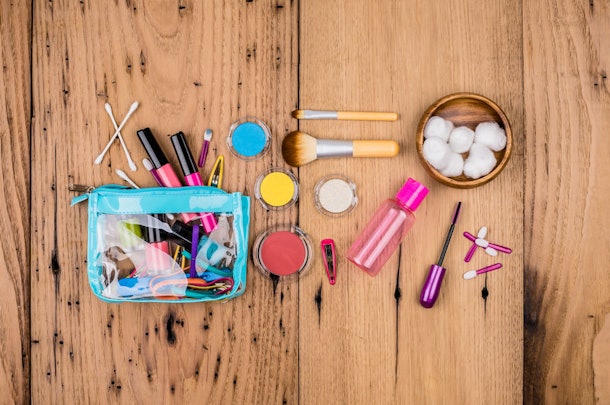 This one might be a personal preference, but I've found that putting all of my toiletries in a cosmetic bag (and then into my duffel) really helps me stay organized while I'm traveling. This trick helps keep everything together for both packing and unpacking purposes. It prevents all my toiletries from getting scattered inside my luggage, and saves space for my clothes and other bigger items that actually need to go inside my bigger bag. As an added bonus, this makes it easy for me to separate my liquids when I'm going through security.
4

Put Your Toiletries In Smaller Containers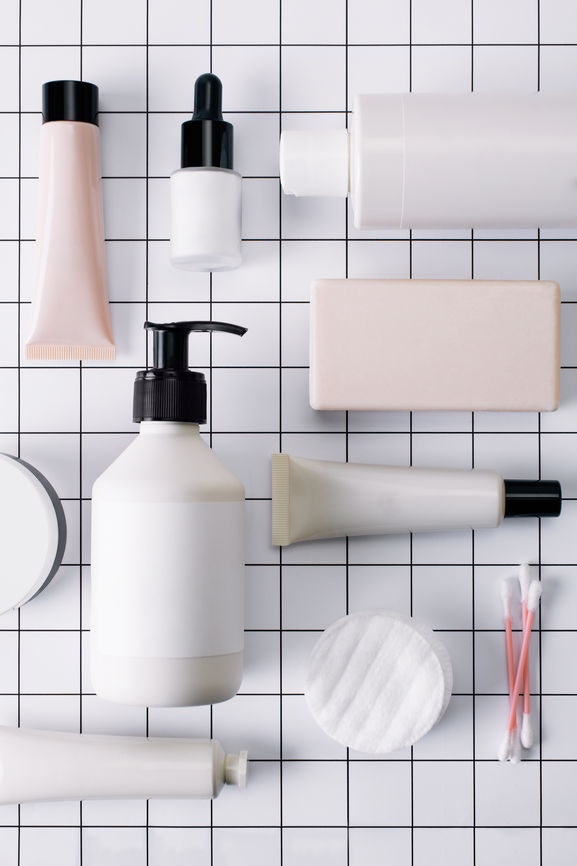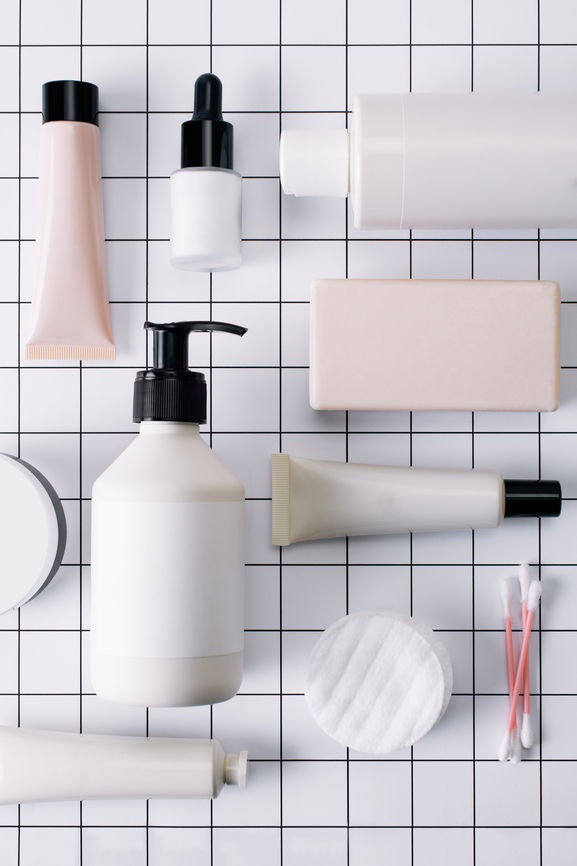 One of my favorite tricks for saving space is putting my toiletries into smaller containers. I don't mean flimsy travel containers that they sell at drugstores, but rather, I use alternative containers that are already made for travel. For example, I put my micellar water into a contact solution bottle, and my rosewater toner goes into an old makeup setting spray bottle. Old Lush pots are great for moisturizers, lotions, and other creams, and even work well for bars of soap (if that's your thing).
I also think that buying actual travel-sized toiletries can be worth the investment: I bought travel-sized shampoos and conditioners forever ago, and every time I travel, I now just refill those bottles. (And they don't leak!)
5

Downsize Your Makeup By Packing Stick Or Multi-Use Products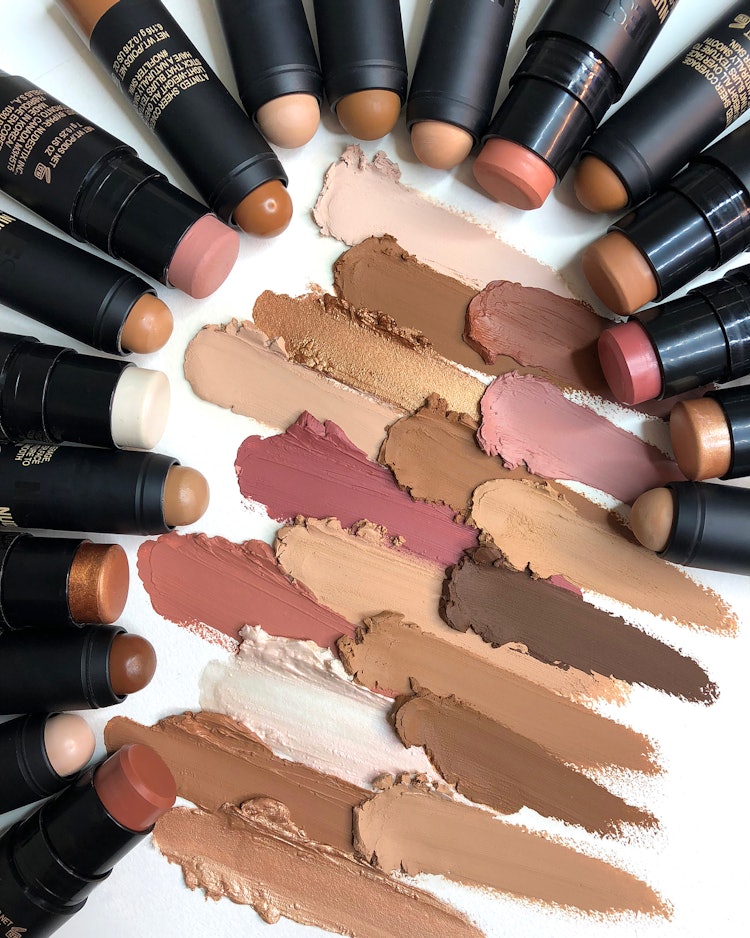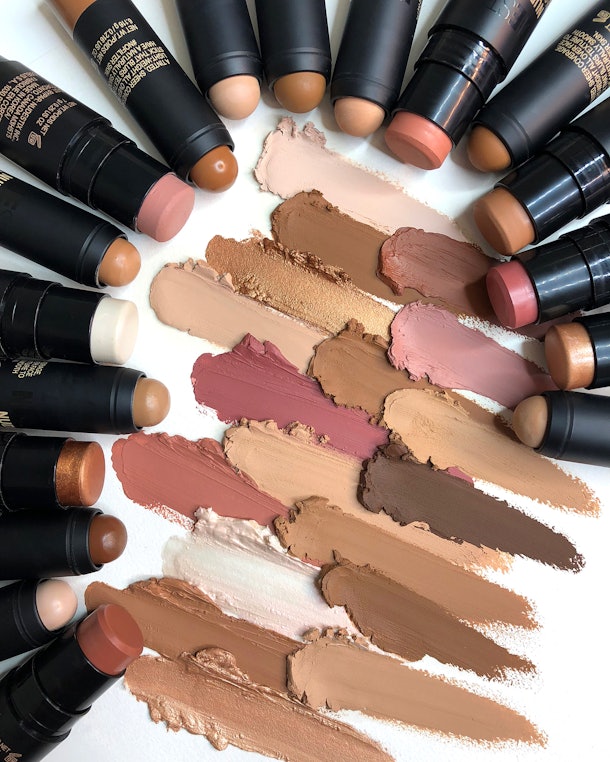 This part is the hardest, I know. I used to be guilty of packing three eyeshadow palettes and two foundations for one trip, just because I couldn't make up my mind. My solution? Cream and stick multi-use products. These products might not be for everyone, but I've found that they work really well for traveling to give you that easy-breezy, jet-setter glow with minimal application.
Stick products are often formulated to blend out easily with your fingers so you don't even have to pack brushes. Plus, one product can usually serve multiple purposes. (For example, you can use a stick bronzer as a contour, blush, and eyeshadow, depending on how you apply it.) My current go-to face base product is the Nudestix Tinted Blur Stick for a sheer, all-over glow. Some of my other favorite brands with great multi-use products are Glossier, Flesh Beauty, and Hourglass Cosmetics.
6

Stuff Your Stuff In Other Stuff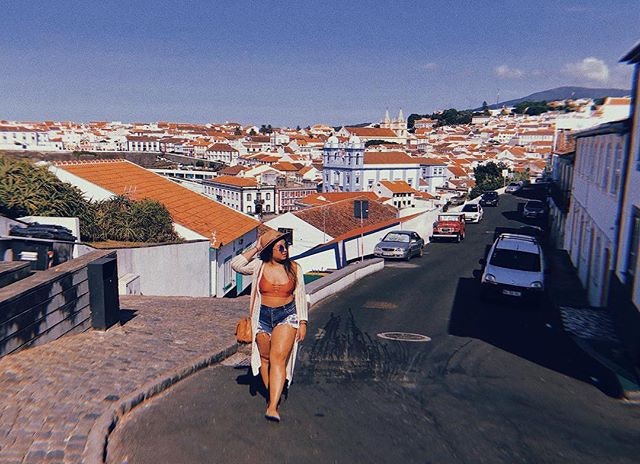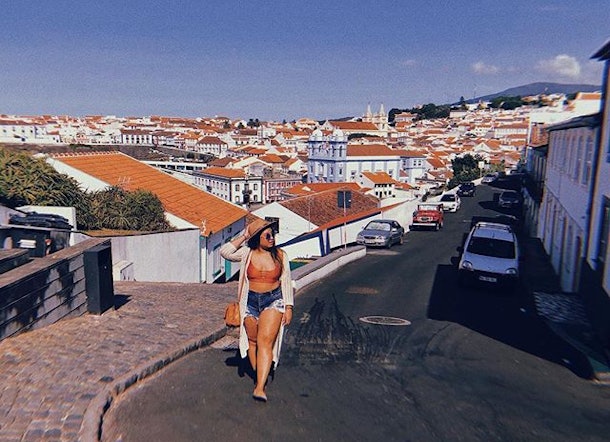 This might actually be my favorite packing trick. I stuff anything that can be stuffed in order to save space. For example, I love traveling with hats. (They're kind of my thing.) But traveling with them can get tricky, because they're oddly shaped and can easily get crushed. To solve this problem, I usually stuff my hats with a sweater or my bag of underwear to maintain its shape and also make use of the space inside the hat. Other hacks are putting sandals and flats inside your purse, or even putting purses inside your purse (if you're extra like me and need to have more than one cute purse on a trip).
7

Plan Your Outfits In Advance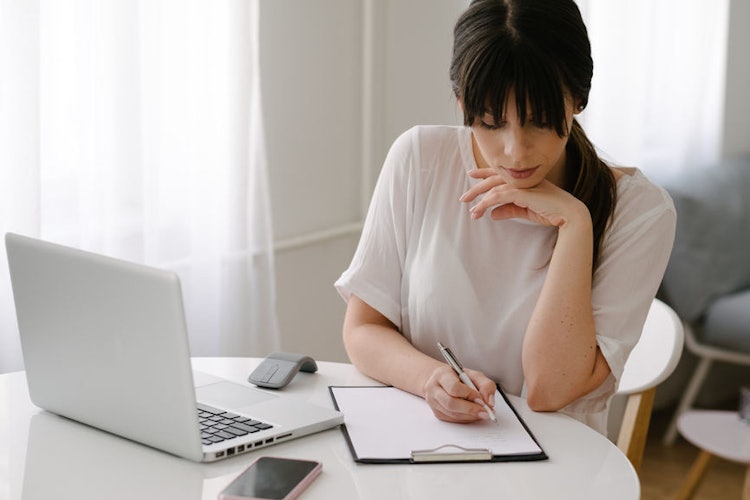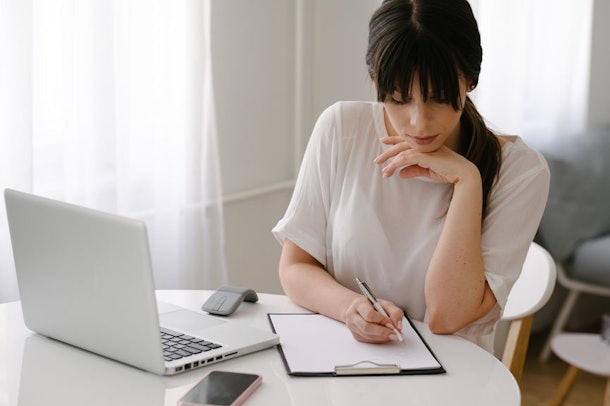 I really need to follow my own advice on this one. I will say, however, whenever I do plan out my outfits, I save a significant amount of space in my suitcase. Making an outfit itinerary ensures that you're not bringing stuff you won't need, and it also eliminates the possibility of overpacking. Granted, this one only works if you know what you're doing when you get to your destination, so get planning on your actual itinerary ASAP so your travel #OOTDs can follow.
8

Roll Your Clothes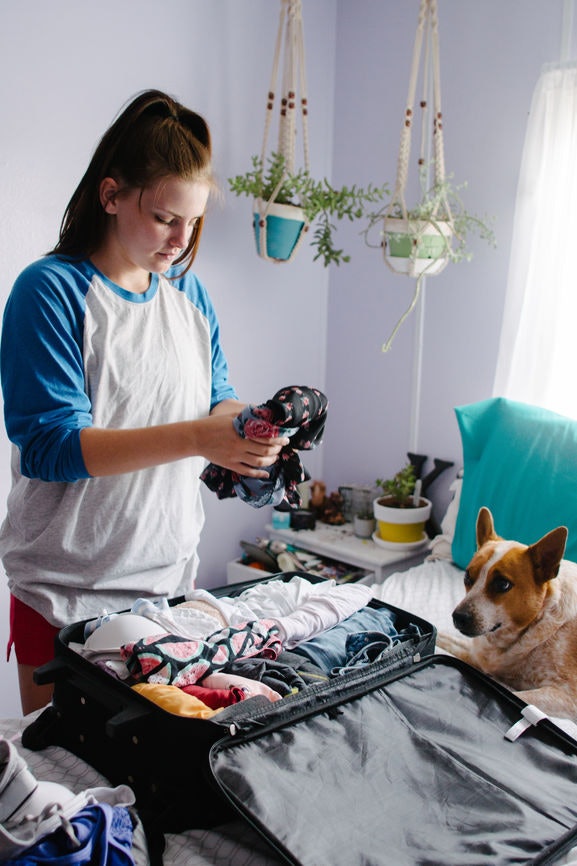 Your mom probably taught you this trick way back when, and there's a reason why people still pass it along as a tip: It really does save space! Even if you don't plan your outfits in advance and end up bringing a ton of extra stuff, you'll definitely be able to make some room in your suitcase. Another hack of mine is to fold my clothes normally on the way to my destination, and I roll them on the way back to make space for souvenirs.
Next time you're going on a little vacay, keep these packing tips in mind so you can skip the baggage drop and save some space.
Source: Read Full Article