On your plate, the Turkey serves as the centerpiece. The cranberry sauce, sweet potatoes, and green bean casserole add a nice pop of color. Then, the gravy drizzled on top makes the dish come full-circle. And of course, you can't forget about the stuffing — Thanksgiving simply would not be complete without it. But to be honest, I don't know why we reserve stuffing only for Thanksgiving. It's so delicious that I want it all the time, and you'll definitely need stuffing puns for Instagram when you're posting your ode to that delicious side dish.
Just like the stuffing is absolutely necessary, a great caption is mandatory for your Insta post. Without a caption, it's bland AF, and you can't have that! So, instead of scrambling to get the table set and coming up with your own caption, I've assembled these 40 puns for you to use.
A selfie with your entire family or friendsgiving crew at the table is on the menu before you all dive into that delicious holiday spread. Post that Insta-worthy pic ASAP with a punny quote that will make your followers smile just as big as I do when I see stuffing on the table.
1. "Much ado about stuffing."
2. "I'm stuffed."
3. "Never not stuffed on Thanksgiving."
4. "You deserve butter stuffing."
5. "Time to get turkey basted."
6. "I'm so kneady for stuffing."
7. "My Thanksgiving's not crumby with stuffing around."
8. "Take all the thyme you need. I'll just be over here eating the stuffing."
9. "'Tis the seasoning."
10. "Because you know I'm all about that baste."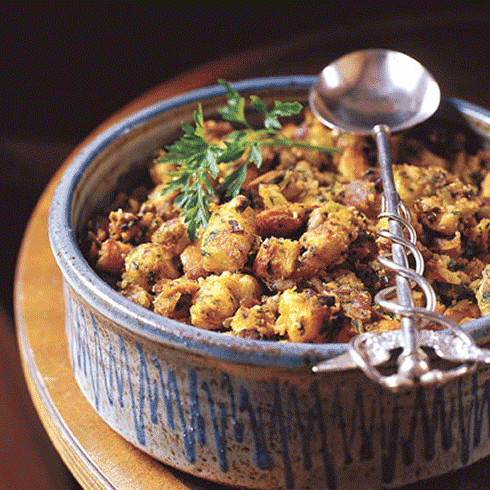 11. "If you hate stuffing, go pluck yourself."
12. "I could just gobble you up."
13. "Pour some gravy on me."
14. "Let's get basted."
15. "Spending Thanksgiving with the ones I loaf."
16. "More stuffing? You bread my mind."
17. "Coming home for Thanksgiving was the yeast I could do."
18. "Bready or not, here I crumb."
19. "I like to put flours on my Thanksgiving table."
20. "It's past my breadtime, but I want all the leftovers."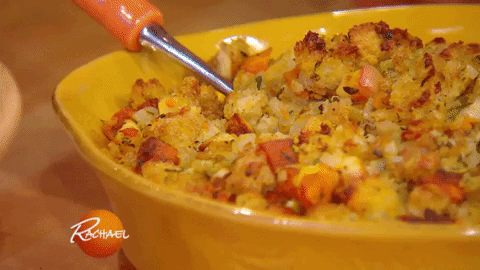 21. "Give 'em stuffin' to talk about."
22. "On Thanksgiving, I've got stuffin' going on."
23. "Stuffin' compares to you."
24. "This stuffing is the tur-key to my heart."
25. "When turkeys get into a fight, they get the stuffing knocked out of them!"
26. "The only thing that's not eating on Thanksgiving is the turkey, because it's already stuffed.
27. "Hey I just met you, and this is gravy. But here's my stuffing, so carve me maybe." — Mitchell Bader
28. "Am I the turkey tonight? Because I am stuffed!"
29. "I came in like a butterball."
30. "Nobody puts gravy in the corner."
31. "I love stuffing dough very much."
32. "I knead more stuffing in my loaf."
33. "Eating more stuffing is the yeast I could do."
34. "Crust me, my stuffing is the best."
35. "I got some sage advice on my stuffing recipe."
36. "It's about thyme we all eat stuffing together."
37. "So many stuffing puns. So little thyme."
38. "We can know only that we know stuffing."
Source: Read Full Article