When Cyrus and James Clark founded their eponymous label nearly 200 years ago, they did so with an aim of providing well-made quality products that looked the part, too. While the first three years of its existence were lent to creating luxury sheepskin rugs, the years since have seen Clarks Originals become emblematic in the footwear industry.
Renowned for signature silhouettes like the Desert Boot and Wallabee, the Somerset-based outfit has infiltrated a myriad of subcultures spanning in its time, becoming uniform-like for everyone from Jamaican rude boys and U.S. Beatniks, to '70s mods and bands of '90s Britpop.
While the brand's heritage and popularity is firmly rooted in smart-casual shoes, more recently Clarks Originals has begun taking big steps into the ever-growing world of sneakers, a sector predicted to reach a value of $120 billion USD within the next five years. These recent moves into a more streetwear-oriented sphere have certainly caught attention, although this isn't the brand's first foray into the unknown.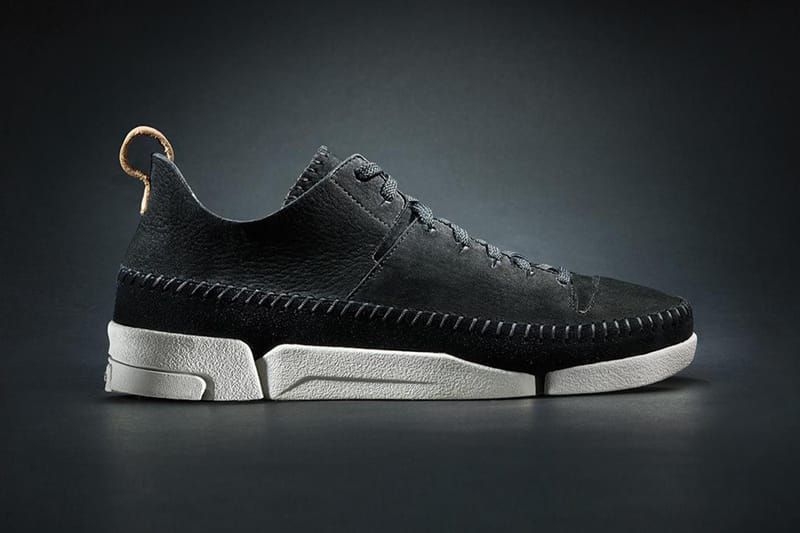 Clarks Originals Trigenic.Clarks Originals
"The initial attempt by Clarks Originals to break into the sports market dates back to 1973 when it sponsored the U.K. Basketball league," explains Matteo Bellentani, Head of Product and Design at Clarks Originals. "They called it the Clarks Men's Shoes Basketball League and alongside it created two performance sneakers in the Playmaster Boot and the Playmaker Shoe. This soon led to the launch of "Clarksport" in 1976, a footwear line featuring sneakers designed for athletics, football, golf, hiking, sailing, tennis and skateboarding".
Since the launch of Clarks Originals in 1994 — a spin-off brand with the purpose of responding to an increasing demand to have iconic silhouettes which root from its extensive archives — the team has been working on creating the "perfect Clarks Originals trainer". "We go by the motto of 'be iconic, be authentic, do what we are best and what we are known for'", explains Bellentani. "We want to create the perfect Clarks Originals trainer. The idea for a suede trainer with our plantation crepe sole — both elements rooted in the DNA design code of Originals — seems a no-brainer, but finding the right balance isn't easy".
Silhouettes like the Trigenic Flex have arguably been one of Clarks Originals' most popular sports-infused styles over the past decade, finding itself at the centre of collaborations with the likes of END. Clothing and Danish label Le Fix. While the hi-top silhouette may have been the brand's first shoe to have really caught the eye of sneakerheads, it wasn't until the launch of the Tor Run in 2020 that things really took a turn.
"The idea for a suede trainer with our plantation crepe sole — both elements rooted in the DNA design code of Originals — seems a no-brainer, but finding the right balance isn't easy".
"When we discussed the Tor Run sole design for the first time, we had to come up with a puzzle of crepe layers, wrapping parts, EVA midsole and inserts, to make it work as we wanted," explained Bellentani. "The upper was designed with the same direction too, using our DNA materials of suedes and nubuck. It worked really well and for me is a premium sneaker we can be proud of".
Arguably Clarks Originals' biggest powermove to-date took place earlier this year, after it announced that KITH founder Ronnie Fieg would be joining the brand as creative director of his own sneaker line 8th Street. And while Fieg's reputation in the streetwear world lends itself nicely to a brand making moves into a new category, Bellentani ensures it remains a collaborative process.
"We travelled to New York last year to meet Ronnie and I was surprised how similar an idea he had to us on how we should design his upcoming line," says Bellentani. "He described it as 'creating a footwear line between brown shoes and athletic shoes', which is perfect. What he's released as a creative director for us so far is visible to everyone: the Sandford Court, Lockhill Crepe Runner, and the recently-released Brecon are true staples of the growing sports craft category for the brand. It's almost above our expectations already".1 of 3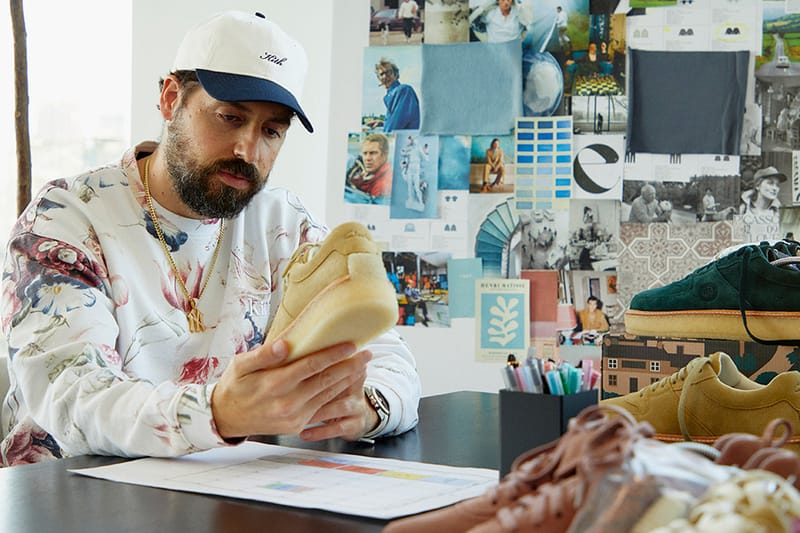 Ronnie Fieg.Clarks Originals2 of 3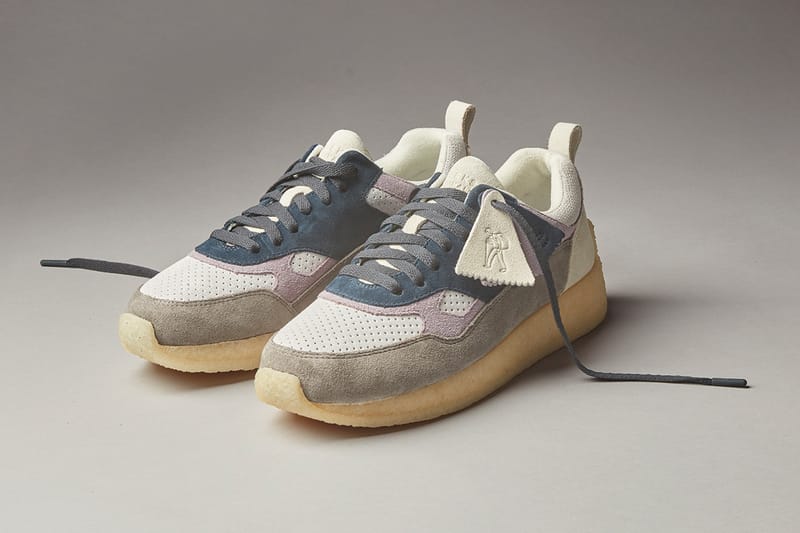 Clarks Originals 8th Street Lockhill.Clarks Originals3 of 3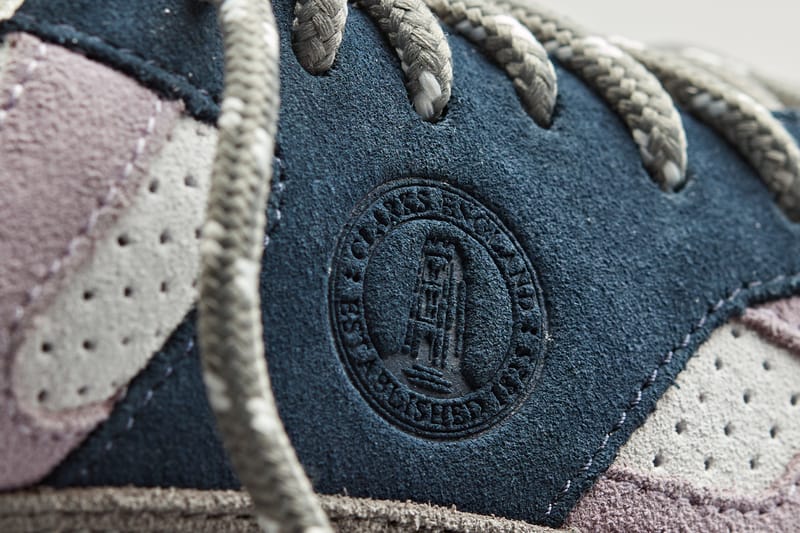 Clarks Originals 8th Street Lockhill.Clarks Originals
While Fieg's involvement in the brand will no doubt have a positive impact on its place within the sneaker industry, Clarks Originals can lean on the clout it's earned on its own too. For any brand to be approaching its 200th anniversary and still be as relevant today as it has been throughout its journey is admirable, and for a brand with the ability to adapt and tweak its styles to suit particular demographics or eras yet still remain true to its DNA, it certainly knows what it's doing. While the footwear industry is the most congested and competitive it's ever been, Bellentani and his team are confident of success.
"Clarks Originals will be a known name amongst quality trainers brands soon, maybe with a little help from some important collaborations. The work we are doing with Ronnie Fieg's creative input is like a power engine for us, fresh air coming. We really want to ride this moment and show the people what the brand can do when we use our skills and our knowhow — even on a new product category. We're really excited".
Source: Read Full Article