The last 10 years have been kind to Craig Green. Since establishing his namesake label, the designer has grown from a budding student of Central Saint Martins' Fashion Masters course into a beacon of Great British born-and-bred talent. Today, he is a household name, but it wasn't easy getting started. 
"My godfather was the person who taught me how to sew," Green explains to us, sitting in his studio alongside the upcoming Fall/Winter 2023-Spring/Summer 2024 collection that coincides with his brand turning a decade old. And as we chatted about his grandparent's home in the Isle of Wight, gloomy London weather, and speaking to one another again, his nostalgia turned into retrospection: "You always remember the good bits of the past. I really started from nothing. [My brand was] built on goodwill, skilled people, friendships, favors, and family. It was that kind of energy, which I love as a thing," he said, speaking on the early days of the brand. 
It still is that way – a desire to work with talented friends – to some degree. The people around Green are a continuous source of inspiration, and are intrinsically connected to the work he's produced over the years, let alone today's FW23/SS24 offering. 
For Green's latest collection, he looked back at the input of his godfather, an upholsterer: "I worked with him on my graduate collection. We worked with craftspeople that were either part of my family or people we worked with in the past, in celebration of where we've come from and where we've been."
In doing so, Green was able to create a collection that comments on the past and simultaneously looks to the future. His sculptural pieces – called 'Padded Friends' or 'Padded Men' – were also made in collaboration with his godfather. And the process of making them, which is much like an avant-garde DIY art form, enabled the designer to produce a FW/SS collection on his own terms. "We worked with concepts and allowed them to not have the end date of a show. We wanted to be able to develop as we went on. It's a milestone for the brand in a way, 10 years is a long time – and I've aged maybe 20!"
This is one of Green's largest collections to date, and almost his most celebratory one. It doesn't necessarily mark 10 years of the brand in itself, but it does show how the designer has continued to evolve in this period. Take the collaborative
Amy Gwatkin For Craig Green, Exclusively For Hypebeast2 of 2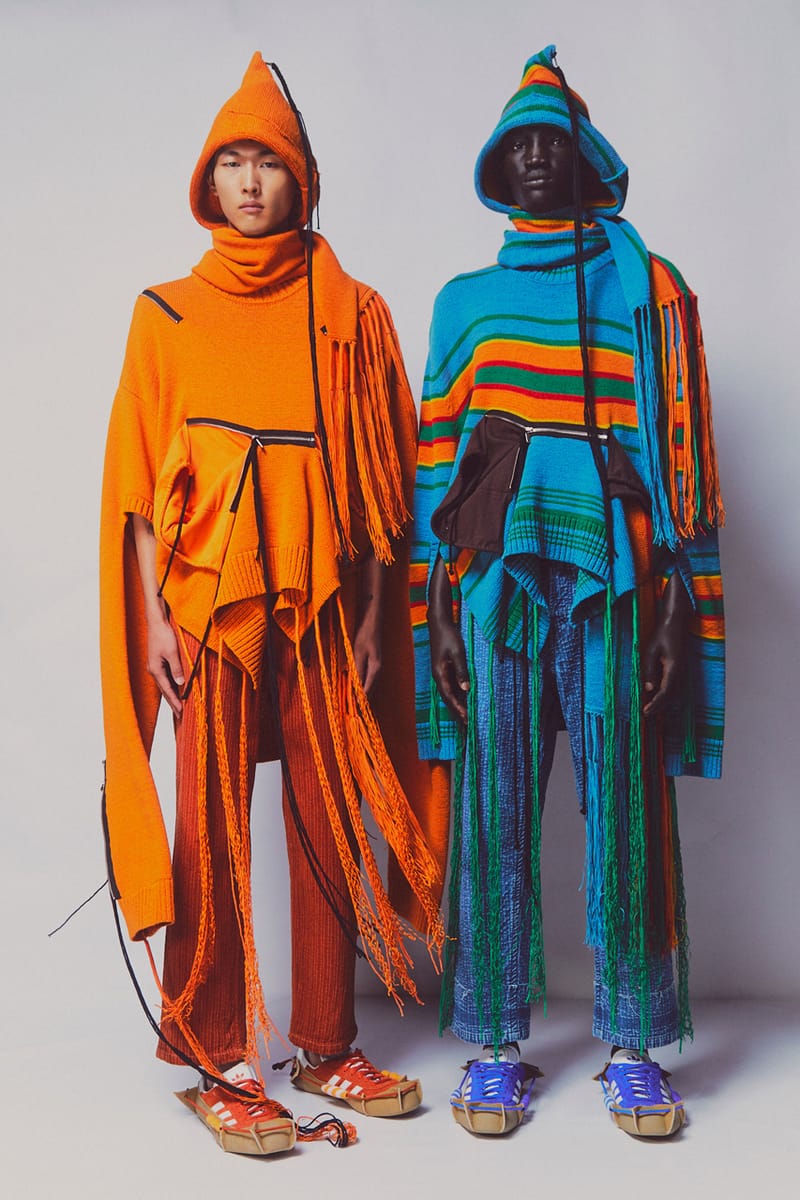 Amy Gwatkin For Craig Green, Exclusively For Hypebeast
Hypebeast: Do you remember what it was like when you started your label 10 years ago? 
Craig Green: We've come such a long way since then, but I look back on it in a positive way. Maybe if I went back there now I wouldn't enjoy it so much because I've probably forgotten all the realities of the struggles. But when I look back I think, "Oh, what an amazing time that was, we were all so young." Everything was possible and anything could have happened.
How did you continue to grow and evolve over the last decade?
There's a through-line between the collections up until this point because they all come from the same place. But we try to challenge ourselves every season – obviously, these through-lines and signatures evolve or get revisited every now and then, but a lot of the time we start with something completely new. It's what the brand was really built upon. How do we do this? How do we create this thing without knowing how to do it at all?
Last year's show in London we, all of a sudden, started to work with latex dipping companies to develop shoes and valve clothing which [is not] something we've done before. We didn't even know what companies to speak to, so we were traveling around the UK going to industrial complexes, speaking to people who make anaesthetic valves and seeing if they were willing to work with us. 
Curiosity and experimentation have really always been what the brand is about. There's a certain type of approach, but at least a few things every season are completely new. Keeping that newness and excitement in the process is something that's important to us. 
Do you think that level of curiosity is what has made your namesake brand so popular among your fans?
I would hope so! It's the part we really enjoy. I've always said and thought that the role of a designer is to challenge, to solve a problem in its basic form by trying to make something better, to put new things forward and propose new ideas, and to keep trying to push for something exciting. That's the way we're set up; we have a sculpture area [in our studio] that people laugh at and say it looks like B&Q as it's full of weird industrial things and loads of wood, and then we have the fashion atelier set up with sewing machines. And they're not separate, the pieces move between them – an item is sewn, and then someone takes it and turns it into a tent or a weird sculpture, dipping it or painting it. I think that the creative hands-on process is something that we've loved doing for the past 10 years. 
Are you being retrospective at all in marking 10 years of Craig Green?
When you look through the collection, it's split into stories. The narrative that holds all of these stories together is that idea of connection and duality; say for example the sculptures that are based around an image of wrestling apparatus, this weird padded figure. It's a weird thing as well, to practice with something that's not fighting you back, I don't really know what the point of it is. But there's something dark about it, to wrestle with a dead weight, and I thought there was something beautiful about these objects – the very old ones we found had the height and weight of the figures on them, like they were dumbbells. I thought that was amazing. 
"There's something interesting and dark about it being a wipe-clean, easily sanitized, multi-use human."
We worked with the upholsterer on this as the material is a highly-functional PVC used for medical beds or school sports equipment. There's something interesting and dark about it being a wipe-clean, easily sanitized, multi-use human. The weights on the object were split into the weight of a leg, an arm, and a foot. You can look at them and think of it as something romantic, the connection between two people learning how to interact with the human body, or learning how to support somebody. But you can also look at them in a dark way. 
I think it's quite dark… 
Yeah, it is. This was the first time that the models were interacting with the [sculptural] models in the showroom, because usually, the sculptures dominate the body or they are being used by humans. But this sees the human supporting the weight of these sculpture pieces – it's a bit of the past, but investigating a new way of doing sculpture. And the models are a lot more exposed than with the sculptures that we've done before. 
That's where this duality idea comes into play too. With our very first collection, it was all about shadows and everything having an exact shadow replication, but this time it was more about a replication of something rather than a shadow. Like that mirror image, it's almost the same but slightly different versions of each other. It links back to that kind of connection-finding, bonding with other humans. 
And how does this concept play into more accessible, wearable items?
You see it in the knitwear. There's some movement, it's very drapey and flowy. But to replicate something that free as an exact replica is quite cool. Replicating something chaotic is new for us, as is doing something so fluid. We're storytelling through the replication of a double, which looks back to the past. 
The "Tapestry Men," [the jacket/mask combinations] are a chenille collegiate embroidery. It's made from three layers of fabric that are embroidered together and then frayed, so you can see the layers of colored fabric coming out. All of the cording parts – we always use cords – are used differently this season, as they're cut up and frayed, made into something that looks like a shearling, a carpet, or my mom's old sofa, really. 
The masks are kind of spooky and the jacket and mittens and mask unzip to expose the person underneath. 
To me, those masks feel like a commentary on the lifeless dummies you referenced with your new sculptures that we see earlier on.
Exactly – we called these dummies "Padded Friends." Someone on the team said, "You should send these to lonely people." Like a weighted blanket you might use to go to sleep, you could have a weighted human to lay on you… 1 of 3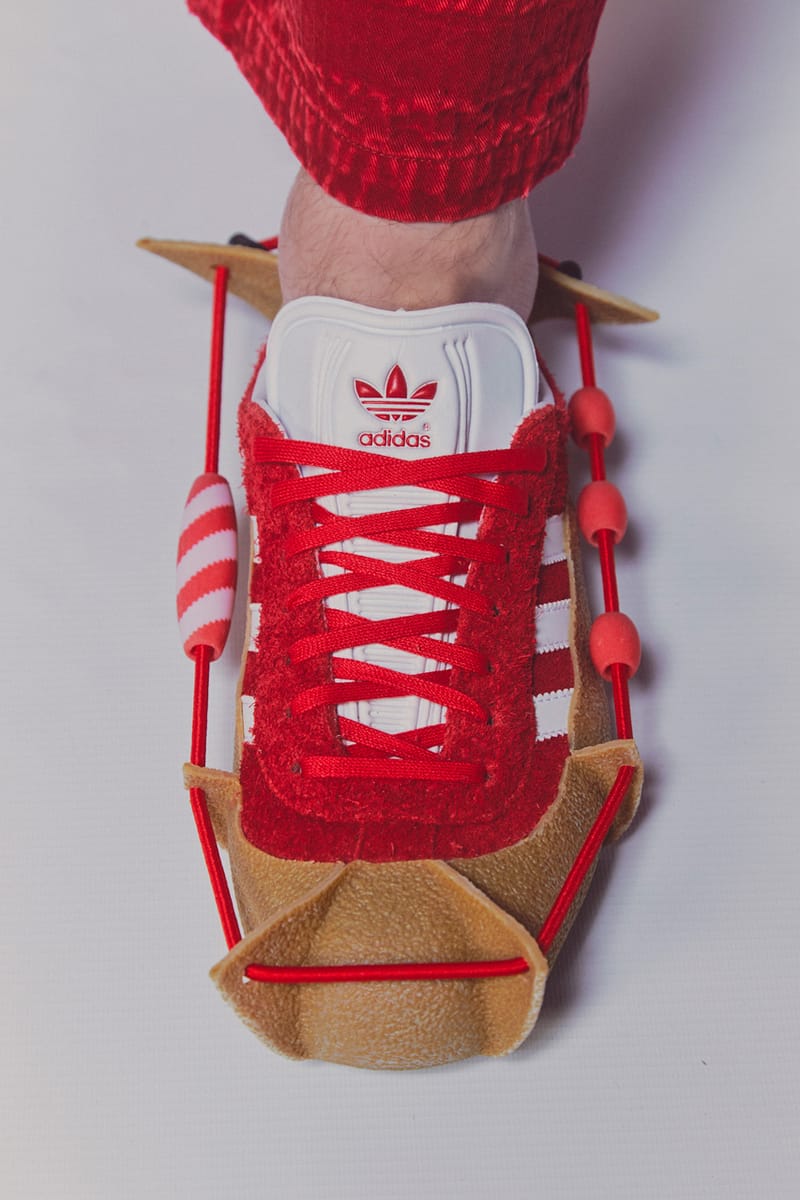 Amy Gwatkin For Craig Green, Exclusively For Hypebeast2 of 3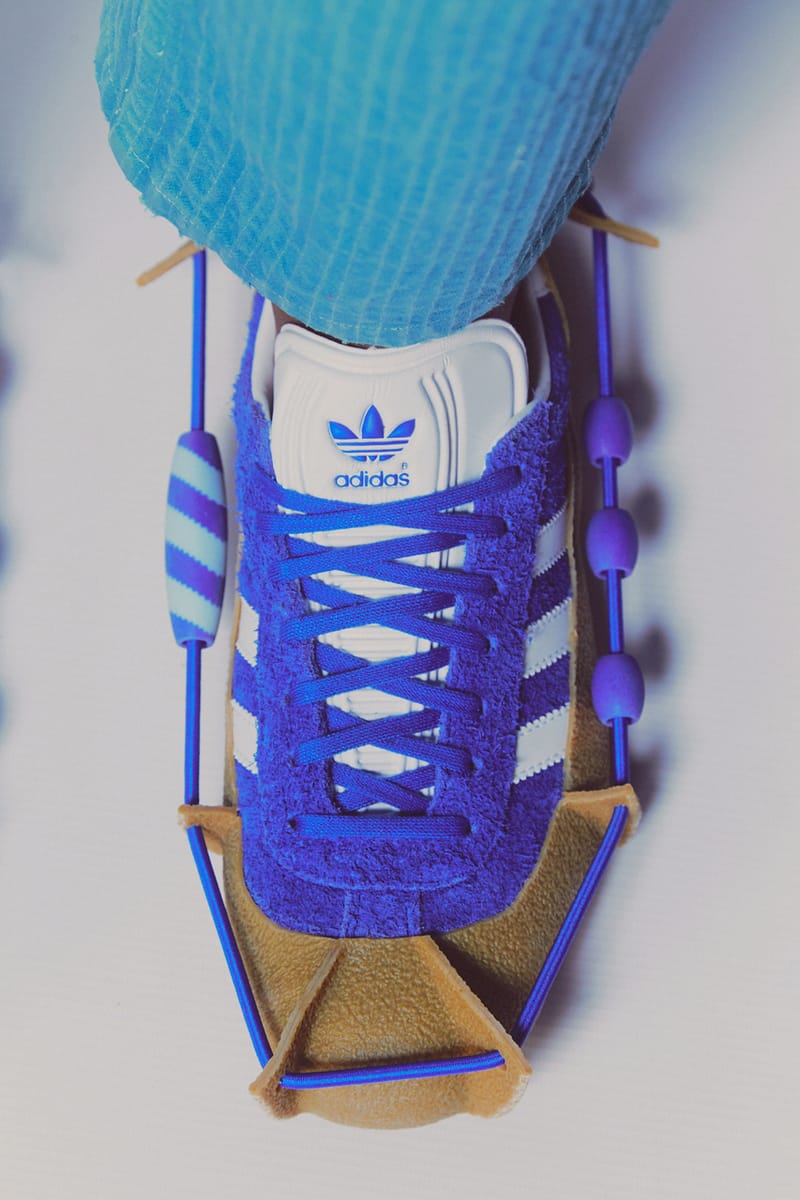 Amy Gwatkin For Craig Green, Exclusively For Hypebeast3 of 3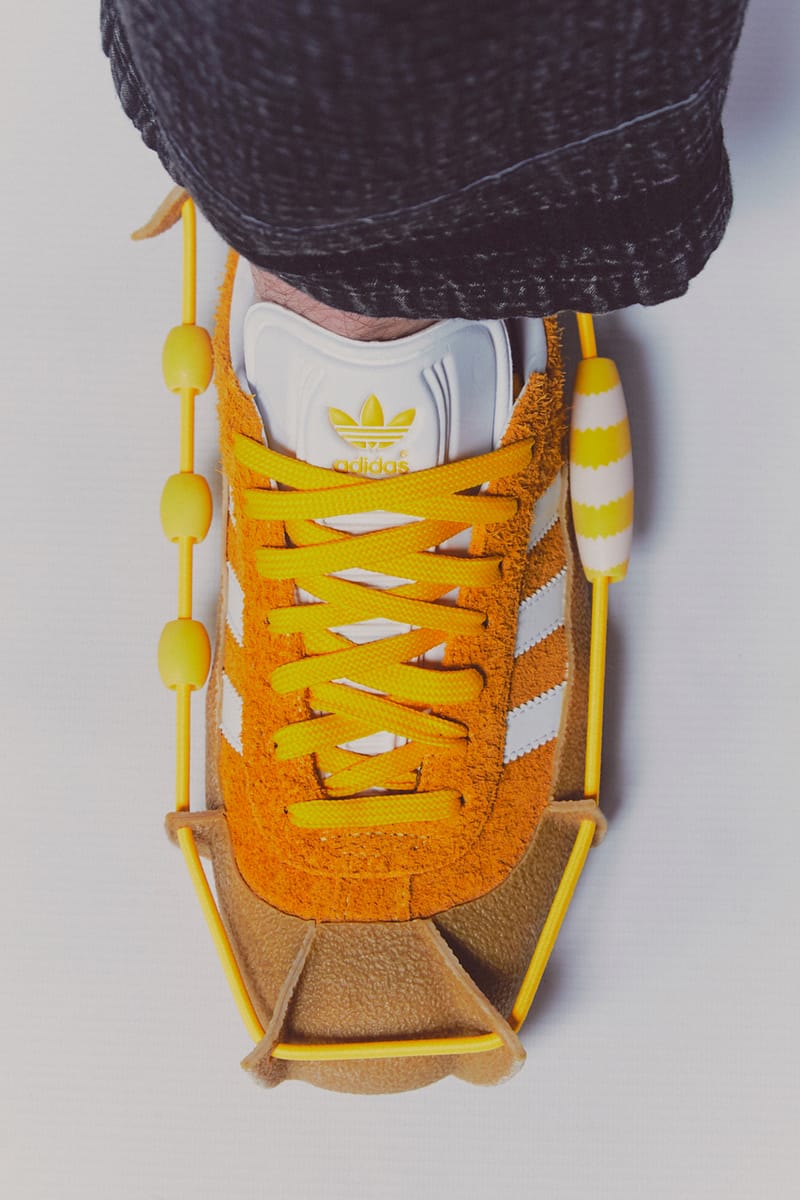 Amy Gwatkin For Craig Green, Exclusively For Hypebeast
If that's what you're into! Aside from the conceptual pieces, there are also a lot of signatures in this collection. How are they updated this time?
The collection's lacing can be undone and [the garment] can come completely apart. Previously, the strings were freer and unleashed and deconstructed, but this time it was a lot more mechanical, a bit like Meccano, using it to piece the outfits together. It was engineered and body-focused, rather than just cutting and slicing through the body in an angry way. I guess [the lacing] is more respectful of the body's form, rather than falling apart and slashed. 
This piece [holds up a shirt] looks like a normal striped shirt, but it's really light muslin calico, embroidery-stitched together, and then each individual line is cut and hand-frayed so it looks like a striped shirt but ages over time. 
"There's a romanticism and a softness in the work… they're kind of aged awnings from a shop, collapsed on a person, which we thought was beautiful."
There's something nice about the idea of a ceremony. The bags have metal feet on one side so you can place them on the floor and use them like a seat or something else functional. The material of that is similar to what is used on the "Padded Men," it's like a Church of England prayer cushion kind of material as well as a sports material. I love that idea of a material that can be used in different contexts, coming to mean different things but similar as they're functional. 
The workwear does have a different approach. Things are more cut out and exposed, there are curved-hem trousers and curved-hem parkas with slits. The parkas can be worn in different ways because of the slits in the arm. And then the tent pieces at the end, we were calling them "Awnings," I guess. It came from a catalog book of awnings, and we looked at the shaping – it's functional to protect you from the rain and the sun, but it's also used to advertise something or attract people to the shop. 
There's lots of juxtaposition in this collection, but it feels softer than your usual work overall. 
Although we're marking 10 years – which is a milestone – the end of something is the beginning of something else. A lot of the approaches were done in the way we like to work, but a lot of the time we were also thinking of the future. 1 of 3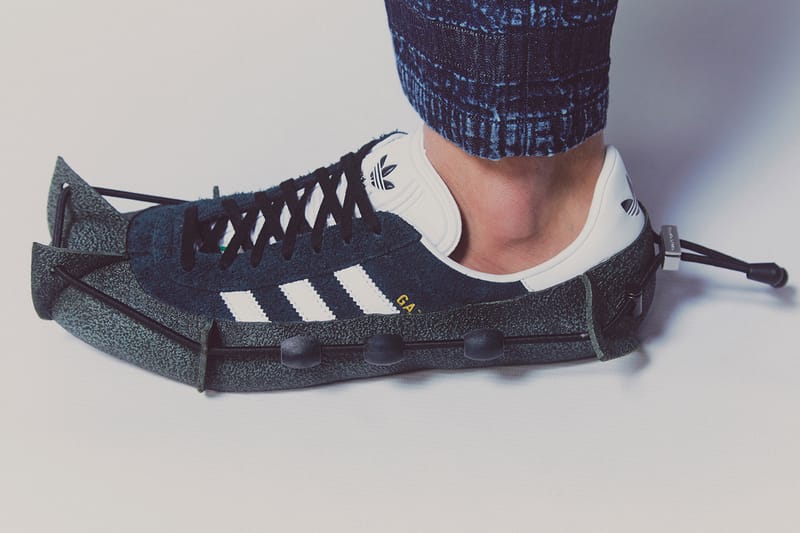 Jack Symes, Exclusively For Hypebeast2 of 3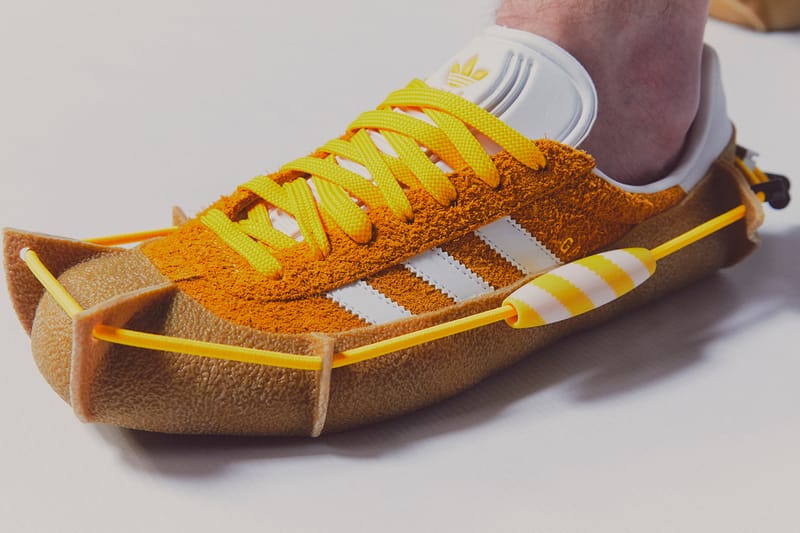 Jack Symes, Exclusively For Hypebeast3 of 3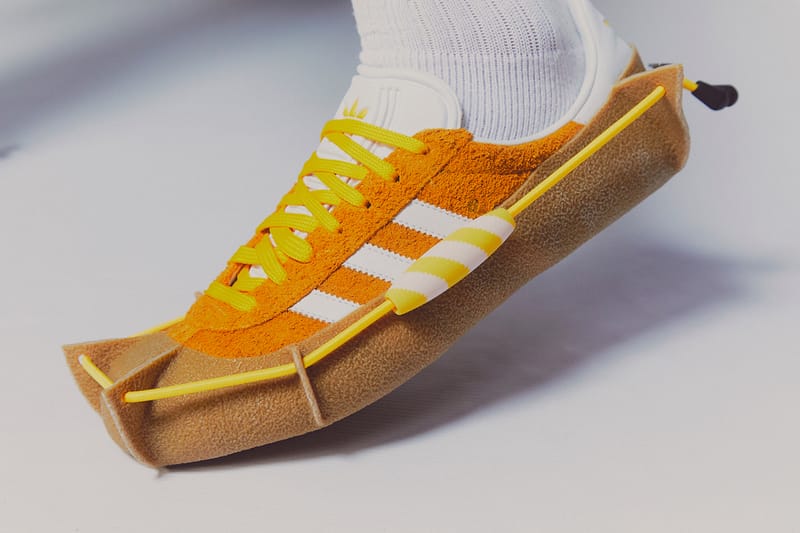 Jack Symes, Exclusively For Hypebeast
The idea of things having a life of their own was something else we were thinking about. Garments that move and drape are not rigid or held down. It's nice in a way, and [could be said] about the "Tapestry Men," the mask has duality. There's an external shell that you're portraying, but obviously, there's something going on underneath. 
There's a romanticism and a softness in the work, especially with the draped tents that we allowed to fall. The textiles of these tents are acid-washed in a denim process so they look old, they're kind of aged awnings from a shop, collapsed on a person, which we thought was beautiful. 
With all of this in mind, what do you hope the next 10 years bring you?
To continue to do exciting work is what drives me. 
It's very easy at the moment to feel very dark about the future, with everything going on and the challenges we face across the globe. It's not a very joyful moment, but I think you do have to be positive about the future. 
Creativity will save us, as they say. We need creative thoughts and thinkers in every part of the industry, not just fashion, for new things to happen. Creativity is important and sometimes forgotten in the current moment.
Source: Read Full Article