There's no denying that the sneaker industry is fuelled by hype, and let's be honest, we've all bought a pair of shoes because of what they are. But before the millennial generation's love for all things collaborative was an era of true sneakerheads, people who were more inspired by the community and its stories than the shoe's resale price. 
For sneakerheads like Emeric Tchatchoua, hype isn't important. Tchatchoua holds onto the origins of what made sneakerhead communities such a haven for kids looking for a purpose: a combination of meaning and messaging. Back in the 1990s and early 2000s, shoes weren't just collected, they were admired. 
This very same attitude towards shoes, acknowledging and appreciating the message behind the design, is what inspires Tchatchoua in both his life and his work. As the founder and creative director of 3.PARADIS his work is, in his own words, a way "to make the world a better place." It stemmed from visiting creative hubs such as colette in Paris, buying sneakers, and becoming a member of sneaker communities as a kid.
But above anything else comes his love for the
Yan Bleney
HYPEBEAST: How did you get into the fashion industry?
Emeric Tchatchoua: When I was 17 I came across Japanese fashion [on the Internet]; there was a photo of Pharrell Williams and Mariah Carey outside of a hotel in Paris, and Pharrell was wearing BAPE, and I was like, "What the hell is this?" You know, he had the BBC pants from his first "Running Dog" collection, I just thought it was crazy. 
I started to like fashion and I came across UNDERCOVER, Takashi Murakami, NEIGHBORHOOD, MASTERMIND JAPAN, Hiroshi Fujiwara's fragment design, all those golden-era Japanese brands. The first time I could really understand and relate to a language was with Japanese design, it opened my mind to culture, art, and everything. 
I was into sneakers because I used to play basketball. When you're a basketball player and you're on the court at the beginning, everyone is looking at your shoes. [If you've got] serious shoes, it meant you were a serious basketball player. That's how I got into it, but after that, when I was 17, I started to collect sneakers. I had over 150 pairs of sneakers, I was a real sneakerhead, and that was because of that Japanese culture — I was in NikeTalk, BAPETalk, and I was meeting people all over the world. 
It was enjoyable and I had lots of fun with this community — we had people from the U.K and New York, Canada, Paris, all over the world, and these people I'm still really good friends with because of these forums we were in. 
Obviously, you were a big sneakerhead, but what was it about shoes that fascinated you as a kid?
It started with basketball shoes — Jordans, Uptempos, Barkleys — but I think the fact that shoes are a canvas and that you can put your ideas on it. I was collecting toys, [email protected], so I felt like it's the same world, the same aesthetic. 
I love the design aspect of shoes, it was something I was really interested in — my fashion career started because of shoes and being a sneakerhead. Shoes did a lot for me. When I look at someone's style, shoes were the most important aspect.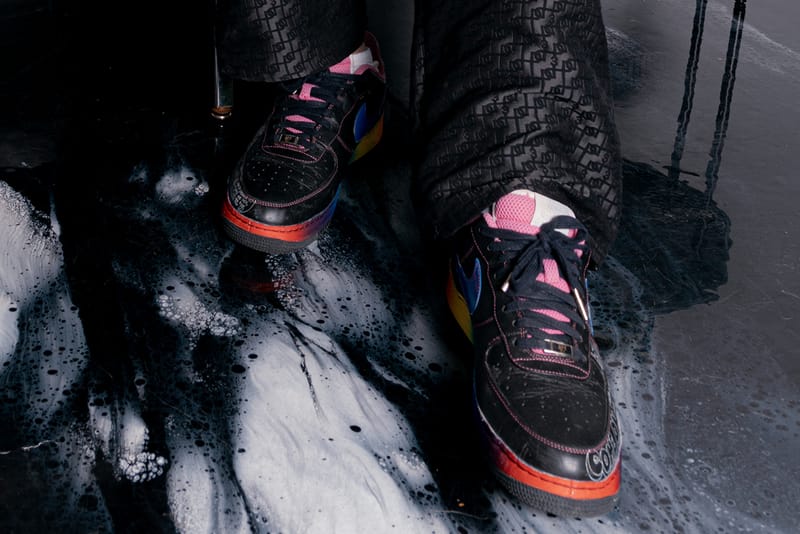 Yan Bleney
Was there a pivotal moment for you in your sneaker love story?
[Me and my friends] were heavy shoppers, we used to shop a lot and buy sneakers. It was around the time Riccardo Tisci was at Givenchy. We were at the Louvre and looking at all the beautiful art, and it [inspired] an urge to create. We were shopping so much that I realized, "What if I could do the shoes like this, or the jacket like that?"
I remember I was talking to my boys and I was like, "Let's just do a sweater." We did a sweater, and it trickled down to a clothing line. 
A lot of people, especially our Sole Mates participants, love and have chosen the Air Force 1. What does the shoe mean to you?
My big brother used to play basketball as well, and he'd play in the AF1. White AF1s, a 3D iridescent metal-like Swoosh — I loved these shoes and at the time I really wanted them. We lived in a working-class neighborhood and we couldn't afford them, but my brother bought himself a new pair to play in, so I took his old pair. They were my first basketball shoes, and I cherished them because they meant so much to me. 
Since that day I have loved the AF1. I used to sleep at night and gaze at them on the shelf; every time after a game I'd put it right back on the shelf. There is a very, very deep relationship between me and that shoe that stems from my brother. 
You've decided to spotlight an incredibly rare and relatively unspoken-of pair: the colette x Busy P x Nike Air Force 1 that came as part of 2008's 1WORLD collection. Why?
I got them at colette, a friend of mine got them [on my behalf] as I wasn't in Paris at the time, I was in Canada. 
But, colette represents so much for me. As a kid it was a place for me to escape, it was a dream or a kid going to Disneyland. It was an amazing feeling, of escaping from the harsh realities. But, I could never buy anything — maybe just the small things they had at the counter — so at the time, if I could afford to buy something and the shoes were available, [I'd buy them] but keep them in good condition. I like shoes, but these… I hold them like a trophy. I could never afford anything from colette but these were my first purchase from there, it was a dream to me.
Recently, I met the people behind this shoe, like Busy P and his people, and I was wearing the shoe when I met them. It was a good moment.1 of 2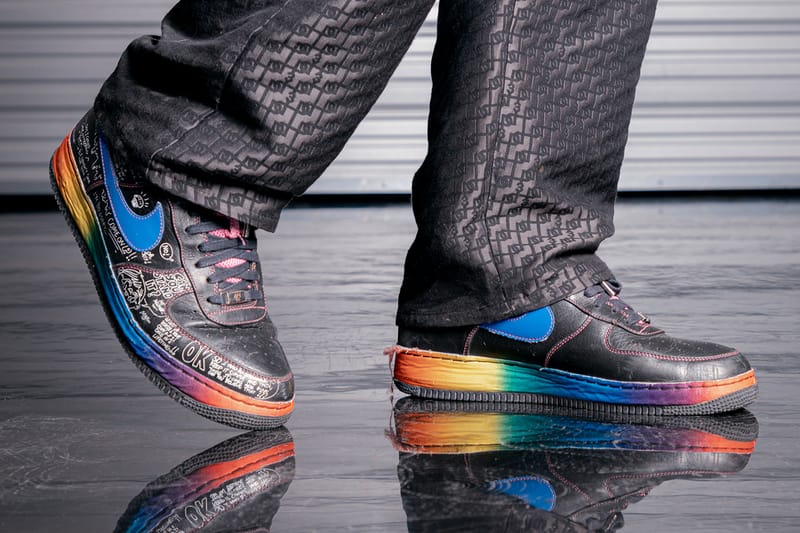 Yan Bleney2 of 2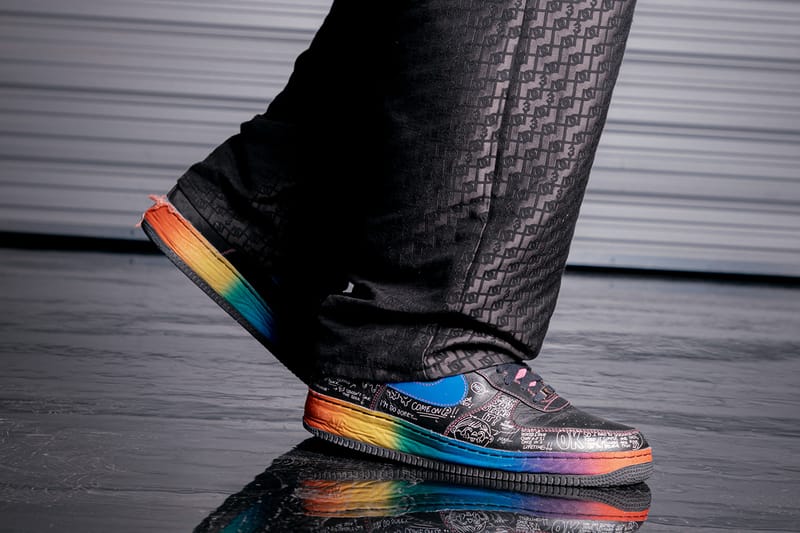 Yan Bleney
So was this your first shoe that really got you hooked on buying sneakers?
No, the first "sneaker" that I actually had was a pair of BAPESTAs. I traded a pair of Jordan 6 OGs that were my sisters, and she never wore them because she didn't do so much basketball, and then got the BAPESTA. From there, it spiralled. 
What particularly stands out about the colette pair?
I like the playfulness of it, the sole and the fact it's a rainbow. I like the message of unity behind it, and if I'm not mistaken, Pharrell was involved here too — he's one of my all-time favorites. 
I like these because they're unique — the rainbow, the sole is covered in fabric, and the idea of colors and messaging, it's my favorite shoe. 
colette had many massive moments in its lifetime, do you have any notable memories with colette?
I used to go there and see people that I admired: athletes, musicians. It was weird for me to see those people, but that's also why I loved going there, a place where you can meet your heroes. It's more of an idea of colette, rather than a specific moment. Seeing the window changing, it was always new and fresh, there was always something today that wasn't there yesterday, the energy was amazing, the smell is still in my mind. 
Yan Bleney
Do you think these memories and the shoe inspire you?
Of course! When I talk about 3.PARADIS, it's a brand that, to me, brings you back to your childhood without being childish. That playfulness is there: I'm not talking to the adult but to the kid that's within the adult. 
This is the idea of what we do; there's a reference to childhood moments, and every collection has the purity of a child. The same thing is going on with the shoes, and colette was like that to me. 
Would you ever do a 3.PARADIS sneaker collaboration?
Definitely, why not? We would start when the time's right, when we feel like we have something to say. We don't just want to collaborate with a sportswear brand because everyone's doing it — we've had offers before that we've declined, because we want to collaborate when it makes sense for us. If we have nothing to say about a shoe at that moment, we're not going to do it.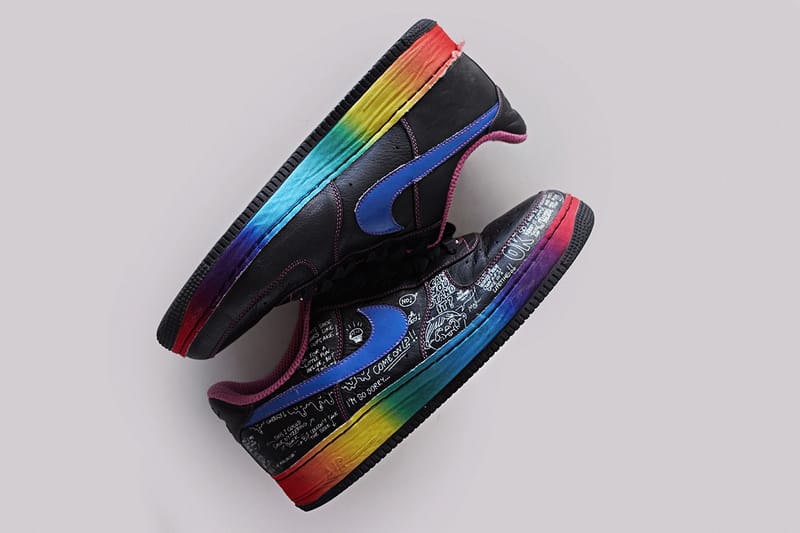 Yan Bleney
We're working right now on a project with a sports team just so we can give back. This is something that's meaningful for us, and this might be a way that we could collaborate with a sportswear brand. 
There are too many collaborations today and there's not a lot of meaning, so to do it there needs to be a deeper meaning, something real that touches people so they can emulate what we do and do the same for others when they find their passion. 
What excites you today?
The power of fashion to translate a message and an idea. It's a power that we don't realize yet. Fashion can be a factor of change, through fashion I'm able to speak about subjects and make the world a better place.
Source: Read Full Article