Chef James Kent isn't afraid to work in his kicks. A partner and executive chef at Crown Shy and Saga, fine dining establishments in Manhattan's famous Wall Street district, Kent is a noted sneakerhead who runs his kitchens in everything from the fragment design x Travis Scott x Air Jordan 1 Low to the Union x Air Jordan 1.
With the success of his restaurants, Kent has the means — and the connections — to get his hands on grail-level Nike and Jordan Brand collaborations like the ones listed above. However, there's no tinge of elitism to be found in his love of high-heat collaborations. Many of Kent's staff are sneakerheads themselves, and if you head to Crown Shy or Saga for dinner, you might catch the pastry chef in the Off-White™ x Air Jordan 1 "Chicago" or the chef de cuisine in the Union x Air Jordan 4 "Guava Ice." Kent is even known to make sure restaurant employees are blessed with a fresh pair on their birthday.
As Kent tells it, the love of sneakers he shares with many of his staff members is woven into the DNA of his business. He acknowledged the stuffy stigmas that can often come with fine dining when speaking to HYPEBEAST, but also indicated that his generation's idea of "luxury" is not what the previous generation's idea of luxury was — and made sure to note that he wants attendees to any of his establishments to dress however they're comfortable. The way Kent sees it, luxury is whatever you make it, and to him nice sneakers are the highest form of luxury … well, besides finely-crafted food.
In the latest installment of Sole Mates, Chef James Kent discusses his affection for the Air Jordan 1, the parallels he sees between footwear collaboration and fine dining and much more.1 of 2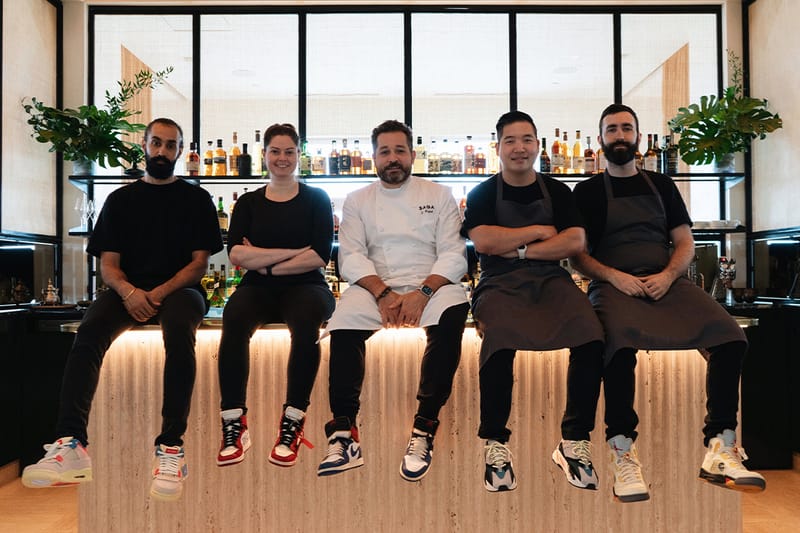 Nick Llanton/Hypebeast2 of 2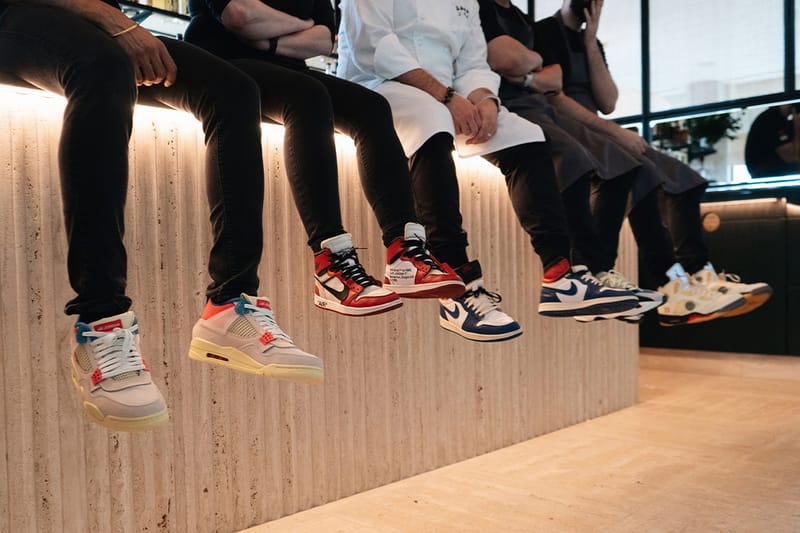 Nick Llanton/Hypebeast
HYPEBEAST: What got you into sneakers?
Chef James Kent: I'm from New York City, and obviously sneakers have always been a huge part of NYC culture. When I was a kid, dope kicks were always kind of out of reach for me because my family didn't have much money. I had to appreciate them from a distance, which is why I'm probably making up for lost time now [laughs].
What were you wearing as a kid? Whatever you could get your hands on?
Pretty much. I remember we'd go to V.I.M. on 14th Street, and one time my mom got me a pair of PONY sneakers that looked like Converse [Chuck Taylors]. I was only a little kid, but I was so embarrassed by those shoes that I put tape over the PONY logo. When I got to high school, got a job and had some spending money I started treating myself. The first really nice shoe I ever bought was the Air Max 95 "Neon."
When were you introduced to the Air Jordan 1?
I was obviously aware of the Air Jordan line growing up, and anyone from that era remembers all the marketing, the great commercials, all that stuff. However, the Air Jordan 1 didn't really become my favorite shoe until later in life. What interests me about it is how it's become a collaborative centerpiece in the past 5-10 years. It's obviously a classic, but all the collaborations have made it feel new and fresh again. It sort of reminds me of the dishes we craft at my restaurants, and how I work closely with my team to make something new, something fresh, something original. 1 of 4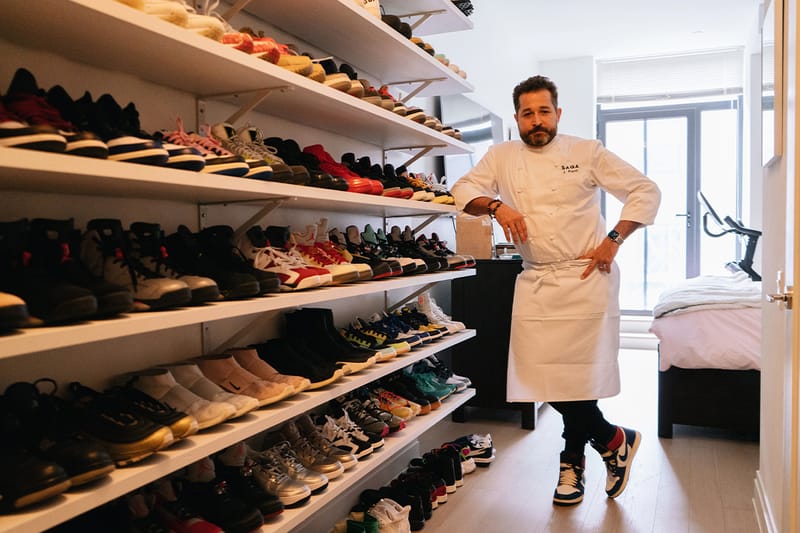 Nick Llanton/Hypebeast2 of 4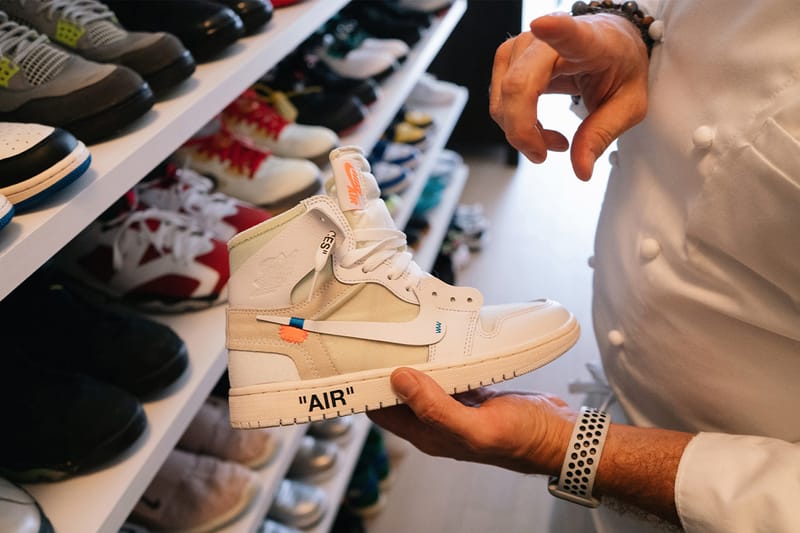 Nick Llanton/Hypebeast3 of 4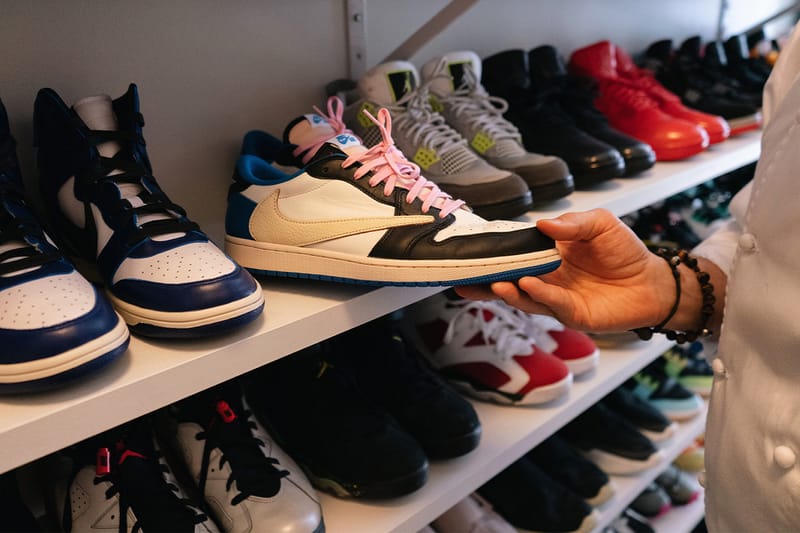 Nick Llanton/Hypebeast4 of 4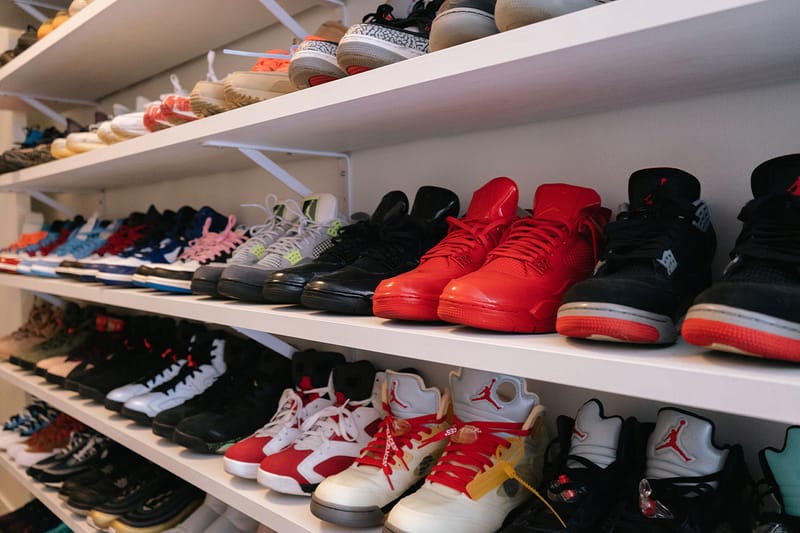 Nick Llanton/Hypebeast
A quick aside: are you a Knicks fan? I know some Knicks fans said that wearing Air Jordans back in the day was taboo because he'd always smack the Knicks around in the playoffs.
Yeah man, I'm a die-hard Knicks fan. Obviously, because of that, I'm far from a Bulls fan, but Michael Jordan was so transcendent that he rose above that rivalry. His shoes were a status symbol, and I wasn't like "I don't mess with Jordan," I was more like "damn, I wish my parents could afford those kicks."
Can you tell me more about the collaborative parallels you see between the sneaker industry and the restaurant industry? That's an interesting comparison.
Much like sneakers, it's hard to create something new in the world of food. There's a long lineage in both. There's a saying that a good chef creates five things in their career that are really new and groundbreaking. I'd assume it's not too dissimilar for sneaker designers, save for maybe someone like Tinker Hatfield. The goal with both is to help evolve, elevate and change your industry.
What do you think about sneakers becoming acceptable attire to wear to a fine dining establishment? I feel like even five to 10 years ago, wearing a pair of Air Jordans in somewhere like Saga might have been frowned upon.
I'm in my 40s, and my generation is now the people that are dining in these restaurants — people who grew up wanting cool sneakers, listening to hip-hop, things like that. We play Biggie in here. There's a Basquiat up on the wall. We're able to make the "rules" now.
"I want you to feel comfortable when you come into my establishment. If dressing up to you is wearing a pair of Union x Air Jordan 1s, a dope shirt and a nice pair of jeans, that's what I want you to wear."
And serve as the arbiters of taste. It seems like a different idea of what luxury is.
Totally. It's not like our parents' idea of what luxury was. The way I feel about it is that if you're coming to my restaurant, joining my staff and me for dinner and paying to eat it's f*cking bonkers for me to say you need to dress a certain way. I want you to feel comfortable when you come into my establishment. If dressing up to you is wearing a pair of Union x Air Jordan 1s, a dope shirt and a nice pair of jeans, that's what I want you to wear.
Last week we had a guy in here who was wearing the fragment design x Travis Scott x Air Jordan 1 Low, and when he walked by the kitchen he saw I was wearing them too, so we were like "yo!". That was a cool moment, and I love it when things like that happen. I want people to have that level of comfort. Fine dining hasn't been about that in the past — you may have been pampered, but it wasn't "comfortable" in the traditional sense of the word. If you come to Saga or Crown Shy to eat, you can wear whatever kicks you want and be comfortable. 1 of 2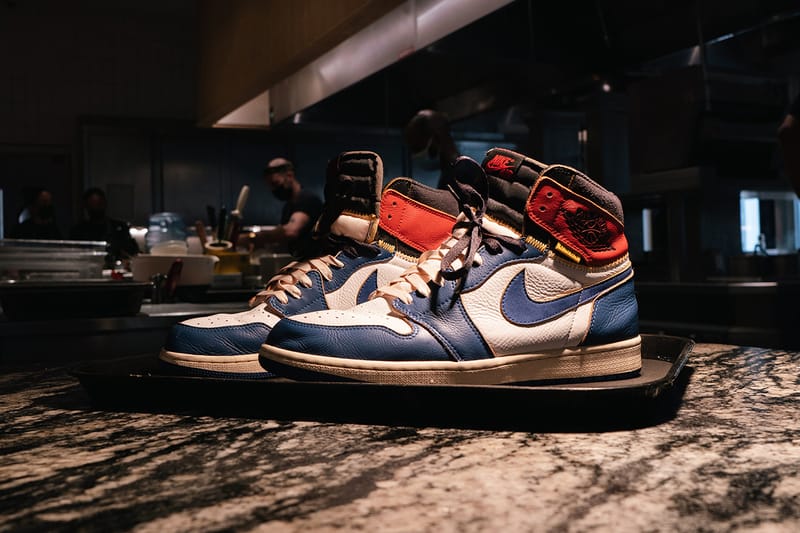 Nick Llanton/Hypebeast2 of 2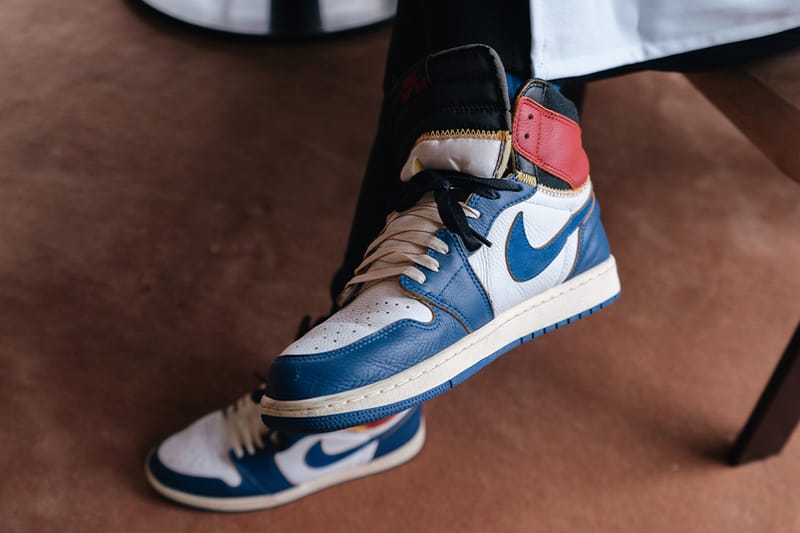 Nick Llanton/Hypebeast
So from a working standpoint, does everyone wear heat in the kitchen? I heard you and your chefs talking about it before the interview.
It's a split. Some will wear classic chef clogs, but my chef de cuisine always wears dope kicks in the kitchen and my pastry chef rotates through some crazy sneakers too. We'll even give employees shoes on their birthday. At Crown Shy, there's a uniform aspect to it as well: everyone who's customer-facing wears Clarks, Wallabees to be specific. That's actually per recommendation from the Public School guys, Dao-Yi Chow and Maxwell Osborne. They designed our staff uniforms too.
What do you think of food and beverage-themed sneaker collaborations?
I think they're pretty cool. The Concepts x Nike SB Dunk High "TurDUNKen" and the Ben & Jerry's x Nike SB Dunk Low "Chunky Dunky" were both [gestures approvingly]. I know better than to badmouth a restaurant collaboration sneaker [laughs]. I hope Nike comes knocking on my door someday soon.
So you've thought about doing your own sneaker collaboration? Anything in the works?
I'm trying, man. I'm trying every angle [laughs]. It would be cool to have an official restaurant Wallabee, and of course, I'd love to do an Air Jordan 1 someday too. Other chefs have had sneaker collaborations, so I don't see why not.
How would you rank your sneaker collection against other chefs?
It's pretty strong. Obviously, I'm no PJ Tucker, but a few of us chefs have pretty solid collections. JP, a chef at ATOMIX [an upscale Korean restaurant in Kips Bay, Manhattan] has a dope collection too. We're all from the same culture, the same background, so there's definitely a common thread there.
"Sneakers are a creative outlet and a way for me to show my personality."
Why are sneakers important to you?
They're a part of my uniform. I wear a chef coat, an apron and a pair of black pants almost every day. My sneakers are the only real way I have to show my personality through my outfit, and showing who I am as a person is really big to me. Sneakers are a creative outlet and a way for me to show my personality.
Source: Read Full Article