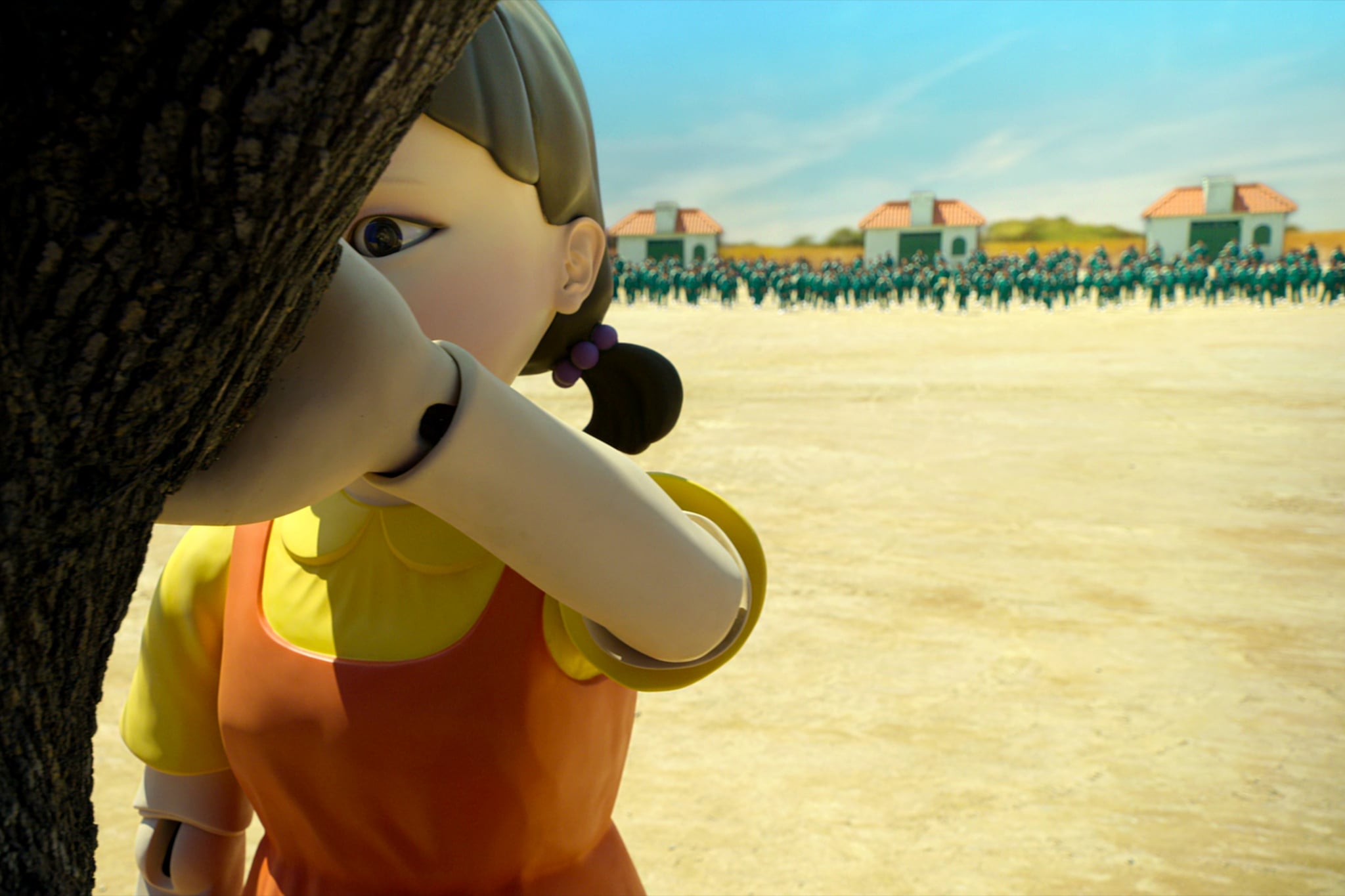 Image Source: Netflix
Any Squid Game fan knows this to be true: "Fly Me to the Moon" just hits different these days. The renowned jazz hit adopts a darker essence in the record-smashing drama's opening episode, soundtracking the first of many gory scenes as tracksuit-enrobed players attempt a fatal game of Red Light, Green Light. It's not Frank Sinatra's voice crooning about playing among the stars while contestants frantically sprint to the finish line, though — rather it's that of Joo Won Shin, an under-the-radar Korean singer that instantly captivated viewers with her angelic vocals.
A 25-year-old Seoul, South Korea native currently residing in New York City, Shin landed the Squid Game singing gig at quite the serendipitous time. "I was in a very emotional place," she told POPSUGAR. "I was anxious, and I had lost a lot of my confidence in singing. I was questioning my life and doubting myself. 'What kind of music do I want to do? Will I be able to make a living as a musician?'" Then came the phone call. One of the Squid Game composers reached out, looking for a woman to sing "Fly Me to the Moon" for the series. Shin sent in a demo tape, and just one week later, she was meeting the show's music director, Jung Jae-il, at a studio for the official recording. "The whole thing took about an hour, and it went by so quickly," she recalled. "It is actually pretty crazy to me that a one-hour recording session made such a difference. I knew we had something good in our hands, but I wasn't expecting this to reach so many people the way it did."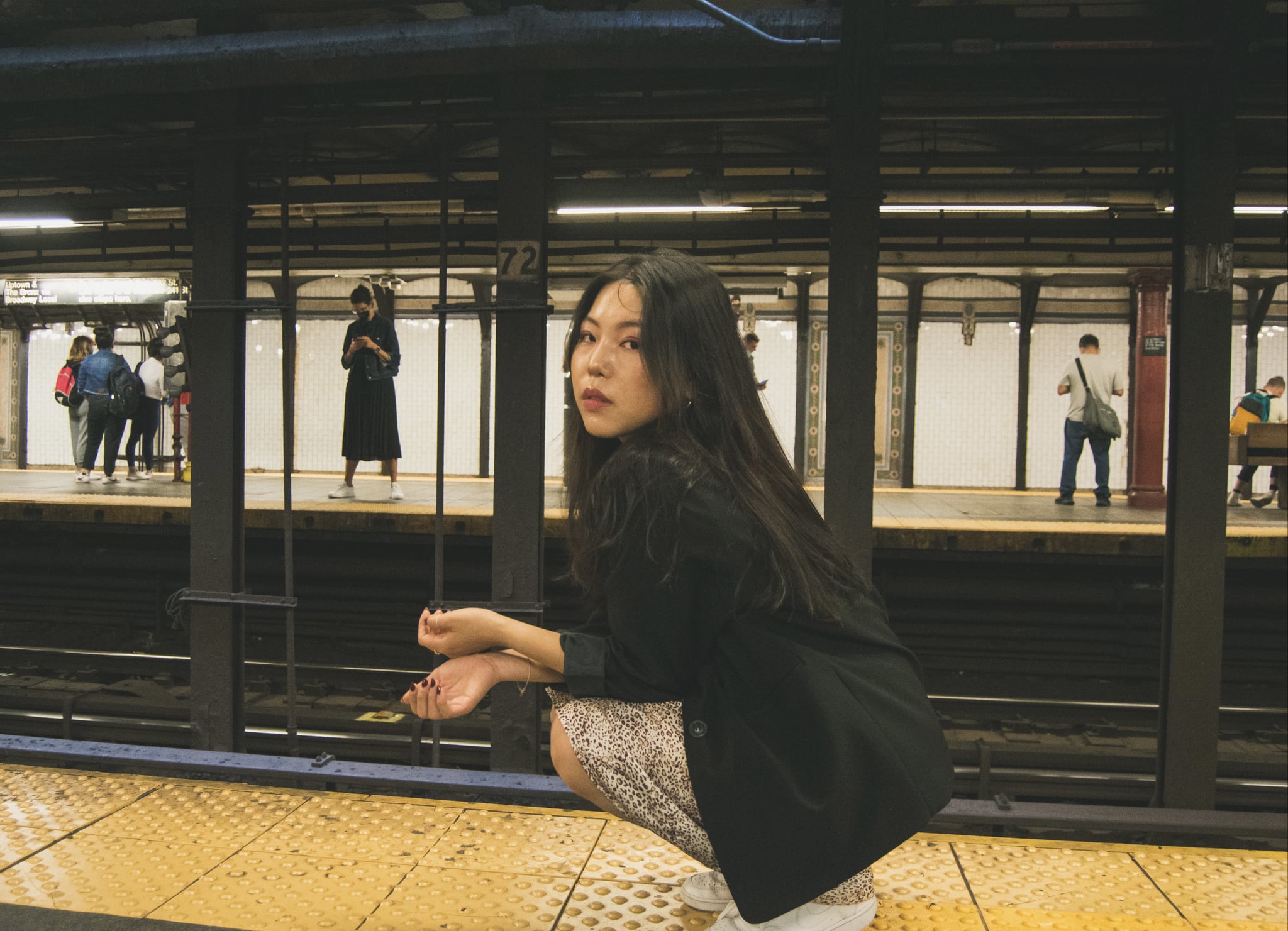 Image Source: Courtesy of Joo Won Shin
Part of what makes Shin's cover so impactful is the dichotomy it yields. We hear her calming, ethereal take on the song as the sinister Front Man watches bloodied players drop like flies from the safety of his cushy leather armchair. As the scene continues, all other sounds fade out, including that of the giant robot doll repeating her deadly chant, and Shin's voice becomes the focal point. While she sings, "In other words, please be true / In other words, I love you," dozens of players are brutally shot in slow motion, the crimson proof of their morbid elimination flying every which way.
This haunting contrast was Squid Game director Hwang Dong-hyuk's intent from the start. "He had a very specific vision in mind for the song and for the song's scene," Shin told POPSUGAR. "The song has very romantic and beautiful lyrics and melody, so it made the scene even more cruel. That embodies the increasingly polarized capitalist society that we live in today in a very compressed and cynical way. There is a perfect irony in putting that song within the scene."
Though Shin's rendition struck a chord with many fans of the show, the studio version of her performance will devastatingly not be released on streaming platforms with the rest of the soundtrack due to some tricky copyright snags. But luckily, after receiving a few requests, she shared a live version of her cover on YouTube so fans can listen whenever they please, sans rewatching the Red Light, Green Light massacre.
For Shin, Squid Game's meteoric rise in popularity has produced mixed feelings. On one hand, she's thrilled to see her home country and the childhood games she grew up playing earn recognition on a global level. But on the other, the underlying messages the series sought to portray hit a little too close to home. "The show deals with so many pressing issues like income inequality, youth unemployment, and so on," she explained. "Watching the show, I could totally empathize with the people who joined the game, and I could easily relate to the hard reality of a very competitive society . . . I am truly happy for the success everyone is getting, but as a Korean, it was hard to watch the show because of how real it felt."
Source: Read Full Article