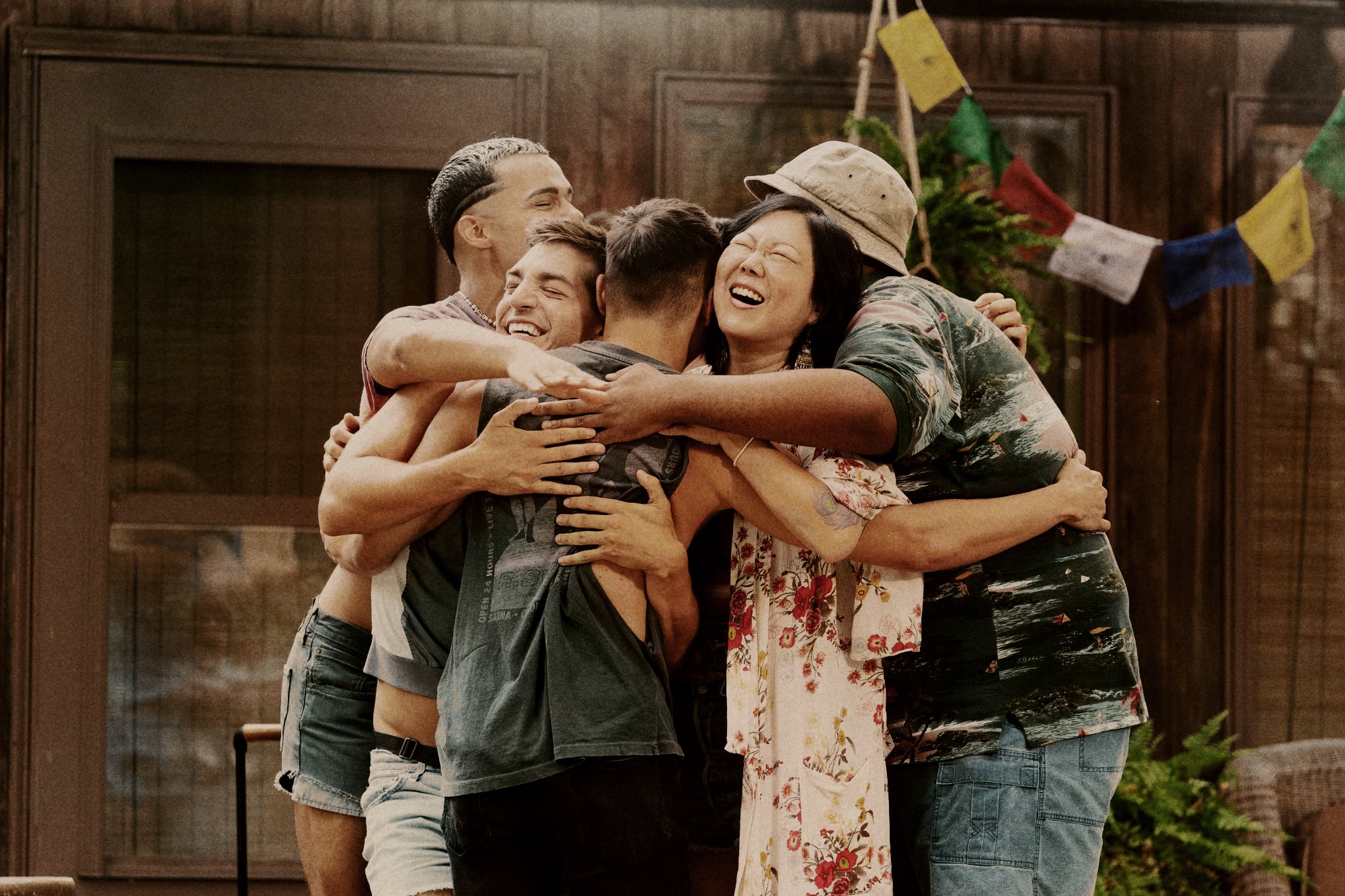 Margaret Cho stars in "Fire Island" because she asked to. No, seriously, she just asked writer and star Joel Kim Booster for a part. "I just saw the announcement that Joel's script was going to be made into a movie, starring Bowen [Yang] and directed by Andrew Ahn and about Fire Island," she tells POPSUGAR. She already knew Booster, Yang, and Matt Rogers — best friends who star in the film — from the comedy scene. "And I heard about it; I was like, 'Oh, I'm in this actually. Don't you know I'm actually in this movie?'" she explains. "So, I was trying to get a cameo on the movie, and they couldn't figure out a cameo role, but they had this role available that was for a man, Aaron."
Aaron became Erin. "They didn't have to change that much," she says. "And when I got the script, I was absolutely elated. . . . I've been going to Fire Island since 2008. It's a really important place for me, and an important place in gay history." Filming it, she says, was a blast.
"We all brought our best to this because we really wanted to do this for Joel, and for everyone out there," she says. "And it's really, I think it's a really amazing movie."
"Fire Island" adapts the plot of Jane Austen's "Pride & Prejudice" to the dynamics of Fire Island, a gay vacation destination on New York's Long Island. The movie explores how expensive, exclusive, and racist Fire Island — and the gay dating world in general — can be. Cho's Erin is the mom of the group, a combination of Austen's Mr. and Mrs. Bennet who can be a little over-the-top but still has deep wisdom to share.
"What I love about Erin is that she is really true to the idea that if you're gay, you're gay forever. You're gay for life," she says. "And you're gay with all the other gays that you've been gay with." Erin's advice to the younger men she's friends with is to cherish their relationships. "You can't try to control people. You can't try to push people around. You can't do their lives for them. You have to let them be who they are and respect them for that," she says.
And yes, she's speaking from experience. "Because I personally, Margaret, have had fights with women going on 40 years now. Which is not cool, but lesbians hold a grudge," she says. "And we love to hold it till the very end. And it's not good, but it's really, I've lost a lot of my life because I didn't acknowledge that."
Source: Read Full Article