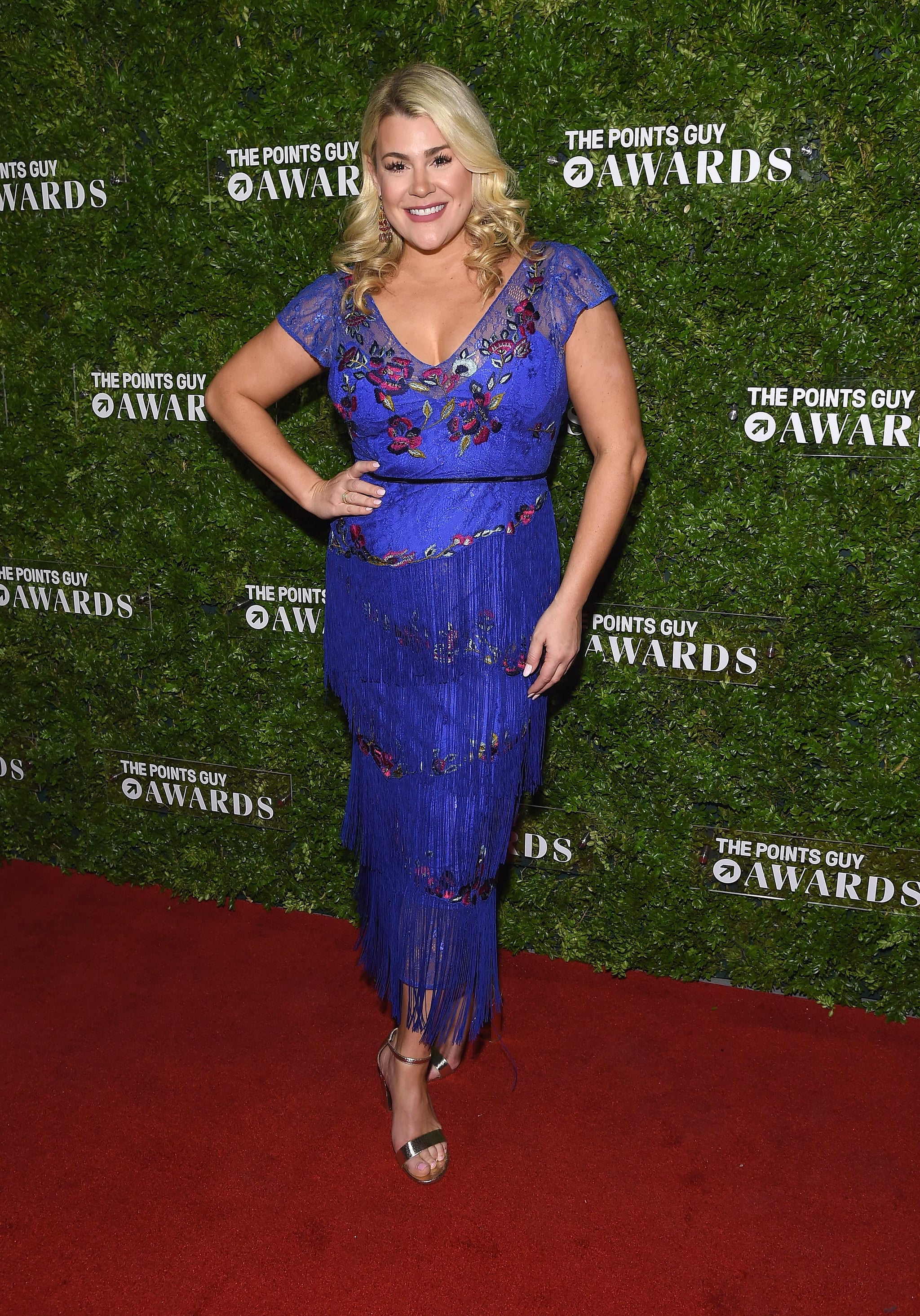 Whenever I'm having a bad day, I turn on Heather McMahan's IGTV makeup tutorial. The way she drops product on the floor and relates using a primer to being the base of the pyramid as a cheerleader gives me an instant serotonin boost.
"When I recorded that makeup tutorial, I was on day eight of quarantine in Canada shooting [the movie Love Hard] for Netflix, and I was losing my mind," she told me with a laugh. McMahan is a comedian, actress, writer, and podcaster (among other talents), but for those of us who are fans, she feels like she's also our best friend.
On her weekly podcast, Absolutely Not, she talks real to her listeners, but in a way that makes her authentically relatable — not the curated, faux relatability so many celebs and influencers portray on social media with their perfectly posed photos and filtered Instagram Stories. "I'm honestly like a therapist's easiest client because I'll sit down in the chair and just tell them everything," she said. "There are times where I look back and go, 'Wow, I really am letting it all out there.' But honestly, it brings me joy and it makes me giggle to share the parts of my life that are awkward because I know someone else will relate to it. So hey, if I got to tell the story, why not?"
One topic she's talked openly about is her fertility journey. When McMahan and husband Jeff Daniels (no, not that Jeff Daniels — hers is an adorable golf enthusiast from New Jersey McMahan calls her "Italian stallion") started planning for a family, she went to freeze her eggs only to find out she didn't have many eggs to retrieve. What resulted was months of shots, doctor appointments, and fluctuating hormones. McMahan brought her fans along with her on the journey, cracking jokes and staying positive. It's what she's known for: bringing her sense of humor to any situation.
"There are days where I just might need to take a 10 and go get a warm chocolate chip cookie and sit in my car and cry to myself. But honestly and truly, I think humor has always been a way that I've dealt with things," she said. "Talking about what I've gone through in my life, and talking about the things that are hard and that make us uncomfortable. . . the awkward moments are actually the only way I know how to move through emotion, whether it be bad or good."
She knows smiling is important, which is why she partnered with Smile Direct Club. She said smiling "really does change your energy," and for World Smile Week on Oct. 1-8, McMahan is teaming with the oral-care brand to encourage everyone to spread random acts of kindness and smiles. "How can we as human beings connect through doing something kind for somebody else or putting a smile on somebody else's face?" she said. Especially after more than a year of being in a global pandemic, potentially separated from loved ones, McMahan said it's important to share the joyful moments.
Right now, McMahan is in the middle of her Farewell tour, which had to take a long pause due to COVID. She's back on the road and said a year of living during a global pandemic gave her additional material to incorporate into the show. She added an additional 30-45 minutes at the top of the show to address "the elephant in the room."
"You have to be like, 'What just happened to all of us?' I feel like we were all bamboozled by life," she said. "We're maybe on the other side, but not really. My entire show is sharing my mistakes, my human experience, everything from my point of view, like horrible unsolicited advice, but it's a really good time." She's also appearing in a Netflix movie titled Love Hard this November.
With 676,000 followers on Instagram, it might seem like her career came out of nowhere. She said people refer to her as an overnight success all the time, but those of us who have been following her on social media or listening to her podcast for a while know she's been hustling for over a decade. "I've worked every hideous, ugly job you can imagine," she explained. "I worked every restaurant job. I've been yelled at by people in New York while I was a hostess. I worked at gyms. I've done it all. And so I'm just so grateful that people follow my comedy and that I have these opportunities now. Truly, truly, I just perform from a place of gratitude. I'm just so beyond grateful."
Source: Read Full Article