Bukayo Saka was only two-and-a-half years of age when Arsenal reached immortality. The achievement, a perfect lossless campaign over the course of 38 matches in the Premier League, hasn't been matched to date. Despite being a powerhouse in world football, Arsenal's Premier League aspirations have also been left trophy-less in the 20 years since that "Invincibles" season. As a product of the team's Hale End academy, Saka was one of many young ballers infatuated by the glory of Thierry Henry and Dennis Bergkamp, as well as other footballing superstars in Cristiano Ronaldo, Lionel Messi, and Eden Hazard.
At just 21, the British-Nigerian winger has already joined Arsenal's centurion club, appearing 135 times on the pitch — nearly 90 percent of which has been in the first team — scoring 31 goals and assisting 26 in the process. He's got all the traits of a top class winger: lightning pace, awareness, an eye for goal, as well as a level of consistency that is needed in the bloodbath that is England's top flight. More subtle, but just as impactful, is his humble, empathetic nature, and his connection to the fans. In other words, it's personal for him, as it so is for leagues of supporters all across the world who religiously follow the ebb-and-flow of each match.
When asked what fixture he looked forward to the most in this upcoming season, he unflinchingly tells Hypebeast, "Manchester United." Similar to the Fergie-Wenger days, Saka, like a majority of Gunner supporters, still feels the rivalry of the early 2000s, despite Manchester City, Liverpool, and Tottenham playing an equal, if not bigger, thorn in their foot across the league table. The tension makes sense, as the Arsenal-United matchup this past January, where the Gunners won 3-2, was the most watched Premier League game in US history; a country that both sides just visited on their preseason tour, where Arsenal sought to bring the culture of North London stateside.
Unmistakingly loud, Arsenal's new away kit was one of the main points of emphasis for the club this offseason. The shirt features an electric yellow base and sinuous black curves that references a map of the Islington borough, as well as the journey supporters take on away matches. For its campaign, Arsenal linked up with a number of musical tastemakers, including North London rappers Antslive and Lex Amor, British DJs Sherelle and Scratcha, as well as electronic duo Real Lies and the Highbury Youth Choir, amongst others.
As the worlds of football, music, and fashion continue to merge, Arsenal understands the cultural importance of creating a bridge between the team and its fans. One which its manager Mikel Arteta has helped reconnect through success on the pitch and its suite of artistic initiatives off it, such as a recent linkup with Turner prize-winning artist Jeremy Deller. While Norwegian midfielder Martin Ødegaard is Arsenal's current captain, Saka arguably is its heartbeat as the Gunners look to revisit former glory in the '23/24 season.
Having defeated Manchester City in last weekend's FA Community Shield, Arteta's young Gunner squad looks primed to be a threat, both domestically and abroad, for years to come. In anticipation of the return of the Premier League, Hypebeast caught up with Saka to chat about the club's resurgence in the Premier League, their striking new away kit, and the culture that inspires him on-and-off the pitch.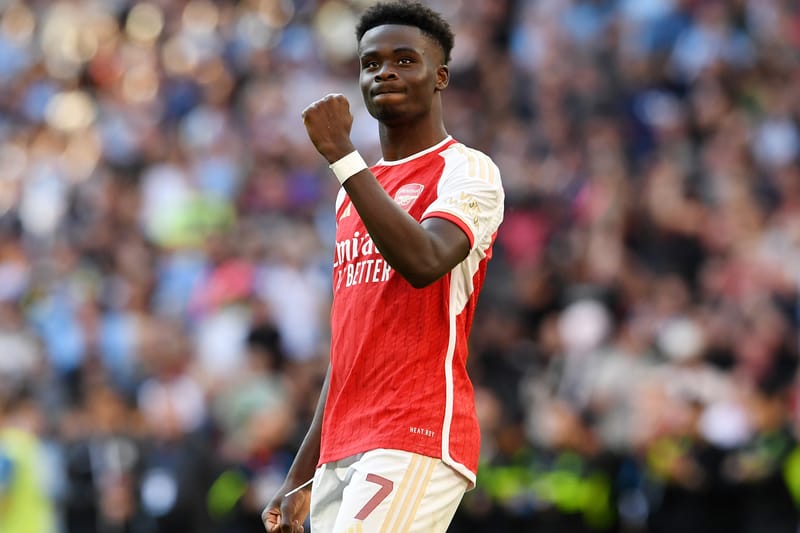 David Price/Arsenal FC via Getty Images
If you were to take us back, what would you say were some of the biggest cultural influences that formed you — from music to fashion to sports?
When I was younger, I didn't really take all that stuff in. But I'd say definitely right now, it's amazing to see the way the music industry, fashion industry and football are now more intertwined. People are more happy to be themselves and feel free to be more creative.
How would you define your game on the pitch and which players did you look up to emulate while at Hale End?
All the top attacking players in the world, especially in Arsenal, and in Europe. For example, Alexis Sanchez, we used to watch YouTube clips together in Hale End of Messi, Neymar, Ronaldo, and all the best players in the world. So I take inspiration from them, but now that I'm playing in the first team, I just try to bring the best of everyone's game into my own game, but still try to be myself.
How would you define your style off the pitch. For example, what is your go to lineup when it comes to sneakers, daily fits and statement pieces?
Do you know what it is? I'm open to trying everything. Recently, I've been really into bigger jeans, like big blue jeans, black rips, different styles that I'm not used to wearing. And I always love to wear white trainers. Any white trainers that's got a nice shape, I love to wear.
Would you say a more baggy, oversized silhouette or a little bit more snug?
On a day-to-day, I just like to be more comfortable. Stylish, but comfortable. Then when I go out, I like to wear something a bit more baggier, something a bit more stylish as well. Of course, white trainers with glasses and the hat to match. I try to mix everything.1 of 6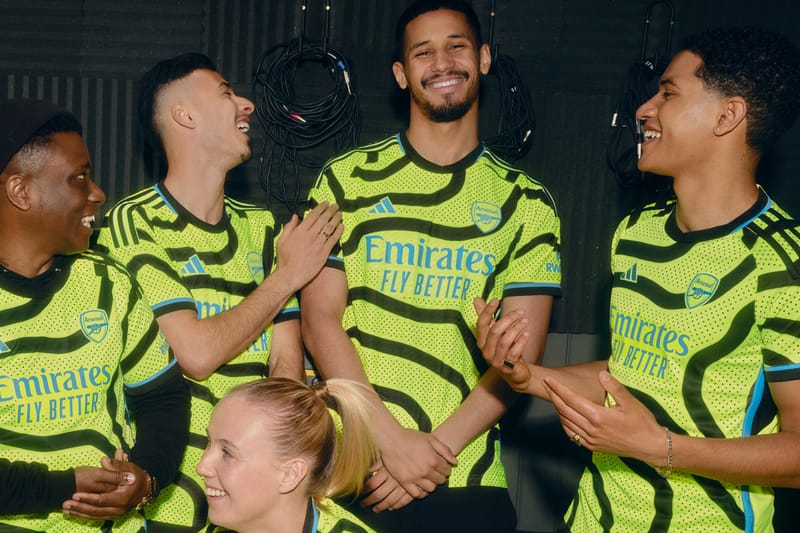 Arsenal2 of 6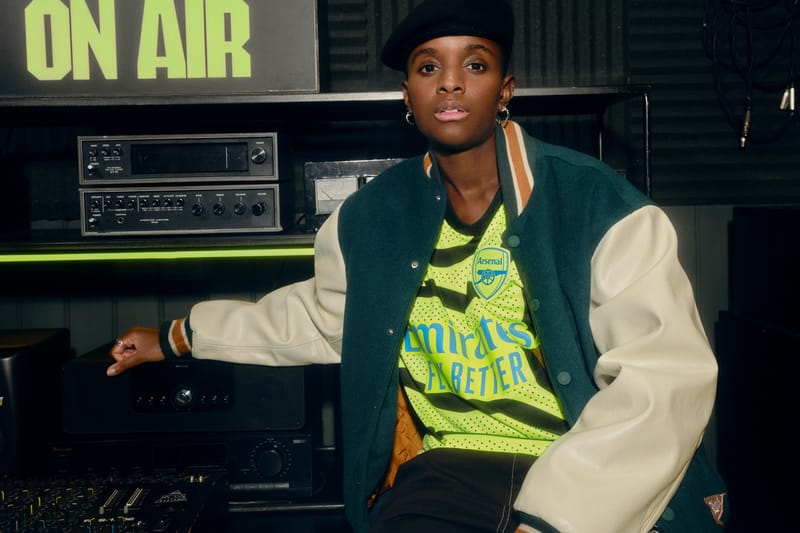 Arsenal3 of 6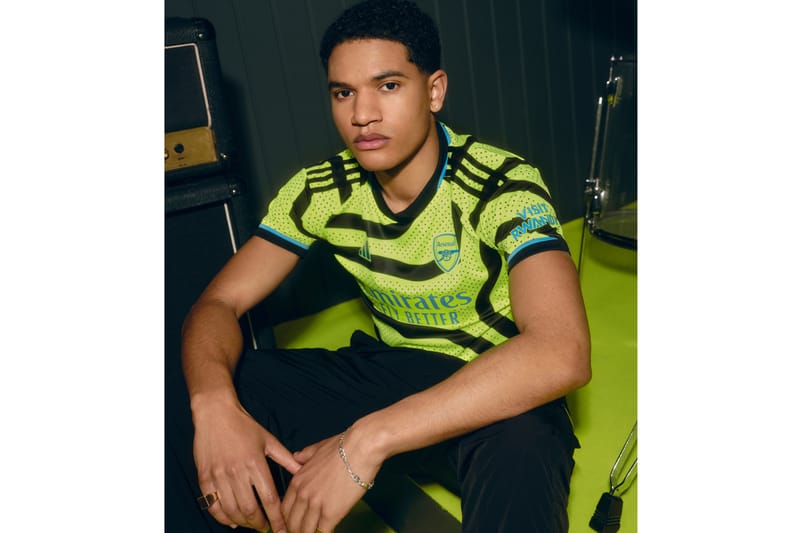 Arsenal4 of 6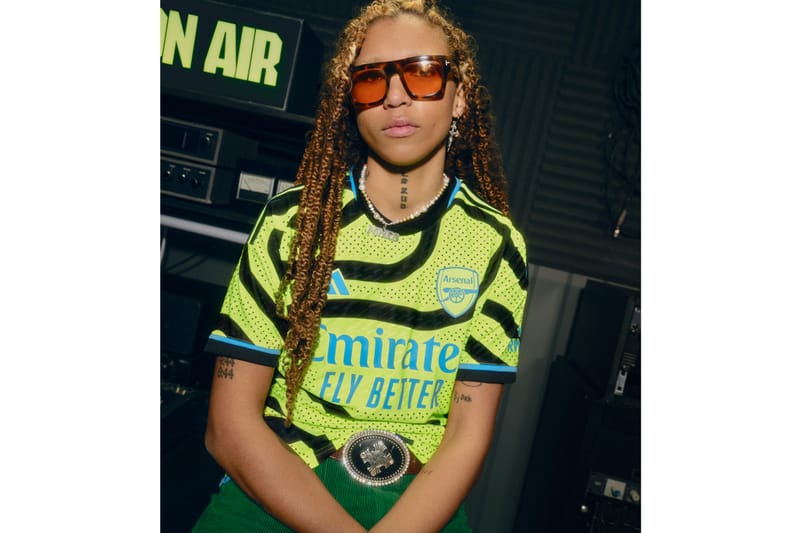 Arsenal5 of 6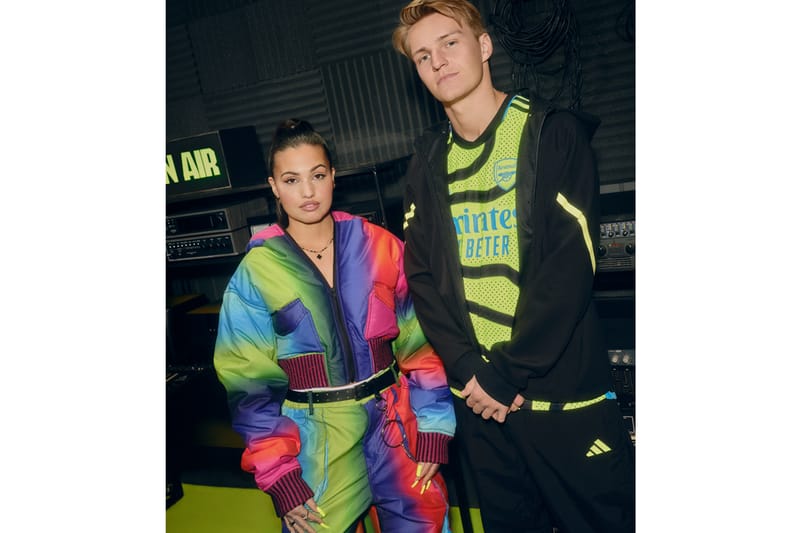 Arsenal6 of 6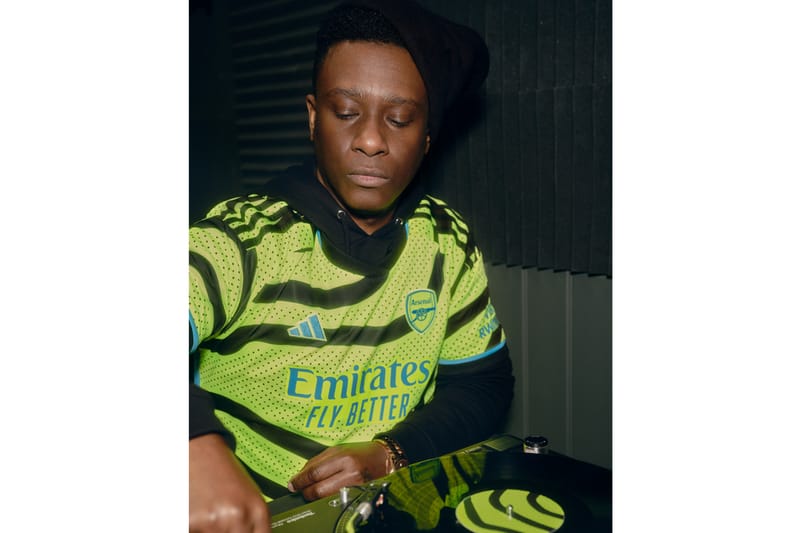 Arsenal
How about your music playlist, what's been on repeat?
Definitely Afrobeats and UK rap as well.
Who would you say is the Saka of the music world?
Haha, I don't know. Maybe Central Cee and Dave.
If you weren't to be a footballer, what profession do you think you'd pursue?
Growing up, if I wasn't gonna play football, I would be managing properties, owning houses, and renting them out. I was studying business in school, so I would be good at that.
Along that train of thought, are there larger goals you'd like to accomplish outside of your football career, such as any creative ventures or philanthropic efforts, such as your partnership with BigShoe?
Yeah, 100%. I want to do much more with BigShoe. That's really close to my heart to do a lot of charitable work and I want to visit Nigeria more. In the future, maybe start a few of my own businesses as well.
You have plenty of surreal moments on the pitch, but how about off it? Can you talk about any recent moments or memories that had a profound impact on you?
I've been reading a lot more recently on my downtime. When I have the energy to pick up a book, it's helped me learn a lot about life, mentality, and how you can make the most of your talent, as well as how to deal with emotions, how you can deal with stress, and how you can be the best expression of what's inside you.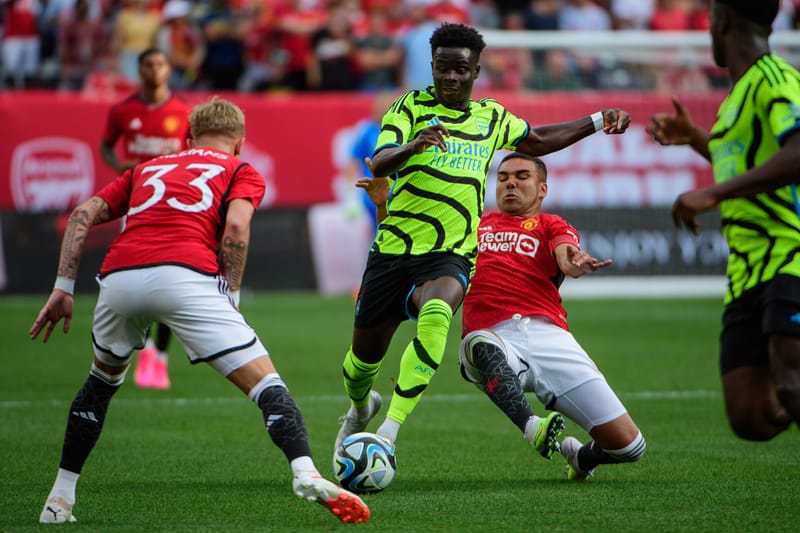 Howard Smith/ISI Photos/Getty Images
How have the supporters been in America?
I really look forward to connecting with the supporters out there, because we know that they wake up at crazy times to watch us play in the Premier League. We're really appreciative of that and when we come back to LA, New York or Washington D.C., we can witness the love they have for us and it's special.
What are your thoughts on Arsenal's new away kit? And what would you say are your three favorite kits of all time are — regardless of club or country?
The new away kit has definitely grown on me. It's really bold and I like bold things. I'm a fan and my three favorite kits is a difficult one — a lot to pick from…
Definitely the Arsenal 02 kit, maybe number one for the club for what they did in that shirt and the members on the squad. The last two can be anything. For example, this year's home kit is unbelievable and maybe I'd put the first shirt I wore for England when I made my debut.
I don't know, because you can ask me this question for the looks and what the shirt means to me.
Say if you were to pick one all-time kit that wasn't England or Arsenal, what would it be?
That's sentimental again, haha. The Nigeria home kit from a couple years ago. It was sold out everywhere, I couldn't even get it myself. Legendary kit.
There are a lot of marquee matchups on the schedule, such as the North London Derby. But for you, what's the fixture you look forward to the most in the upcoming season and why?
It's not the derby, it's Manchester United.
So it's still the rivalry then…
,,,yeah, I feel like it is and obviously a lot of my friends play there as well. It's always a massive game and I know how much it means to the fans. Even when I was in school, two of the biggest clubs in England, biggest fan bases as well.
Going back to the intersection of football, music, and fashion, what are your thoughts about the club tapping into the cultural aspect off the pitch with this new kit launch?
I'm really proud of my club for doing things like this. I think we're really connecting with the fans and they're really connecting with us. You can see how creative they are: the musicians, the artists, the Emirates artwork that we all really liked as players when they first showed us. There's so many types of Arsenal fans and it's really amazing to see. Makes us proud as a club.
How would you define Arsenal in the sense of how the club stands out amongst the rest of not just the Premier League, but world football in general? What do you think makes the club unique?
Arsenal understands what it means to the fans. They understand the culture and I think you're starting to see more and more of that in the things that they are doing, which makes the fans feel more connected. Exciting times for the club.
Source: Read Full Article