Don Giuseppe Corbari, parson of the Church of Robbiano, holds Sunday mass as he looks towards selfie photographs sent in by his congregation members in Giussano on March 22, 2020.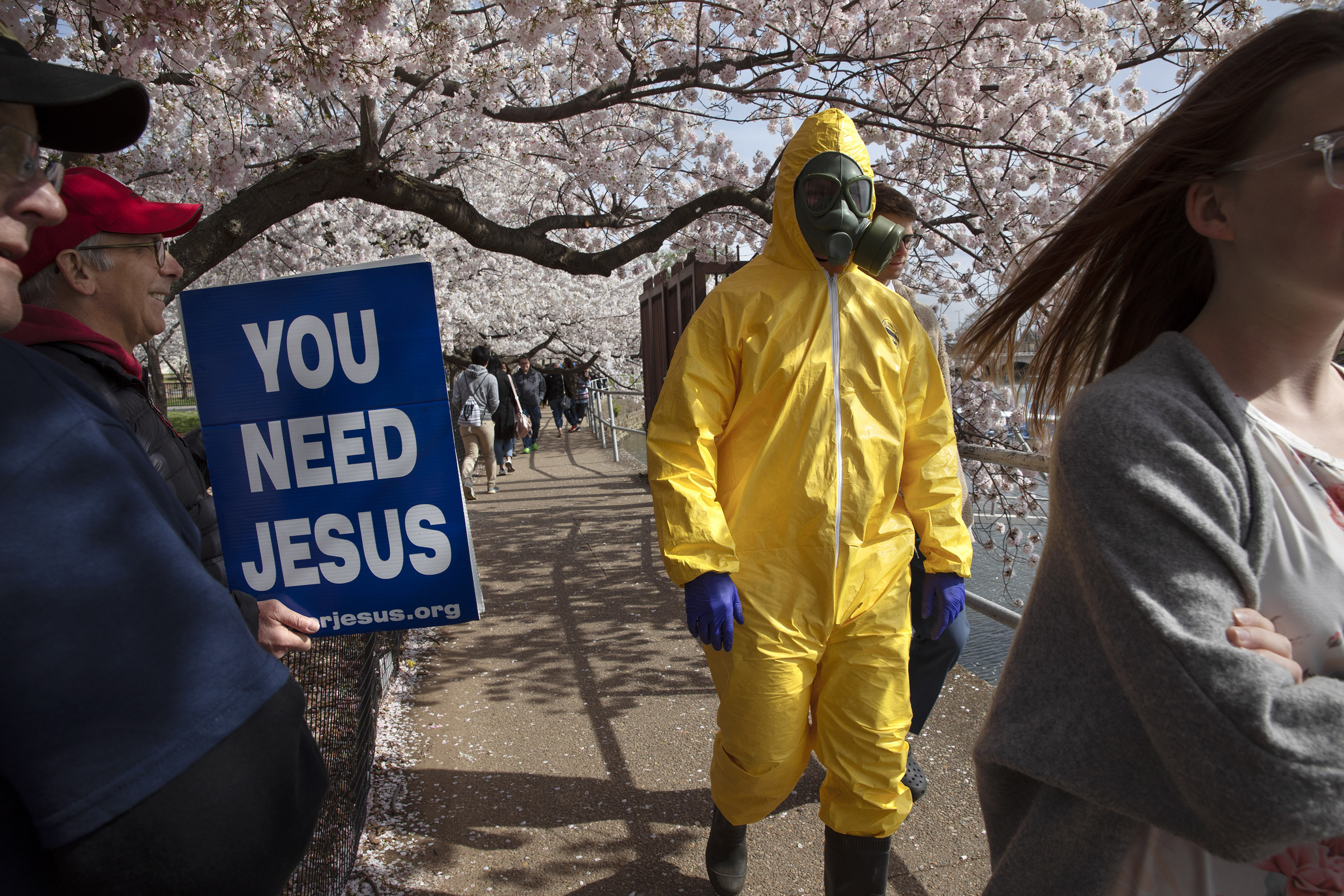 A 17-year-old who asked not to be named, walks with his family under cherry blossom trees in full bloom along the tidal basin, March 22, 2020, in Washington.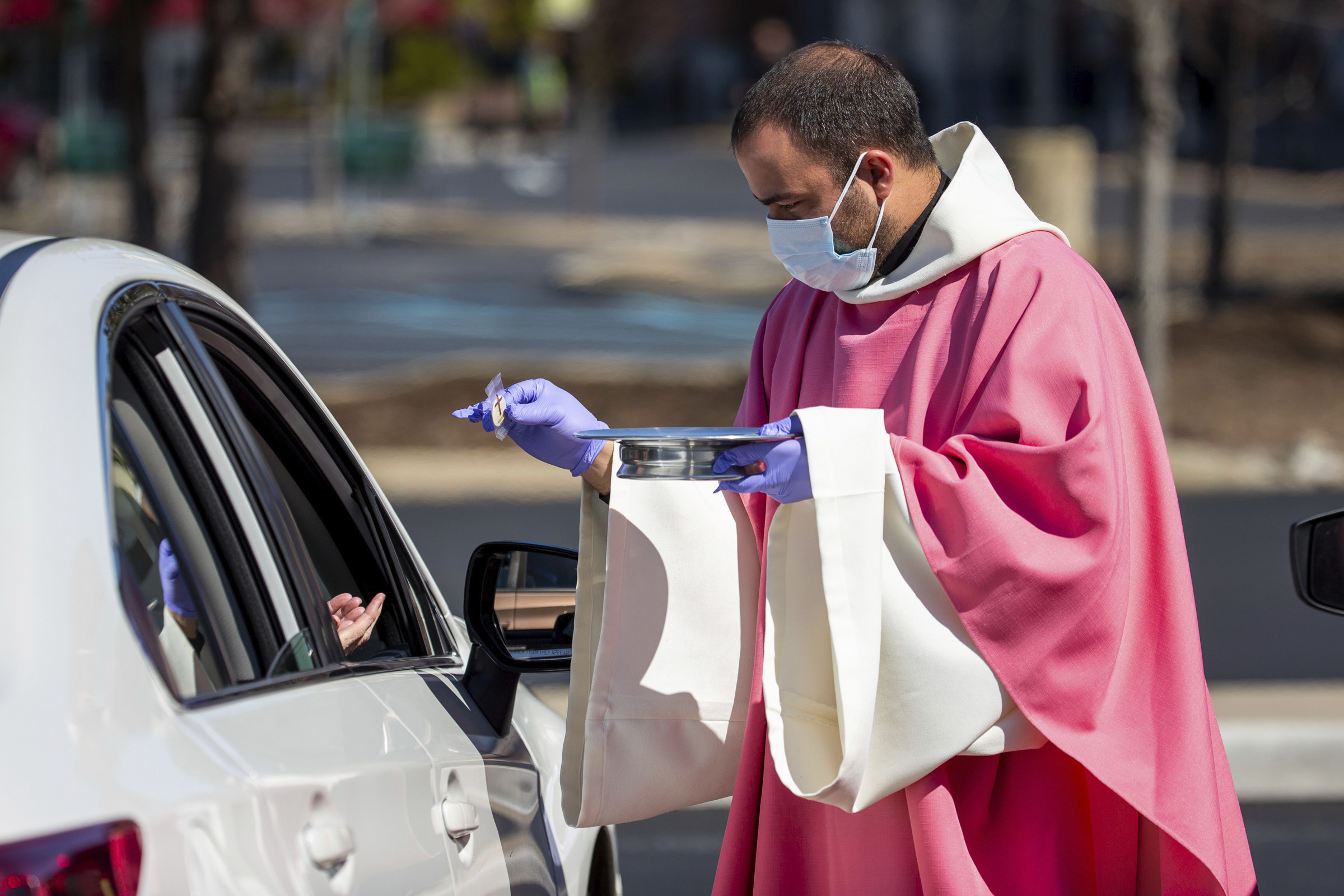 Rev. William A. Mentz wears a mask and gloves while distributing prepackaged communion to the faithful attending mass while sitting in their cars in a parking lot in Moosic, Pa. on March 22, 2020.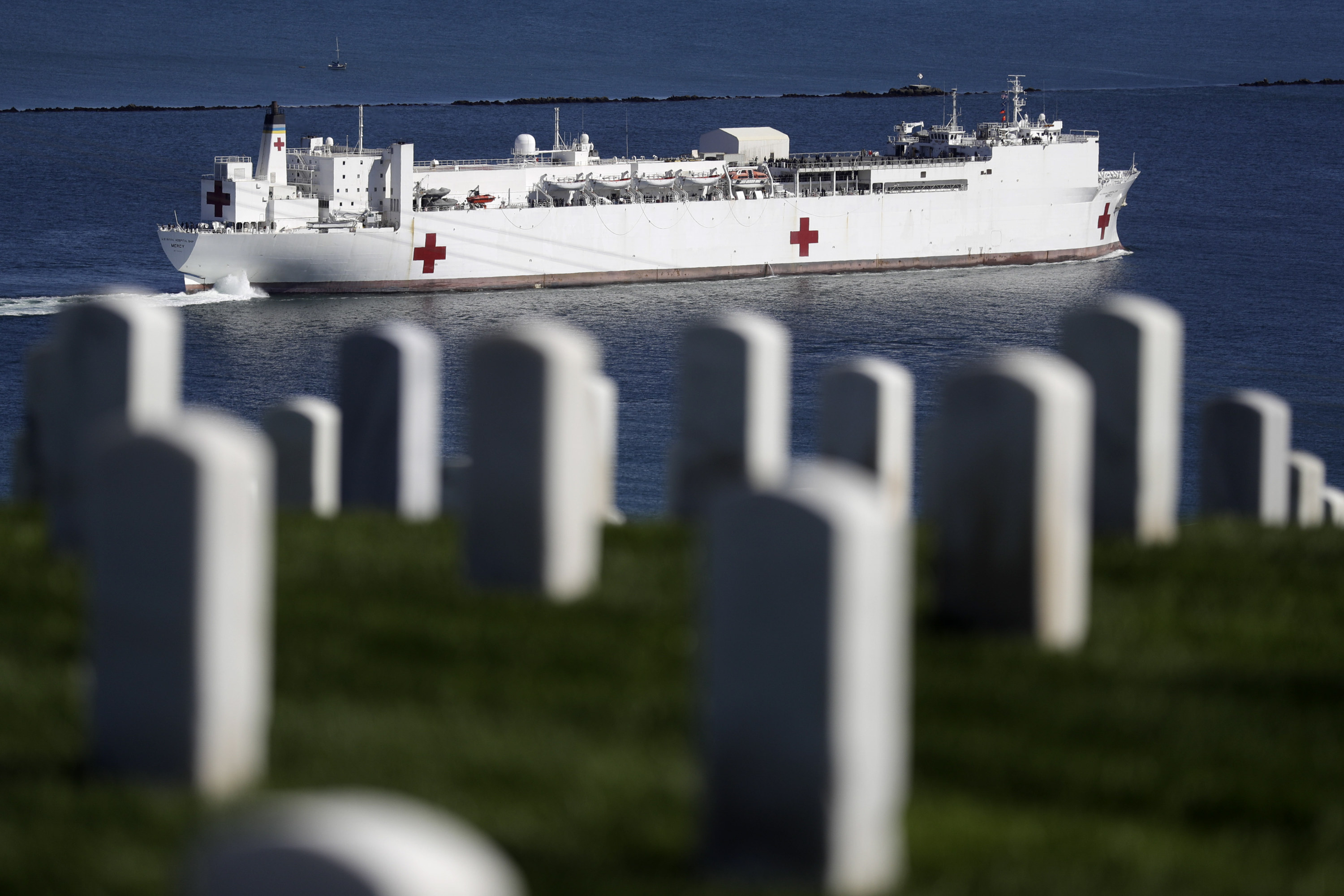 The USNS Mercy hospital ship leaves port March 23, 2020, in San Diego. USNS Mercy commanding officer Capt. John R. Rotruck says the ship has 1,000 beds and will begin taking patients who do not have coronavirus from area hospitals a day after it docks in Los Angeles.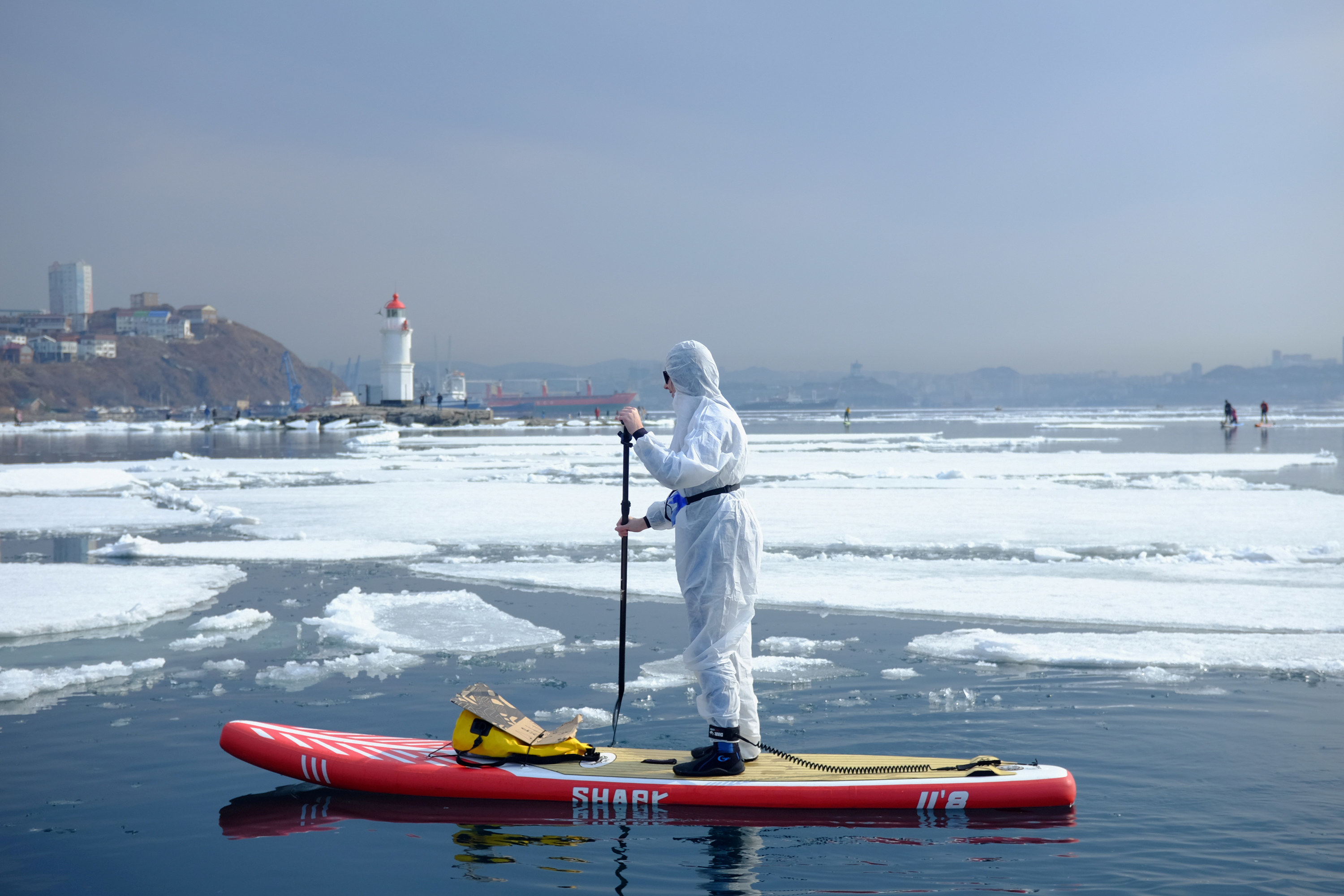 A sup surfer wearing a protective suit as a show of support for the people fighting against the spread of the coronavirus takes part at an annual "Hijacking an ice floe" event marking the opening of the stand up paddle boarding season in Vladivostok, Russia March 21, 2020.
Employees during lunch break at an auto plant of Dongfeng Honda in Wuhan in China's central Hubei province, March 23, 2020.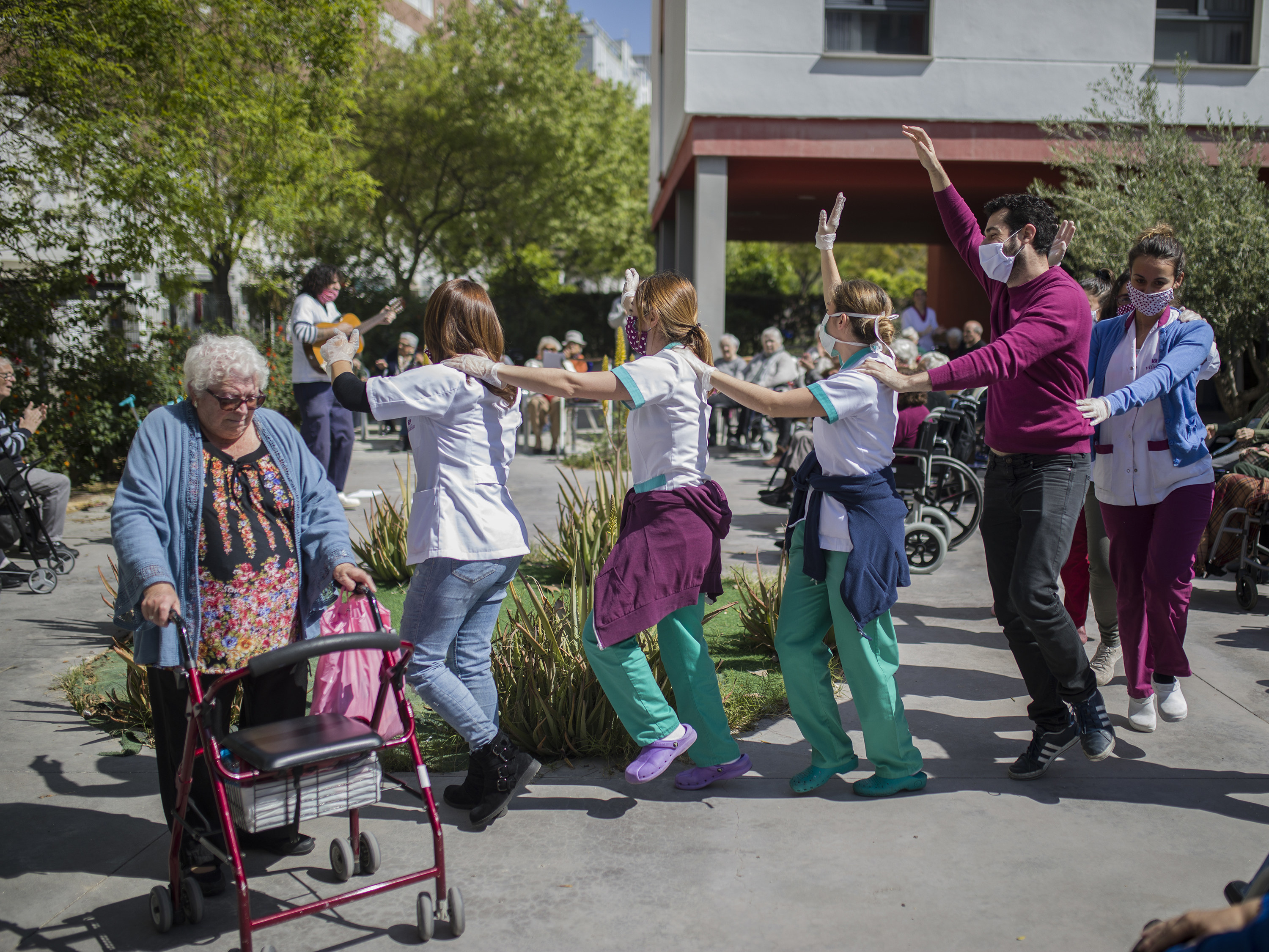 Residents and health workers of the nursing home Vitalia Kansas applaud and sing at the yard to celebrate there are no infections of coronavirus on March 26, 2020 in Sevlila, Spain.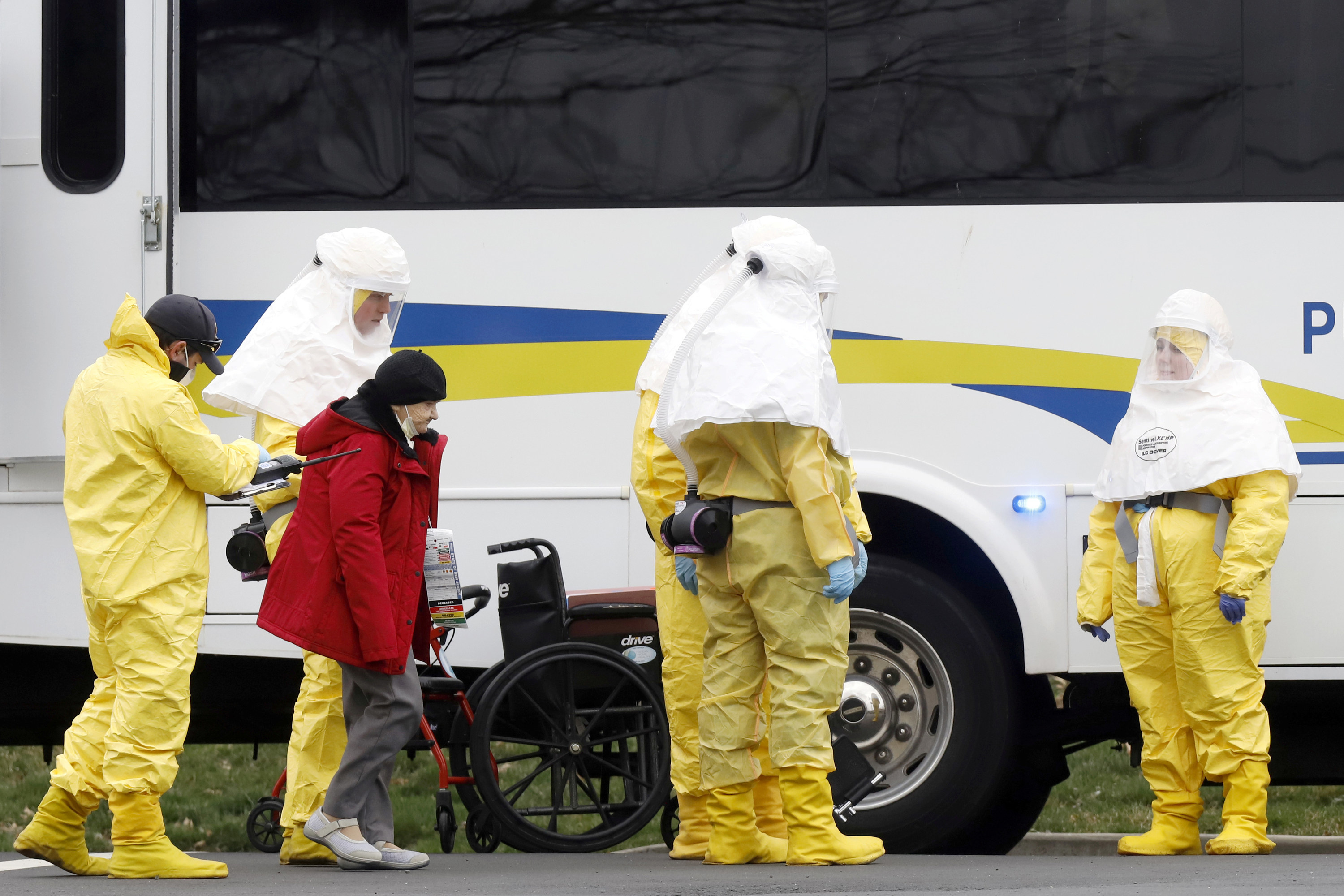 Medical officials aid a residents from St. Joseph's nursing home to board a bus, after a number of residents tested positive for coronavirus disease (COVID-19) in Woodbridge, New Jersey, March 25, 2020.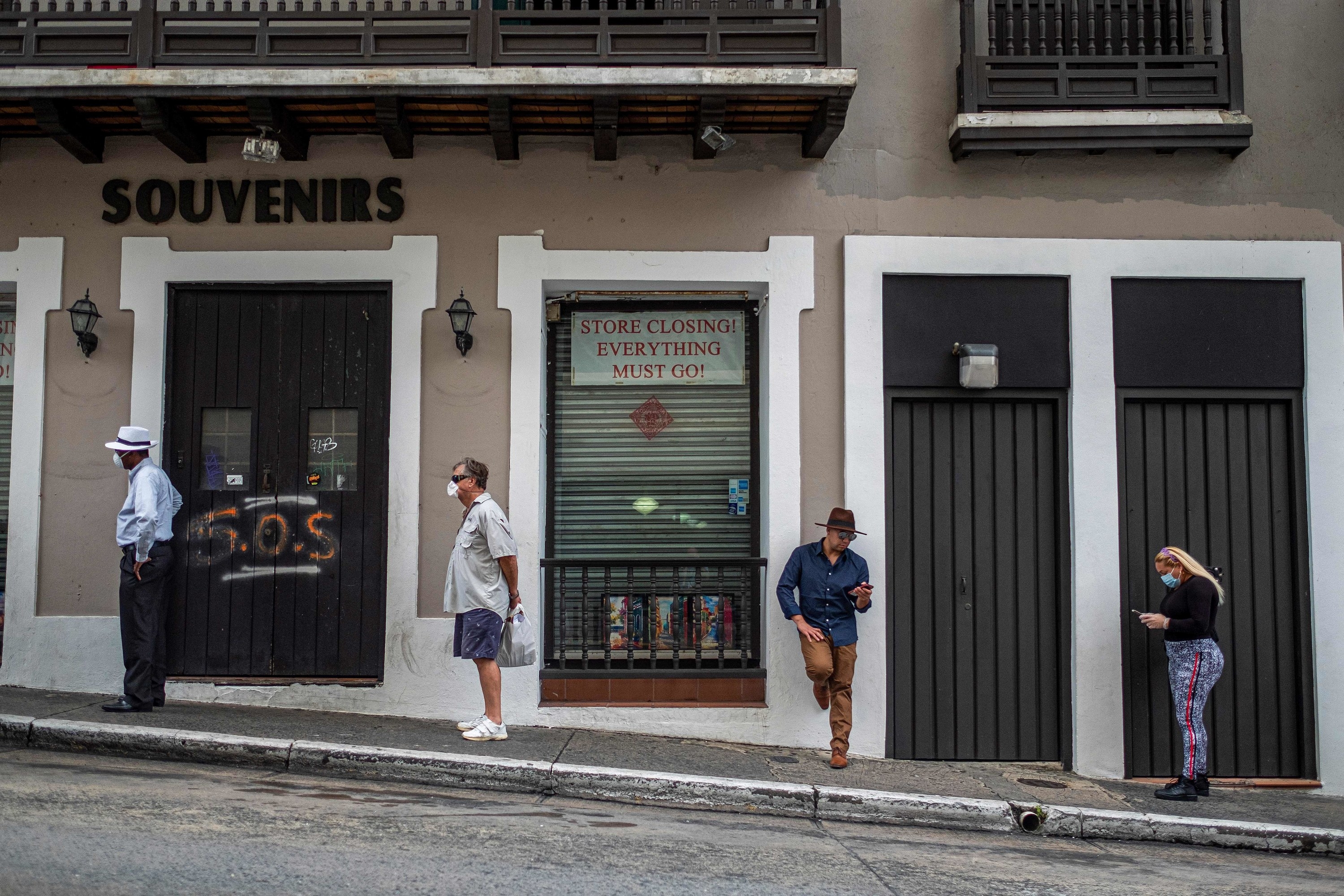 People line up at a safe distance to enter a supermarket that allows only five clients at a time in San Juan, Puerto Rico on March 25, 2020.
A police officer chases street vendors in Kampala, Uganda, on March 26, 2020, after Ugandan President Yoweri Museveni directed the public to stay home for 32 days starting March 22, 2020 to curb the spread of the COVID-19 coronavirus.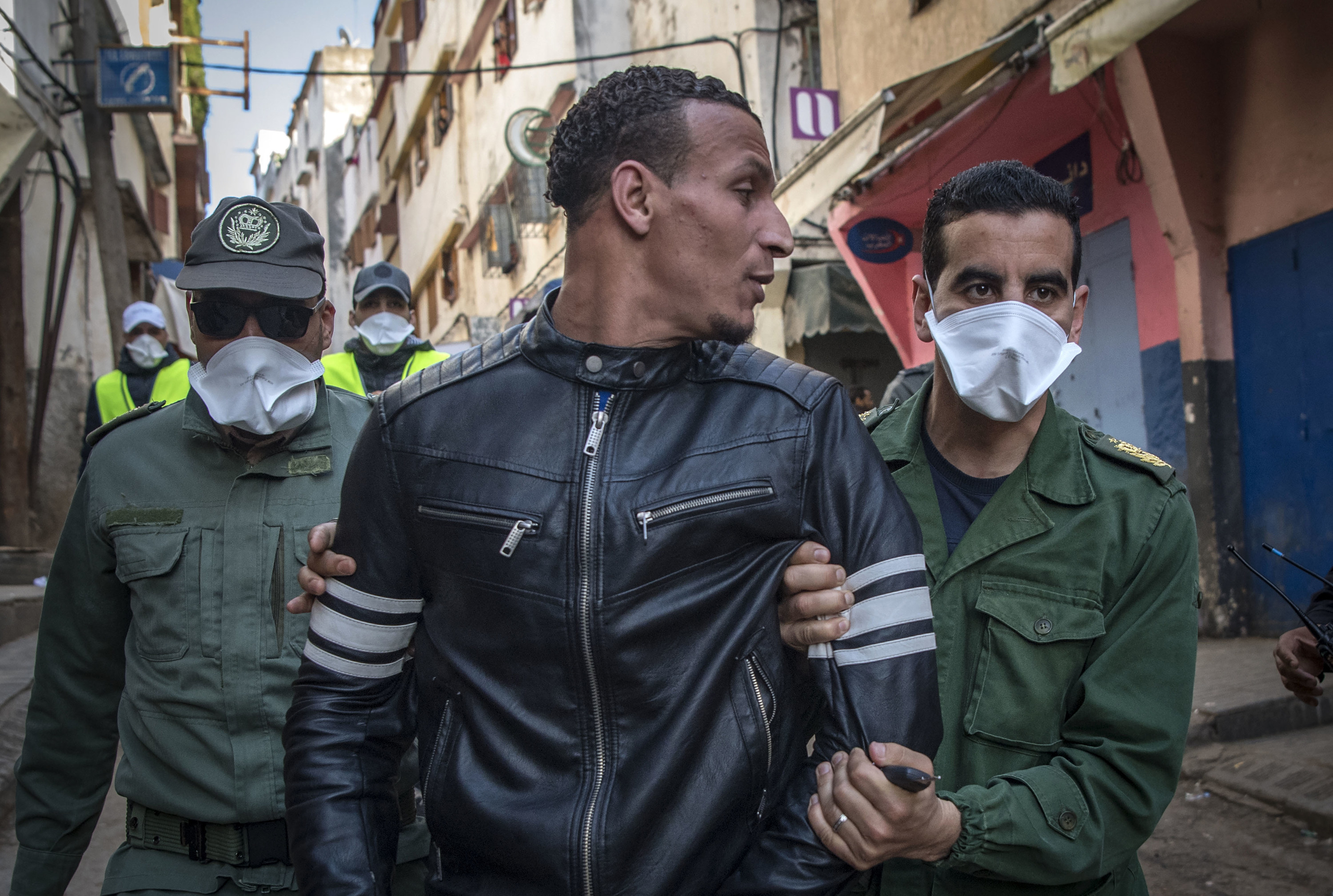 Moroccan authorities arrest a man who refused the confinement as security forces instruct people to remain at home as a measure against the COVID-19 coronavirus pandemic, in Rabat on March 25, 2020.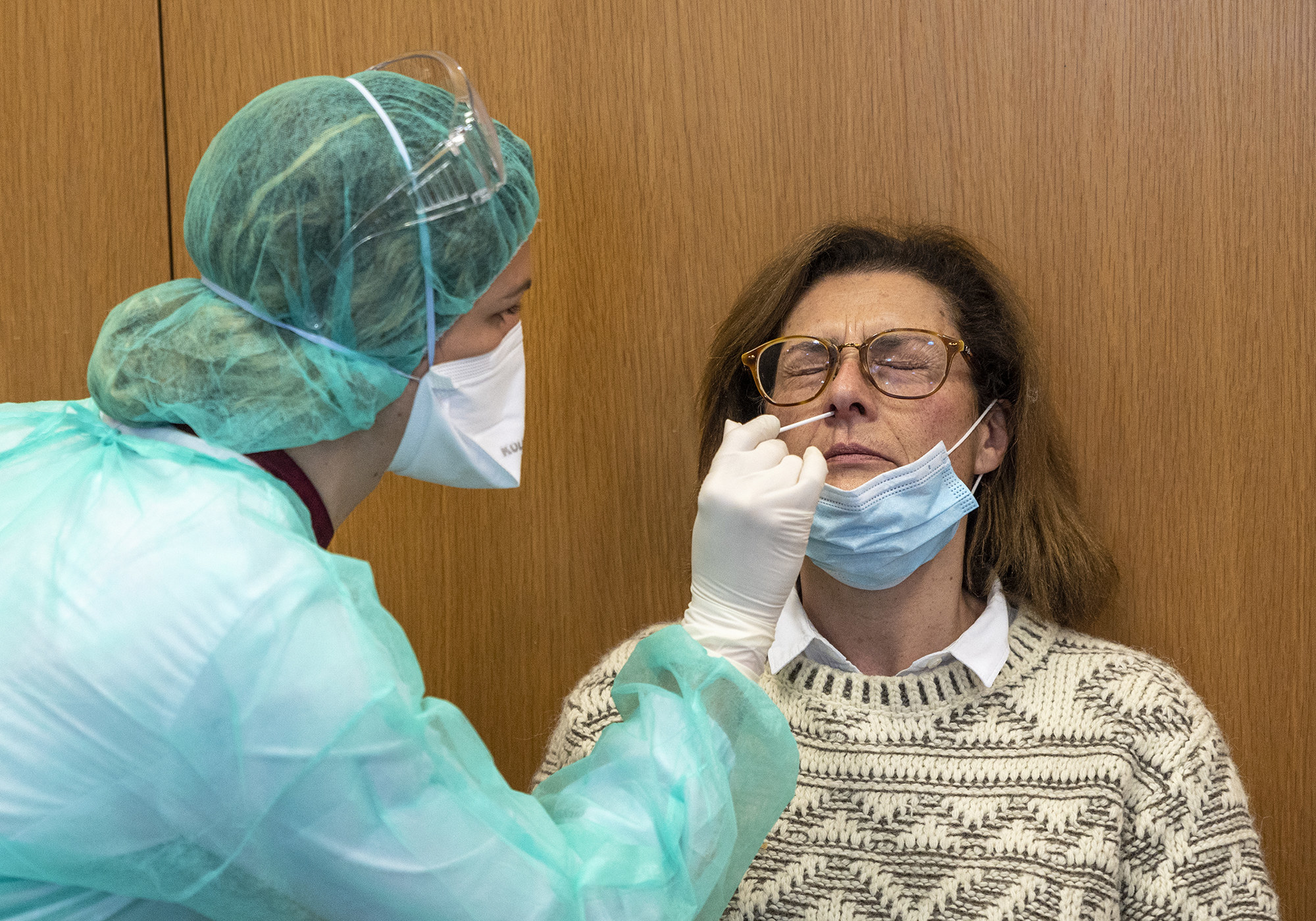 A health technician wearing protective gear takes a swab from Paula Alexandra Martins Varela's nostrils at the recently opened screening center for Covid19 on March 24, 2020 in Estoril, Portugal.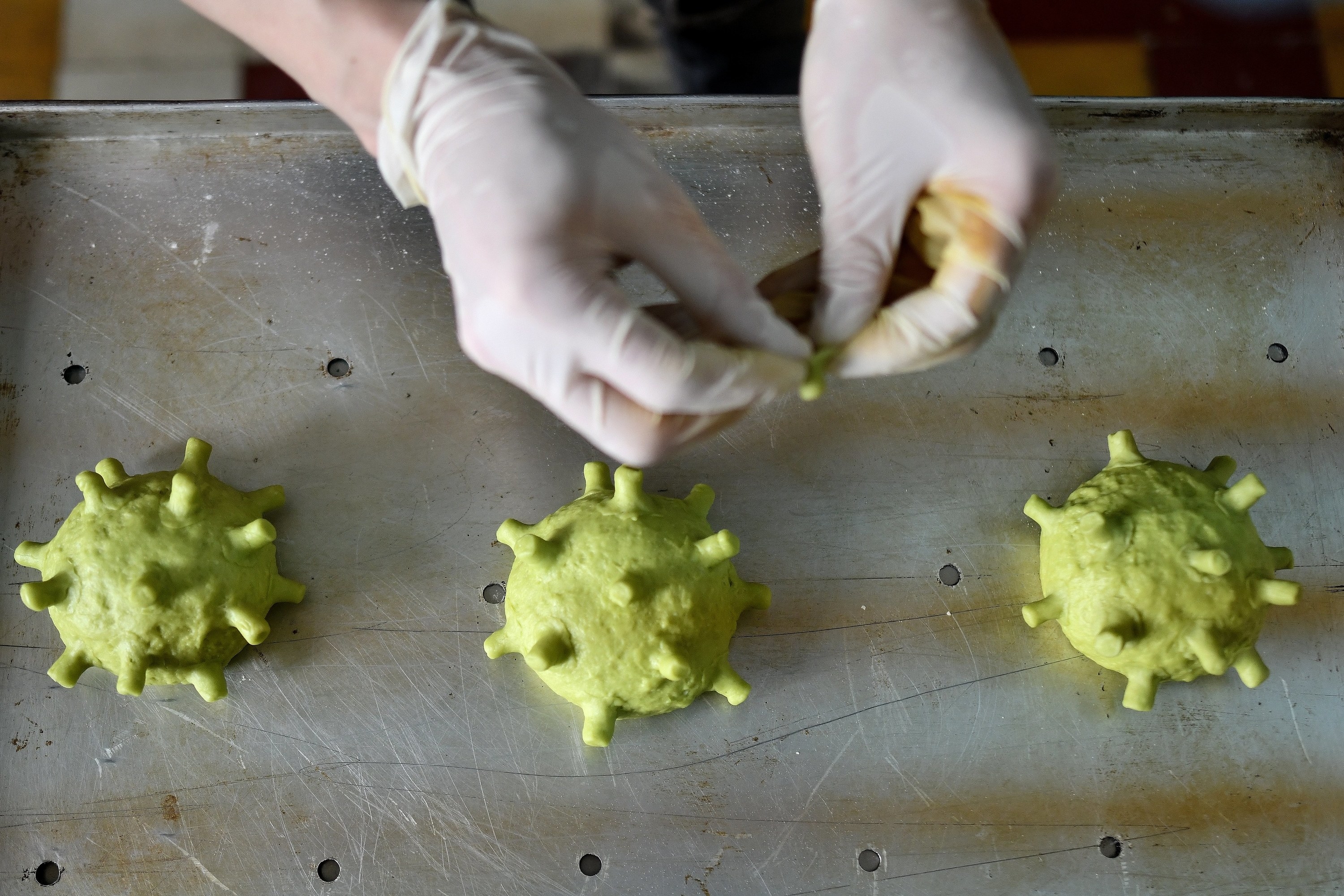 Vietnamese chef Dang Van Khu makes coronavirus-themed burger buns at the Pizza Home restaurant in Hanoi on March 26, 2020, amid restrictions being put in place to contain the spread of the COVID-19 coronavirus.
Workers produce medical gloves at a factory in Huaibei, China, March 23, 2020.
Employees work at a toilet paper production line at the Syassky Pulp and Paper Mill, as the company increases production due to high demand amid the COVID-19 coronavirus outbreak, in the town of Syasstroy, Russia on March 25, 2020.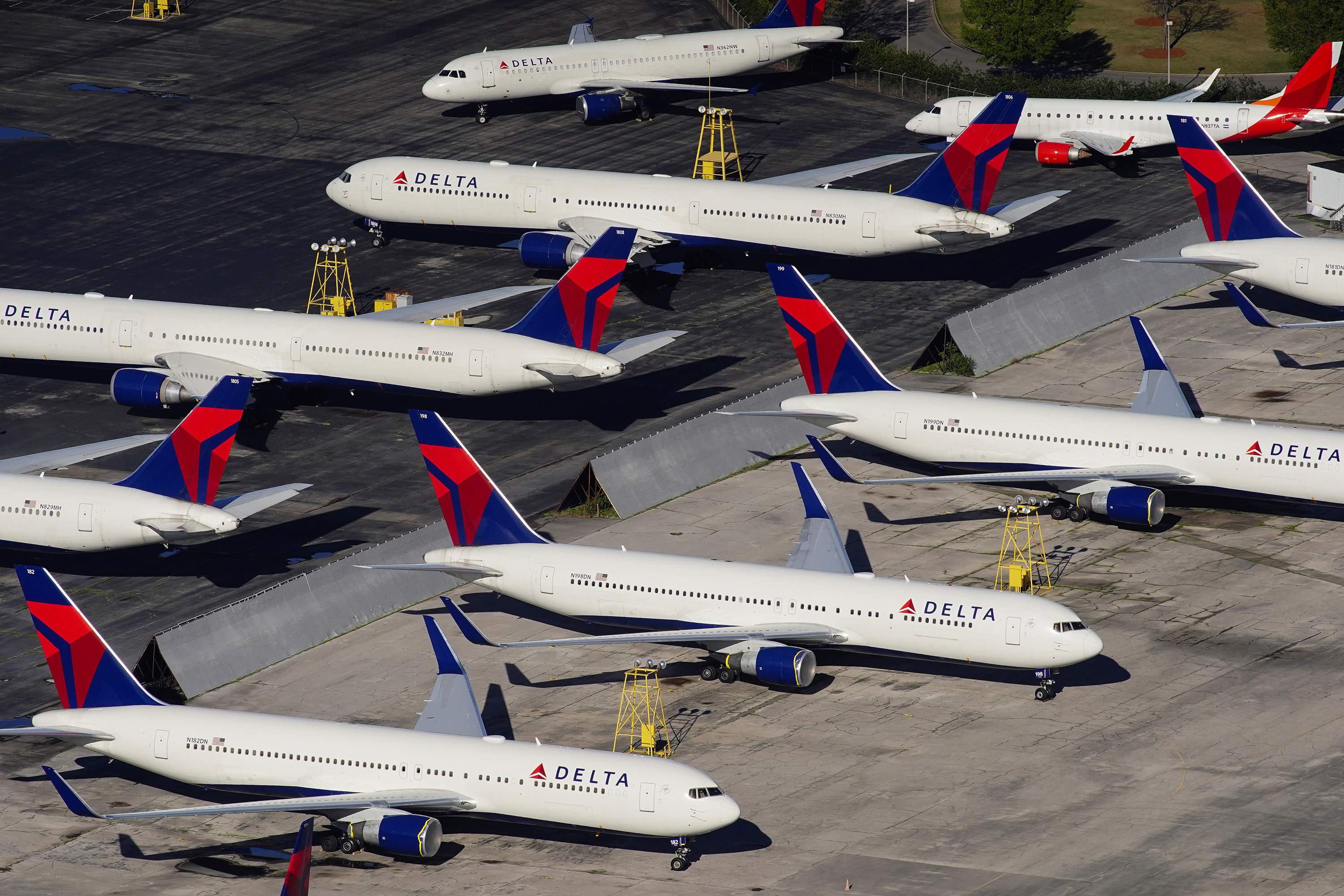 Delta Air Lines passenger planes are seen parked due to flight reductions made to slow the spread of coronavirus disease (COVID-19), at Birmingham-Shuttlesworth International Airport in Birmingham, Alabama, March 25, 2020.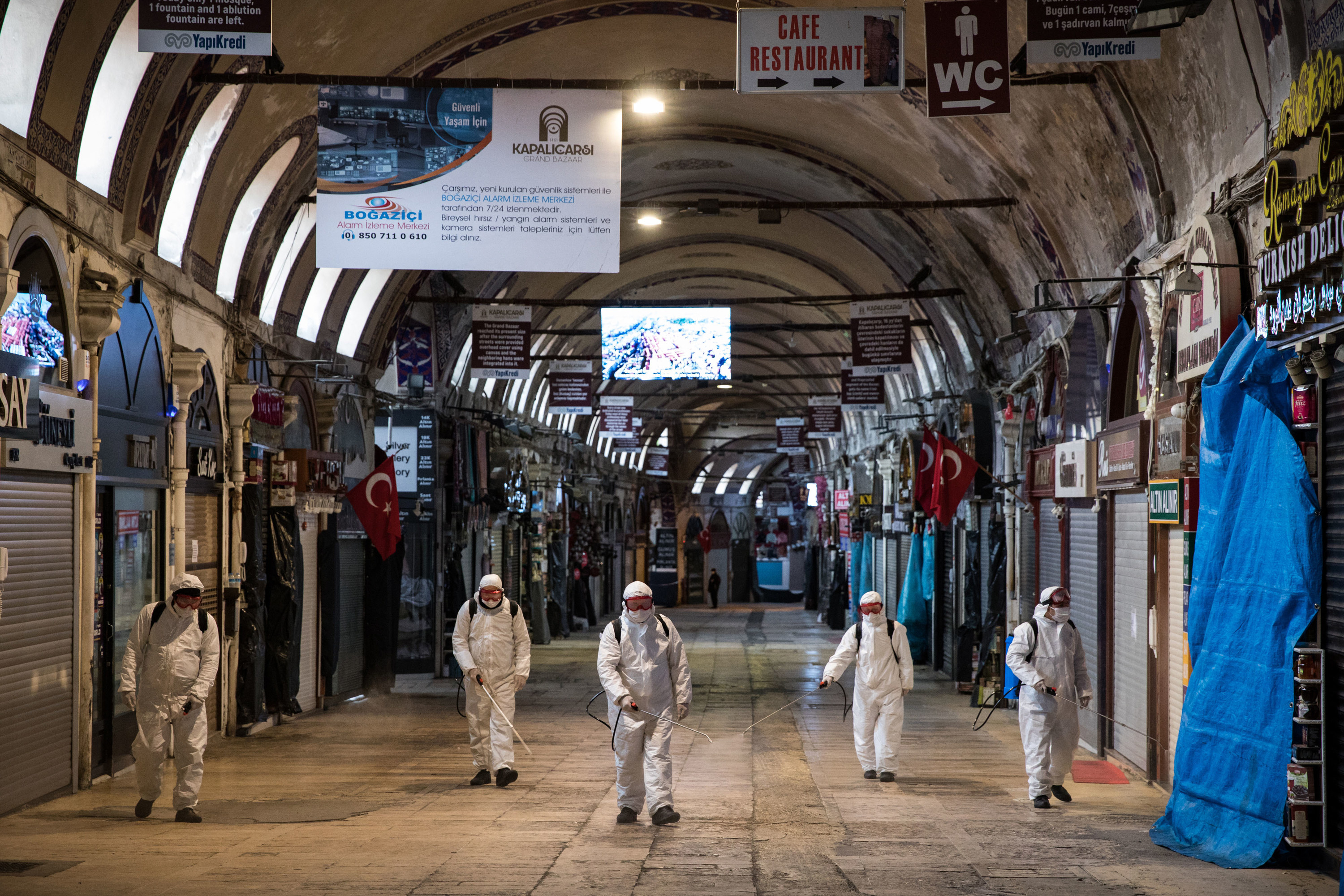 Members of the cleaning department spray disinfectant along a street inside the Grand Bazaar to prevent the spread of coronavirus in Istanbul, Turkey, on March 25, 2020.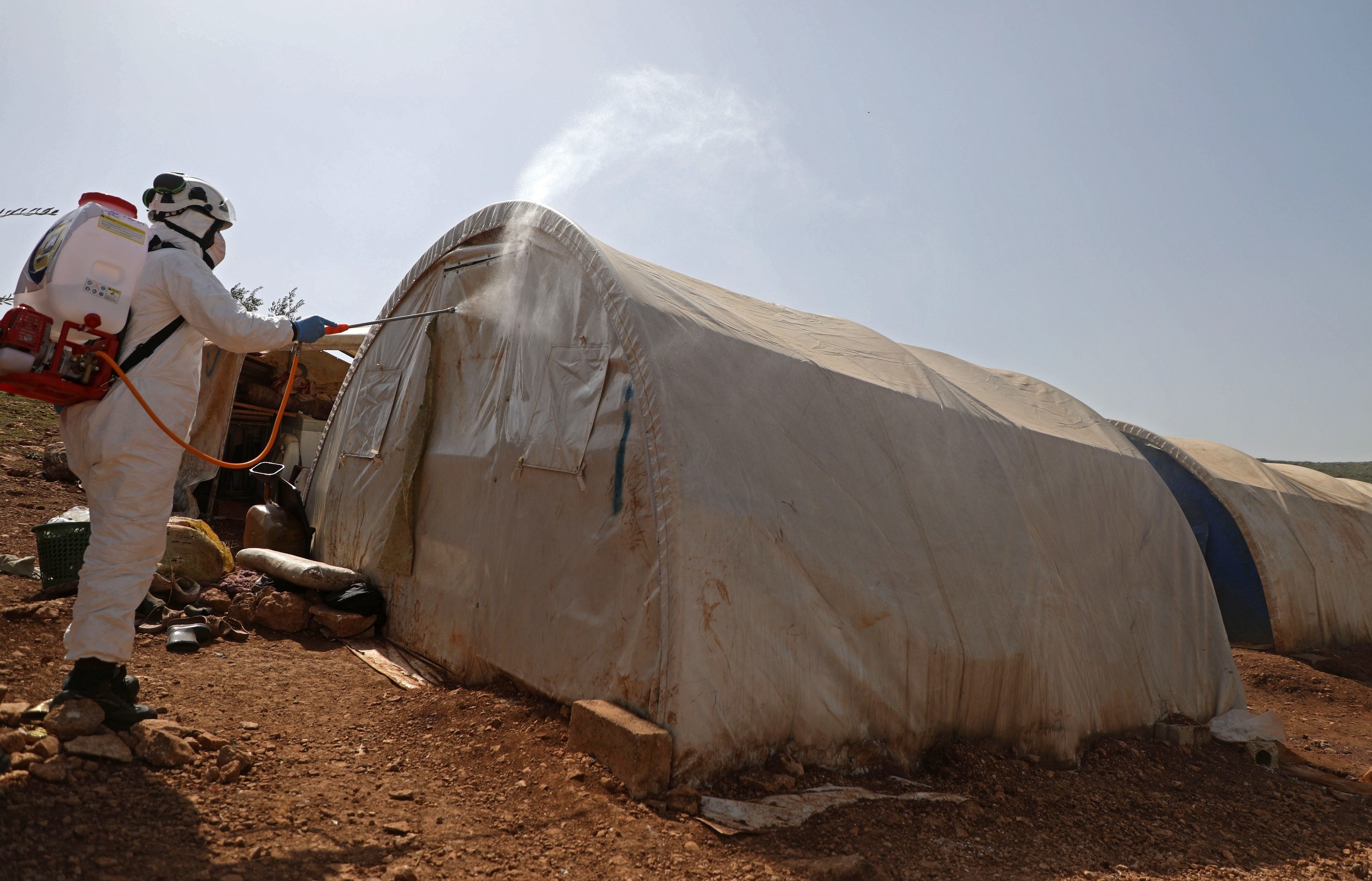 A member of the Syrian Civil Defence, also known as the "White Helmets", disinfects a tent in the Kafr Lusin camp for the displaced by the border with Turkey, in Syria's rebel-held northwestern province of Idlib, on March 24, 2020, as part of efforts to prevent the spread of coronavirus.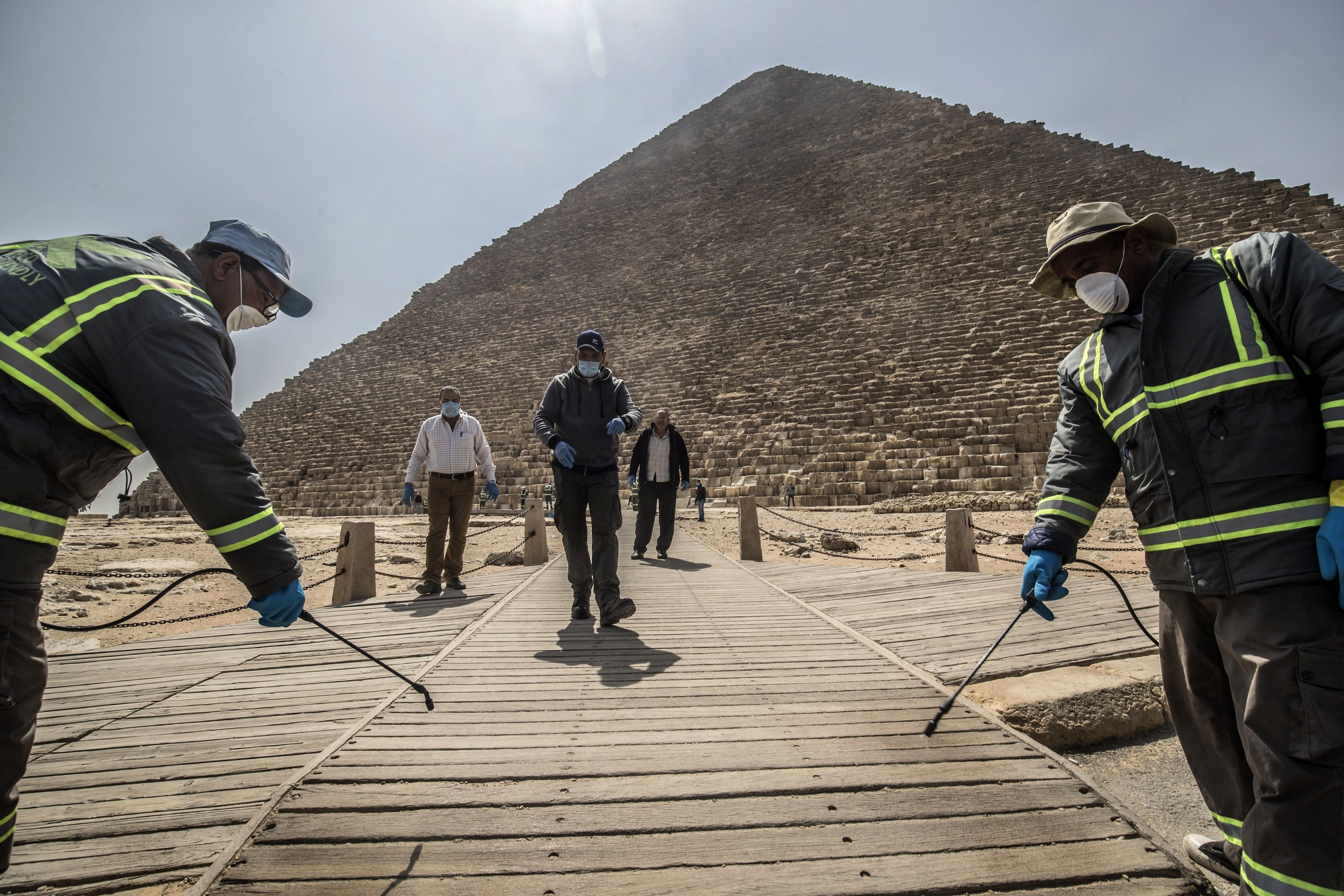 Egyptian municipality workers disinfect the Giza pyramids necropolis on the southwestern outskirts of the Egyptian capital Cairo on March 25, 2020 as protective a measure against the spread of the coronavirus COVID-19.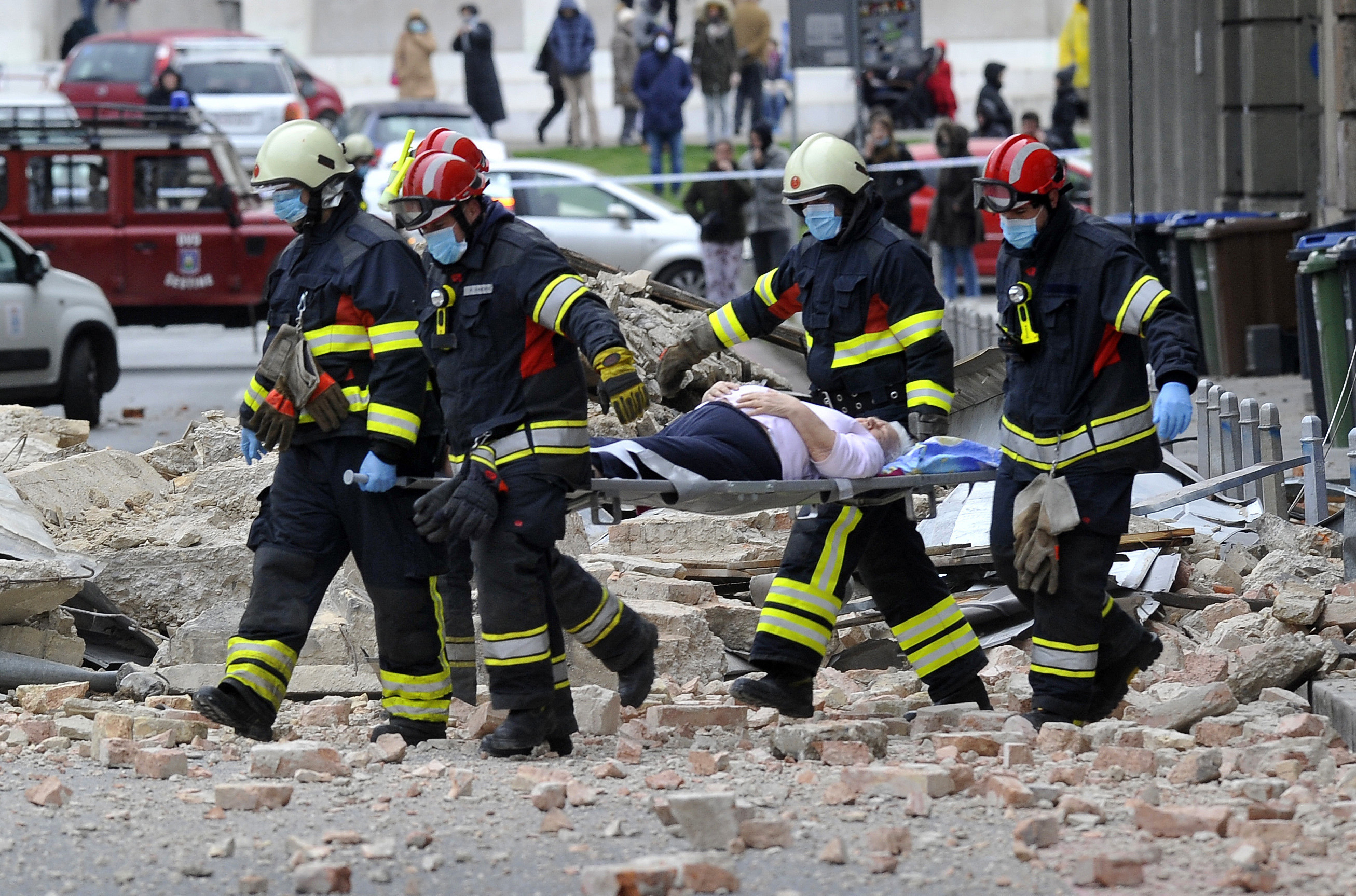 Firefighters carry a person on a stretcher after an earthquake in Zagreb, Croatia, March 22, 2020. A strong earthquake shook Croatia and its capital on Sunday, causing widespread damage and panic.
Medical staff use a trolley to move a patient towards a medical helicopter at The Emile Muller Hospital in Mulhouse, France, on March 22, 2020, as patients are evacuated to another hospital facility.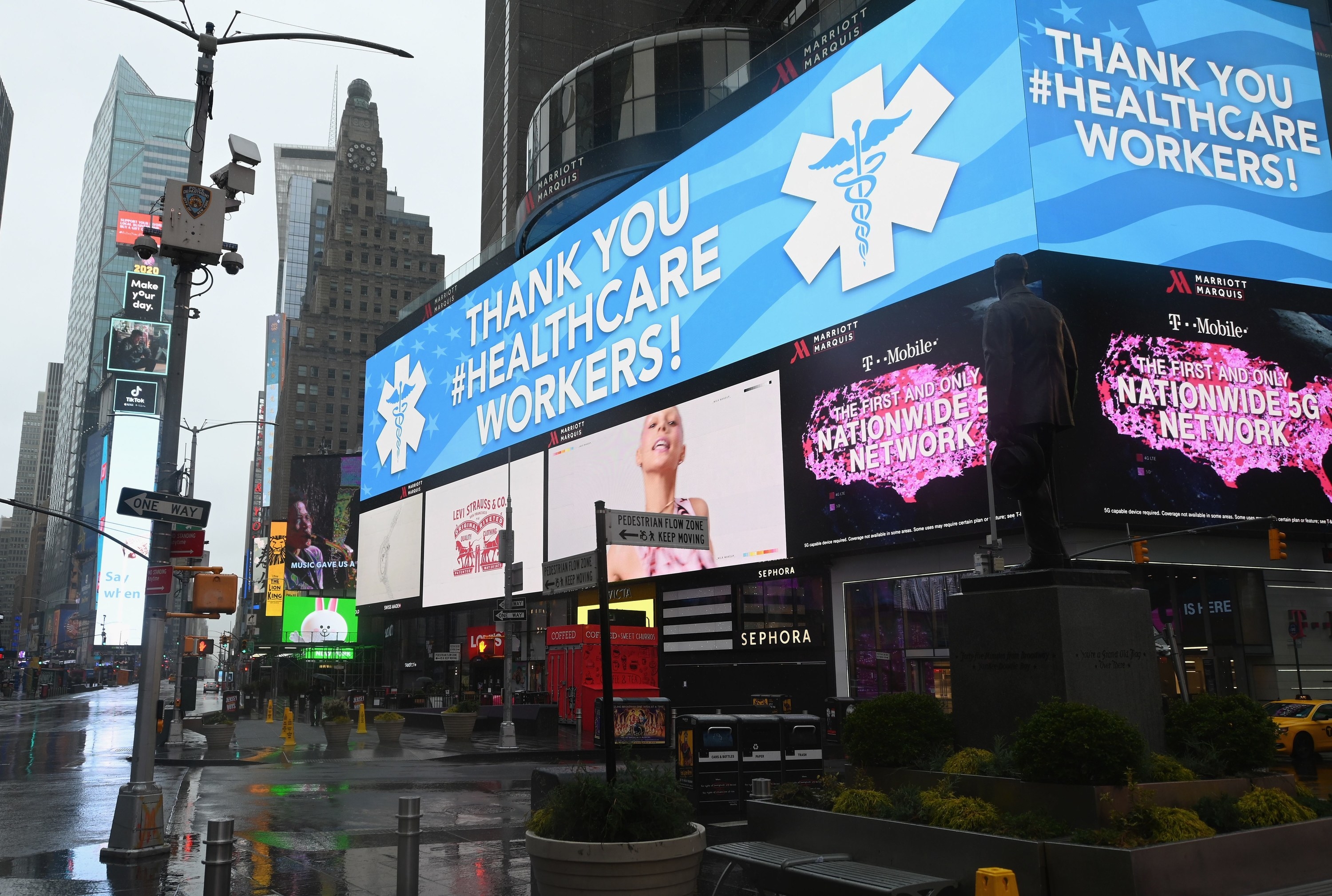 A nearly empty Times Square is seen on March 23, 2020 in New York City.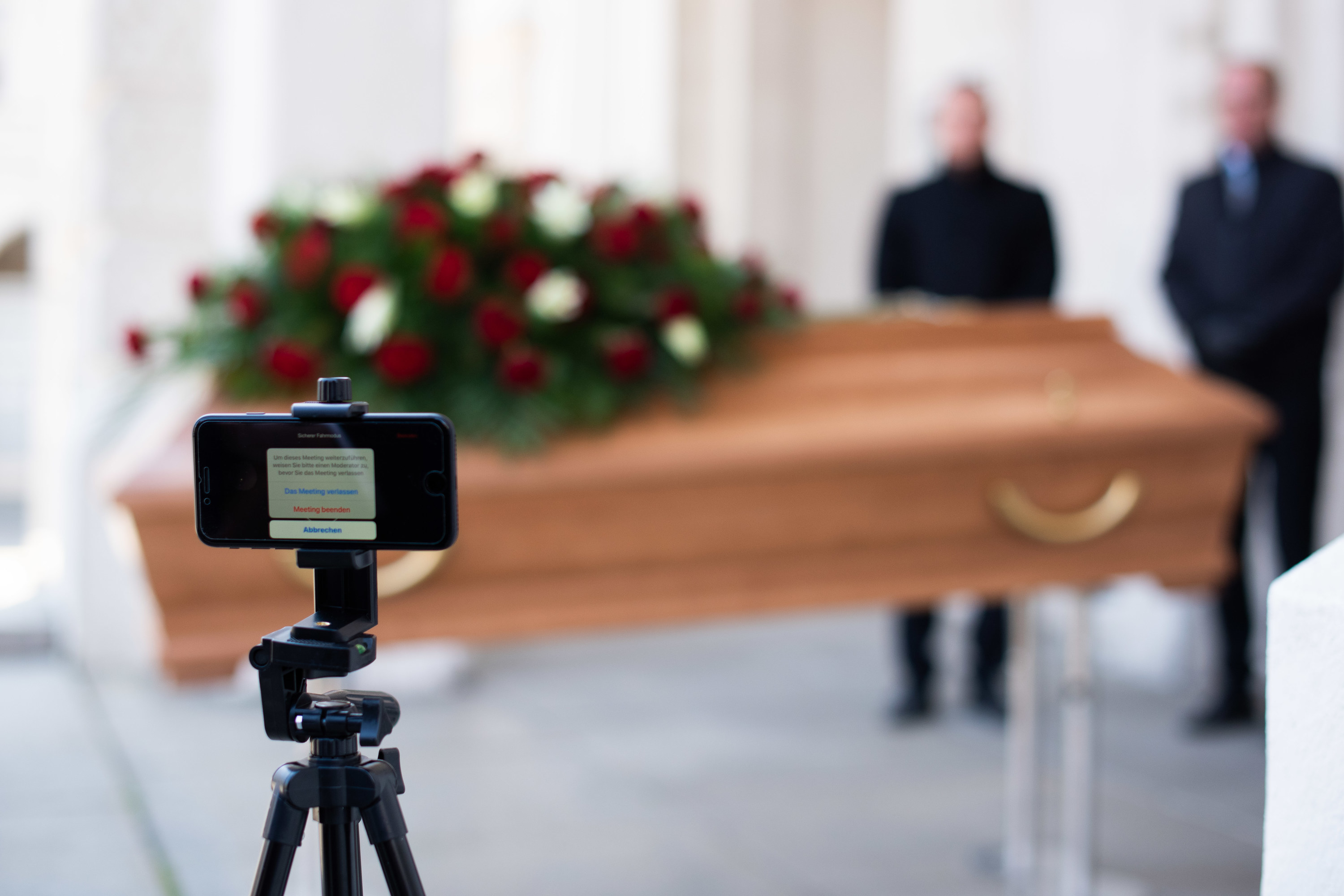 Employees of Bestattung Himmelblau undertakers rehearse the livestreaming of an upcoming funeral on March 24, 2020 in Vienna, Austria.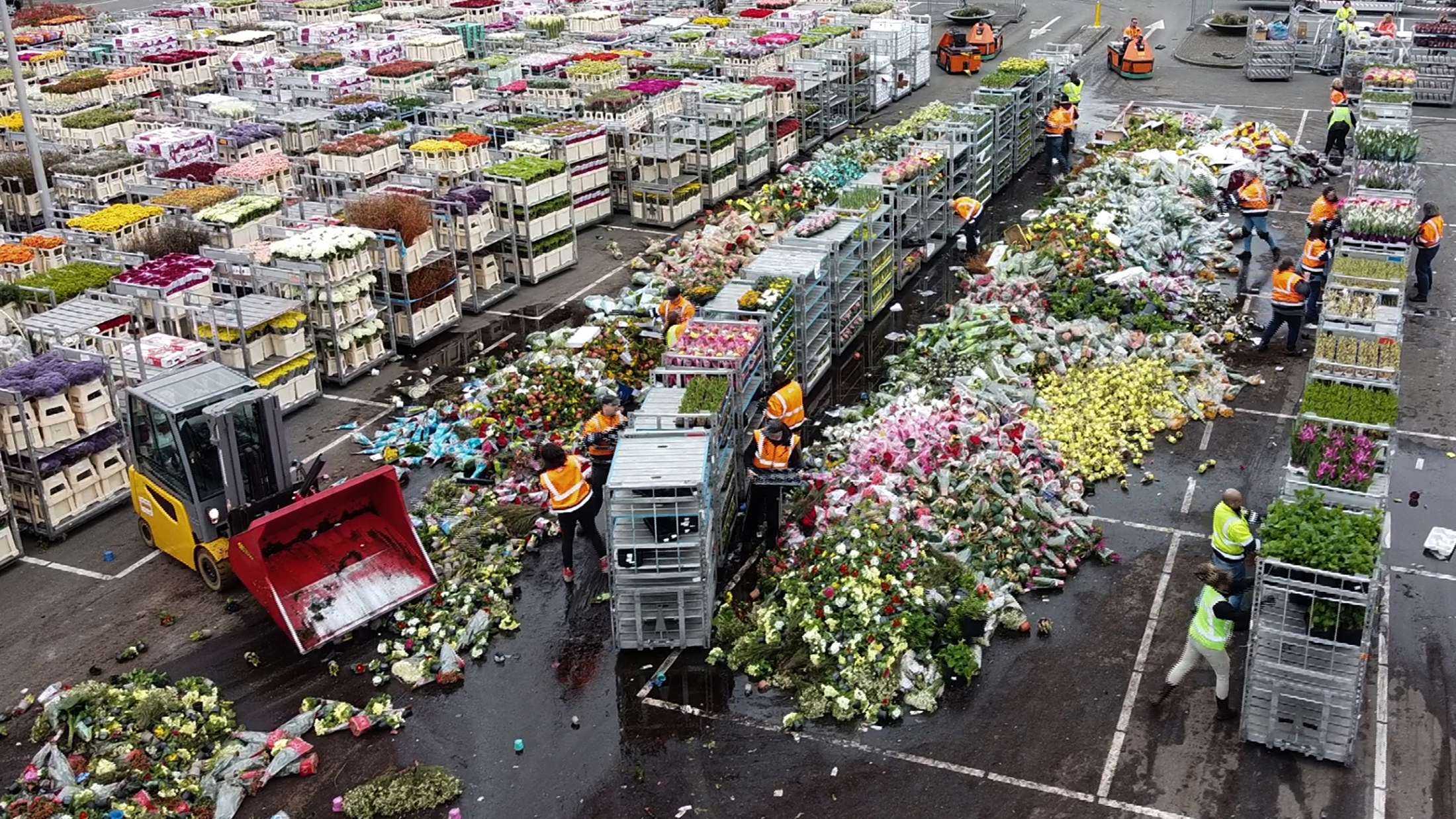 Flowers are destroyed at FloraHolland Naaldwijk in Honselersdijk on March 20, 2020, as sales drop due to Covid-19. Due to the loss of demand, the auctions are struggling with low prices and the need to destroy the products.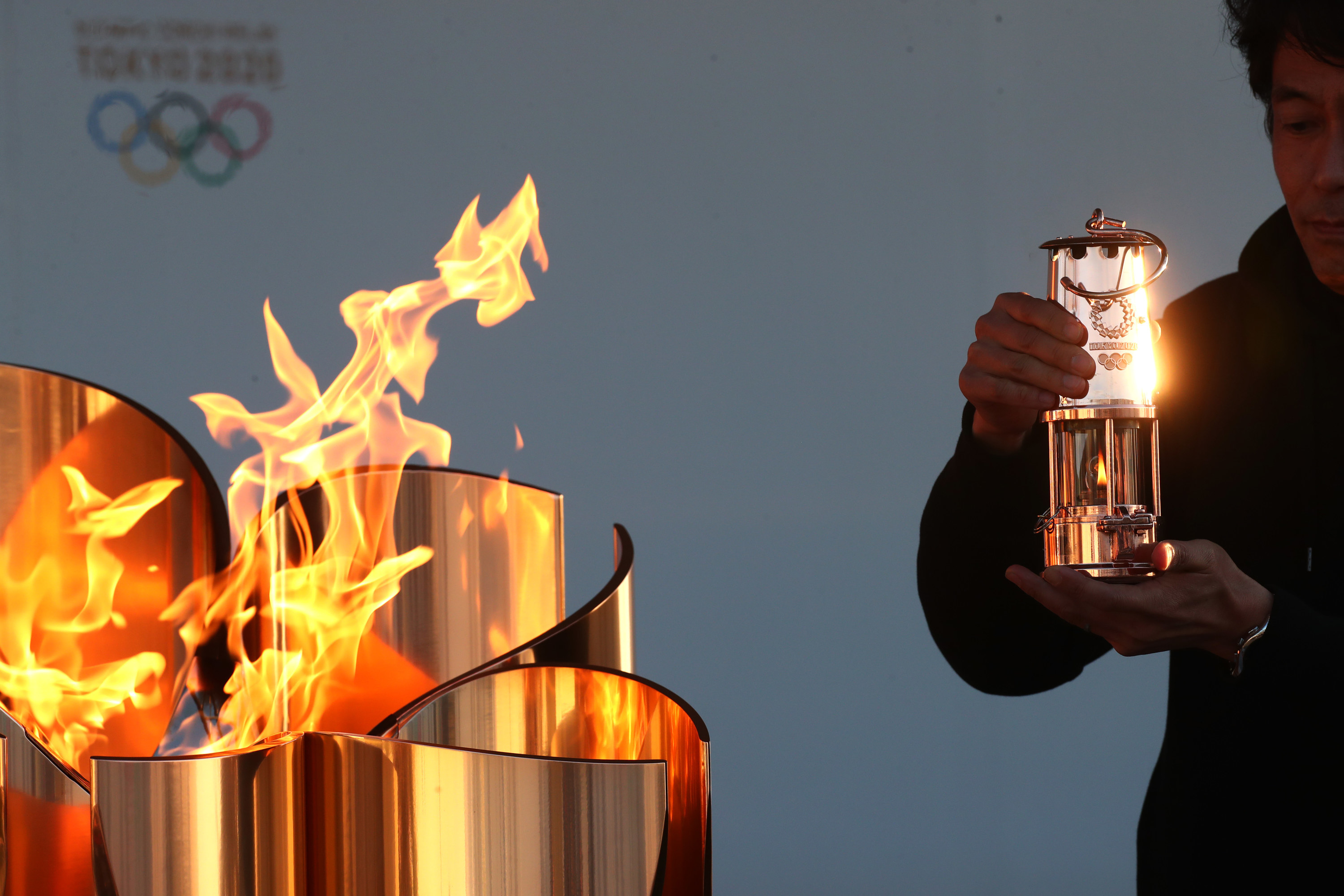 A staff member preserves the Olympic flame to the lantern during the 'Flame of Recovery' special exhibition at Aquamarine Park, a day after the postponement of the Tokyo 2020 Olympic and Paralympic Games announced due to the coronavirus pandemic on March 25, 2020 in Iwaki, Fukushima, Japan.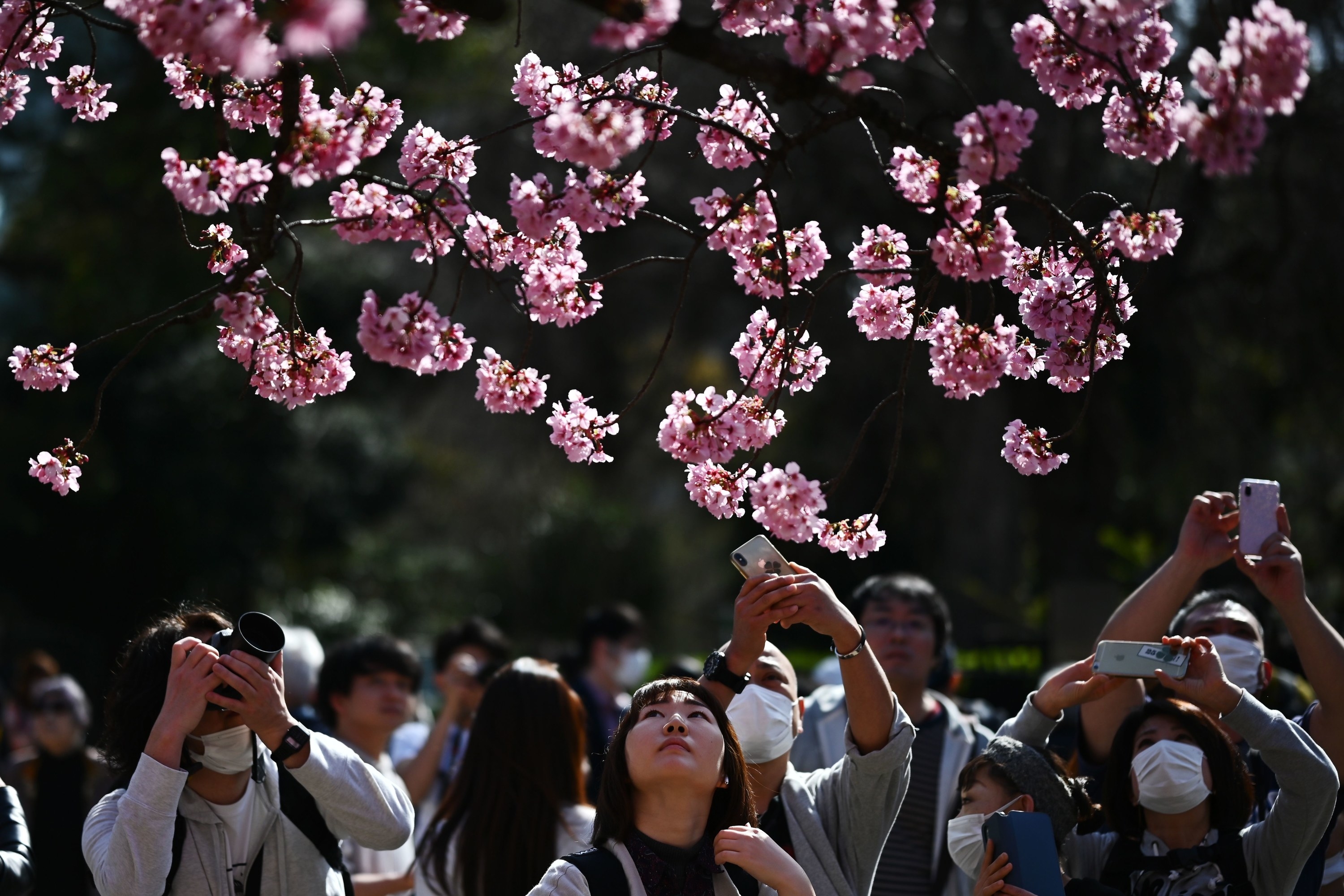 People take pictures of the cherry blossoms at Ueno park in Tokyo on March 21, 2020.

Kate Bubacz is the Photo Director for BuzzFeed News and is based in New York.

Contact Kate Bubacz at [email protected]

Got a confidential tip? Submit it here.

Gabriel H. Sanchez is the Senior Photo Essay Editor for BuzzFeed News and is based in New York City.

Contact Gabriel H. Sanchez at [email protected]
Source: Read Full Article