Neil Patrick Harris and David Burtka are the definition of relationship goals. In April 2021, the couple celebrated their 17th anniversary, which is pretty much unheard of in Hollywood these days. They also share adorable twins, Gideon and Harper, and they're known as role model dads considering how everyone fawns over how happy their little family is (you should see the fun costumes they come up with every Halloween).
It's not surprising how the two have remained strong all these years. In the 2012 essay both of them wrote for Out magazine's "The Love Issue," Harris and Burtka shared how similar they are to one another. "We're hyper similar and also incredibly opposite. We share a wardrobe. We have the same shoe size, body size, height, and weight," the essay read. "We're both Gemini. We both like the idea of family — not a nuclear family, but a social family. Yet, we're incredibly opposite in the way we process information."
Harris and Burtka are a match made in heaven. They are head over heels in love with one another, so much so that their proposal seemed straight out of a fairy tale! Keep reading to learn all about it.
Neil Patrick Harris and David Burtka proposed to each other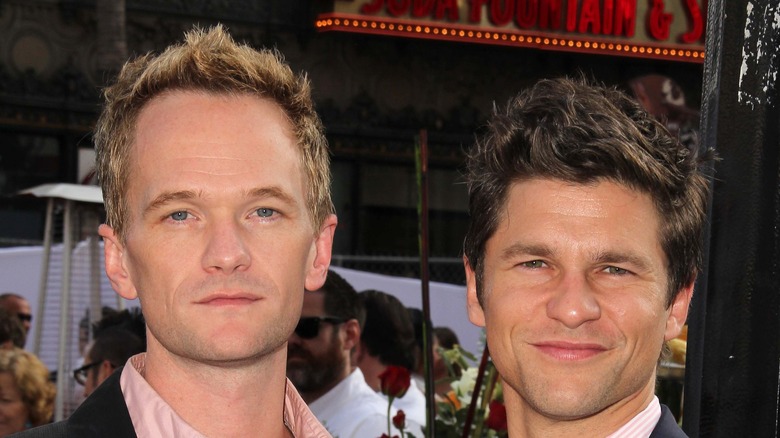 When Neil Patrick Harris and David Burtka felt that they were ready to settle down, they each planned the perfect proposal. Burtka proposed first, five years after they met for the first time and on the exact same spot. "We were on our way to an event at an Indian casino 45 minutes out of town in a limousine, and David wanted to stop for some reason that I didn't quite get. I thought he wanted to get some booze or something," Harris wrote in the Out essay. "And then he got on one knee and proposed, and I was so freaked out by it that I said, 'Yes,' but I didn't know what it meant. Then I got the ring and loved it."
Unbeknownst to Burtka, the "How I Met Your Mother" star would also go down on one knee. "A year later, on Valentine's Day, I proposed to him in Santa Monica. That was four years ago," Harris recalled. "The callus on my right hand is long-formed… I'm dying to move over to the other hand. I'd also like to call him my husband."
Harris and Burtka kept their engagement on the down-low, but they finally revealed it to the public after New York passed the Marriage Equality Act in 2011. "David and I did propose to each other, but over five years ago!" Harris tweeted. "We've been wearing engagement rings for ages, waiting for an available date."
Neil Patrick Harris and David Burtka had an equally magical wedding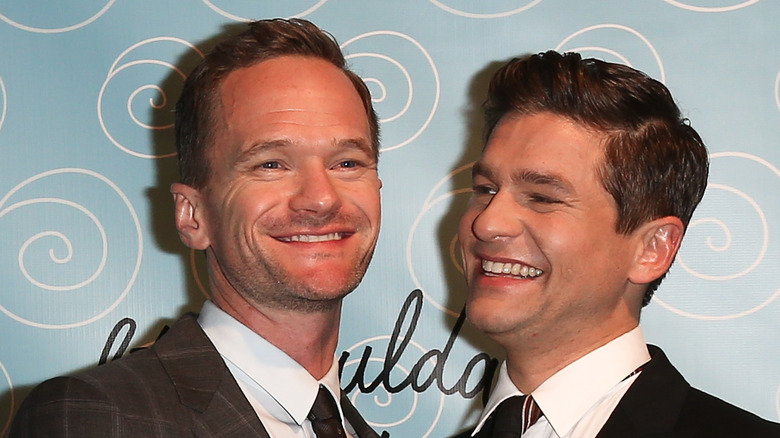 Marry they did — in an intimate ceremony in Italy among their closest family and friends.
According to Vanity Fair, Neil Patrick Harris and David Burtka had a private ceremony in Perugia, Italy in 2014. Kelly Ripa, who was a wedding guest, shared that the couple rented out a castle for the wedding and that it was quite magical — literally. Apart from fireworks, there were also magic tricks because as everyone knows, "Neil is way into magic," Ripa shared on "Live with Kelly and Michael" (via Vanity Fair). On top of all that shebang, Sir Elton John was part of the guest list, too. The singer even performed for the pair at the reception.
In their 17th year, Harris and Burtka are as in love as they had been when they first got together. "Happy anniversary, David. You are my top priority, my constant inspiration, my baby daddy, and my best friend," Harris wrote in an anniversary Instagram post for Burtka. "Going on a date with you seventeen years ago? Best. Decision. Ever. Thanks for the love, and the laughs, and the life. You're the best."
Source: Read Full Article