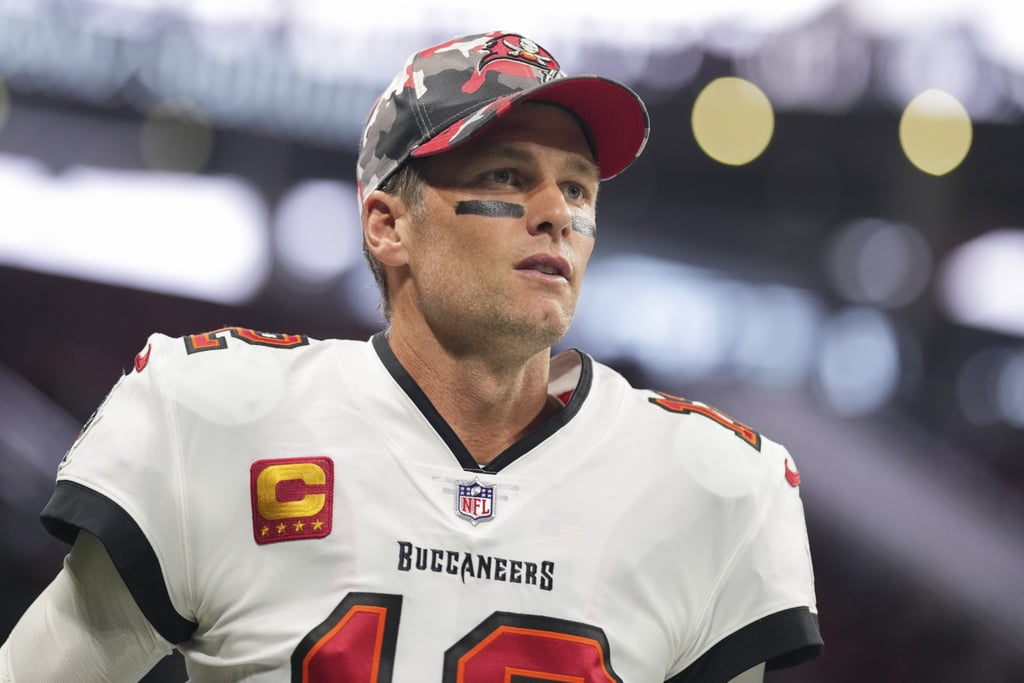 Tom Brady Announces He's Retiring From the NFL Again: "I'm Retiring For Good"

Tom Brady is retiring from the NFL, and it's for good this time. The famed quarterback broke the news in an Instagram video shared on Feb. 1, in which he thanked his fans for their support throughout his career. Brady previously announced his retirement in February 2022, before changing his mind and returning to the Tampa Bay Buccaneers for his 23rd season in March of the same year.
"I'm retiring. For good," Brady said at the start of his video. "I know the process was a pretty big deal last time, so when I woke up this morning, I figured I'd just press record, and let you guys know first."
He continued, "It won't be long-winded, you only get one super-emotional retirement essay, and I used mine up last year. I really thank you guys so much, to every single one of you, for supporting me, my family, my friends, teammates, my competitors. I could go on forever. There's too many. Thank you guys for allowing me to live my absolute dream." An emotional Brady added, "I wouldn't change a thing. Love you all."
Brady has had one of the most storied careers in American football. In addition to playing in 23 seasons, he also has seven Super Bowl victories to his name. His life has changed since his previous retirement announcement. In 2022, he and his wife of 13 years, Gisele Bündchen, divorced, and Brady focused much of his energy on his three children: Jack, Benjamin, and Vivian.
The NFL star's announcement comes a year to the day after his first retirement announcement. On Feb. 1, 2022, he shared his initial decision during an episode of his podcast "Let's Go!" "I'm just gonna take things as they come. I think that's the best way to put it, and I don't think anything, you know, you never say never," he said at the time. "And, again, I think it's not looking to reverse course; I'm definitely not looking to do that. But in the same time, I think you have to be realistic that you never know what challenges there are gonna be in life," he continued. "Again, I loved playing. I'm looking forward to doing things other than playing."
When he initially retired, Brady confirmed the news in an Instagram post. "I have always believed the sport of football is an 'all-in' proposition — if a 100% competitive commitment isn't there, you won't succeed, and success is what I love so much about our game," he wrote. "There is a physical, mental and emotional challenge EVERY single day that has allowed me to maximize my highest potential. And I have tried my very best these past 22 years. There are no shortcuts to success on the field or in life."
He continued: "This is difficult for me to write, but here it goes: I am not going to make that competitive commitment anymore. I have loved my NFL career, and now it is time to focus my time and energy on other things that require my attention. I've done a lot of reflecting the past week and have asked myself difficult questions. And I am so proud of what we have achieved. My teammates, coaches, fellow competitors, and fans deserve 100% of me, but right now, it's best I leave the field of play to the next generation of dedicated and committed athletes."
A little over a month after he made the announcement, however, Brady returned to the Buccaneers. At the time, he confirmed the news via his Twitter account. "These past two months I've realized my place is still on the field and not in the stands. That time will come. But it's not now," he wrote. "I love my teammates, and I love my supportive family. They make it all possible. I'm coming back for my 23rd season in Tampa. Unfinished business LFG."
The 45-year-old quarterback, who is one of the most decorated football players of all time, kicked off his athletic career in 2000 when he was drafted by the New England Patriots. He led the team to a whopping six Super Bowl wins before announcing in 2020 that he'd be leaving the Patriots to join the Tampa Bay Buccaneers on a one-season contract. Brady's seventh and final Super Bowl win in 2021 also marked his fifth time being named Super Bowl MVP.
The father of three hinted at retirement last summer in an interview with People. "Things change as you get older and there's a lot of different responsibilities I have in my life," he told the outlet at the time. "My kids and my family is certainly very important and they made a lot of sacrifice over a long period of time to watch me play. So, you know, I owe it to them, too."
Hear Brady's latest announcement ahead!
Source: Read Full Article