After news of the NFL star's weight loss made its round on the Internet, he is seen enjoying a pizza party with fellow sport star David Beckham and their kids.
AceShowbiz –Tom Brady apparently had the toughest moment in his life. If a new report is to be believed, the seven-time Super Bowl champion lost 15 pounds amid his divorce from his wife of 13 years Gisele Bundchen.
ESPN NFL reporter Jeff Darlington revealed the news of the 45-year-old athlete's weight loss as he took a "deeper look" into the Tampa Bay Buccaneers quarterback's tumultuous past year both on and off the football field. "Tampa Bay's team struggled this season. There is no doubt the offense never clicked … but Brady also knows his own mental focus was gone for a bulk of the season," Jeff said in a video he tweeted on Thursday, January 26.
"His physical stature, faced with 15 pounds of weight loss, was also in peril," Jeff added. The TV host went on to say, "He felt at times like his preseason anguish ended his chances at success before the regular season had even started."
Despite not addressing his changing appearance himself, fans have certainly taken notice. "Tom Brady does NOT look healthy…like at all! He looks 'sickly' skinny, to the point of concern. #NFL #SNF," one person tweeted in September last year. "Tom Brady looks too skinny. I hope he is ok," another wrote at the time.
The next day after Jeff discussed Tom's weight loss, the NFL star was seen enjoying a pizza party with David Beckham and their kids. The famed soccer player first took to Instagram Stories to share photos of the doting dads posing with their kids.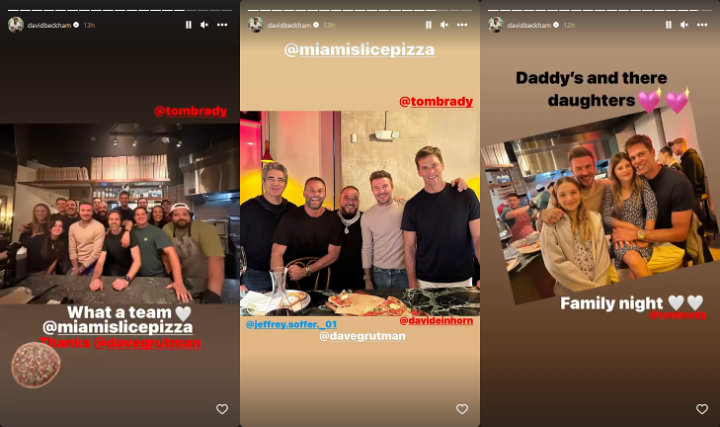 David Beckham posted photos from pizza party with Tom Brady.
The athletes' night out came amid rumors that Tom's ex Gisele is dating her jiu-jitsu mentor Joaquim Valente. The rumored couple was recently seen enjoying horseback riding in Costa Rica. The Brazilian supermodel looked happy as she sported a wide grin while trotting around on horseback next to her hunky jiu-jitsu instructor.
Gisele and Tom legally ended their 13-year marriage in October last year. Following the split, they agreed to have joint custody of their kids. More recently, it's reported that Gisele "knows" that she "made the right decision" to divorce Tom.
You can share this post!
Source: Read Full Article