With everyone stuck inside during the coronavirus quarantine, nothing captured the imagination of masses like Tiger King. 
The Netflix docuseries follows the exploits of Joe Exotic, described as a "mulleted, gun-toting polygamist and country western singer" who owned and operated the Greater Wynnewood Exotic Animal Park in Oklahoma. Much of the show centers on Joe's rivalry with Carole Baskin, who runs the Big Cat Rescue in Florida. 
The show reached a staggering 64 million households in its first month on the streaming service, and broke Netflix's record for holding the number one spot for the longest amount of time. The popularity was due in large part to the colorful cast of characters featured in the series. If you're one of the many who binged Tiger King, you may be wondering: where is the cast now? Well, ch-ch-check it out (below):
Contents
Joe Exotic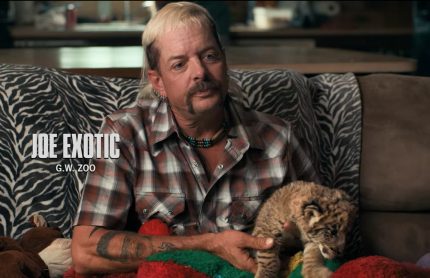 Joseph Maldonado-Passage, AKA Joe Exotic, ended the series behind bars after being implicated in a murder-for-hire plot against his rival, Carole Baskin. He's currently serving a 22 year prison sentence for that, and for 22 counts of animal abuse. 
Although Joe's behavior on the show seemed crazy enough on its own, details that emerged later make the series seem like just the tip of the iceberg. Accusations of racism, abusing employees, and even bestiality have flown about since the end of the series. (And don't forget the fact that he didn't even sing his own songs.)
Still, multiple reports say that Joe has really been enjoying his newfound Tiger King fame, even from prison. Though he was quarantined in a prison medical facility due to coronavirus concerns shortly after the show's release, he still managed to get up to some classic Joe Exotic antics beforehand. Last we heard from Joe, he was filing a lawsuit against the federal government and once again lobbying for his own release. And his dream just may come true, as President Trump said he'd "look into" pardoning Joe for his crimes. 
Carole Baskin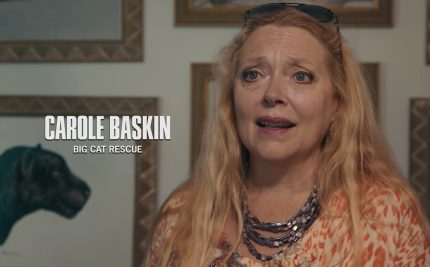 Despite Joe's outrageous antics, Carole may have actually been the most controversial figure on the series. After the show was released, the question on everyone's minds was: Did Carole Baskin kill her husband Don Lewis and feed him to her tigers? Police in Florida even used the show to source new leads for the investigation of his disappearance. 
Carole, who continues to run the Big Cat Rescue in Florida, was NOT happy with her portrayal on the show. She did not participate in the reunion episode, and spoke out against the docuseries as a whole, saying she only participated because she was told it would be an animal cruelty documentary a la Blackfish. She even recorded a series of videos defending herself from various claims. She also said immediately following the show's release, she was afraid to leave her house because of death threats.
In early June 2020, Carole was granted ownership and control of Exotic's G.W. Zoo as part of a trademark judgment. The 16,439-acre property in Garvin County, Oklahoma had been under the care of Jeff Lowe, Joe's former business partner turned enemy.
The victory was short-lived in our eyes, however, as that same week Hillsborough County Sheriff Chad Chronister revealed Don Lewis' will was FAKED! While the exact amount of his estate was unclear, it is believed to have been worth up to $10 million, which was entirely left to Baskin and excluded his family. Carole has not been implicated in the ongoing situation, but we are keeping our eyes peeled!
Jeff Lowe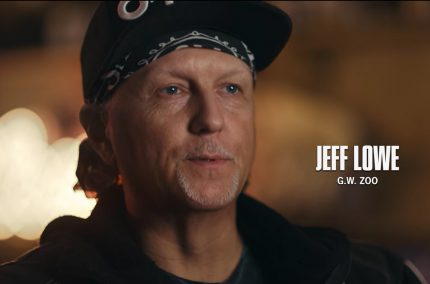 Though Jeff Lowe professed problems with his portrayal on the series (" tried to sensationalize a story a little to give it a villain," he said on the reunion episode), he has certainly been taking advantage of his new notoriety. He and wife Lauren rebranded their social media to "tigerkingpark" and have been doing Cameos and selling merch based on the series' popularity. He even apparently sold off some of Joe's own shirts! He's also been spilling the tea left and right about all the things Netflix DIDN'T include on the show.
A new Tiger King Park in Thackerville, Oklahoma, ran by Lowe, is set to open this fall — and there's even a new reality show in the works! While everything seems to be on the up and up, Jeff did get hit with at least $50K owed in delinquent taxes! Hopefully he can pay that off soon. The drama seems to follow this guy!
Rick Kirkham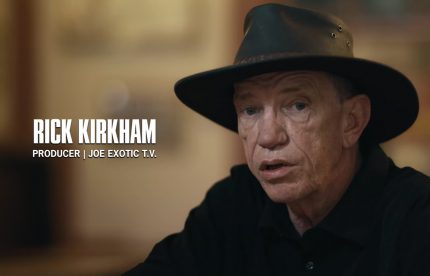 As we saw on the series, Rick Kirkham's time with Joe Exotic left him in rough shape. He seemed pretty devastated by losing all his footage for his reality show, but said he's actually "grateful" for what happened. Explaining in an interview that he felt incredibly guilty after spending time at the zoo and witnessing some awful things, he said:
"It wasn't losing the project that knocked me down, it was the fact that I had let myself go that far…So karma came back around for both Joe and I."
The former Inside Edition reporter got psychiatric help after leaving the zoo, and said he restarted therapy after the docuseries was released. He moved to Norway, got married, and now works as a reporter for RealReels.
Bhagavan "Doc" Antle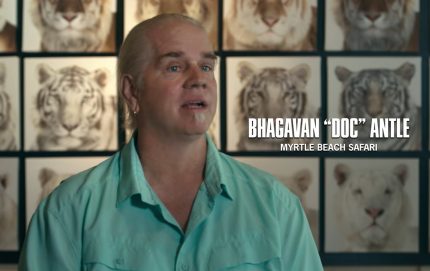 Doc Antle was one of the most intriguing figures of the series. Joe's mentor was presented as a cult leader, seducer of young women, and an animal abuser. Antle spoke out about the series after its release, saying in a statement the show is "sensationalized entertainment with paid participants." He also refuted claims that he has "multiple wives" (although he does say he's "certainly lovely girls that I've met in my life who share time and opportunity with me"). 
Antle continues to reside in Myrtle Beach where he runs and owns The Institute for Greatly Endangered Rare Species (T.I.G.E.R.S). He's been under investigation for his treatment of animals multiple times, including after the conclusion of Tiger King's filming. Nothing has ever been proven, despite allegations Joe has made about his former friend from prison.
John Finlay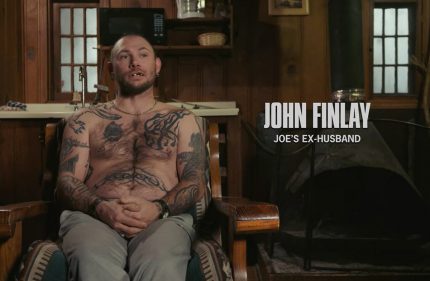 Joe's ex-husband John Finlay is one of many interviewees who expressed disappointment with his portrayal on the show, telling Entertainment Tonight the series made him "look like a drugged-out hillbilly". Although he has since explained he and Joe were never legally married, the couple was together for over 10 years. Their relationship ended when he began a relationship with another (female) park employee, with whom he shares a child.
Today, John is six years clean of methamphetamines and engaged to be married to a new woman. He works as a welder and told PEOPLE that he hopes to "work with youth" to fight addiction. He also has a gorgeous set of new teeth following a procedure in June 2019.
'Saff' Saffery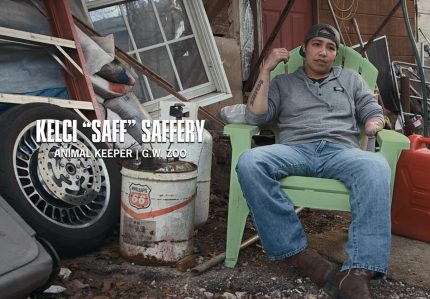 Despite the shocking moment where Saff lost an arm to a tiger, he came across as maybe the most grounded and easygoing of all the people who appeared in the docuseries. So it might have come as a surprise when some outrage was stirred online on his behalf, over the fact that he was misgendered throughout the series. For his part, he wasn't too bothered by it; he told Out Magazine:
"If people are asking me what I prefer, it's very obvious what I prefer, and that's he. But I'm not going to tell anyone what they need to or should call me. I think that everyone's entitled to their own opinion, and I'm obviously as easygoing in that department as I can get."
According to Esquire, Saff left the zoo because he no longer felt it was true to the mission he was drawn towards in the first place. He now works a "clock in, clock out" job in California. 
John Reinke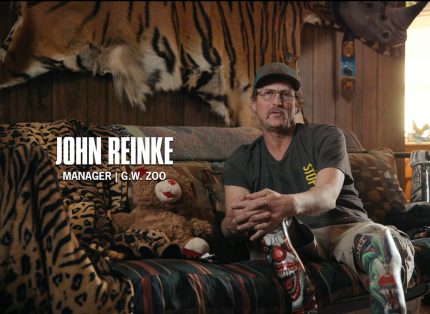 One of Reinke's claims to fame in Tiger King was having lost both legs in an accident — that was surprisingly completely unrelated to keeping tigers. The likable (zoo manager) was forced to leave his own animals behind because he couldn't pay to get them back from Jeff Lowe. However, he told Joel McHale during the reunion that he's now the "happiest" he's ever been. He moved to Texas, left his wife of 30 years, and has a new girlfriend. Plus, he still gets a little taste of danger at his new job, working with race cars at Bodine Transmission Shop.
Erik Cowie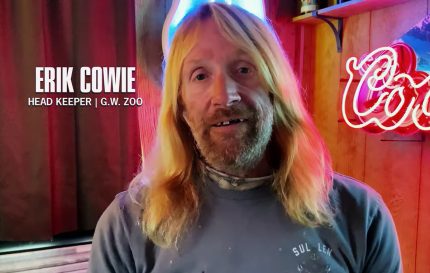 After testifying against Joe during his trial, likable zoo employee Erik Cowie stayed on at the Greater Wynnewood Exotic Animal Park. He was head zookeeper (Or "Major Asshole, I don't know," he told Joel on the reunion special) under Jeff and Lauren Lowe's ownership of the zoo. He expressed regret for some of his work with Joe and has spoken out about the animal abuse that Joe perpetuated, including " more than 100 tigers". Since Carole Baskin officially owns Wynnewood now, there's been no word on Cowie's current employment!
Joshua Dial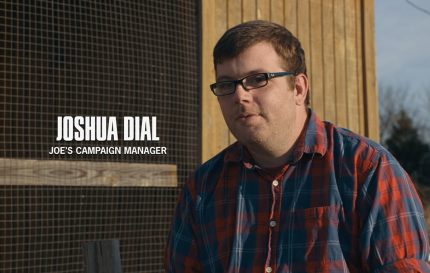 Joe's former campaign manager had perhaps the most traumatic experience of anyone who worked for the zookeeper — and that's saying a LOT. After witnessing the shooting death of Joe's husband Travis Maldonado in the zoo's office, he told Oxygen.com he has "a hard time sitting in offices". He's moved on from the events of the zoo, saying: 
"I have tried to move on, and I have been successful so far. I was given a new life and a second chance when I met my fiancée; I have no desire to bring any of that pain into my life."
He told Joel McHale during the reunion he wants to "jump back into campaigning" once he feels "stable and ready to go."
Dillon Passage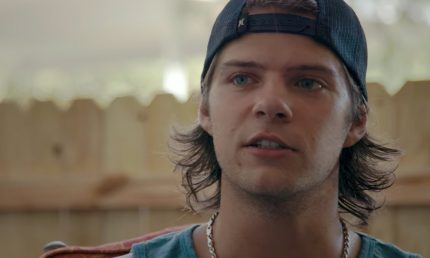 It may have come as a surprise when Joe moved on so quickly after the passing of his husband Travis Maldonado. Then again, maybe it wasn't surprising at all. Regardless, Joe and Dillon are still married, and Dillon resides in Florida where he moved with his husband. Dillon has been making the media rounds and giving fans updates from Joe via the incarcerated zookeeper's instagram. He also, weirdly, seems to be friends with Harry Jowsey, star of Netflix's other quarantine hit, Too Hot To Handle. 
Weigh in, Perezcious readers! Who was YOUR favorite Tiger King personality? Let us hear it in the comments (below).
Related Posts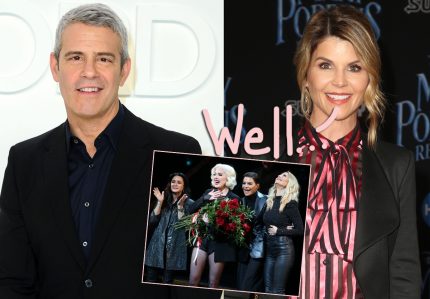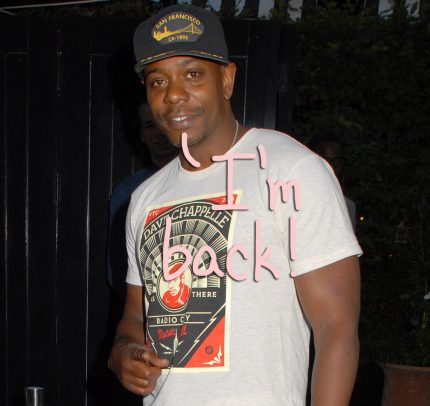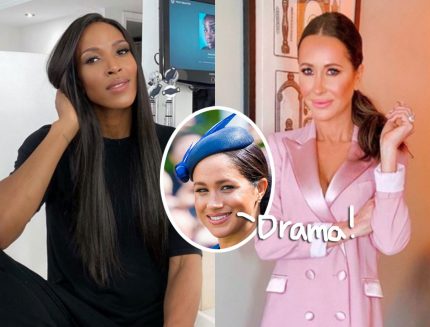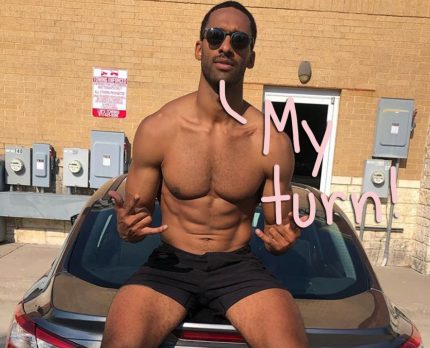 Source: Read Full Article