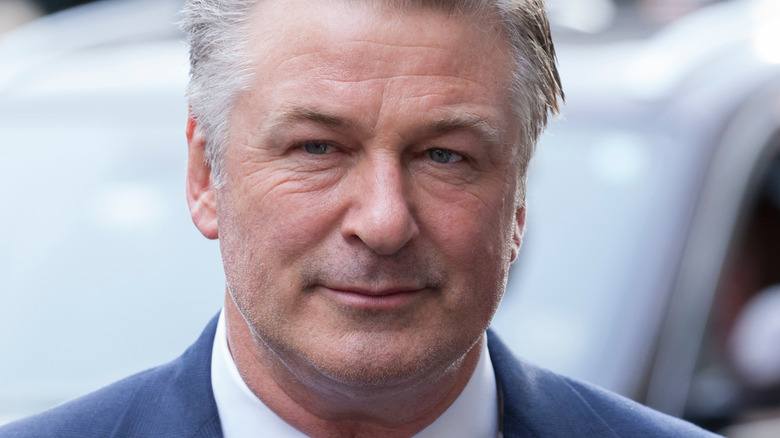 For over four decades, Alec Baldwin has entertained audiences with theater productions, acting roles, witty writing, and so much more. Baldwin didn't get started with acting until after he got his Fine Arts degree from NYU Tisch School of the Arts. He made his Broadway debut in 1986, and continued to work on and off until 2013 (via Biography). He got started in television in 1982, when he had continual roles in shows like "The Doctors," "Cutter to Houston," and "Knots Landing." He worked steadily in film and TV roles alike for decades, with his most notable film roles being in "The Departed," "It's Complicated," and "The Cooper." Then, in 2016, he was signed on to play Donald Trump on "SNL," sparking a resurgence in his career and growing a cult following for his character. As of June 2021, he has eight more projects in the works (via IMDb).
Now everyone knows he's an impressive actor, but do they know who he's been linked to over the years?
Baldwin and Kim Basinger were together for over a decade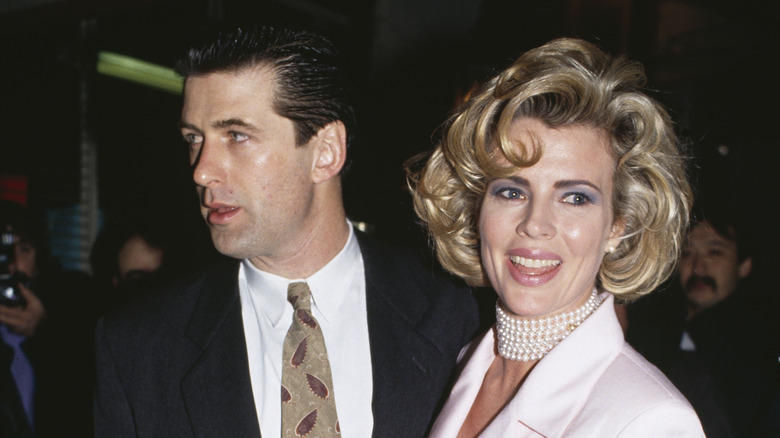 Throughout the 1980s, Baldwin was in an on-again, off-again relationship with fellow actress, Holly Gagnier, and had a relationship with Janine Turner. Around this time, Baldwin was linked to actresses like Ally Sheedy, Cheri Oteri, Michelle Pfeiffer, and Lori Loughlin, to name a few (via Who's Dated Who). It seemed like the playboy wasn't settling down anytime soon. That is, until he met Kim Basinger.
The pair got together at the beginning of the 1990s, and they seemed like a match made in heaven. They wed in 1993 and two years later had a daughter, named Ireland. But as time went on, Basinger admitted that his anger was a bit much at times (via Closer Weekly). 
In an interview with Ladies Home Journal in 1998 (via Her Moments), she talked about the real Alec Baldwin saying, "I live with a very passionate, verbal, vocal man, who doesn't keep any thought to himself." She continued, saying, "He has the biggest heart of anybody I've ever met. But at the same time, he's a black Irish Catholic with a temper." The couple split in December of 2000, and, once again, Baldwin was back in the dating game, starting with dating "Sex and the City" actress Kristin Davis and an attorney (via Ranker).
Alec Baldwin had a few long-term relationships in the 2000s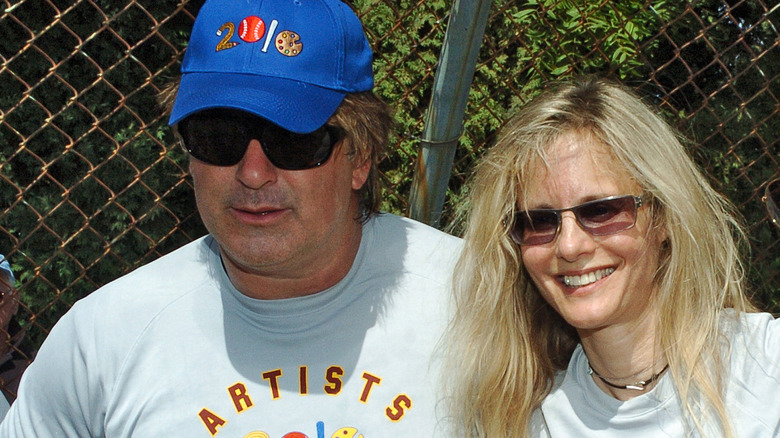 From 2002 to 2006, Baldwin was linked to an attorney named Nicole Seidel. The couple seemed happy together. But they broke up in 2006 after four years together. Seidel blamed the custody battle Baldwin was facing for their breakup, saying it was a lot of pressure. A friend said, "The stress of the custody hearings took its toll. They're still friends, and Alec thinks Nicole's great" (via Hollywood.com).
Quickly after separating with Nicole, Baldwin got together with "Footloose" starlet and cellist Lori Singer for about four years. The only paparazzi scandal of theirs was when the pair turned heads at a Tisch on Broadway benefit in New York City, many thinking that Singer was Basinger (via TMZ). But the two were private from the paparazzi, with not much being reported except for how much Singer and Basinger look alike (via MSN).
He now has six children with Hilaria Baldwin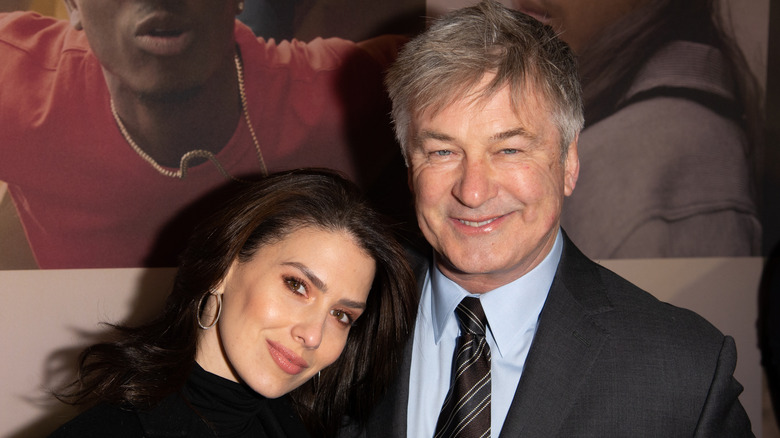 Now, Baldwin is happily married to Hilaria Baldwin. The pair met in 2011 at an NYC restaurant, and he instantly fell for her. In an interview with The New York Times, they recounted the story of how they met. Apparently, he approached her saying, "I must know you," with her questioning him and then he gave her his business card. Baldwin said, "I never ask women for their phone numbers," but there was something about Hilaria. The two ended up going out a few days later, and Hilaria never owned a TV, so she wasn't too concerned with his Hollywood life. They wed in 2012, and have been together since.
Hilaria Baldwin is a dedicated yoga instructor with two yoga studios in New York called Yoga Vida. She's also an NYU graduate, podcaster, and author. So it's clear that the couple is very talented. They now have six beautiful children together (via The Famous People).
A brief scandal in 2021 alleging that Hilaria was faking her accent and heritage brought the couple into the news briefly. Other than some embarrassing videos making the rounds on social media, it seems to have blown over (via Insider).
Source: Read Full Article