With just hours to go before Oprah Winfrey's must-see interview with the Duke and Duchess of Sussex airs, the Queen has delivered a passionate speech on "selfless dedication to duty."
In a pre-recorded address from St. George's Hall at Windsor Castle, the monarch marked Commonwealth Day with words reflecting on the courage of the 2.4 billion people across the 54-country realm during the "testing times" of the past year.
"Over the coming week, as we celebrate the friendship, spirit of unity and achievements of the Commonwealth, we have an opportunity to reflect on a time like no other," said the Head of the Commonwealth, who wore a dress and jacket of silk and wool cloque by Angela Kelly for the March 7 broadcast. "Whilst experiences of the last year have been different across the Commonwealth, stirring examples of courage, commitment and selfless dedication have been demonstrated in every Commonwealth nation and territory, notably by those working on the frontline who have been delivering healthcare and other public services in their communities."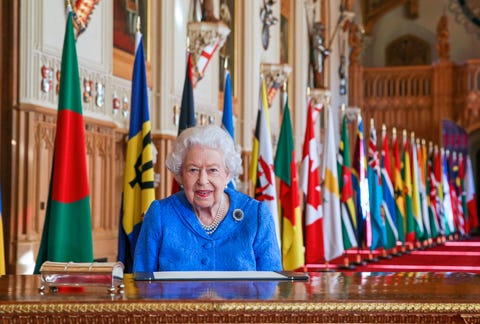 She continued, "We have also taken encouragement from remarkable advances in developing new vaccines and treatments … The testing times experience by so many have led to a deeper appreciation of the mutual support and spiritual sustenance we enjoy being connected to others."
As Prince Philip spends his third weekend under medical care—after returning to his King Edward VII Hospital suite on Friday following a heart-related procedure—the Queen wore a sapphire and diamond chrysanthemum brooch she first revealed in her 1947 honeymoon photos with the Duke of Edinburgh and in several anniversary portraits since. The touching nod to her husband was noticeable as she spoke about the challenges of feeling of isolated during the COVID-19 pandemic.
Source: Read Full Article