The Matrix star Carrie-Anne Moss opened up about the profound impact Jada Pinkett Smith had on her when she became a mother during an emotional Red Table Talk moment.
Pinkett Smith welcomed her Matrix co-stars for the milestone 100th Red Table Talk episode. Included in the roundtable discussion, for the first time together, were Keanu Reeves, Moss, Priyanka Chopra Jonas, along with Pinkett Smith's children Willow and Jaden. But during the reunion episode, Moss wanted to make sure Pinkett Smith knew how important she was in her life, especially as a role model mother.
Carrie-Anne Moss said Jada Pinkett Smith opened her eyes to how to balance motherhood with work
Moss said Pinkett Smith opened her eyes to the possibility of being a working mother in Hollywood. "Watching you with your children because I have always had the dream of being a mother," Moss said to Pinkett Smith as her two children sat nearby. "In our business, you don't really see women doing it. Like you don't get to see both? And the fact that you allowed me to see you do it just opened my mind that it was really possible to be so there for your children the way that you were while you're training and your nursing."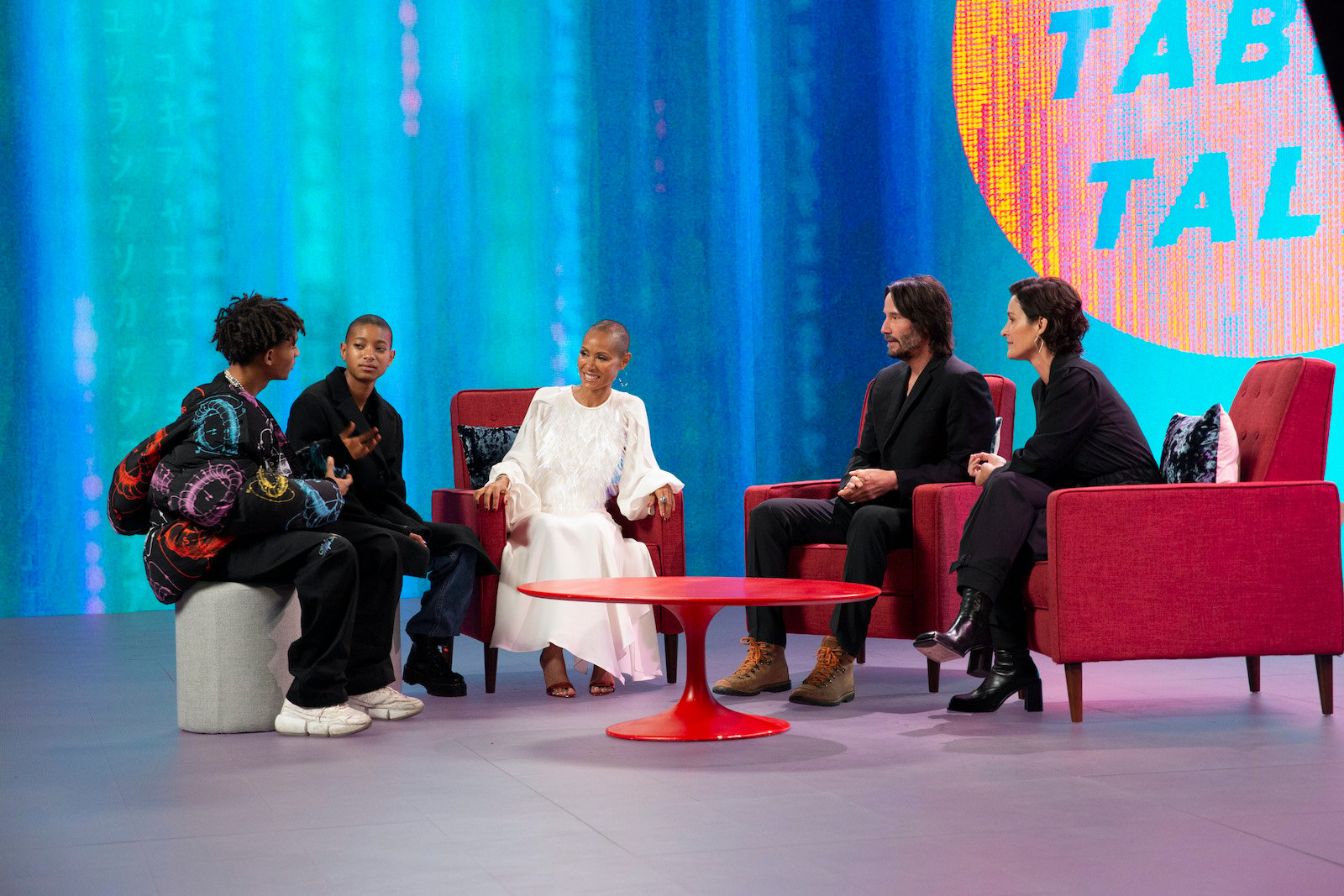 Moss added, "And then when I became pregnant, you were so protective of me doing the press. And I really appreciated that and called you about parenting and mothering, and I really admire everything that you do."
How did Carrie-Ann Moss manage stress as a mother?
Moss admitted that she feels some of the same pressures all parents experience. And she added that she has to stop and remember to take a breath when she gets stressed. "I live in L.A., have three kids, and work as an actress," she told The Los Angeles Times in 2016. "There is so much intensity. And so many of us are gunning it pedal to the metal all the time." She added, "Am I going to be full of anxiety or am I going to enjoy the journey and being with my children? I don't want them to remember their mom was always stressed out."
She also noticed a shift in her intention of why she does things in her daily routine when she became a mother. "Everything we do models for our children, good and bad," she said. "They see me on the treadmill, and when I did Pilates to get in shape for a job, I'd bring my kids when they were babies and was holding onto them while working out."
"Feeling strong is important. And to feel in your body is a vital part of being a woman, regardless of whether you're a mother or not," she added. But instead of an intense workout, she leaned into yoga at home or hiking. "I'll occasionally go to an exercise class," she said.
Jada Pinkett Smith reveals how she raised her children in the public eye
Pinkett Smith said raising kids in Hollywood was certainly no picnic. But she shared her approach to motherhood.  "I knew that my children were creatives from day one, OK?" she said in a previous Red Table Talk episode, (via E!). "I knew that they were not conventional children and that was just going to be a part of their reality because their parents are not conventional at all. You know, Will [Smith] and I have never really lived conventional lives or had conventional ideas about life."
And while she wished that she and husband Will Smith didn't allow their children to be in the spotlight early on, she believes they went into it prepared. "I was very lucky of the combination of the fact that Willow and Jaden had themselves early and they had a certain fortitude to be able to have controversy, to have criticism," she said.
"And so when they came onto social media, they definitely have a different relationship than even I have to social media," she added. "They've actually taught me a lot in regards to what to pay attention to, what not to pay attention to. And they've really helped me navigate my relationship with social media."
Tune in for the 100th episode of Red Table Talk on Wednesday, December 15 at 9 am PT / 12 pm ET on Facebook Watch. 
Source: Read Full Article