Prince William just announced that the Royal Foundation's Earthshot Prize Awards (which awards environmentalism) will be held in the US next year, which means the Cambridges will more than likely be taking a trip across the pond. Which, duh, happens to be where Prince Harry and Meghan Markle live.
Obviously, there's been some speculation about whether the Cambridges will visit the Sussexes, whether they'll go ahead and stay with the Sussexes, and whether the Sussexes will attend the Earthshot Prize Awards to lend their support.
However, royal expert and author Phil Dampier tells The Sun that this is unlikely (at least at the moment), somewhat dramatically saying "I don't think William and Kate would want to meet up with Harry and Meghan, who could try and steal their thunder on the earth shot project. They are very much rivals now, not brothers in arms, and I'm afraid I can't see a reconciliation soon."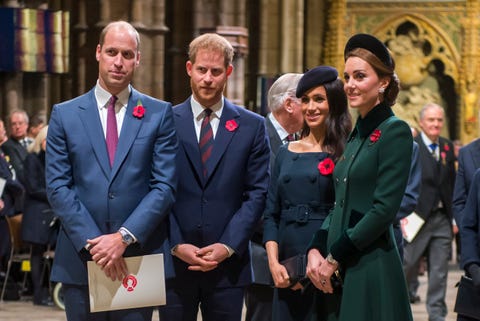 There's definitely tension between the brothers, in large part because the royals aren't thrilled that Prince Harry is writing a memoir (even though he hasn't indicated in any way that said memoir is going to be filled with drama). "If Harry dropped his book project and admitted some of his and Meghan's comments were over the top there might be some progress, but I can't see it happening," Phil explained. "William and Kate have always been very popular in the US but have not been there for some time so they will want to boost their profile and next year, during the Queen's Platinum Jubilee year, would be a golden opportunity."
Phil also said it's unlikely Kate and William will stay with the Sussexes, largely due to security concerns: "If they stayed with Harry it would turn into a circus and also be a security nightmare, taking attention away from the green cause, so I expect William and Kate to concentrate on their efforts and not meet up with them."
It would be pretty next level rude if William and Kate came to the United States and didn't see Meghan and Harry, so here's to hoping everyone is getting along better by the time they visit.
Source: Read Full Article