Jenelle Evans is taking things slowly after a recent, life-changing surgery.
As we reported, the Teen Mom 2 star was suffering from irregular bleeding caused by polyps on her uterus and cysts on her ovaries. Evans ultimately had to undergo surgery to fix the problem and decided to have her tubes tied as well.
It's only been a few days since the operation, so it's expected that the MTV personality would need a bit of time to get back to her old self.
On Tuesday, Jenelle and her husband David Eason went out to a nursery to buy flowers for spring, but the 27-year-old was unable to really partake in much of the shopping. She shared her frustration with her fans via Instagram Stories proclaiming, "I'm still crippled, y'all", while seated in a wheelchair-accessible shopping cart.
See (below):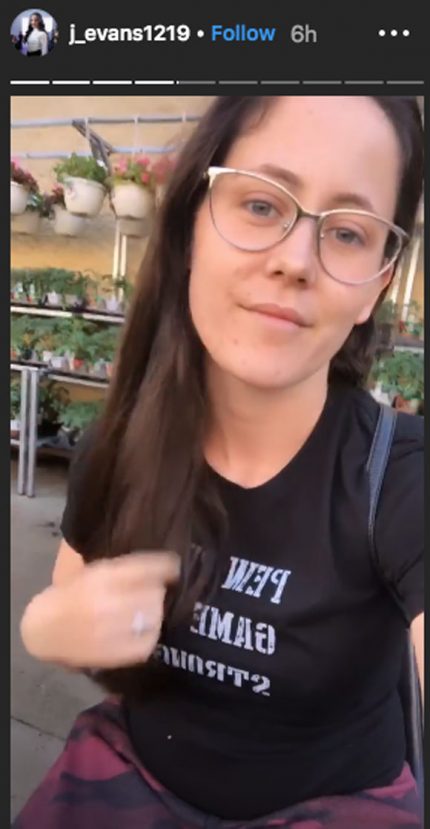 Later on, the pair headed out for a grocery run together. But once again, Evans was unable to lend a helping hand.
She went on to explain that per doctor's orders, she's not allowed to lift any heavy objects for quite a while:
"I can't lift more than 20 pounds for two weeks, so I'm just sitting here while they're getting the groceries. I feel helpless."
See (below):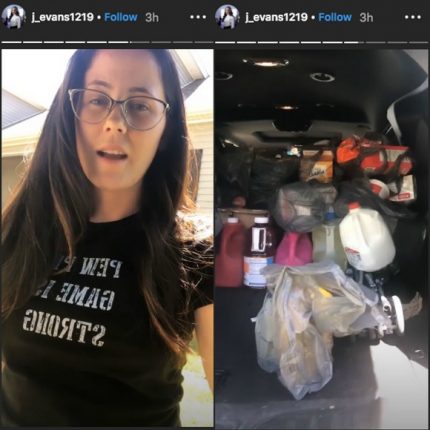 LOLz. Maybe it's a good thing because those groceries sure look heavy!
But all jokes aside, we know the momma-of-three is probably anxious to get back to being there for her family and adjusting back to the swing of her normal life.
It is after all why she decided to finally deal with the chronic issue related to her menstrual cycle that had been bothering for her so long. Speaking to Us Weekly on Monday, she explained:
"I decided to get this procedure because I had a really bad problem of irregular bleeding, which lead to ultrasounds then lead to my OBGYN suggesting exploration surgery and tubes being tied."
Making it clear that the decision was more than just about her health, she added:
"I knew I was happy with the number of kids I have now."
As you know, the Read Between The Lines author is mom to nine-year-old Jace, whom she had with Andrew Lewis — the entire reason she was on 16 & Pregnant in the first place, four-year-old Kaiser, whom she welcomed with Nathan Griffith, and two-year-old Ensley, whom she had with current husband David.
She is also stepmom to Eason's two children from a previous relationship.
We're wishing her a healthy and speedy recovery!
Source: Read Full Article