A little over a month after unveiling her skin cancer scare, 'The Real Housewives of Beverly Hills' star reveals she underwent the cosmetic procedure because she felt 'insecure' about her sagging skin.
AceShowbiz –Teddi Mellencamp has stood up for herself. "The Real Housewives of Beverly Hills" alum took to her social media platform to defend her decision to have a neck lift after she received criticism.
"So I'm going through my DMs doing a little work for Two Ts in a Pod, and someone sent me a message. I want you guys to read it and let me know your thoughts," the former Bravolebrity said in a video she shared on Instagram Story on Tuesday, May 10. She later shared a screenshot of the message that read, "Ur a public figure trying to help women loose [sic] weight yet your [sic] getting a facelift to remind those of us who need one who can't afford one how ugly we are Thanku."
In response, Teddi replied, "I am being transparent with my journey. Would you prefer I lie and pretend the loose skin on my neck disappeared?" She further clapped back, "That's not who I am. You want to only follow people that show themselves through a filtered version of themselves then I am not the person to follow."
Teddy added, "Btw, this has nothing to do with going all in on your life." She continued, "I changed my life 7 years ago and am proud of that and will continue sharing and helping others achieve their goals." She then asked her followers, "Do you appreciate me being open about my journey or would you rather I just pretend I did nothing?"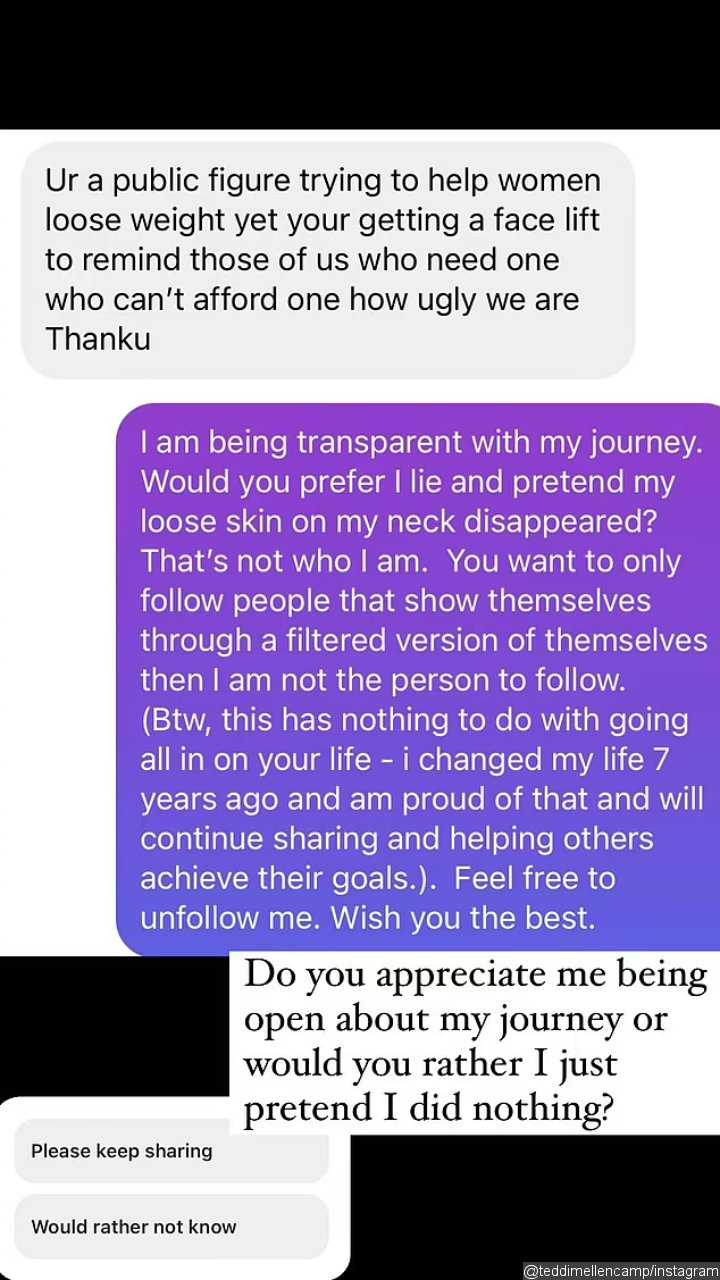 Teddi Mellencamp received criticism for undergoing a neck lift procedure.
In a separate Story, Teddi shared a collage photo of herself. Along with the picture, she wrote, "I have always been comfortable with my neck in the front. It's the side profile that has always made me feel insecure."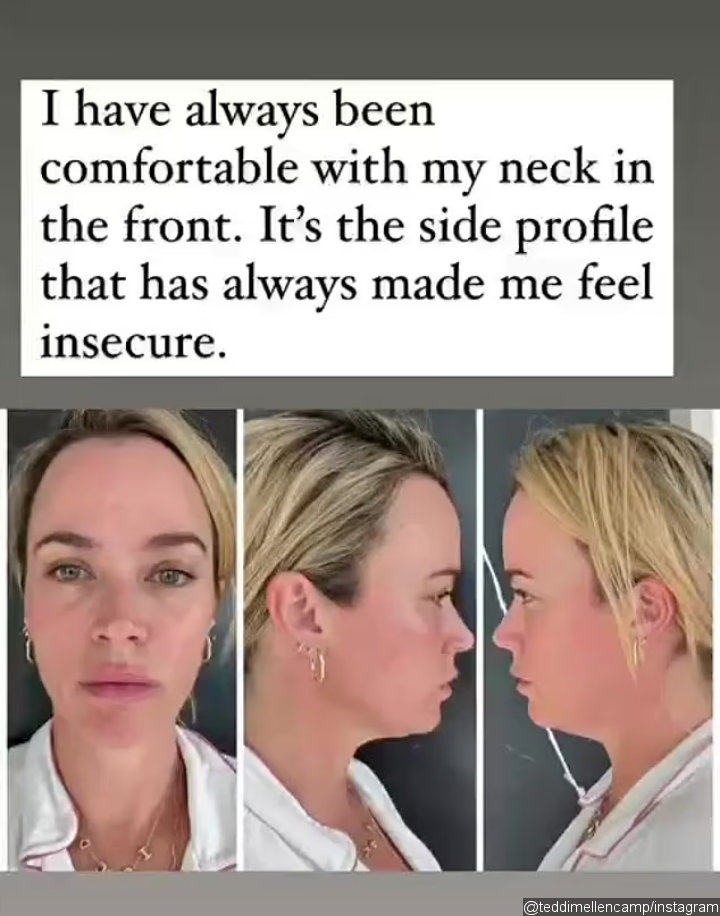 Teddi Mellencamp revealed why she decided to have a neck lift.
One week earlier, Teddi notified her followers that she was going under the knife. "I've been nervous to talk about this because when you have over a million followers on Instagram there are a lot of people with very strong opinions and they can come at you and they can make you feel all different kinds of ways," she explained.
Teddi later pointed out that she's being "100 transparent" with her fans so she wanted to tell everyone that the loose skin on her neck has always bothered her. "The way that my neck is and with the loose skin, the only way to do it is to pull it up," she explained while demonstrating the skin being pulled up with her fingers.
"This doesn't mean I don't love the skin I'm in but this is something that has bothered me since I was a young girl," the reality star continued. "It's a deep dark insecurity that I have and I am just gonna do something about it."
Teddi had a neck lift procedure just a little over a month after she candidly revealed her skin cancer scare. On March 17, she shared a photo of her back after she underwent a medical procedure to remove an unusual mole on her back that had changed colors. She also unveiled that Kyle Richards was the one who helped her discover the unusual mole.
Source: Read Full Article