The Canadian crooner and the former Fifth Harmony member appear to confirm their reconciliation as they continue to hang out together following their Coachella PDA.
AceShowbiz –Shawn Mendes and Camila Cabello are seemingly officially back on as a couple following their Coachella hookup. They pair were spotted together in Los Angeles, days after stirring up reconciliation speculation with their PDA at the music festival.
The Canadian pop star and the Cuban-born singer were caught holding hands while strolling the street in Santa Monica, near a bank of restaurants, on Wednesday night, April 19. Their outing was captured on a video taken by a fan and shared on Instagram.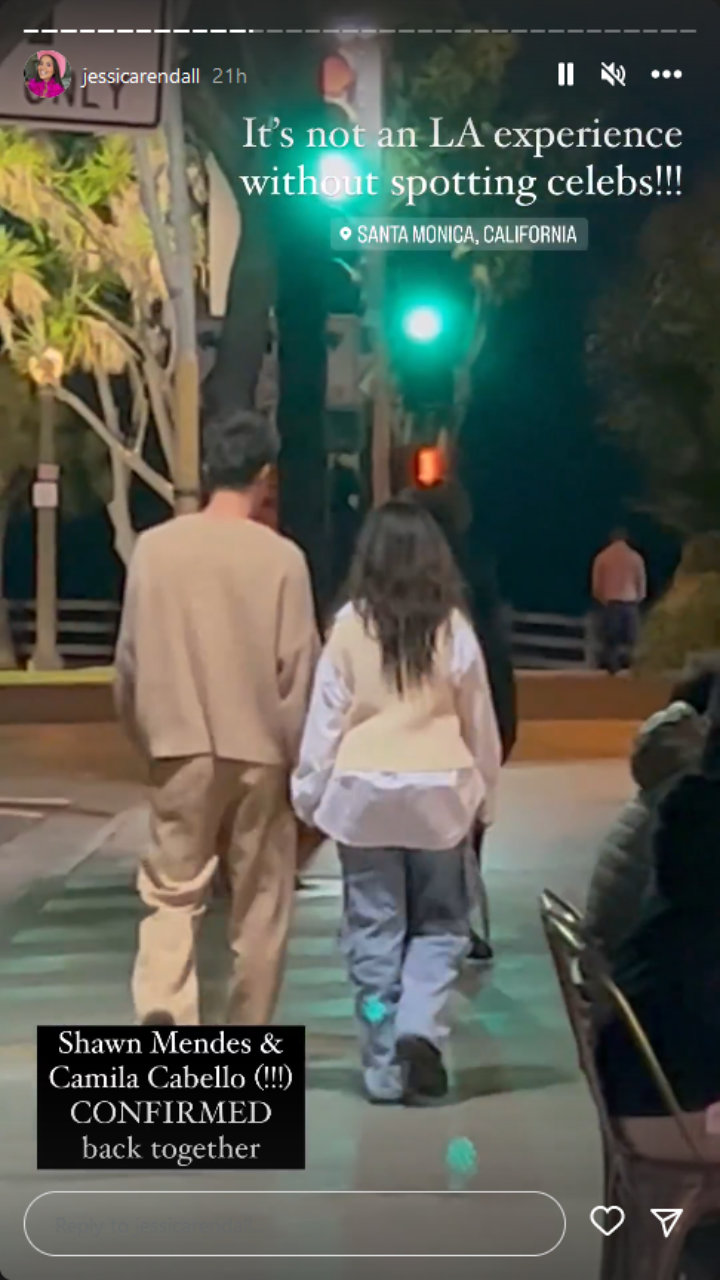 Shawn Mendes and Camila Cabello were spotted holding hands in L.A. after Coachella reunion.
"My friends and I were walking down Santa Monica Blvd. just after 8 P.M. on Wednesday night when I looked up from my phone and saw Shawn and Camila walking toward us holding hands," the eyewitness, Jessica Rendall, tells Page Six.
"I clearly had a shocked look on my face because Shawn looked at me and smiled because he knew I recognized him," the fan went on dishing, "They were deep in conversation and seemed very happy and comfortable together."
Following their L.A. outing, a source says that "Shawn and Camila" are "hanging out again." The so-called insider tells the site, "They're enjoying getting reacquainted and seeing where it goes," noting that the exes "care about each other a lot."
Shawn and Camila sparked reconciliation rumors after they were spotted kissing during their reunion at Coachella last Friday, April 14. "They have been friendly for several months and hung out," a source later told PEOPLE. "They always seemed to have a special connection."
Another source added to Entertainment Tonight, "Camila and Shawn were talking and spending time together for months before Coachella. They always had a lot of love for each other, even while they were broken up. They still care about each other."
The source said they planned to meet each other at Coachella. "They knew they were both heading to Coachella and had plans to meet up and hang out," it's reported. However, in spite of their kiss, the source claimed the duo were not back together.
"Shawn and Camila had been in touch the last few weeks and have cleared the air about their break-up. There is still a connection between them and both of them shared they still care about one another," the source explained. "It's very casual at this point."
You can share this post!
Source: Read Full Article