Wow, so it looks like we have yet another actor posting a thirst trap for no apparent reason. Today's offender? Billy Zane. You know, the guy who played the table-flipping, gun-wielding, perpetual jerk known as Cal Hockley from Titanic. Let that sink in (no pun intended).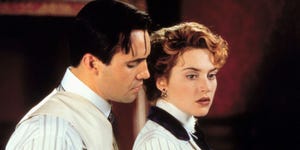 In all his bald glory, Billy thought today would be the perfect day for him to post a picture of himself modeling a pair of belted, standard brown khaki shorts—for no apparent reason! "Okay, it might be for a magazine shoot," you might think. "Or an ad for men's fashion cargo shorts, perhaps?" Nope, not evident at all given his photo caption: "An umbrella comes in the cocktail, I hope that's okay…"
LOL, I'm sorry, what? Have I somehow been transported back to 1997? Am I living in the Upside Down? Seriously, I just want to know what's going on. I feel like I accidentally stumbled onto his secret Raya profile, except this is actually available to the general public.
https://www.instagram.com/p/Bzwrma2l4Mj/
"An umbrella comes in the cocktail, I hope that's ok"..
A post shared by Billy Zane (@billyzane) on
After entertainment Instagram @whoweekly reposted the picture to their account, fans of tall, bald, and handsome came out of their caves for some to publicly declare their thirst. Some of my favorite comments, in no particular order:
I mean, I guess it's not so much of a stretch that people are calling Billy Zane "zaddy." He is aging like the finest of wines and clocks in at an acceptable 6'0″, after all. It's just a little emotionally conflicting for me to admit that THIS man—
—who played the antagonistic role of Cal Hockley with such conviction that I knew I would NEVER want a fiancé like him, is causing the slightest of stirs in my chest. IDK, it's all very weird and just little too much for me to process. I don't know how to feel. I just hope his children haven't seen this.
Glad to see the rest of the internet is enjoying it though. This picture is truly…something!
Source: Read Full Article