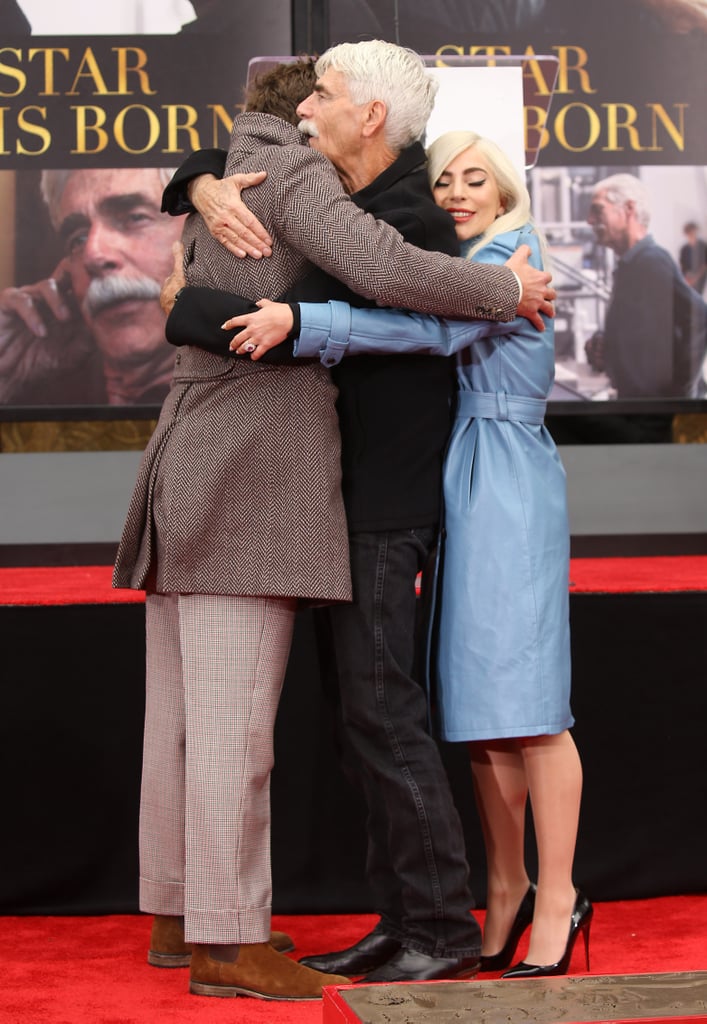 Fresh off their night at the Golden Globes, Lady Gaga and Bradley Cooper were front and center at Sam Elliott's hand and footprint ceremony in Hollywood on Monday afternoon. The trio — who all worked together on A Star Is Born — proved that their bond goes far beyond the big screen as they hugged and Gaga and Bradley proudly cheered Sam on.
During the ceremony, Bradley took the stage and gave a heartfelt speech, referring to Sam as "one of the most talented, generous, humble actors" he's ever worked with. "Acting alongside him was a dream fulfilled for me," Bradley said. "Directing Sam was and will remain one of the highest points of my career." Gaga also shared photos from the event on her Instagram stories, including one of her receiving a kiss from Sam on her forehead. "So excited to be here for Sam Elliott's hand and footprint ceremony," she wrote.
In the fourth remake of the iconic A Star Is Born film — which Bradley directed — Bradley plays a famous country singer named Jackson Maine, while Sam takes on the role of his manager and older brother, Bobby. Gaga famously acts as waitress-turned-singer Ally Maine, and her song "Shallow" with Bradley just won the Golden Globe for best original song. Yep, Sam, Gaga, and Bradley have a lot to celebrate right now.
Source: Read Full Article