The model reveals that the NFL star snuck her into the hotel where the team was staying and told her to watch things he's about to do 'tomorrow,' the night before his on-field meltdown.
AceShowbiz -Model Ava Louise has urged Tampa Bay Buccaneers to test the entire team after she tested positive for COVID-19. The OnlyFans star caught the virus after she claimed that she hooked up with Antonio Brown just hours before the wide receiver's on-field meltdown.
The 23-year-old beauty, who rose to fame in 2020 after she filmed herself licking a toilet seat in a bid to catch COVID, shared a photo of her positive test result on her Instagram Story on Thursday, January 6. Over the snap, she wrote, "@buccaneers test your team!!"
Hours earlier, Ava told Daily Mail that Antonio snuck her into the Westin hotel, where the Buccaneers were staying in New Jersey, last Saturday. After arriving at the hotel around 11:15 P.M., Ava was allegedly forced to sneak past the hotel security due to current NFL's COVID rules. Ava then said that Antonio told her, "F**k the NFL."
"When we had sex, he wanted to film it and make a tape on my phone. He wanted me to put it out there [her OnlyFans page]," Ava recalled, adding, "I looked at him and I'm like, 'Are you being serious right now?' Again, I'm like, 'You're Antonio Brown — why would you want that scandal?' " She continued, "But he wanted to create that. I think it was purposeful considering how he's been acting in the media. He wants that controversy; he wants this attached to his name."
Ava also revealed that Antonio told her that night to watch what he's going to do during Sunday's game. She shared, "So, I was like this is a really weird situation. He kept mumbling and then waking up and saying, 'I'm going to give you tickets, I can't wait for you to see what I do tomorrow. I can't wait for you to see me tomorrow.' "
Ava insisted that she spoke out because she's worried about Antonio's mental health and condition following his meltdown and mid-game exit from Sunday's football game. "I had no intention of exposing Antonio Brown ever but then I saw what happened and I thought, 'Oh my god, I've seen the events leading up to this breakdown. I'm involved,' " she said.
Ava also unveiled that she was offered $10,000 by Antonio's attorney Todd Friedman to "stay quiet" after hooking up with the 33-year-old athlete. Following the Daily Mail article, she shared a screenshot that saw an incoming call from the NFL star.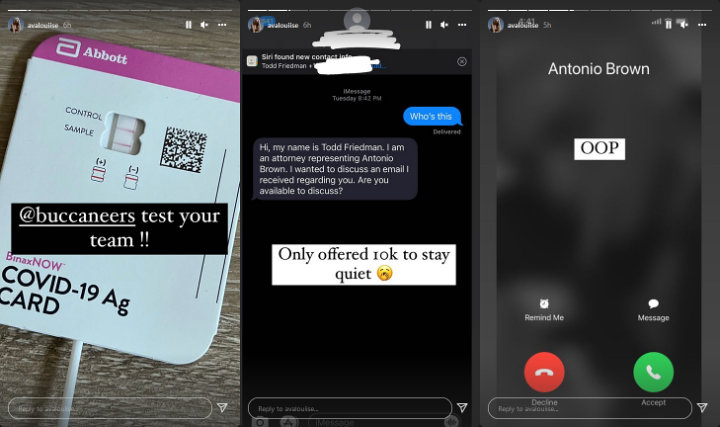 Ava Louise revealed that she tested positive for COVID-19 after a night with Antonio Brown.
After the Bucs officially released him from the team, Antonio insisted that he had a serious ankle injury, noting that he "didn't quit, [he] was cut." He said in a statement, "I walked off the field. But there's a major difference between launching from the line and taking hits, compared to jogging off the field with a rush of emotions going through your mind." He added, "I am reflecting on my reaction, but there was a trigger. The trigger was someone telling me that I'm not allowed to feel pain."
While not specifying which ankle was hurt, Antonio said in the statement that an MRI performed on Monday showed broken bone fragments, a ligament tear and cartilage loss. He stressed that it's "beyond painful," pointing out, "You can see the bone bulging from the outside."
Source: Read Full Article