Meghan Markle gave birth to a little boy a mere 48 hours ago, and she decided it's time to show the world her little BB with a sweet portrait of them and Prince Harry. Unlike Kate Middleton and Princess Diana, Meghan didn't have a post-Lindo Wing photo call. Instead, she gave birth in a hospital away from the public eye before introducing her son to the world.
First off, let's give props to Meghan for coming out like this because that 👏ain't👏easy! Like, I can barely muster the strength to change out of my PJs on a Sunday morning, so she deserves all the kudos. Anyway, Meghan just posed with Harry and BB Sussex reportedly wearing a dress from her tried-and-true favorite brand, Givenchy. She also wore a Jen Meyer turquoise necklace and Manolo Blahnik pumps.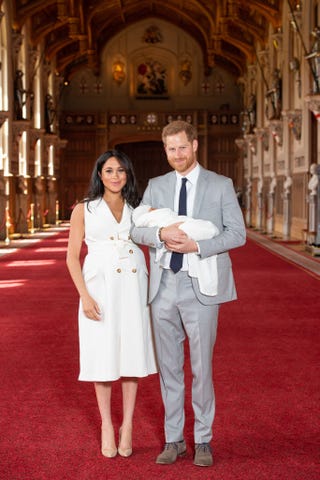 Once they're back home, Meghan and Harry will get to show their nugget all the extremely extra house features they've added as upgrades, like the vegan paint and smart phone-controlled monitoring systems. Already, this baby's life is already goals.
Source: Read Full Article