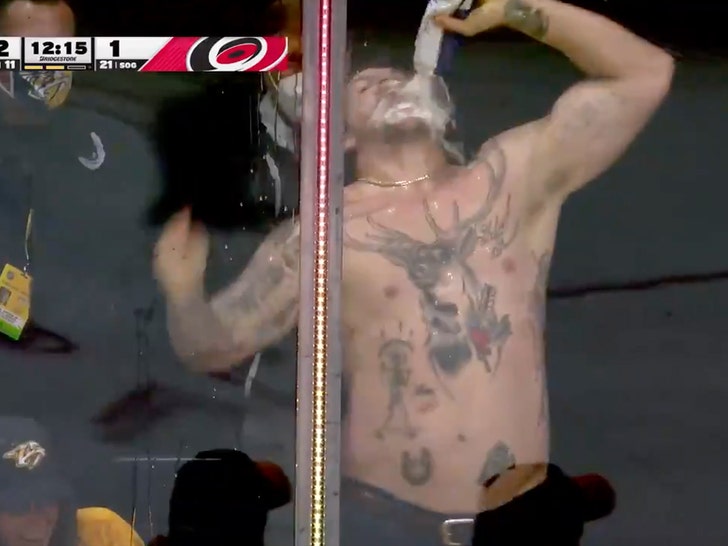 The stands at the Nashville Predators game Sunday looked more like a frat party — at least for a few seconds — 'cause cameras caught Taylor Lewan chugging beers like he was in college … and it awesome!!
The Tennessee Titans star made an appearance at Game 4 of Nashville's playoff series with Carolina … and it didn't take long for the guy to lose his mind pumping up the crowd.
When the 29-year-old was introduced on the jumbotron, he played it cool at first — waving with his daughter in his arms … but a short time later, his shirt was off and beers were down the hatch!!
Check out the footage … the Preds showed flashback video of Lewan previously going crazy at a game in 2018 — so he did his best to one-up the show, and damn near delivered!!
Lewan chugged one beer … and then ripped off his shirt. Seconds later, he chugged another — and the crowd lost its mind!!
Even Predators star Ryan Johansen got a kick out of it — laughing while staring at the insanity!!
The Preds used the energy and went on to win the game 4-3 in double overtime … and said afterward Lewan is now required to be at every game going forward.
"HEY @TaylorLewan77," the team tweeted, "ITS MANDATORY YOU COME TO EVERY SINGLE GAME FOR NOW ON THANKS."
As for Lewan, he seemed pumped about it all … but admitted his family wasn't too pleased with the beer spillage.
"Had a long car ride home of wynne telling me it 'wasn't nice' to get her and mommy wet," Lewan said.
He added, though, "worth it."
We'd say so too.
Source: Read Full Article