What is going on behind the scenes at Kensington Palace? Seriously, Meghan Markle has the same turnover rate as the Trump White House at this point!
In the latest AGAIN?! news, the Duchess of Cambridge is losing another aide, this time private secretary Amy Pickerill.
This exit follows a string of recent losses.
In November, Meghan's personal assistant Melissa Touabti quit after only six months, and reports were the two had a difficult relationship.
In December, Meghan and Prince Harry learned they were losing their temporary secretary, Samantha Cohen, aka The Panther. Wait, what? Is she a Royal pencil pusher or an international assassin??
Anyway, Cohen worked for the Royals for 17 years then just a few months under the new Duchess and hasta la vista, Pantera.
Just a month later Meghan was reportedly "gutted" by the loss of her personal protection officer, who apparently left the Metropolitan Police force entirely.
The loss of Amy Pickerill may be the toughest.
The private secretary was thought of as Meghan's right hand woman. She was her very first staffer as a Royal and, according to a source speaking to People, was "instrumental in helping the duchess adjust to her new life in the U.K."
The two are said to be very "close," and while her duties were technically to organize charity projects and day-to-day activities, she was reportedly a huge help in every regard, even in getting Meghan's passion project, Together: Our Community Cookbook, off the ground.
This is her, by the way, carrying around all the flowers everyone brought for Meghan.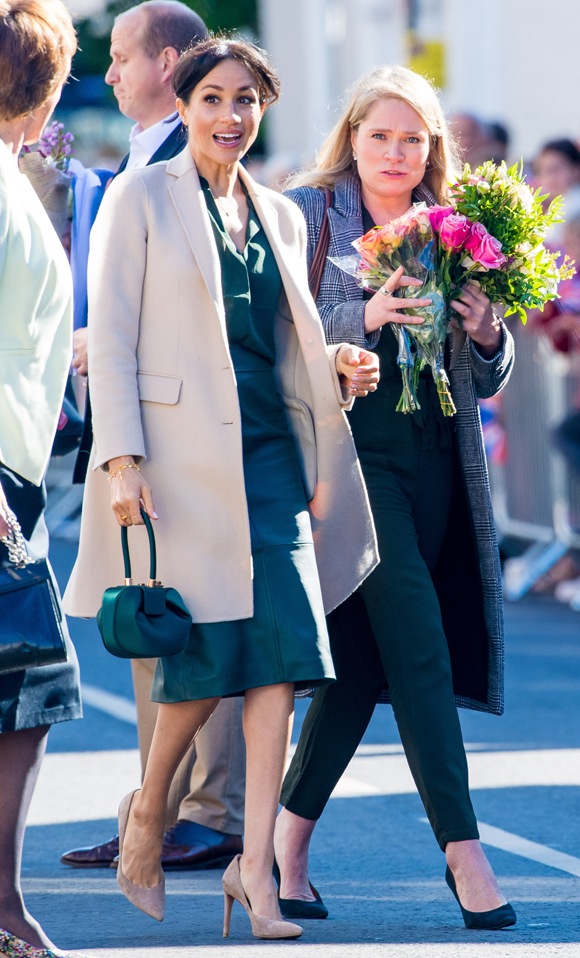 If you look at a lot of photos of Meghan, you've probably seen her and not even realized!
Here she is, just this past Friday, standing in the background at an International Women's Day event Meghan was attending.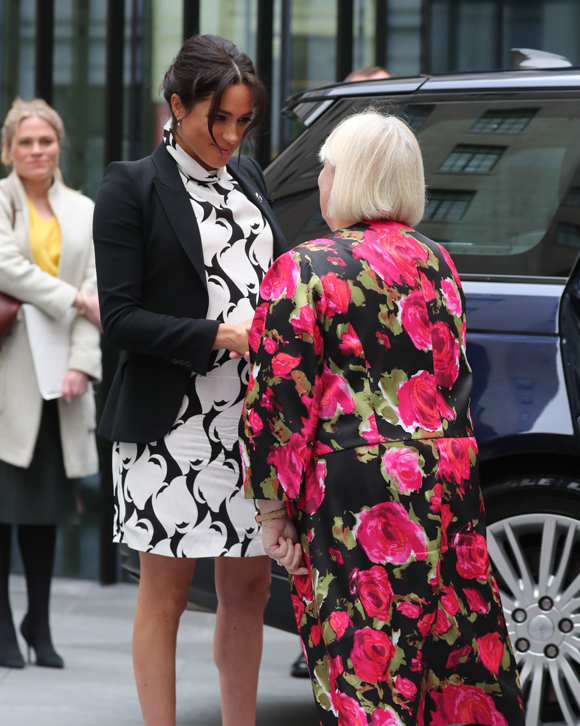 It's got kind of a Devil Wears Prada feel, right? Hey, look, that's not necessarily a bad thing, right? Miranda Priestly may have had a rep as a cruel ice queen, but in the end it was Andy's needy boyfriend who was the real villain, right? We mean, what kind of chef has so much free time??
Anyhoo, you can see how this will be a tough loss for Meghan.
At least in this case there are no whispers of bad blood. Numerous sources are saying the parting is "amicable" and Amy will continue to be a "personal adviser."
A source told NBC News:
"Amy will be leaving but has agreed to stay on to help following the birth of the baby."
However, Amy is also planning to move abroad, so… this may be one of those situations where both parties say they'll be able to make long-distance work then slowly stop calling one another.
OK, so this one was amicable, but FOUR staffers in FIVE months?
That's not a coincidence, right? We mean, she's not running a Taco Bell here.
Is Meghan really so tough to work for? What do YOU think is going on??
Source: Read Full Article