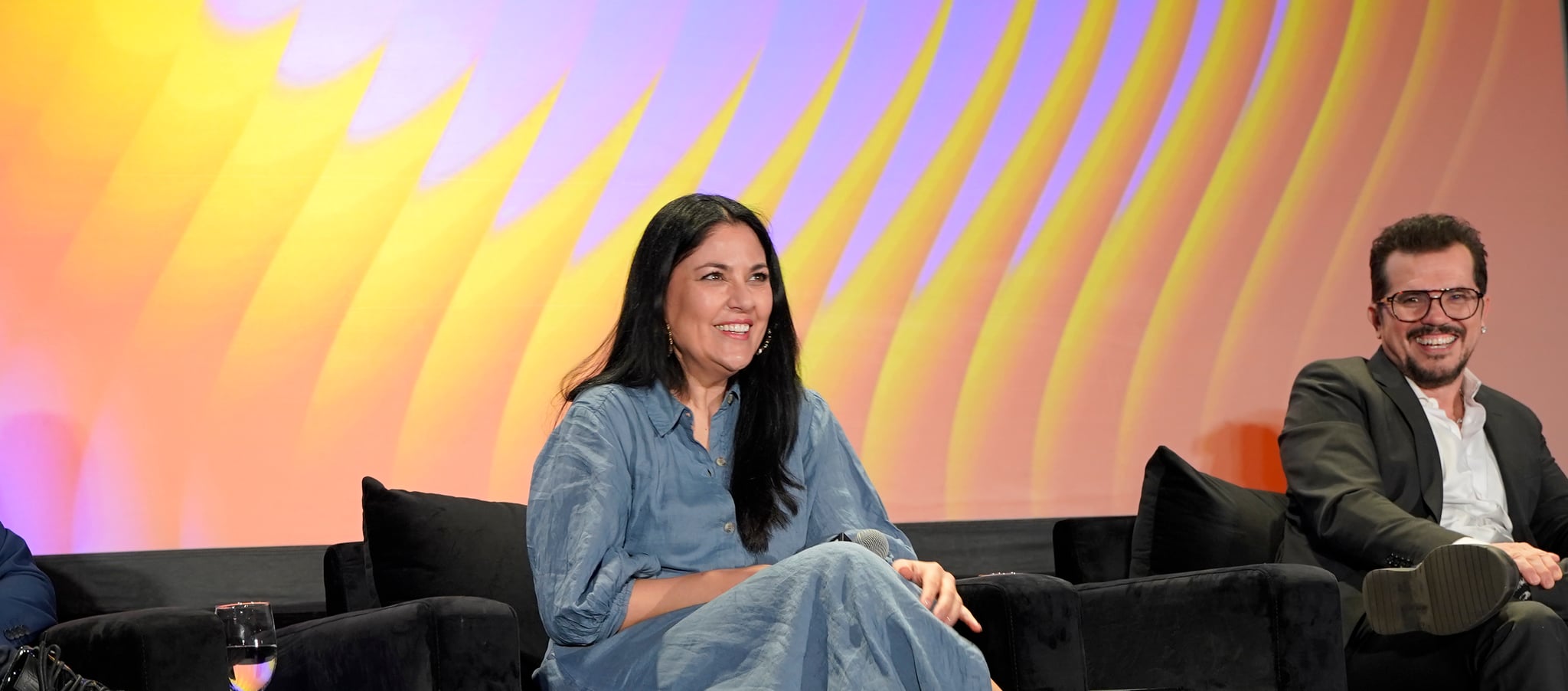 "It's the kind of thing that I hope will make a difference in the way that we are seen and the way that people relate to us," Carolina Saavedra tells POPSUGAR about her new show "Leguizamo Does America." The six-part series premieres Sunday, Apr. 16, on MSNBC and follows actor, comedian, and film producer John Leguizamo as he travels across America and celebrates Latinx excellence.
"As a Latina in this country, I think we all revere John Leguizamo and feel as though he speaks — and has been speaking — on our behalf and for us for so long," Saavedra says. "And the idea of being able to work with him to celebrate our stories was a dream come true."
Saavedra served as showrunner on the series, taking it from a four- or five-page pitch deck with Leguizamo to the rich docuseries about to air. As she tells it, Saavedra's involvement began with a cold call. An anonymous friend passed along her résumé to the right person. She was excited, and upon getting the role, she got right to work. As the showrunner, Saavedra took that deck and built out template scripts, selecting the six cities to be featured.
Her next task was hiring and she made sure to collect a diverse team who could each bring their own perspectives to the show. After all, the Latinx community in the US is 60 million strong and spans people of all races, genders, ages, generations, sexualities, etc.
"I am a person who in my daily life, I champion diversity and I champion exposure to all kinds of schools of thoughts and cultures," she shares. "Specifically, I wanted to make sure to hire women and women from different cultures of our Latin experience. And then when we were talking about who we would feature, we absolutely [were] making sure that the people featured were diverse from different communities. I wanted to make sure that the Afro-Latino story was told."
Saavedra shares that one of her main criteria for hiring people for the show was making sure that everyone was able to bring their own perspective.
"Everyone brought their knowledge and their curiosities and their loves into the show . . . This has been, by far the most special experience in production that I've ever had," she says.
The result is a complex show that spans Leguizamo's history and affinities (for old-school New York hip hop for example) while reaching for a larger definition of Latinidad. Fans of la cultura, will recognize familiar faces like Aida Rodriguez while also learning about new folks, whether they're chefs, activists, or fashion designers.
For her part, Saavedra is a Chilean-American who escaped the country's dictatorship with her family.
"My existence in this country has always been one where I have been very aware of how foreign policy affects all Latin countries, especially, US foreign policy," she says. Saavedra also shared how she's an avid reader of history and sociology.
"All of that knowledge, all of the years that I spent learning about the various revolutions throughout our history — I was able to bring that historical point of view and context to our show," she says.
One of Saavedra's missions has been to to break down the myths about what it is to be Latinx in the US today while also asking deeper questions: "It's not just Mexican people, here, working the fields [but] what's the story behind that? What is the real story behind that? Why do immigrants come here? Why do people from El Salvador end up here, or why do people from Cuba end up here? I always wanted to apply context to everything that we did and every story that we told," she shares.
With those questions ruminating in her writers' room, Saavedra collaboratively put together scripts for "Leguizamo Does America's" six episodes, but she didn't stop there. As is true of all shows but perhaps particularly documentaries, what happens on set — the surprises, the true landings, the happy accidents — can inform the final product. So, Saavedra went out into the field with her crew. She wanted to make sure the footage "covered themes of what it means to be a Latino in this country — the trials, tribulations, the context of history, all of that."
After her six-city tour, she led the post-production — after all, editing is the final opportunity to shape a project.
"I make sure that thematically and in terms of the format, in terms of the pacing, when we're editing, all of that is matching and speaking in one voice," she shares of her role in that last stage."
Having finished supervising all the things, she's begun promoting the series, first at South by Southwest and now to a wider audience. Saavedra hopes the show is transformational — for Latinx and non-Latinx people alike.
"If the non-Latino community can walk away from this seeing us and seeing our humanity, that would be so cool," she says. "I want this to humanize us, to put faces to our experience."
Saavedra shares that Leguizamo himself talks a lot throught the series about specificity being the thing that bonds us all. When stories are hyper-specific, they become universal.
"Yes, we're different. We have different cultures, music, food, etc. But fundamentally, at our core, we're all just people trying to make it through and to contribute to the world," she adds. So by revealing what it is to be Latinx in New York for example, "Leguizamo Does America" uses the details of that experience to show our larger, shared humanity.
Of course, Latinxs generally don't need to be reminded that we're human and that's not the extent of Saavedra's ambition.
"I want the Latin community to come out of this knowing their self-worth, understanding the contributions that we've made to this country, and how without us, this country wouldn't be what it is politically, economically, and/or culturally," she says. "Unfortunately, as it is with the Black community in this country, it's been ingrained in us that we are less than, and that we accept less than, no matter how proud we are when we are in spaces that are not our own. We do tend to take take the backseat because it's just been what we've always done."
With Saavedra at the helm, "Leguizamo Does America" is working to change that. It's teaching Latinxs to expect and demand respect by telling the rich story of our US-based communities. It's demanding that its audience, regardless of ethnicity, see Latinx people as creative, flawed, strong, and insightful but also ready to take up the space that is ours.
Source: Read Full Article