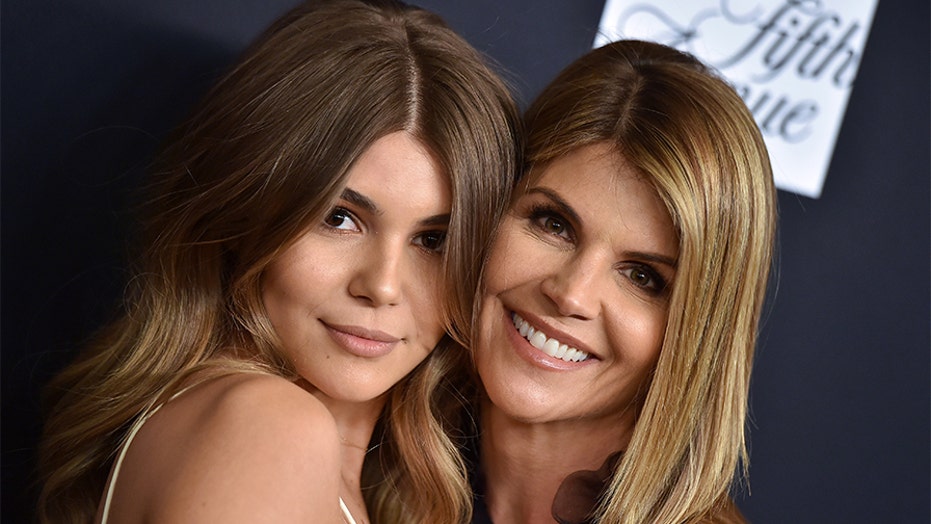 TV stars Felicity Huffman, Lori Loughlin charged in alleged college admissions scam
Felicity Huffman and Lori Loughlin are reportedly among the high-profile names charged in an alleged college admissions bribery scam against the coaches at schools including Wake Forest University, Georgetown and the University of Southern California.
Nearly a year before actress Lori Loughlin entered the list of more than four dozen people charged in a nationwide college admissions cheating scandal, her daughter Olivia Jade Giannulli had apologized for making comments regarding her higher ed aspirations that some say depicted her as "spoiled" and "a privileged brat."
The alleged admissions scam – which involved placing students in top colleges like Yale, Georgetown, Stanford, University of Southern California, UCLA and the University of Texas – was purportedly run by a man in California, William Rick Singer, who helped parents get their children into the schools through bribes, court documents unsealed Tuesday in Boston showed.
FELICITY HUFFMAN, LORI LOUGHLIN AMONG 50 SNARED IN ELITE COLLEGE CHEATING SCAM, AUTHORITIES SAY
Most of the students did not know their admission to the school was due to an alleged bribe, authorities said.
Back in August 2018, Loughlin's 19-year-old daughter got herself in hot water after she made some comments on her popular YouTube channel concerning her outlook on college.
In one of the videos, the social media influencer opened up about graduating from her private high school in California and planning to attend college in the fall. However, the explanation she gave on why she was gearing up to pursue a degree quickly sparked backlash.
"I don't know how much of school I'm gonna attend," she told nearly 2 million subscribers. "But I'm gonna go in and talk to my deans and everyone, and hope that I can try and balance it all. But I do want the experience of like game days, partying… I don't really care about school, as you guys all know."
The statement quickly ignited outrage from her followers.
"Wow I wish I could go to school just for the experience and not care about my education to earn a living and waste your parents money????? Can not relate," commented one user.
CLICK HERE TO GET THE FOX NEWS APP
"It sucks that some people don't have the privilege to get an education and she's going just for game days," chimed another.
"I love you Olivia I really do, I've been a subscriber since the beginning so I really hope you don't take this as hate but more of constructive criticism," explained one user. "I honestly found it very disappointing when you said you care more about parties and tailgates rather than your education. If you hate school so much why go to college? You can go to parties and tailgates whenever you want you don't have to go to college."
"People work their a– off in high school to get into a good college to continue their education, I know I did," the user continued. "And it's honestly insulting when tons of people can't even afford to go to college but want to and I know damn well you're not going to a community college meaning you're probably going to a good school that others would literally kill to go to. I feel like if you really don't want to continue your education then don't sit there and talk about going to college and not caring about it, focus your attention more on your career if that's truly what you care about."
Two days later, Giannulli released another video titled "im sorry" to address the overwhelming concern from viewers.
"I said something super ignorant and stupid, basically," admitted Giannulli in the video. "And it totally came across that I'm ungrateful for college — I'm going to a really nice school. And it just kind of made it seem like I don't care, I just want to brush it off. I'm just gonna be successful at YouTube and not have to worry about school. I'm really disappointed in myself."
"A lot of people like to attack me for the way I've grown up because it's really different from a lot of people," she added, insisting she regretted offending her fans.
Fans were quick to forgive the YouTube star.
"I don't think you have to apologize, people get offended for no reason," wrote one user. "Like who's excited for school work?! Enjoy your college experience!"
"We know you didn't mean it, some people just take things the wrong way and blow it way out of proportion," added another. "Obviously you realize how fortunate you are to go to college. Don't beat yourself up to bad. We all say silly things."
"Personally I thought it was funny, I was lucky enough to go to college – definitely wasn't cheap for my family – but I still related and laughed," wrote one user. "Game days were some of the best times i had in college. don't worry, people get triggered so easily. enjoy what you enjoy."
The alleged admissions scam, which was revealed Tuesday, showed kids' parents would pay a specified amount of money fully aware it would be used to gain college admission. The money would then go toward an SAT or ACT administrator or a college athletic coach who would fake a profile for the prospective student — regardless of their athletic ability, according to the charging documents.
On a call with a wealthy parent, prosecutors said, Singer, who owned the company Edge College & Career Network, summed up his business in this way: "What we do is help the wealthiest families in the US get their kids into school… my families want a guarantee."
Singer would help his clients' children by having another individual take SAT or ACT tests on behalf of the students. Parents would pay up to $75,000 for each test and have them wire money to "charitable accounts."
"Singer used the purported charitable donations from parents, at least in part, to bribe two SAT and ACT test administrators," court documents stated.
The court documents also stated that "[Loughlin] agreed to pay bribes totaling $500,000 in exchange for having their two daughters designated as recruits to the USC crew team – despite the fact that they did not participate in crew – thereby facilitating their admission to USC."
Actress Felicity Huffman was also charged and arrested by federal agents in the scandal.
Fox News' Katherine Lam contributed to this report.
Source: Read Full Article