We're getting to know more about Snow Day star Fabi Aguirre!
The young actress portrays Lane, Hal's pragmatic and quick-witted best friend. She makes Hal's perfect accomplice as he attempts to woo his dream girl.
Snow Day follows siblings Hal (Ky Baldwin) and Natalie Brandston (Michaela Russell) discover that anything is possible on a snow day when a surprise winter whiteout offers them the chance to break routines, take giant risks and follow their dreams.
Inspired to pursue his crush, Claire Bonner (Shelby Simmons), Hal enlists the help of his best friend, Lane, to help him express his feelings, and Natalie decides she must challenge her arch nemesis, the Snowplowman (Jerry Trainor), if she wants to pull off the task of creating a second snow day.
Prior to the upcoming movie musical, Fabi has appeared on Broadway. She made her Broadway debut in Les Miserables as Little Cosette and she's an original cast member of On Your Feet!, where she played Little Gloria!
We recently caught up with her and learned 10 Fun Facts about her.
See what she revealed inside…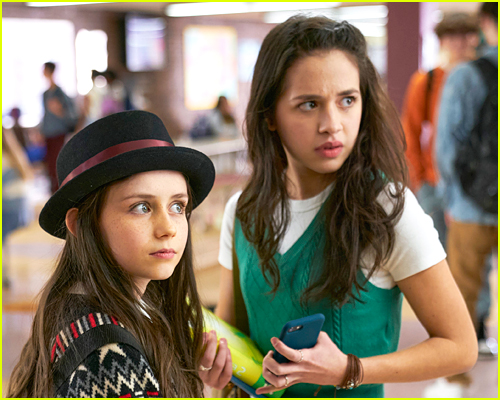 Fabi Aguirre – 10 Fun Facts
1. I enjoy working out, especially running. I also love practicing yoga and meditation with my best friend through FaceTime.
2.I love baking and making brunch for my family on a Sunday morning. My specialty is banana oat pancakes.
3. I am fluent in Spanish, and I am currently learning three different languages (American Sign Language, French, and Italian) I'd love to learn Portuguese in the near future.
4. I love reading self-improvement books. My favorite is "Can't Hurt Me" by David Goggins.
5. I would love to establish a school for kids in Ecuador, where my family is from. I also want to raise awareness on pediatric gastrointestinal issues.
6. My favorite movies are Titanic and Bohemian Rhapsody.
7. I love coffee (hot or cold) and green tea. They are my go-to drinks.
8. My favorite time of the year is Christmas. Being a Scrooge and a Grinch is not in my schedule lol. I go full out with decorations.
9. I am always cold. You will always see me with a sweater in hand, just in case.
10. My idol is Freddie Mercury, and I am Queen's number one fan. I am also OBSESSED with 70s, 80s, and 90s rock music.
Snow Day premieres THIS Friday (December 16) on Nickelodeon at 7pm ET/PT and on Paramount+. Watch the trailer here!
ICYMI: Get to know 10 Fun Facts about Fabi's co-star Ky Baldwin…
Source: Read Full Article