Khloe Kardashian is ready to move past the drama!
As we reported, the Revenge Body host reportedly broke up with baby daddy, Tristan Thompson, after he allegedly had an affair with Jordyn Woods.
According to an ET source on Tuesday, the two "aren't getting back together," and the KUWTK starlet "knows she needs to move on."
Despite the alleged cheating scandal, KoKo wants the athlete in her life for the sake of their 10-month-old daughter, True Thompson. The insider revealed:
"Khloe is getting better with every day that passes… Khloe and Tristan are still communicating and always will. Khloe is very big about 'I'm having the father of her child staying in her life no matter how bad things get.'"
Overall, Khloe is doing her best to move on, and she has been relying on her famous family for support.
"It's been hard for her to realize that, but she knows it's for the best… Khloe is strong, but she's really leaning on her family and friends during this time. She's been spending a lot of time with her sisters and they've done a great job keeping her mind off things."
In an interview with Red Table Talk's Jada Pinkett Smith that dropped last Friday, Kylie Jenner's BFF DENIES hooking up with Thompson, except for a goodbye kiss that HE allegedly initiated.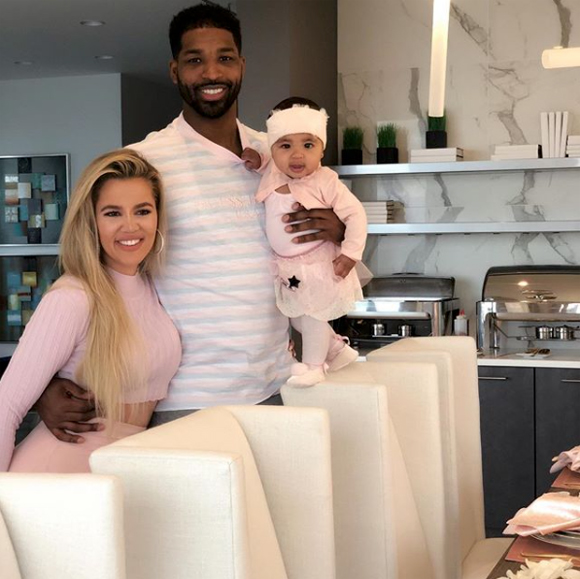 Although Khloe initially said "lying" Woods was "the reason family broke up," over the weekend, Kardashian reversed her position and said Tristan is "to be blamed." She wrote on Twitter:
"This has been an awful week & I know everyone is sick of hearing about it all (as am I). I'm a rollercoaster of emotions & have said things I shouldn't have. Honestly, Tristan cheating on me & humiliating me, wasn't such a shock as the first time… What's been harder & more painful is being hurt by someone so close to me. Someone whom I love & treat like a little sister. But Jordyn is not to be blamed for the breakup of my family. This was Tristan's fault… I have to move on with my life & count my blessings, my family, my health, & my beautiful baby True."
Additionally, fans noticed that Khloe unfollowed Tristan on Instagram.
On Monday night, Khloe, Kylie, Kendall Jenner, and Kourtney Kardashian went to a roller rink to celebrate the birthday of Ky's friend and assistant, Victoria Villarroel.
Judging from social media posts, Woods was NOT at the party, further cementing the idea that she has really, fully been cut out of the K-fam loop. Not that we expected her to be, but just confirming for ya!
Source: Read Full Article