In other news related to Ye, Meta announces that the 45-year-old Yeezy designer's Instagram account has been restricted for a period of 30 days once again.
AceShowbiz –Kanye West fights online and offline. The "Donda" artist was caught on camera getting into a heated exchange with a parent while attending his son Saint's soccer game in Los Angeles over the weekend.
In footage obtained by TMZ, the embattled rapper/designer was seen arguing with an unidentified woman on the sideline during the Saturday, October 29 game. He looked so frustrated during the debate as he waved his arms in frustration.
Kanye's ex-wife Kim Kardashian was also attending the game. "The Kardashians" star was seen sitting in a lawn chair nearby flanked by security. Despite the drama, the SKIMS founder appeared to be unfazed by Ye's heated argument behind her as she continued watching their son playing soccer calmly.
Another woman, who seemed to be a family friend, later approached Ye. She appeared to say something to the 45-year-old musician that made him storm off the field. It remains unseen what caused the argument.
According to an eyewitness, it took a few minutes for the "Gold Digger" hitmaker to cool off. After calming himself down, he returned to the field to watch the rest of his son's game peacefully. It was also reported that Ye and Kim didn't interact during the sporting event.
In other news related to the hip-hop star, Meta announced on Monday that the Yeezy designer's Instagram account has been restricted for a period of 30 days once again. "We deleted content from @kanyewest for violating our policies and placed a restriction on the account," a spokesperson for the company, which owns the social media platform, revealed in a statement via email. "We may place restrictions on accounts that repeatedly break our rules, for example, we may temporarily restrict them from posting, commenting, or sending DMs."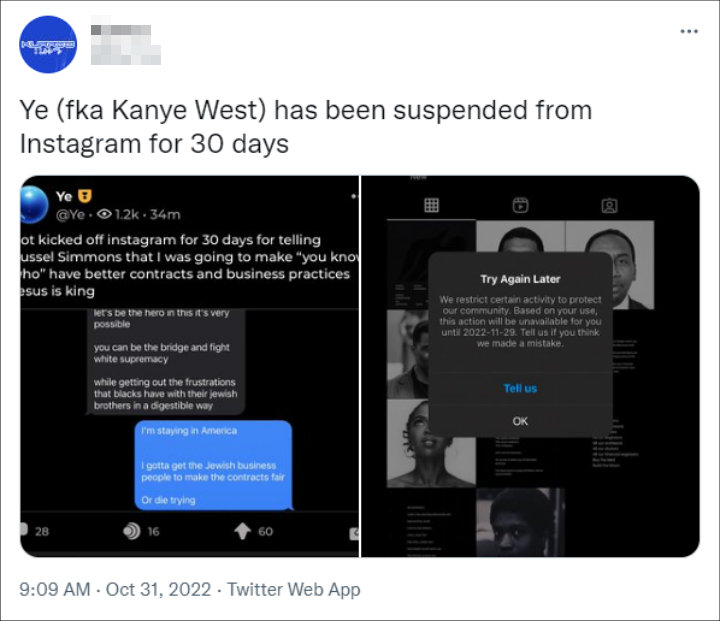 Kanye West addressed his Instagram restriction on Parler.
Ye seemingly addressed the 30-day restriction in a post shared to Parler. On the right-wing social media platform, which he recently announced to be purchasing, Ye wrote, "Got kicked off instagram for 30 days for telling Russell Simmons that I was going to make 'you know who' have better contracts and business practices Jesus is king."
Source: Read Full Article