A cast of intriguing witnesses has taken the stand in the defamation trial of Johnny Depp v. Amber Heard. But many trial watchers have been waiting to hear the much-talked-about deposition of actor Ellen Barkin. When her pre-taped testimony played, she claimed she saw Depp throw a bottle in a hotel room more than two decades ago. What if any impact do legal experts think her testimony had on the trial?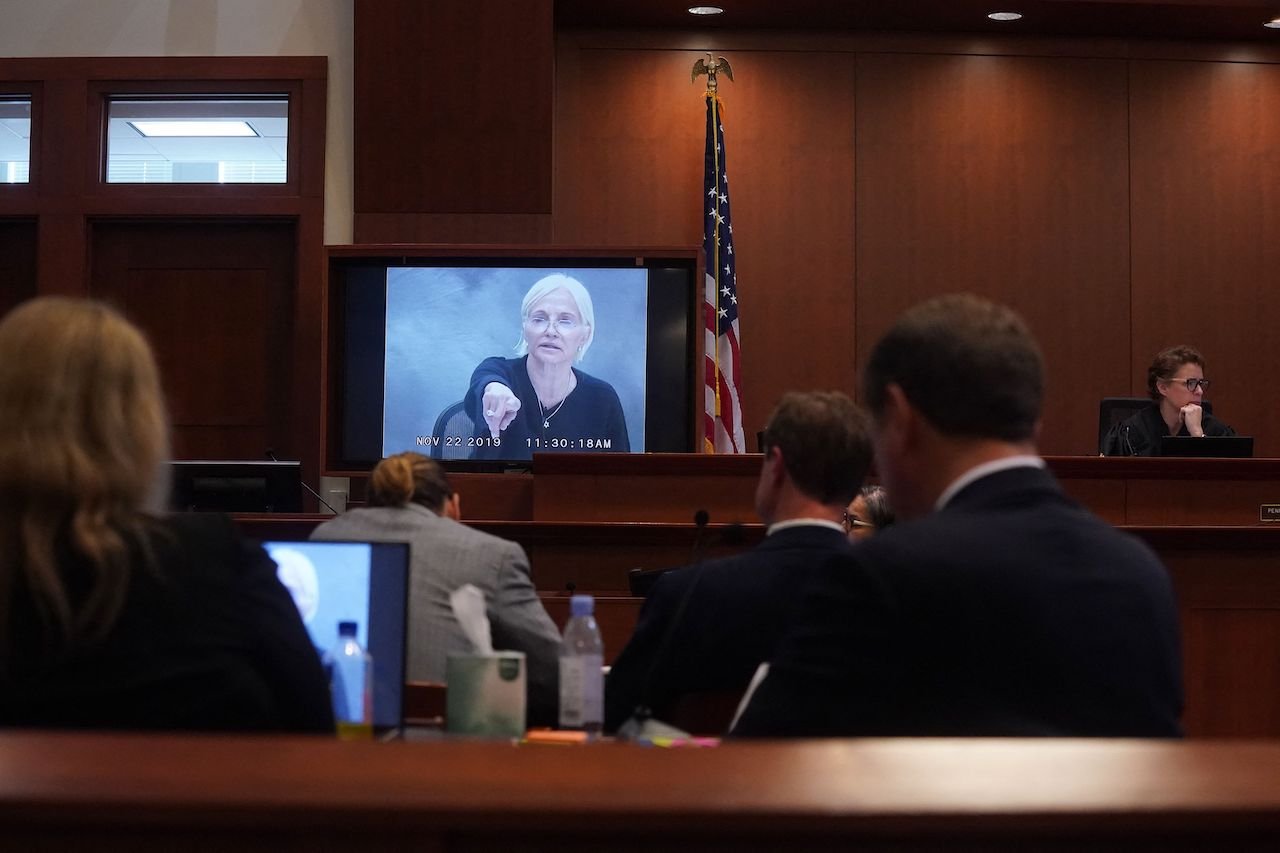 Ellen Barkin said Johnny Depp was a 'jealous' and 'controlling' lover
Through a short deposition, Barkin detailed her bumpy history with Depp. She said they became friends after they met in 1990 and that friendship turned sexual, not romantic, around 1994.
The Edward Scissorhands actor drank and did many different drugs while they were in a sexual friendship, Barkin explained. She made it sound like he treated her and other people around him poorly.
"He was just a jealous man, controlling," she claimed. "Controlling. Asking me, 'Where are you going? Who are you meeting with?'"
She added, "I had a scratch on my back once that he got very, very angry …he insisted it came from me having sex with a person who wasn't him during that time."
According to Barkin, the relationship eventually ended when Depp ghosted her, and she "never heard from him again."
Ellen Barkin saw Johnny Depp throw a bottle in the '90s
When Barkin was asked if she'd ever seen Depp lose control of his anger, she had a concerning interaction to share. "Mr. Depp threw a wine bottle across the … hotel room on one instance in Las Vegas while we were shooting Fear and Loathing in Las Vegas," she said. If anyone is curious, that film came out in 1998.
According to Barkin, Depp was fighting with other people, not her, during the incident. She didn't remember exactly who was arguing with the Cry Baby star or why they were in disagreement. "I don't know why he threw the bottle," she shared.
Notably, Barkin said the bottle came in her direction but didn't hit her or any other people around her. She also didn't claim Depp ever hit her or that she saw him hit anyone else.
Legal experts aren't sure how Ellen Barkin's testimony helps Amber Heard
Legal experts on Twitter break down the Depp v. Heard case moment by moment, day by day. And though Barkin's deposition was expected to be somewhat crucial to Heard's case, it left some watchers wondering why it was even included.
"I don't see anything helping Team Heard right now," legal commentator Emily D. Baker said following the deposition while streaming the trial live. Baker is a former Deputy District Attorney for Los Angeles.
"They're trying to show a pattern of behavior. The thing is, we already have a pattern of behavior," she explained. "We know that Johnny Depp used drugs and alcohol."
Lawyer and legal commentator Ian Runkle was in the courtroom for Barkin's deposition and wrote on Twitter, "Gallery reaction to Barkin is basically to wonder what the hell was up with that."
How to get help: In the U.S., contact the Substance Abuse and Mental Health Services Administration helpline at 1-800-662-4357.
Source: Read Full Article