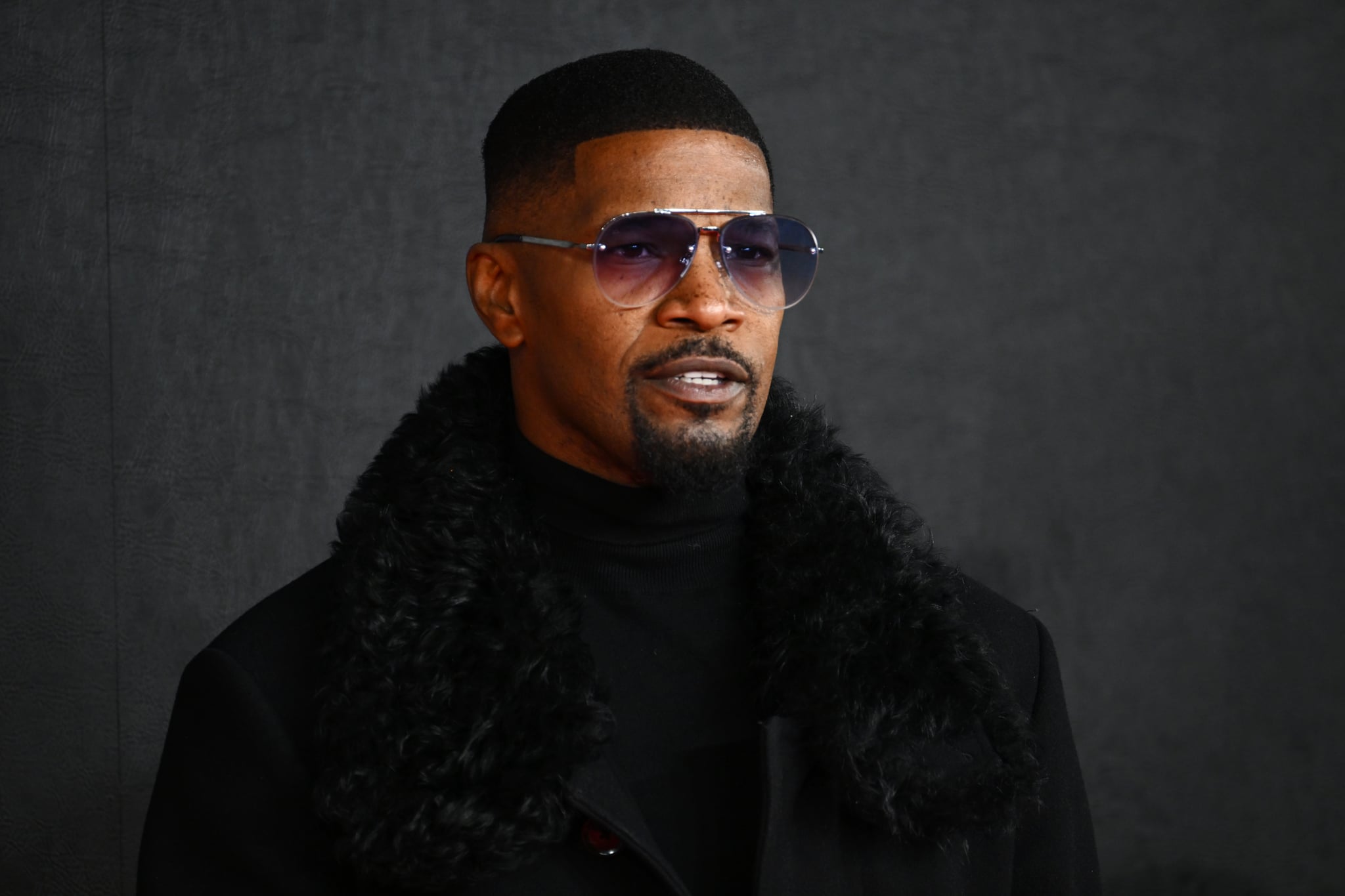 Jamie Foxx is no longer hospitalized — and hasn't been for some time, according to his eldest daughter, Corinne Foxx. On May 12, Corinne wrote on her Instagram Story that her "dad has been out of the hospital for weeks, recuperating."
Added Corinne, 29, "In fact, he was playing pickle ball yesterday! Thanks for everyone's prayers and support! We have an exciting work announcement coming next week too!"
In early April, it was revealed that Jamie, 55, was being treated for an undisclosed "medical complication." On May 3, Jamie issued his first public statement in an Instagram post, expressing gratitude for all the support he's received since the initial news and wrote, "Appreciate all the love!!! Feeling blessed."
Still, very few details have been revealed about the specifics of Jamie's health, and reps for the actor did not respond to POPSUGAR's initial request for comment. Leading up to the May 12 update, Jamie's close industry friends had offered messages of support and check-ins on his condition. On April 23, Entertainment Tonight published an interview with his friend Nick Cannon, during which the TV host gave an update on Jamie while promoting his new radio show, "The Daily Cannon." When asked how Jamie was doing, Cannon said, "Man, I'm praying. You see, I posted on Instagram. I literally have been saying prayers out loud. Words of affirmation for my big brother."
He added: "I know he's doing so much better because I'm actually about to do something special for him, and doing him a favor." While Cannon didn't reveal what the favor in question was, he assured that "it'll be out there soon." "I was reluctant to go all the way there, and even talk about it, but he gave me the blessing, so it's a beautiful thing," Cannon continued. "He's awake. They say he's alert, so, we love it. That's family right there."
According to The Hollywood Reporter, Cannon's secret was the fact that he's taken over Jamie's hosting duties for the upcoming season of his game show, "Beat Shazam," per news shared on May 3.
Another update on Jamie's condition came from good friend Kevin Hart in an episode of Logan Paul and Mike Majlak's "Impaulsive" podcast that dropped on May 2. During it, the comedian shared, "The dope thing is that he's getting better in his situation, and everybody's prayers, everybody's love, energy, all that stuff is seen and felt."
For those who had been asking for more details about why Jamie was hospitalized, Hart added, "I've heard things. I'm very fortunate to have the relationship with Jamie, that I can check on things. They're being tight [with information] for reasons — just about where he is — because Jamie's always been a private person." Hart then concluded by saying the Oscar-winning actor, singer, and comedian is "needed" and "necessary," adding, "I know that he knows that. And I know that he feels that because there's been an outcry and outpour of support in his regard, and I can only hope that it continues."
When Was Jamie Foxx Hospitalized?
Jamie's daughter broke the news about the "Day Shift" actor's health scare on April 12 in a since-deleted Instagram post. "We wanted to share that, my father, Jamie Foxx, experienced a medical complication yesterday," Corrine wrote. "Luckily, due to quick action and great care, he is already on his way to recovery. We know how beloved he is and appreciate your prayers. The family asks for your privacy at this time."
On April 18, Entertainment Tonight confirmed at the time, per a source, that Jamie — who also has a teenage daughter named Annalise Bishop — was still recovering. "He is healing," the source said. "He feels the love from everyone." Earlier that day, a source also told the outlet, "Jamie is doing OK, thankfully. He's recovering and has been surrounded by his family."
Prior to his hospitalization, Jamie was in the midst of filming his latest movie project, "Back in Action," with costar Cameron Diaz in Atlanta. Production has since wrapped, according to ET.
What Have Celebrities Said About Jamie Foxx's Hospitalization?
Since the news first broke, fans and Jamie's industry peers haven't stopped sharing thoughtful messages. On April 13, Kerry Washington shared a photo of her and her "Ray" costar on Instagram, captioning it, "A @iamjamiefoxx appreciation post. Sending you all the love and prayers my movie huzbin." The following day, Jennifer Hudson wrote of her "Dreamgirls" costar on Instagram, "Lifting my friend @iamjamiefoxx and the Foxx family up in prayer ! We pray for healing in Jesus' name! Sending u all the love in the world, Jamie !!!"
Viola Davis also wished Jamie well on Instagram, writing, "Get well @iamjamiefoxx. We need you…. your light, your brilliance." Meanwhile, LeBron James tweeted, "Sending my thoughts and prayers to the heavens above to my brother @iamjamiefoxx!!!! Get well and back to yourself SOONER THAN LATER! God willing."
"Power Book II: Ghost" star Woody McClain then paid tribute to Jamie in a May 2 interview with POPSUGAR. "Jamie's such a great guy, man. Prayers to Jamie, too," he said after recounting some advice the star once gave him. "I remember being at Jamie Foxx's house, and I was just in the corner. Everybody kept saying, 'Bobby. Bobby.' I hear that a million and trillion times," he said. "But I remember Jamie coming over to me. He was like, 'I noticed every time somebody says that, you kind of dim your light. You can't do that. . . . Don't shy away from that — embrace it. . . . You're going to get more things. More things are going to come. You're going to be amazing.'"
Source: Read Full Article