When Bill and Melinda Gates announced their divorce, questions (and rumors) immediately started swirling as to why they were splitting, what that would mean, and what Melinda Gates would do next — maybe start her own business, or go the way of MacKenzie Scott and give away as much of it as possible. Because Bill and Melinda Gates don't have a prenuptial agreement, their $124 billion fortune is up in the air.
In a joint statement, Bill and Melinda announced that they were amicably separating after 27 years of marriage and "a great deal of thought and a lot of work." The statement also addressed their children and their $50 billion Bill and Melinda Gates Foundation, which funds massive global health and disease prevention projects. "We continue to share a belief in that mission and will continue our work together at the foundation," the statement read, "but we no longer believe we can grow together as a couple in this next phase of our lives. We ask for space and privacy for our family as we begin to navigate this new life." According to The Atlantic, as one of the richest and most powerful couples on the planet, "the usual dilemmas are mixed in with the fate of enormous charitable efforts and billion-dollar stock holdings."
But many are starting to wonder: who is Melinda Gates without her famous husband? And who was she before him?
How did Bill and Melinda Gates start dating?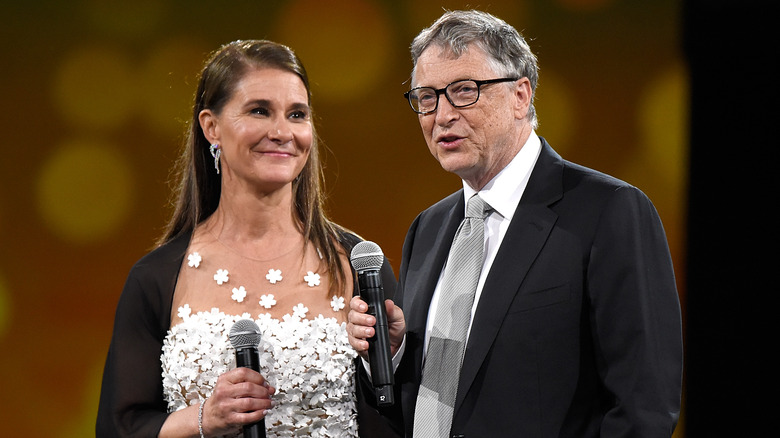 The news of Bill and Melinda Gates' divorce shocked many, but it was nothing compared to the revelations and rumors about Bill that followed the announcement of their split. For starters, the Daily Mail recirculated the story of Bill's "bizarre decades-long arrangement with his wife" in which he "spent long weekends at the beach alone" with Ann Winblad, his former girlfriend and business partner. Then, The Wall Street Journal confirmed with Bill's representative that he had "an affair" with a Microsoft staffer that "ended amicably," but resulted an investigation by the company's board in 2019. While this was happening, it seemed Melinda and Bill Gates' relationship was still strong, although TMZ claimed that information reaped from their own sourcing led to the conclusion that "this divorce has been a long time in the making."  
Their relationship wasn't exactly love at first sight, either. When Bill and Melinda Gates met, Melinda repeatedly turned down his advances. During an interview for the 2019 Netflix series "Inside Bill's Brain," Melinda said the two met at "a trade show dinner," which she and other Microsoft employees attended. After the dinner, Melinda rebuffed Bill's invitation to go dancing later that night. When they bumped into each other again months later, Melinda declined another invitation to go out with Bill "two weeks from Friday." That wasn't "spontaneous enough," Melinda said, leading Bill to call her that night, asking, "Is this spontaneous enough for you?"
What was Melinda Gates' childhood like?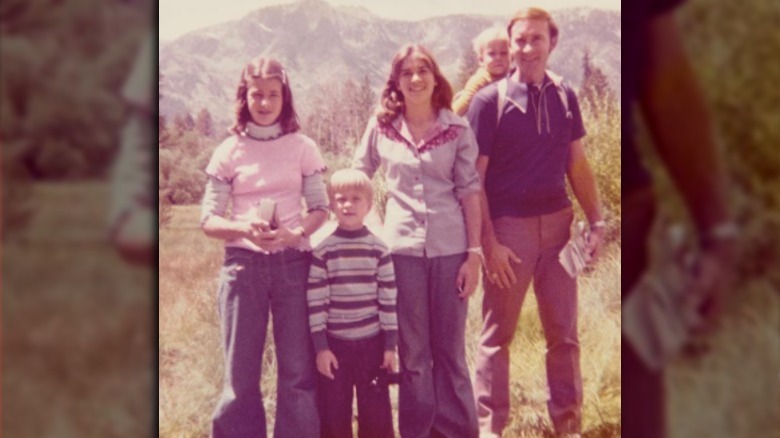 Born in Texas in 1964, Melinda Gates is the second oldest child of Elaine and Raymond French's four children, per Biography. The French family lived in a middle class neighborhood in Dallas, where Melinda was raised Roman Catholic and attended Catholic school. Her father worked as an aerospace engineer with NASA. Melinda's mother was a homemaker. Melinda's parents seem to be as private as she is, and their neighbors, who reportedly "hold the family in high regard," declined to comment on the French children when asked by The Seattle Times for a ranging 1995 profile of Melinda. 
Despite her aversion to revealing too much about herself, Melinda Gates has publicly expressed gratitude for how her parents shaped the trajectory of her life. From inspiring her career choices and encouraging her to push herself in her studies, Raymond and Elaine French had a big impact in shaping Melinda into the woman she is today. On the rare occasions that she has spoken about her childhood, Melinda has said: "I had parents who told me every step of the way, 'You can get what you want,'" per The Seattle Times. Though Melinda prefers to keep most of the details of her personal life private, the same outlet noted that it's clear she "is a woman who works hard and made parents and teachers proud."
Melinda Gates moved easily between the super rich and the middle class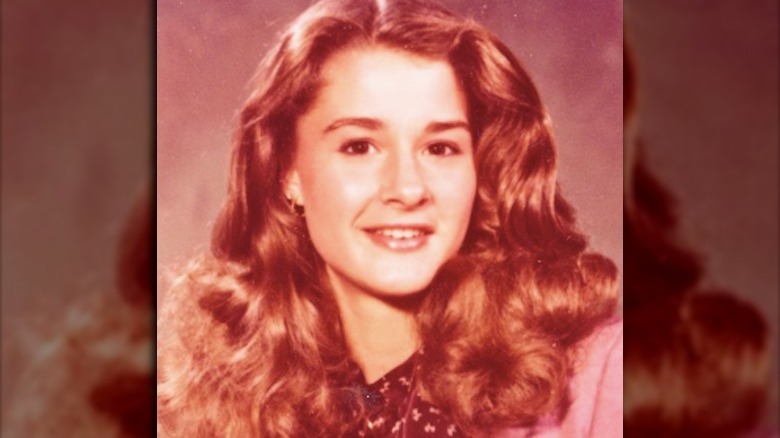 Although Melinda Gates went from a middle class upbringing to being one of the world's wealthiest people, she has seemingly continued to be conscientious with money. While Bill Gates was always quite wealthy — his father was a successful Seattle attorney and his parents were both well connected philanthropists who enrolled him into Lakeside, a prestigious Seattle private school, before he went to Harvard — Melinda's comparatively humble upbringing likely made her the more frugal of the pair, as well as relatively frugal compared to other wealthy people.
In 1995, The Seattle Times quoted Melinda Gates as having said she has "an infinite amount of money," and yet, she is not flashy by nature. The same outlet noted the amount Gates spent on her wedding attire — under $20,000 in total — which was deemed "far less than many society brides." The Seattle Times also concluded that Gates, at the time, was "sensitive to the potential downside of being the Mrs. to a billionaire" in spite of her ability to deftly operate in high society even if she showed signs of being a tad awkward within it. "She calls herself Melinda French in business situations and Melinda Gates in social situations," the paper claimed, even quoting a local acquaintance who described her as "nice and normal." 
Melinda Gates credits her mother for her success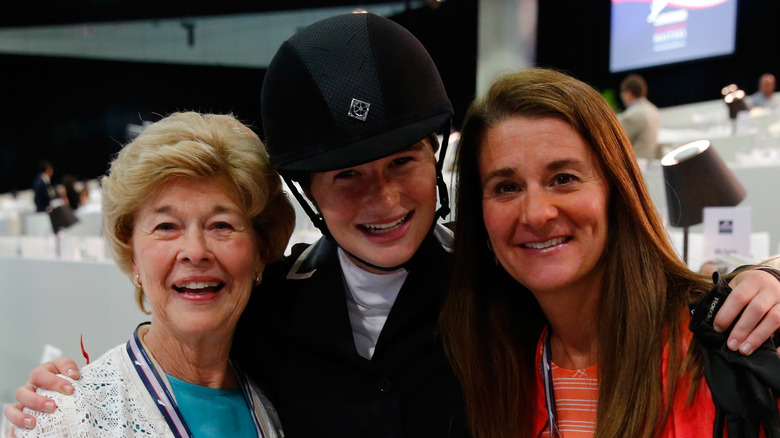 While Raymond French might have partly influenced his daughter's STEM career path via his own aptitude in engineering, Melinda credits her mother as a major influence in her life. According to Biography, Elaine French (above left) stressed the value of education. Having not gone to college herself, Elaine wanted her children to have the experience that she never had, so she urged them to take school seriously.
Melinda took this to heart and therefore was always a good student. In her book "Moment of Lift" (via the Los Angeles Times), Gates refers to herself as a "good Catholic girl, who sits in the front row and gets good grades," and who "always raised her hand before speaking out answers." Her hard work ethic impressed her teachers, especially as she excelled and showed promise in math at St. Monica School in Dallas, Texas, where it quickly became Gates' "favorite subject," per The Seattle Times. As she developed her passion further, Biography notes that Melinda discovered an "early interest in computers while taking an advanced math class at the Ursuline Academy, a Catholic school for girls." Given her mother's influence, it makes sense that education has since been a major focus of Melinda's philanthropy.
Her parents ran a rental property to send her to college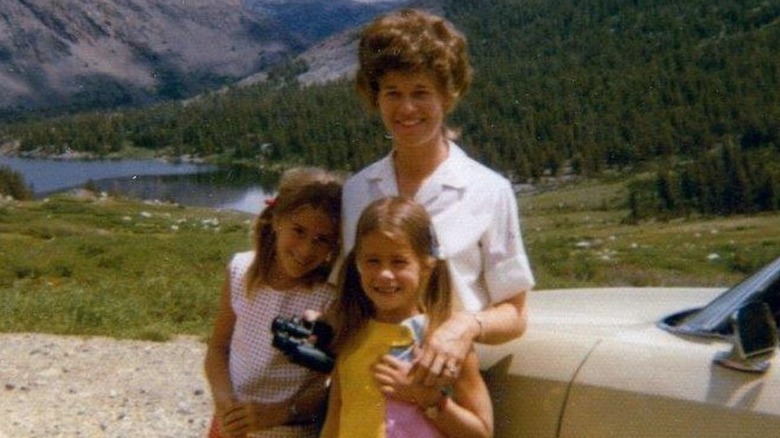 Melinda Gates shared on Instagram that her mother, Elaine French, used to say: "You can be anything or anyone you want to be." But this saying wasn't just a platitude. French mother demonstrated firsthand that you have to work hard to get the things you want. In an interview with Fortune, Gates detailed how she witnessed her parents working hard to give her the life she had. In order to save for their children's futures, her parents started a rental property business on the side to make extra money. This was long before the days of Airbnb, so keeping their side hustle organized required a lot of work. Gates told Fortune what it was like to help them, saying, "We would help him run the business and keep the books. We saw money coming in and money going out."
While her father was working his day job, her mother assisted with the family's rental properties, and the kids chipped in, too, helping with basic maintenance, cleaning, and even bookkeeping. Melinda and her siblings knew the significance of the rental business, which made them grateful and conscientious. "That was literally how they were going to put us through college, and we all knew it," she told Forbes.  It seems all this effort was fruitful as Melinda attended Duke University, fulfilling her parents dreams of sending their children off to college.
Melinda Gates was always a good student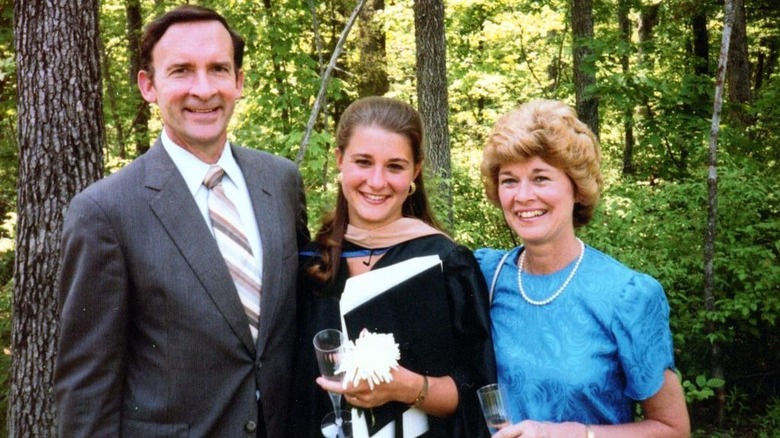 As a child, Melinda Gates' unwavering dedication did not go unnoticed or unrewarded. With the value of education deeply instilled in her, she cultivated a strong work ethic, which, when paired with her natural acumen for math and computers, led to a lifetime of academic success and high achievement. For high school, she attended an all-girls school, Ursuline Academy of Dallas. At school, she didn't just study — she was also the head of the drill team. Her high school years ended with Gates earning the top spot in the class and graduating as valedictorian in 1982.
Melinda Gates has also reflected publicly about her time and achievements at Ursuline. In May 2018, while celebrating two of her children's graduations — her daughter Jennifer's graduation from Stanford University and her son Rory's graduation from high school — Melinda reveled in some nostalgia about her own school days. She posted a snippet of her high school valedictorian speech on Twitter, noting, "Decades later, I still stand by what I said." The speech read: "If you are successful it is because somewhere, sometime, someone gave you a life or an idea that started you in the right direction. Remember, also, that you are indebted to life until you help some less fortunate person, just as you were helped."
This sorority sister said Melinda Gates wasn't exactly a party animal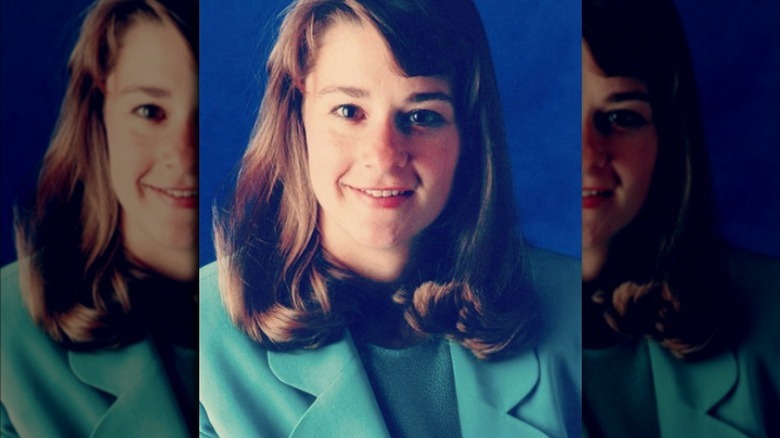 While at Duke, Melinda Gates made sure to have the full college experience as well as making time to study. Per The Seattle Times, Gates was just as active outside of the classroom as she was in it. As a first year student, she showed her leadership potential on "the freshmen advisory council." She also her love for Duke by "[giving] campus tours to prospective students," which must have nurtured her lasting school spirit.
Gates also participated in Greek life as a member of the Kappa Alpha Theta sorority, which, yes, included alleged breaks from her voracious studies to attend a few keggers, according to sorority sister Rebecca Chaffin. Speaking with The Seattle Times, Chaffin made sure to quality that juicy detail about Gates by noting her work ethic, her conservative fashion and hair choices, and also claiming that Gates didn't have much of a romantic life outside of a few long-term relationships, most notably with "chewing-gum heir William Wrigley Jr." Girl has a type, no? 
In comparison to Chaffin's humdum description, however, Bill Gates' early memories of Melinda seem to starkly differ. Explaining the origin of his relationship with Melinda, Bill told the 2019 Netflix series "Inside Bill's Brain" that the "funny and very high energy" part of her personality is what initially drew him to her.
Duke University has a grateful and generous alum in Melinda Gates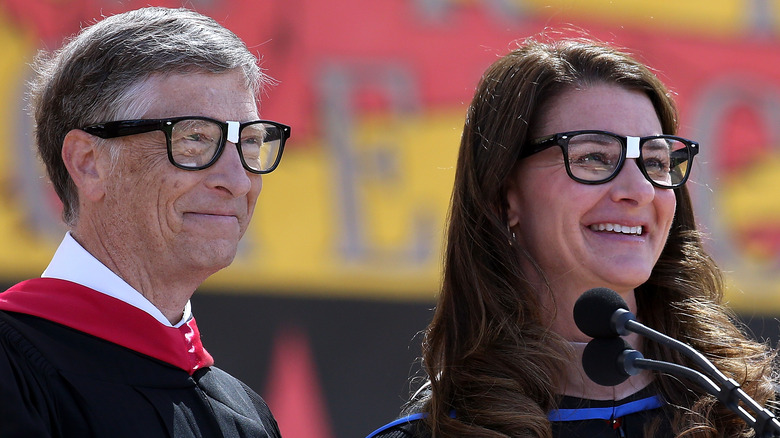 After her enviable academic success in high school, Melinda Gates earned admission to Duke University. There, she continued her streak of academic achievement, maximizing her five years on campus to graduate with two bachelors degrees and a masters. Armed with a degree in computer science, a degree in economics, and the prestigious MBA from the Duke Fuqua School of Business, Gates was, perhaps unsurprisingly, recruited by Microsoft right after college.
Gates has continued to be invested in Duke as an alumna. In her 2013 commencement speech at Duke, Melinda said, "No matter how much time passes … I always feel connected to Duke." She continued, "Deep human connection is … not a means to an end. It is the end — the purpose and the result of a meaningful life."
Par for the course, Gates has also put her money where her mouth is. In 2013, the Bill and Melinda Gates Foundation donated a $20 million grant to the university, which was just one of many endowments from the organization. The money, according to Duke, will "help the Duke Global Health Institute (DGHI) educate a new generation of leaders and experts, and build research capacity around the world to address some of the critical global health challenges [Gates] and her husband have witnessed first-hand."
Melinda Gates is passionate about empowering women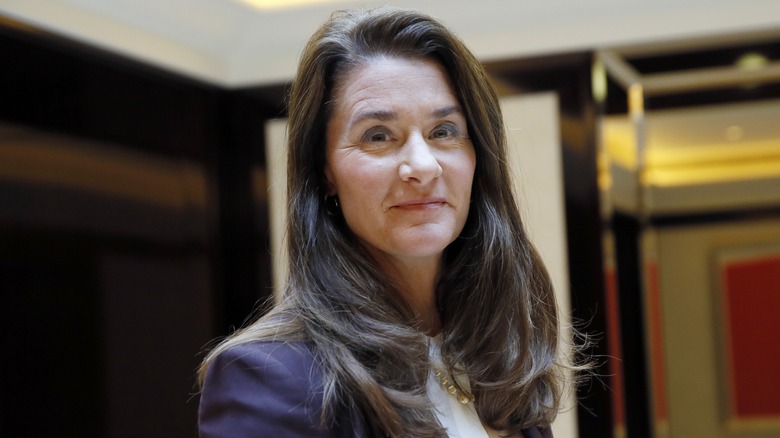 It is clear that with Melinda's early passion for STEM, her supportive family was a large factor in putting her on the path to attend Duke, get an MBA, and score a coveted position at Microsoft. She left a lasting impression on her educators, even those from her days as a high schooler at Ursuline Academy. Computer teacher Susan Bauer described Gates to The Seattle Times as "hard-working and personable," adding, "She was one of the best students I ever had."
But Gates wasn't the only beneficiary of her time at Ursuline. In 2007, the Gates Foundation funded a 70,000 square foot LEED Gold certified STEM facility at the school, a behemoth of classrooms and labs named The French Family Science, Math, and Technology Center — a $7 million project.
It seems that Melinda Gates is aware that not everyone had the same support and encouragement she did — which has been proven to be especially lacking for women in STEM related fields — and so she has also been charitable in other areas of education. She also frequently gives to Duke, saying "I was one of the few female computer science majors, back at a time when nobody was talking about women in STEM fields … I want every woman — everywhere — to be able to feel that. When they do, there's no telling what impact they'll have on the world."
As a child, Melinda Gates' biggest inspiration was Apple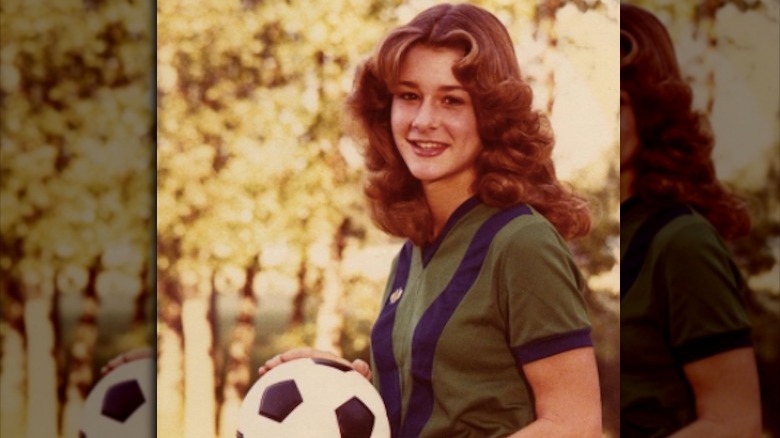 In high school at Ursuline Academy, Melinda Gates was first exposed to the Apple II computer. When her father later brought home an Apple III computer for the family, it quickly became the center of not only just the family home, but also the neighborhood. 
In 2016, she tweeted that "it was an Apple III that got me curious about tech," a sentiment she continued in a 2018 article for Popular Mechanics in which she revealed that she "learned to code" while tinkering with the computer for "hours." As a woman in STEM, Gates was always looking for inspiration and support, and that old computer became the "memento" of what kickstarted her work towards the goal to "revolutionize the way billions of men and women lived and worked." She continued, "After I took a job at Microsoft, I had the Apple III sent to Seattle because it reminded me of how a computer changed my life."
Despite her early appreciation for Apple, Gates was always happy at Microsoft. Speaking with Insider, she fondly recalled, "When I got there, what I had imagined was true. We were changing the world; we were creating products that never existed before. And I loved that part of it. And I loved being in tech." 
Melinda Gates could have worked for IBM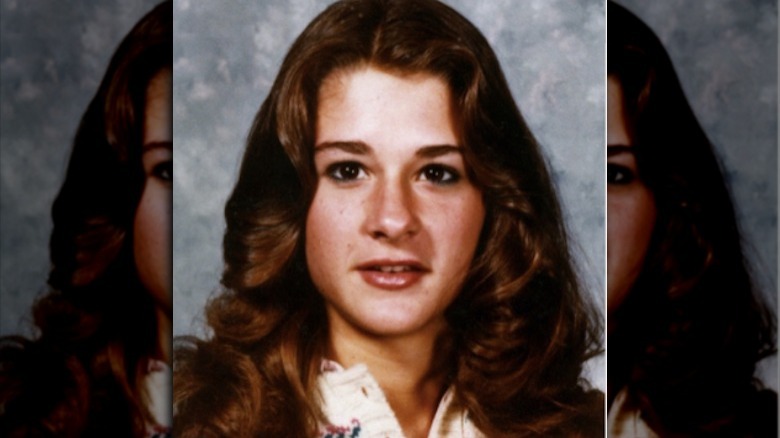 During the summer between earning her bachelor's degree at Duke University and pursuing her masters at Duke Fuqua School of Business, Melinda Gates landed an internship at one of the most prestigious, big-name tech companies: IBM (aka International Business Machines Corporation). She interned there in 1986 when the company was creating personal computers and pioneering floppy disks (via The Art Institute of Chicago). It was a great time to be in tech for somebody like Gates, both interested in computers and passionate about innovation.
Gates had a standing offer for a full time job at IBM after completing her internship. Though she thought about taking the offer, after spending the year finishing her MBA, life took her in a different direction, according to the Independent. A recruiter encouraged Gates to interview with Microsoft, which was then a new company, "because the chance for advancement there is terrific."
This proved to be the right decision as Gates found herself enamored with the energy of Microsoft. In her memoir, "The Moment of Lift: How Empowering Women Changes the World," she writes, "I loved the pulse, the electricity, of the place. Everyone was so passionate about what they were doing, and when they talked about their projects, I had a feeling I was seeing the future."
Why did Melinda Gates almost quit her job at Microsoft?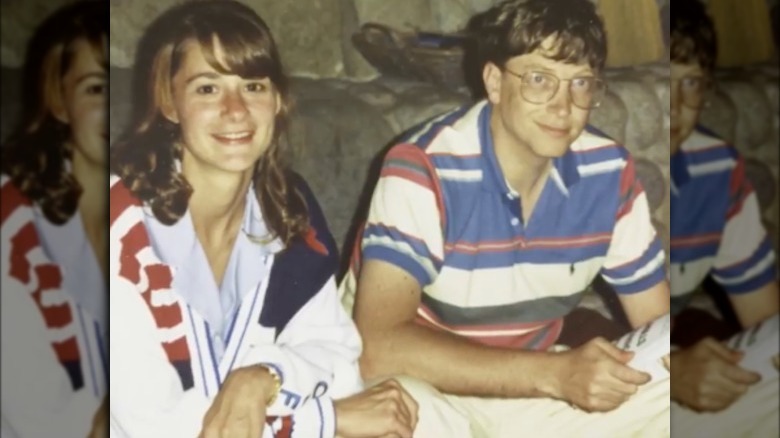 It only took about "a year and a half" at Microsoft before Melinda Gates thought about quitting. We know that she didn't, but with such a prestigious job at an exciting company, why did she want to leave? Ostensibly, she loved being at a company that was growing in exciting ways. However, she revealed in her memoir (via GeekWire) that she didn't fit in — namely because, years before their courtship and eventual marriage, she felt like the only person who wasn't always trying to impress Bill Gates.
"It wasn't the work or the opportunities; they were awesome. It was the culture," she confessed. "It was just so brash, so argumentative and competitive, with people fighting to the end on every point they were making and every piece of data they were debating. It was as if every meeting, no matter how casual, was a dress rehearsal for the strategy review with Bill."
She was also at odds with the work culture, which she told Insider was too "aggressive." Her small, Texas roots might have been to blame for feeling out of place in such a competitive environment. However, Gates decided to stick it out. She shunned the competitive culture and instead embraced her own personality and became a trailblazer. "I ended up attracting all kinds of people from all over the company," she told Insider, adding, "I learned to be myself there, and that ended up working for me."
Melinda Gates always wanted a more private life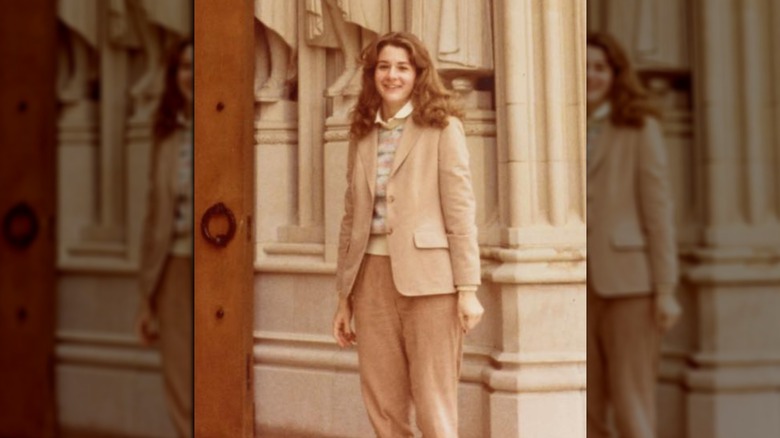 Melinda Gates lived a full life before she met Bill Gates and, after hesitating to even date him, she was worried that their marriage would change her life in ways in which she wasn't suited — or as The Seattle Times put it: "She grew up on a street called Princess and married the king of software. But Melinda French never wanted to live in a fairy tale." The same outlet also reported that she once declined an interview by telling the journalist, "It is a personal decision for me not to share information about our relationship or my personal life with the world at large." Her family's quiet life must have influenced her own notorious emphasis on privacy.
Bill had his reservations before the pair married in 1994 and even made a pros-and-cons list on a whiteboard to finally decide if he wanted to marry Melinda, she revealed in the 2019 Netflix series "Inside Bill's Brain," saying: "Bill wanted to be married, but he didn't know whether he could actually commit to it and have Microsoft." Despite their hesitation and despite their eventual divorce, the pair look back and recognize that "over the last 27 years, we have raised three incredible children and built a foundation that works all over the world."
Even after that chapter of her life closes, it stands to reason that Melinda will keep living a private life of generosity, and giving back as she did before Bill.
Source: Read Full Article