Princess Diana's statue has been unveiled in Kensington Palace's Sunken Garden on July 1, on what would have been her 60th birthday. Prince William and Prince Harry seem pleased to share the statue — and her memory — with the public and it "will be free for the public to view during the palace's opening hours," according to the Independent.
Royal expert Nick Bullen told Fox News that the brothers were "very hands on" in the development of the statue, but said it took a long time to nail down what exactly the statue would look like. "There have been various attempts. The Diana Memorial fountain was something that didn't really capture the essence of Diana, many believed. But this statue I'm told is an amazing piece of work and a fitting tribute," he said. Recreating Diana's beauty through stone was also a challenge, as Bullen noted, "There were lots of concerns about how to capture her image in stone because she was so beautiful."
Not everyone thinks the statue is a work of art. Keep reading for more details.
Twitter is aflame after Princess Diana's statue unveiling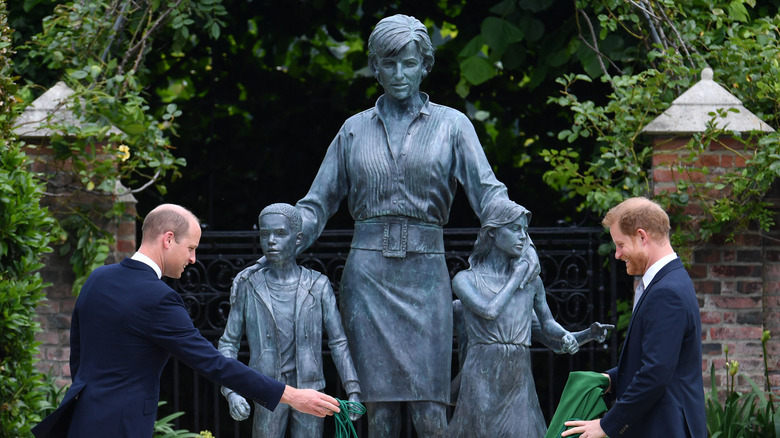 As mentioned, Princess Diana's statue is officially on display on what would have been her 60th birthday. Prince William and Prince Harry were in attendance for the unveiling, but it appears the statue is not so well-received by the general public. Twitter is apparently blowing up and the reactions don't seem to put the statue in the best light.
One user tweeted, "Sorry, I don't like it and I'm pretty sure she would have not chosen that outfit, which will date this effigy so much." Another chimed in with, "As long as Diana's sons are happy, that is all that matters but I am disappointed in the statue." Yet another critic added, "the statue," along with sad-face emoji.
Despite criticism, some praised the statue and seemed thrilled the late royal was honored this way. A user tweeted, "That's a beautiful statue! Wow!! Happy Heavenly Birthday Princess!" Another added, "Love It! This is her pure essence." Another user voiced their opinion with, "That's a lovely statue. Must be very moving for them." Despite varying opinions on the statue, it's clear this is a significant day for the royal family.
Source: Read Full Article