Heather Rae Young is just about ready to marry Tarek El Moussa, but their wedding plans have already changed — more than once!
The "Selling Sunset" star took to Instagram on August 10 and shared what really went down. "I haven't fully shared this but in the beginning, Tarek and I hired a wedding planner, sent out our save the dates, and then after rethinking some things we decided to completely change everything," she wrote. "Tarek saw how stressed I was getting so we decided to go in a different direction with the wedding planner, hired a new one, changed the wedding location, and sent out new save the dates that said 'just kidding' on them."
Heather added that although she and Tarek want a "big celebration," they also want their special day "to feel really intimate and be about our love and our marriage." Tarek commented, "My everything" with three red heart emojis, making it clear he loves his future wife.
So what was the road to this moment like? Keep reading for more details.
Heather Rae Young and Tarek El Moussa only have eyes for each other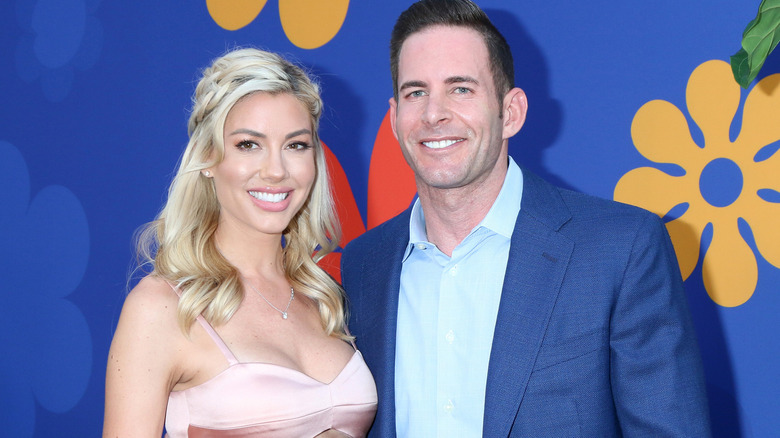 Heather Rae Young and Tarek El Moussa were reportedly first linked on July 4, 2019 during a boat outing with friends, according to Us Weekly.
Things moved quickly and Tarek confirmed their relationship on Instagram in August 2019, saying Heather "makes me want to be a better man." The couple reportedly spent the holidays together and moved in during the first half of 2020. An engagement soon followed in July 2020 as Heather posted on Instagram: "The Future Mrs. Tarek El Moussa!!!!" It seems like Heather knew the engagement was coming, as she revealed on a podcast episode of "Flashbacks with Jessica Hall and Heather Young:" ​​"I knew it was gonna come eventually because we talked about marriage. We looked at rings like three months in. Nothing serious, but we went and looked."
Since then, the couple has been soaking up all of the good vibes, even celebrating their one-year engagement anniversary on July 25. Heather shared a touching message on Instagram: ​​"One year ago today I made the best decision of my life by saying yes to spending forever with the most special man. … Cheers to a lifetime of You & Me."
Source: Read Full Article