When addressing the matter on social media, the wife of Justin Bieber seemingly gets annoyed by the rumors she's having a bun in the oven as she says, 'Leave me alone.'
AceShowbiz –Hailey Baldwin has responded to rumors that she's pregnant. Making use of social media, the supermodel debunked the speculations that she and her husband Justin Bieber are expecting their first child.
On Monday, April 4, the 25-year-old catwalk beauty turned to Instagram to shut down the rumors. After Radar put up a post about the speculations, she left a comment that read, "I'm not pregnant," before adding, "Leave me alone."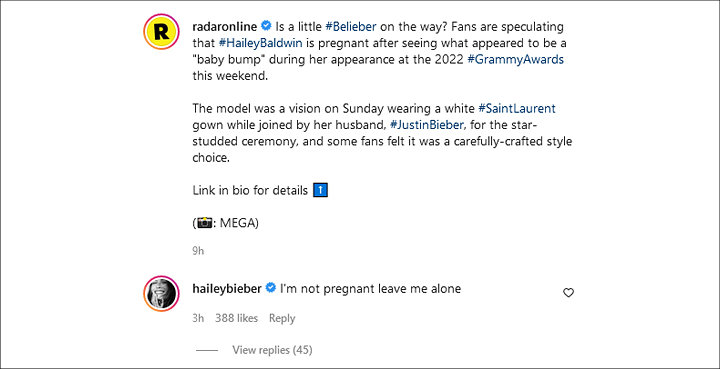 Hailey Baldwin shut down rumors she's expecting a child with Justin Bieber.
The speculations arose after Hailey and Justin walked the red carpet at the 2022 Grammys which took place at MGM Grand Garden Arena in Los Angeles. For the award-giving event, Hailey looked gorgeous in a white flowy strapless Saint Laurent gown while Justin sported a white tank top, an oversized gray Balenciaga blazer and pants.
Many fans speculated that Hailey might have been concealing a "baby bump" under the flowing fabric. Taking to Twitter, one fan questioned, "Is that a baby bump?" to which another loyal supporter replied, "I was gunna comment this."
Another social media user opined, "The best accessory: a baby bump," as Hailey only wore a simple layered diamond necklace from Tiffany & Co. "Omg guys i can't believe hailey bieber is pregnant," a separate fan tweeted. Someone else added, "Hailey is definitely pregnant. U can see her belly button in her dress she's wearing."
In February, Hailey, who tied the knot with the "Peaches" hitmaker in 2018 in a New York City courthouse, revealed that she's not in a rush to have children. "There's this thing that happens for women when you get married. Everybody always assumes it's: First comes love, then comes marriage, then comes the baby," the model said in an interview with The Wall Street Journal.
"Well, what about all the things I want to accomplish in my business?" Hailey wondered. She continued, "I think I had it ingrained in my head that I was going to want to have kids right away and I was going to want to have kids super, super young. Then I turned 25 and I'm like, I'm still super, super young!"
Source: Read Full Article