The longtime housekeeper Big Alice Gunderson on the beloved daytime soap opera passed away after a lengthy battle with the disease which forced her to retire from acting.
AceShowbiz –Bergen Williams has passed away. According to her family, the Big Alice Gunderson depicter on "General Hospital" died after losing her longtime battle with Wilson's disease. She was 62 years old.
Announcing the heartbreaking news was her sister, Lynda Williams, who managed the actress' Twitter account. On Tuesday, November 17, Lynda wrote alongside a photo of the actress, "Bergen Williams succumbed to the ravages of Wilson's Disease surrounded by loving family."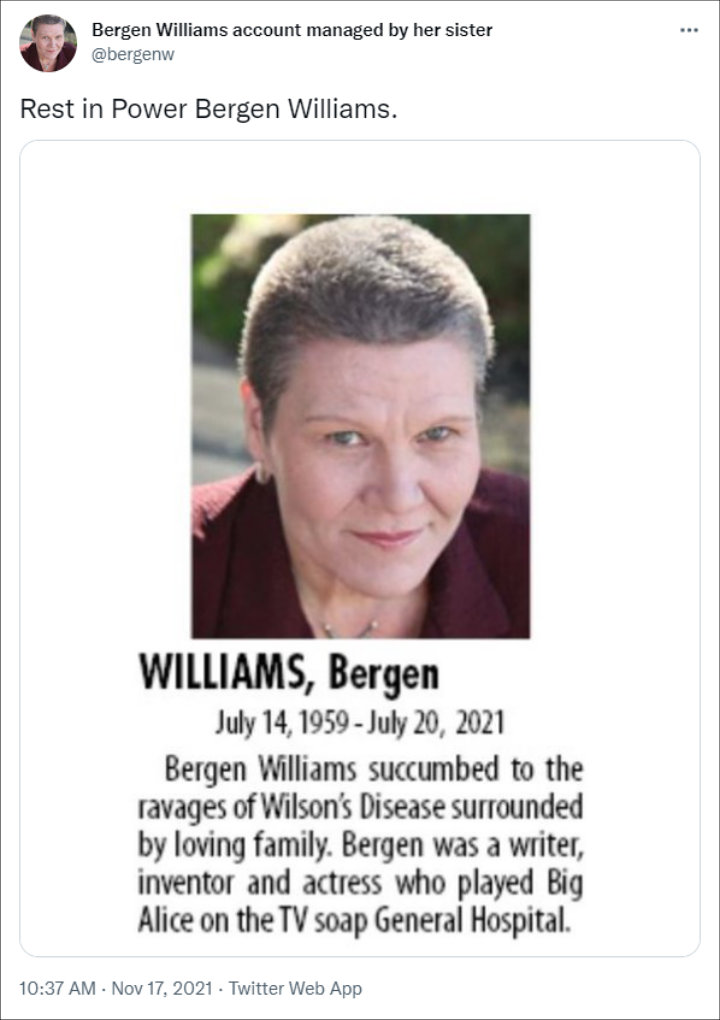 Lynda Williams announced Bergen Williams' death via Twitter.
"Bergen was a writer, inventor and actress who played Big Alice on TV soap 'General Hospital'," Lynda added. In a following tweet, Lynda added that the disease "made it impossible for her to speak her lines the same way as before so they made her quit."
Lynda also criticized the daytime soap opera production as saying, "I'm sad they didn't just give Big Alice Wilson's Disease on the show so she could keep acting and keep her healthcare! Dang GH!!!!" She then concluded her post, "Thanks for condolences. She loved her fans!"
After a fan said that the show "missed an opportunity to help her & honor her years of service there," Lynda replied, "It is really too bad. The disease is rare and she could have given it more attention and visibility for others who suffer from it." She stressed, "It is a terrible horrible disease. #WilsonsDisease."
On "General Hospital", Big Alice had an alter ego, called the Dominator, a professional wrestler. Following the news of her passing, fans flooded social media recalling beloved memories of her.
"So sorry to hear this. I definitely miss Alice on #GH. RIP Bergen Williams and condolences to the family," a user tweeted, while another wrote, "Oh no. Very sad to hear. GH fans loved Alice! Oh, the scenes she had with Luke and Alexis, at times!! RIP Alice aka Bergen Williams."
Upon learning the loving tributes to the late actress, Lynda expressed her gratitude in a Twitter post. "Thank you to the press and media for getting the word out and giving Bergen such a lovely tribute. It's overwhelming. My family thanks you all so much [love emoji]," she penned.
Source: Read Full Article