Update 10/28/20: Bummer news: Brad and Nicole are splittsville.
Page Six reports the couple called it quits, are "totally over," and have been for awhile. "It was never all that serious as it was cracked up to be," a source said.
While that's a shame for them both…how long do you think it'll take before the rumor mill kicks into gear over Brad and Jen again now that they've reunited?
Original story, 9/8/20:
Literally so sorry, but Brad Pitt has a new girlfriend and it's neither Jennifer Aniston nor is it [insert your name here]. Instead, Brad is dating Nicole Poturalski, and they've already gone vacationing in his personal castle. You know, the one he owns with Angelina Jolie? Yeah.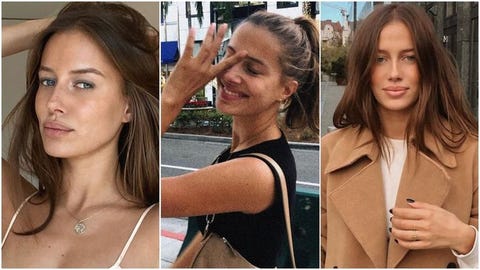 I think we can all agree that Brad and Nicole's relationship is all-caps NEWS, especially considering that the internet has spent the past few years speculating about Mr. Pitt dating everyone from JenAn to Arrested Development actress Alia Shawkat to jewelry designer Sat Hari Khalsa. But nope! Turns out he's been out here casually castle-hopping with Nicole (potentially for the past nine months!), and the time has come to do a deep dive on your competition. In other words: WHOMST IS SHE?
She's a 27-Year-Old German Model, That's Whomst
Let's just go ahead and say what we're all thinking: She looks like a young Angelina Jolie.
https://www.instagram.com/p/CELvGFzoklK/
While you might not have heard of Nicole before now, she's been very successful independent of any BP affiliation. Like, here she is on the cover of Elle Germany's September 2020 issue.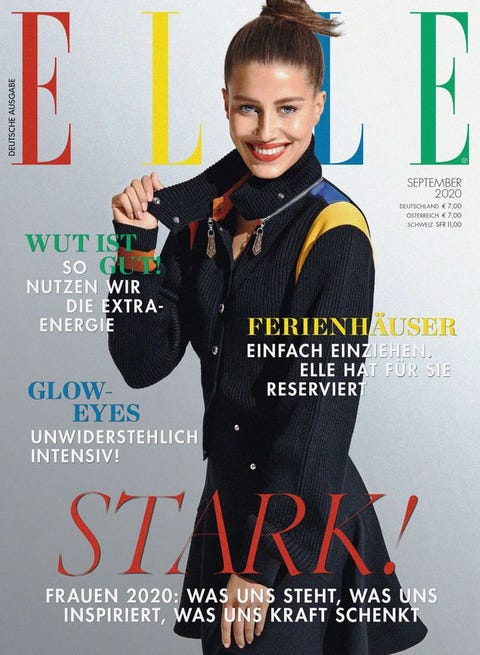 Her Dream Is ~Visiting the Future~
Nicole has done approximately zero interviews and her Instagram is pretty much just model shots, but after a truly frightening amount of googling, I did manage to scrounge up a downright inspiring musing from her modeling profile! In response to being asked what her ultimate superpower would be, Nicole said…
I mean, I, too, would love to visit the future if it involves getting the f*ck out of this hell year, so very much same, Nicole!
She Reportedly Speaks Five Languages
Including the language of love, hahahahahaha ugh sorry.
https://www.instagram.com/p/CDI17s2o-bY/
She Has a Young Son
Nico (she goes by Nico, btw) is pretty private about her personal life, but apparently, she has a 7-year-old boy named Emil and he pops up on her Instagram every now and then—sometimes dressed as Santa, always looking cute.
She Hinted at Her Relationship With Brad in March
The Daily Mail let it slip that Brad and Nico have apparently been dating for nine months without anyone noticing—I mean, she even lowkey posted about being in a relationship back in March right under our noses (peep the caption!):
https://www.instagram.com/p/B-R5WKXoqgd/
She also posted a pic to her IG on February 26 walking down the streets of Los Angeles with the caption, "Missing my strolls with my Love 🌙💥," but she's since deleted it.
She's in an Open Marriage
Apparently, before Nico and Brad even met, Brad became acquainted with Nico's husband (!), Roland Mary, while he was filming Inglourious Basterds in 2009. Roland owns a restaurant in Berlin, Germany, called Borchardt, where he met Nico in 2019. Nico gave Brad her number while he stopped in for a bite, and the rest is history! According to the Daily Mail, Roland is "philosophical" about Nicole's "close friendship" with Brad…whatever TF that means.
And as for the details of Roland and Nico's relationship, the Daily Mail's source says, "Roland is a very philosophical guy. He has been married several times and has five children.…They are still married but you could describe their relationship as an 'open marriage.'" Oh, and if you're wondering if Roland is the father to Nico's 7-year-old son, the answer to that is a big fat YES.
She Has a Tiny Tattoo
I'm going to assume this is somehow a reference to Brad until told otherwise and no one can stop me, bye!
https://www.instagram.com/p/B9jmz21oLep/
Source: Read Full Article